POV Holder:
Shane
Next POV:
July 28 (Saturday)
POV Used
Yes
POV Ceremony
July 30 (Monday)
HOH Winner:
SHANE
Next HOH:
Aug 2nd
Original Nominations:
Ashley And Joe
Current Nominations:
Joe And Frank
Have Nots (Cereal & Salmon)
Joe, Ian
Coach Competition Winner
Janelle (Wil SAFE)
Next Coaches Competition
August 3(Friday)
Last Evicted Houseguest
JOJO
8:40am Frank and Mike are in the bathroom talking. Mike is taking a shower. Mike says that they'll be on lockdown for 34 hours.  They talk about how they hope it will be an endurance competition. Mike says Ian needs to step up to the mic. Frank tells Mike that Dan took Janelle into that room last night, whatever that means. Mike tells Frank that he trust Dan for now, later on he will be trying to make big moves, but right now I trust him. Mike an Frank comment on how messy these people are. Mike says that Ian and Danielle are the worst. Frank says that if I end up going home for whatever reason, you can have my workout shirts I left in the backyard. Mike comments on how this will be the longest lock down of the season. Mike thinks Ian will do really well at an endurance competition. If Danielle keeps you, she would be the perfect person to win HOH. Frank and Mike head into the arcade room to talk. Frank comments on how he doesn't think Dan knows we are working with Shane and Britney. Mike says that if we get the HOH then we nominate Wil and Ashley and if we get the POV we back door Shane and get rid of him. If not then we get rid of Wil.
Re-Watch ALL THE DRAMA on FlashBack: Big Brother 14 Live Feeds – 3 Day Trial!
9am Frank tells Mike that he doesn't think it would be fair for the coaches to enter the game. Mike agrees and says he thinks it cheapens the game. If I go home tomorrow, then Shane and Danielle did a good job at lying. Frank says that if that does happen, when I am walking out the door I will tell everyone that this guy had an alliance with me, this girl had an alliance with me and they both lied to me. Mike asks what Frank will say in his speech. Mike says that he doesn't like Danielle, she just won't commit. Frank says that she told me I was okay. Frank says that he wants go up to Janelle and tell her she doesn't have the votes, you might as well get Ashley and Wil to vote for me because I am staying and will be putting them up if they don't vote for me. Frank says that the only reason why he isn't sure if he should say it is if it got back to Britney. They start talking about Ian and how when he stresses out he rocks back and forth on the hammock. Mike says just imagine if he gets nominated. Frank says if he gets nominated he might vomit at the mouth telling everything he knows just to stay safe.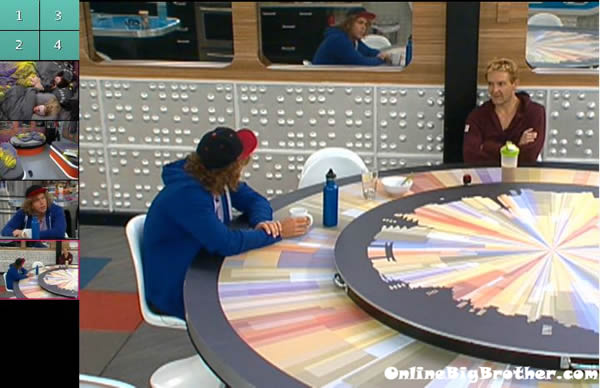 9:20am – 10:05am
Big Brother wakes up the other house guests. When the feeds come back, Mike and Frank continue to talk about the vote at the kitchen table. Mike says that if you go, then I need to make big moves, I can't be conservative. Mike says he might say hey Britney, things are good, I don't want to rock the boat but if I lose my star player, I may need to look to fill my roster spot if I win the coaches challenge. Mike and Frank wonder if it would be better coming from Frank. Mike says that Dan needs to be afraid of that too. Mike wonders if it would be better to trade Ian or Jenn. He says that Jenn has a better chance to get to then end, but no chance at winning. Ian doesn't have a good chance at getting to the end, but if he does he has a good chance at winning. Frank says what he will say to Britney is if I am still here Mike won't trade, if I'm not he will… Who do you think he will trade for? Mike laughs and says that's perfect. They talk about mentioning the possibility of Mike trading to Wil. Mike says Britney is the worst coach by far and she has no confidence going into the coaches competitions.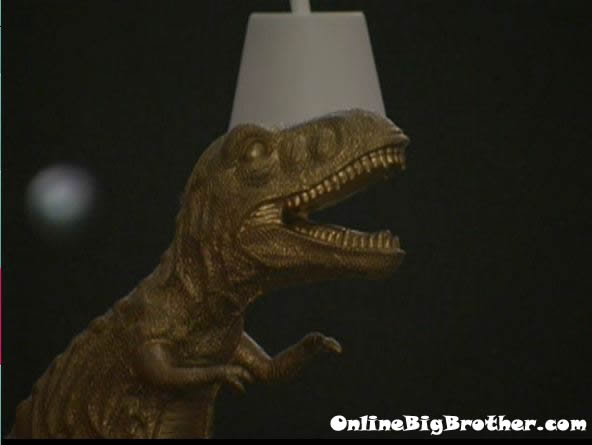 10:10am – 11:20am Mike, Joe and Frank are the only house guests awake. They make eggs and smoked salmon for breakfast. They talk about the votes and agree that no one is going to tell them for sure what is happening. Joe says that the thing about our block is there is no tie breaker; it's tough because there is not as many votes. Joe says it's tough because of the team / coaches twist. The conversation turns to what happened last night between Ian, Ashley and Wil. Joe says that it surprises him how upset people get over the littlest things. Mike decides to go lay down. Joe is in the kitchen making an avocado cheese cake. Frank is watching him and asking questions. Frank comments on how if it's an endurance competition he and Joe probably would not do too well at it. Joe says that Ian and Ashley probably will do well at it. Except for Ashley doesn't do too well with pain.
11:35am – 11:45am Joe is talking to the camera telling everyone how to make the cheese cake. Joe says to add one egg yolk at a time. He then dumps two egg yolks in to the mix. Frank says it's a science, but not rocket science. Frank is now helping make the cheese cake. Joe calls their cooking show "On The Block Cooking Show". Jenn, Wil and Danielle are finally awake and in the kitchen.
12:20pm Mike, Frank, Janelle and Wil are sitting in the living room talking about random stuff. They discuss their workout routines. Meanwhile, Joe, Danielle and Ashley are in the bathroom talking. Joe comments on how they will probably be locked in till tomorrow night at 6pm.
12:51pm Joe keeps picking at the cheese cake he made and taking little nibbles from it. (He is a have-not and isn't allowed to eat it.) Watch Joe break the Have-not rules on Flashback: Live Feed 3 Day Trial!
1pm – 1:40pm Danielle and Wil are talking in the bathroom. Wil whispers to Danielle that they totally think I'm going to evict Joe tomorrow. They talk about how they will blind side Jenn and Ian so that they aren't at their best in the HOH competition. Dan, Britney, Frank, Shane, Ian and Wil are sitting around the kitchen table talking about random stuff. Meanwhile Jenn, Ashley and Danielle are sitting on the bathroom couch.
Sign-up for the Big Brother Live Feeds and get the MOBILE Feeds for FREE!

Share it YO!!
Tweet