POV Holder:
Shane
Next POV:
July 28 (Saturday)
POV Used
Yes
POV Ceremony
July 30 (Monday)
HOH Winner:
SHANE
Next HOH:
Aug 2nd
Original Nominations:
Ashley And Joe
Current Nominations:
Joe And Frank
Have Nots (Cereal & Salmon)
Joe, Ian
Coach Competition Winner
Janelle (Wil SAFE)
Next Coaches Competition
August 3(Friday)
Last Evicted Houseguest
JOJO
12am Janelle, Britney, Mike, Danielle and Shane are in the arcade room talking. They talk about Mike's child and the others talk about growing up. Meanwhile Frank, Ian, Joe, Jenn, Ashley, and Wil are sitting around the kitchen table talking and joking around. Janelle and Ashley head into the stereo room. Ashley complains about how she was around Ian and she told him to stop looking into the mirror / camera. She says that Wil got mad at her. She says that he was quacking and she didn't know. Dan come in to look through his things for a nickel he has. He wants it to put it in the carnival game. He heads back to the arcade room. Ian climbs behind the carnival game and tries to turn it on. Big Brother cuts the live feeds. When they come back they talk about Ian wanting to dress up as a cat on Thursday. Shane asks I thought BB would not let you? Ian says they told me I could not last week. Big Brother cuts the feeds.
Watch what happens, AS it happens: Big Brother 14 Live Feeds!
In the photo below, can you spot Ian?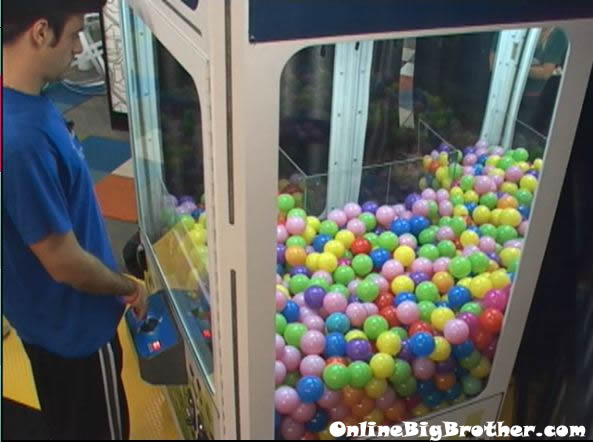 12:30am In the have-not room Janelle and Dan are talking. Janelle tells Dan that she wants to make sure the discussion about what they talked about yesterday actually happens (voting out Frank). Dan says yes. Janelle asks what kind of stuff did they pitch you, game stuff? Dan says yes ..I am not even voting either. Janelle says I don't think Danielle would play with them anyways. Dan asks Janelle to just calm down. Janelle says that he told her she was the first female member of the Renegades, I've got to be updated daily. Dan says that he was just talking; if something major came up I would tell you. Janelle says if you do what you say you are going to, then you gain my trust. Dan says okay. Janelle says I don't know why anyone would want to keep Frank, it would be so stupid. Dan says that it would be weird if I was avoiding people. Dan asks are your votes locked in. Janelle says yes. She says that Danielle is telling them Frank has her vote but come Thursday she is going to vote him out and blindside him. She asks you know that right?! Dan says yes.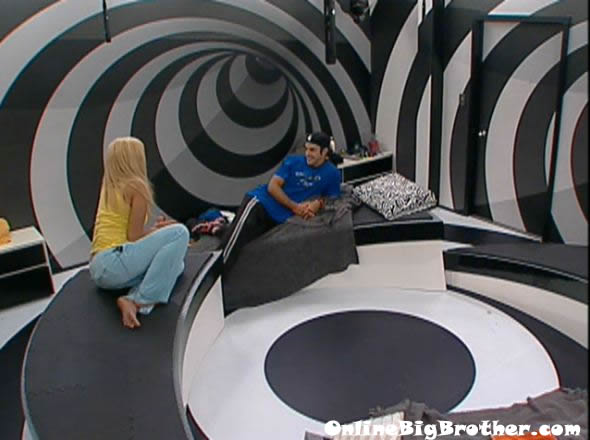 12:45am Janelle goes up to the HOH room with Britney. Janelle talks about her discussion she had with Wil. She says that she told him she would not be so head strong. She says that if he is in trouble or needs advice that he would come to her. Britney says so you and Wil are all good. Janelle says yes. Britney says that Wil is going to freak out when we come in the game. They talk about how they are scared about the votes on Thursday. They hope that everyone votes the way they are supposed to because if they don't they won't know until the last minute.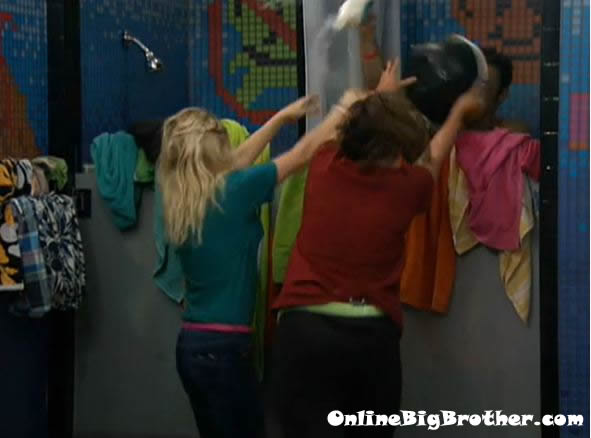 12:50am Dan is in the bathroom showering. Danielle fills up a bowl with ice and cold water to throw on Dan. Dan sees her coming and gets the big bottle of hand soap to squirt on her. Dan says nice try, A for effort but F for execution, and D on creativity. Danielle says what if I still did it. Dan says then I would squirt you. Britney comes in and grabs the bowl and throws it on him. They run out and refill the bowl. They come back and do it again. Dan goes to squirt them and Ian yell you could blind someone with that Dan. They throw the ice water on him again. He dumps the hands soap on them. Ian says that the floor now looks like someone just came all over the rug. Dan says what a bunch of southern a$$holes. Dan says that he is going to get them back when they aren't expecting it.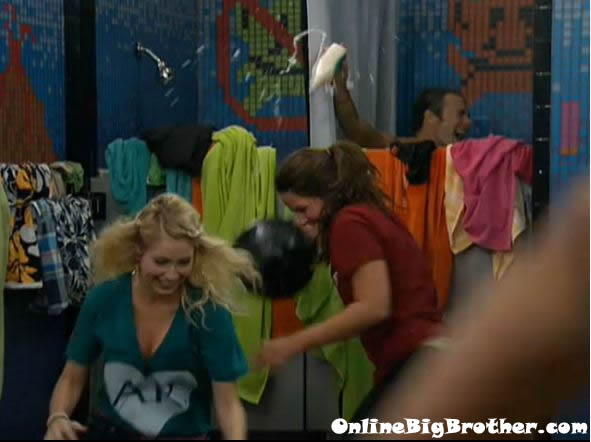 Up in the HOH room, Danielle tells Britney that Dan is going to murder her! Britney asks if he is going to be really pissed. Shane joins them. Danielle starts talking about what Janelle told her saying that Jojo said she was fat. Danielle says that it sucks because Janelle has three poisonous snakes on her team and we need to get them out. Shane says well we need to get out Frank. Danielle says yeah Frank this week. Britney tells them about how Janelle wanted to make up a lie to get Wil to vote the way they wanted. Britney says that she didn't want any part of it and they she overheard Janelle getting Ashley to do the same lie. Britney asks what did she think I would not realize it was the same lie. Danielle says that the night Ashley was on pain relaxants, I think she tried to OD on them. She took 6 of the pills, we counted and there were five missing. Shane asks why she would want to OD …Big Brother cuts the feeds. They discuss the coaches entering the game. Danielle thinks there will be a coaches competition where the top two coaches drop into the game.
Sign-up for the Big Brother Live Feeds and get the MOBILE Feeds for FREE!
2am Dan and Ian are in the backyard talking. Ian talks about being the most socially inept in the house. Dan asks him why he feels that way. Ian says that he would be pissed if coaches came in. That his chances would go from one in seven to one in eleven. Dan asks him what if he can work with some the Coaches. He says he would be up for that as he gets along with the coaches more then the newbies. Dan asks if he thinks the rest of the newbies would be mad if they came in. Ian says that he thinks so and that none of them seem to be talking about it or expect that to happen so they would be surprised. Dan asks if he was in the jury what would be base his vote on for the winner. He says for the best game regardless of his affiliation with them.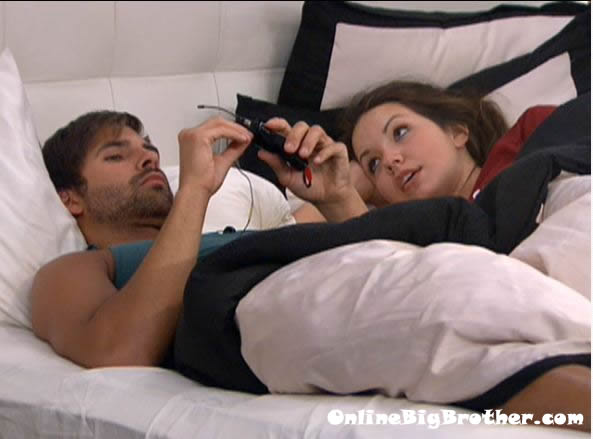 2:25am – 2:50am
Shane and Danielle are talking in the HOH bed. Shane tells her that he is afraid of getting into a Showmance. That he came into the game to play the game and nothing else. I am glad I met you as a friend. Danielle tells him that he tries to control life and that he can't do that. You also can't try when the other doesn't want it. Shane agrees. Danielle says that she doesn't want to make him awkward or push him away. She tells him that she doesn't want him to be mean to her. Do you think you could develop feelings for me? Shane says yes. Danielle keeps touching him and he keeps pushing her away. He tells her that she has a big butt. She says I can't believe you just said that?! Shane says that it's not a bad thing; it's a good think I like butts. Danielle asks Shane what if I take care of you? He says he would not allow it and money dictates what he does. Danielle tells Shane she would hate to miss out on a relationship because she was afraid. Shane says he had his mind set before coming into the house that he would not allow himself to get into a showmance. Danielle tells Shane it doesn't matter if he's going to be a closed book, that she will continue to be an open book. Danielle decides to leave to go to sleep.
3am Danielle and Dan are talking about the coaches coming into the game. They talk about if Shane and Britney trust him. She says yes. Danielle says that she is afraid he will stab her in the back. Dan asks why? Danielle says because you know too much about me. Danielle says so what? Do you just want me to wake everyone up and tell them you're a nurse right now? No, I wouldn't do that. You're too valuable to me. Danielle says awe. They both decide to go to sleep.
Re-Watch ALL THE DRAMA on FlashBack: Big Brother 14 Live Feeds – 3 Day Trial!
Share it YO!!
Tweet