POV Holder:
Shane
Next POV:
July 28 (Saturday)
POV Used
Yes
POV Ceremony
July 30 (Monday)
HOH Winner:
SHANE
Next HOH:
Aug 2nd
Original Nominations:
Ashley And Joe
Current Nominations:
Joe And Frank
Have Nots (Cereal & Salmon)
Joe, Ian
Coach Competition Winner
Janelle (Wil SAFE)
Next Coaches Competition
August 3(Friday)
Last Evicted Houseguest
JOJO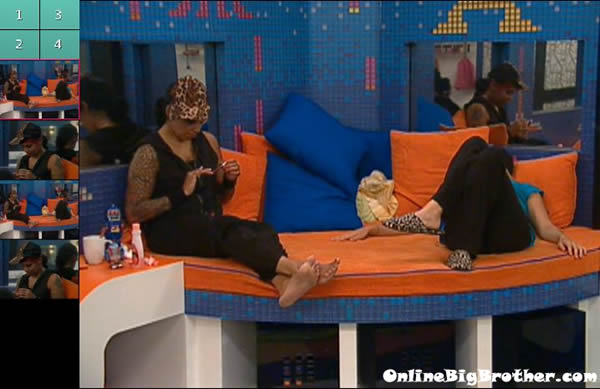 1:50pm Jenn and Ashley talk in the bathroom about wanting a girl to win this next HOH competition. Jenn says we need to stick together, girl power. Jenn says that we have to do something or we will be in deep sh*t. Jenn says we need to get Danielle. Ashley says agrees. Jenn says that she was really worried about the coaches coming into the game, but I don't think it is going to happen. Ashley says that she doesn't think it will happen either. Ashley asks Jenn if she was a fan of the show. Jenn says no, that she was contacted through facebook by a guy. She says that it all happened in a 2 week period.
Watch what happens, AS it happens: Big Brother 14 Live Feeds!
Subscribe today for your FREE 3 DAY TRIAL!
2:10pm In the living room, Britney attacks Ted the stuffed bear and Frank says Birtney to the diary room, Ted to the bathroom. Dan then comes into the living room and super kicks Ted. Frank then chases Dan off camera. They come back and Dan says man you are strong as hell. Shane comes out of the diary room with the BB rules book.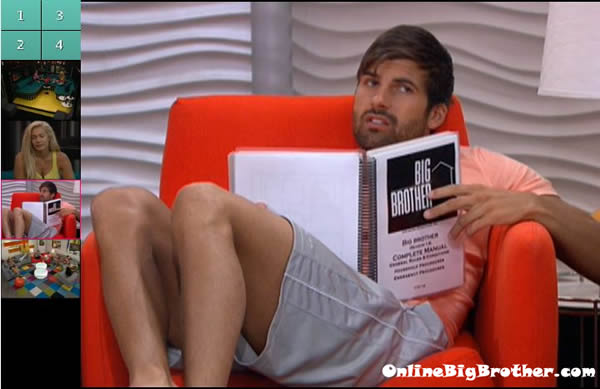 2:15pm – 2:35pm Janelle and Britney are talking on the bathroom couch. They are talking about how Ian will hang on for hours if it's an endurance competition. Britney says that Boogie is going to go into the game. Britney talks about how Janelle will have three players. Janelle says that Boogie is going to be blindsided tomorrow when Frank is voted out. They head into the arcade room. Janelle asks Britney if she talked to Wil this morning. Britney says she did. Britney says that she talked to both Wil and Danielle and she says that they are voting for Frank but that it sounds like they aren't. Janelle says that it will be scary. They talk about jury and if they well get to stay together. Janelle says hopefully we don't even go to jury and make it to the end. They talk about how Dan could win against a newbie because people respect him. Janelle says that Dick tried to bring in a wetsuit for the water competitions but that they took it from him. Britney and Janelle both said that they tried to bring in gloves but they were taken away. Britney tells Janelle how she should dress if it's a water competition. She says if you go into the backyard and there are gutters, then take everything off that you don't need. Janelle says that she is horrible at endurance but that she will hold on. Ian can't win this, who do you think he would put up if he won? Janelle answers her own question saying that it would probably be her and Wil. Britney agrees. Britney says that Shane is going to want Dan and Boogie out, which is good for us.
2:45pm Up in the HOH room Wil and Britney are talking about how they can't tell Joe anything. Wil says that Ashley obviously knows something about Ian, when she told him to stop quacking. Britney thinks maybe she was trying to listen in on our conversation. Britney says that she called Danielle – Janelle Jr. and that she was insulted. Britney says that she didn't mean it as an insult. Britney and Wil discuss how Janelle upset him the other night. Britney says that she was scared that you would flip your vote. Wil says that once he gives his word he sticks to it. And that he can't wait to see Boogie and Franks face when the votes come in. They discuss tomorrows competition being an endurance. Britney thinks BB will integrate the coaches competition into the endurance comp tomorrow. Wil asks Britney if her and Shane would be interested in working with him going forward next week. Britney says that Shane had mentioned that too and that they would be interested in that. Britney says that she has been worried about being able to trust Janelle.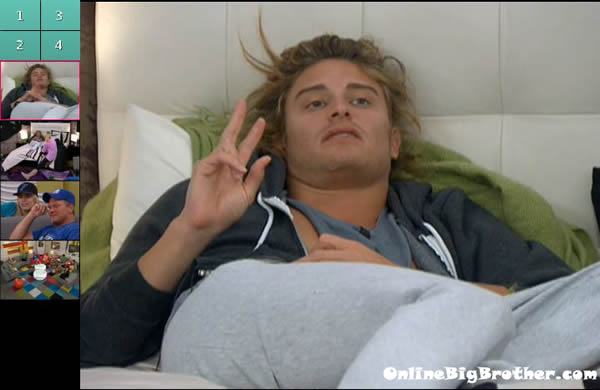 2:50pm – 3pm Wil says that tonight he is going to tell Frank for the first time that he has his vote, and that this will be the first time I go against my word. But not really because I gave you guys my word first. Wil mentions that it would be good for us to work with Danielle too. They both agree that they can trust Danielle. Frank comes up to the HOH room and Wil leaves. Frank tells Britney that she missed him swing Dan around like a helicopter.
Share it YO!!
Tweet