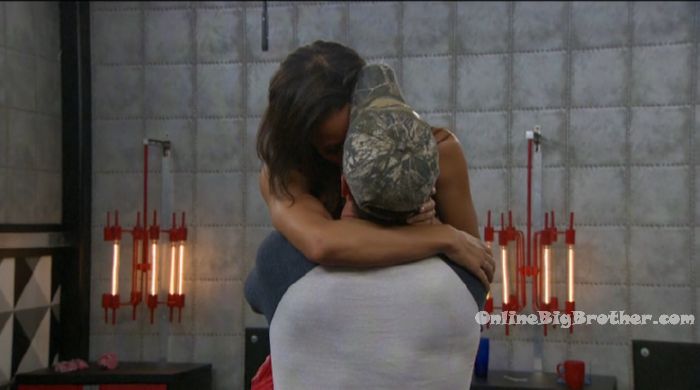 Check out our BB19 Ranking Grid. . rank your houseguests here
Paul Nominated: Josh & Alex
Ramses put himself up on the block (Curse)

See what they can't show you on TV Try the live feeds for FREE!
7pm Havenot room – Cody and Jessica.
Cody – f**king cowards! It's a about a 15% chance I get to play (in the veto). Jess – technically if I play.. Cody – yeah you're right. That was a bad move on their part. The should have put me and you together and forced my hand that way. Jess – I really thought it was going to happen once Ramses stood up. Jess – Ramses is going to have to throw the veto because if he wins it … then there is no replacement nominee. Cody – then they would send Alex home. They're going to sh*t if I get picked for that veto. Jess – I'm going to sh*t if you get picked. Cody – I am going to continue to walk around and make them feel as awkward as f**k.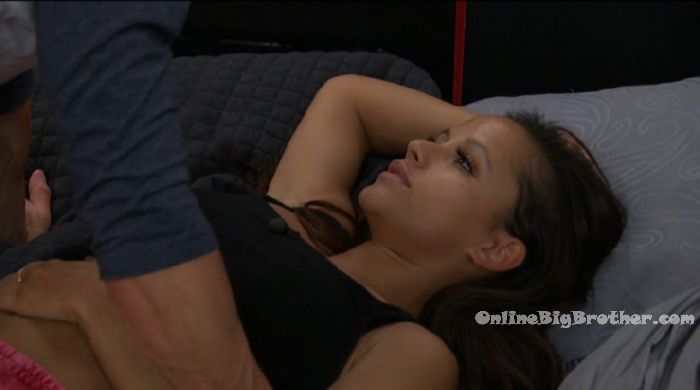 In the kitchen – Jason – Okay so that's the plan. I couldn't figure out why one of them (Cody Or Jess) wasn't on there. Paul tells Josh – you see how pissed he (Cody) was.. because he's like now I can tie (Josh) you and her (Alex) in. Paul goes to Alex and says no one is going home except for Cody. Paul tells Elena, Mark and Raven – the only thing that you need to do is make sure Ramses throws that veto. Paul tells Ramses – for your cooperation of keeping you safe this week all we ask is that you throw the veto to somebody so they can pull themselves off and I can replace them with Cody. Or you just sit there and you won't go home. You can tell everyone is on the same page. You just need to trust everybody. You could tell by his expression that he was defeated. The only thing he is going to do is come to you and promise you the world but he has nothing to give you. Everyone is on board. You can ask anyone in this room. You will not go home if Cody is up there. If you pull yourself off that will just piss everyone off. So lets work together this week. Paul fist bumps Ramses. Jason then asks Paul if he can host the veto comp. Paul says yes because you asked first. Paul heads the to bathroom and comments on how everyone can just sit down in the veto comp and let Alex win it. Paul – or I'll win it and says Alex thank you for your cooperation. And then take her off.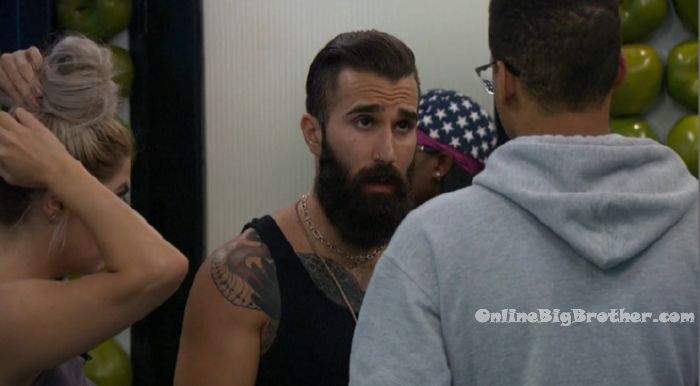 7:10pm In the lounge room – Christmas – watch him be like you didn't pick me like a man. Paul – he didn't either. I am just returning the favor. Paul – click, click, click checkmate! May fans are literally going to sh*t their pants. Mark – Backstabbed, to safety, to HOH, to payback.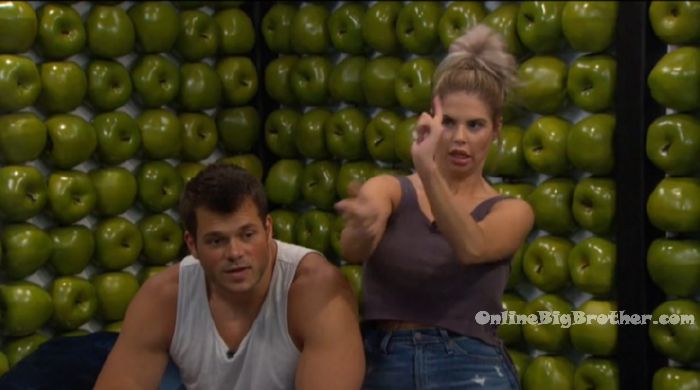 Elena brings out the big guns #bb19 @bigbspoilers pic.twitter.com/3KsfDag3Fx

— Dawg (@DawgsBigBrother) July 8, 2017

FLASHBACK and watch everything you missed: Live Feed 7 day FREE Trial!
Storage room – Jason & Alex.
Jason – what was up with the f**king scoop? Alex – it was literally nothing he just knew the curse was going to hit. Jason – how the f**k does he know? This f**king guy is a genius. Alex – no he's friends with everyone. That's why I said don't say sh*t to anyone. Jason – did Christmas get the temptation. She doesn't deserve it. Jason – is Paul going to ask us to team up with him? Alex – yes, if you shut your mouth. That's what he's told me.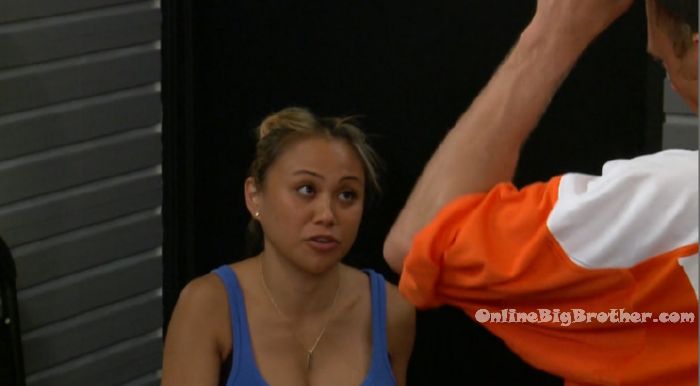 Havenot room – Jessica – it cost us the game. Cody – we're literally fighting week to week. Jess – keep praying gods not answering. Cody – look at us, we already won.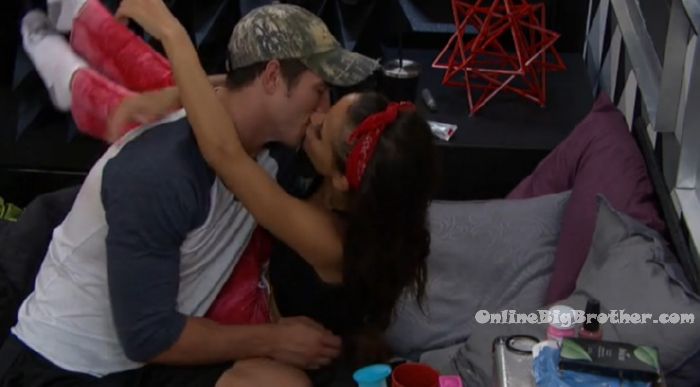 7:45pm Big Brother blocks the feeds..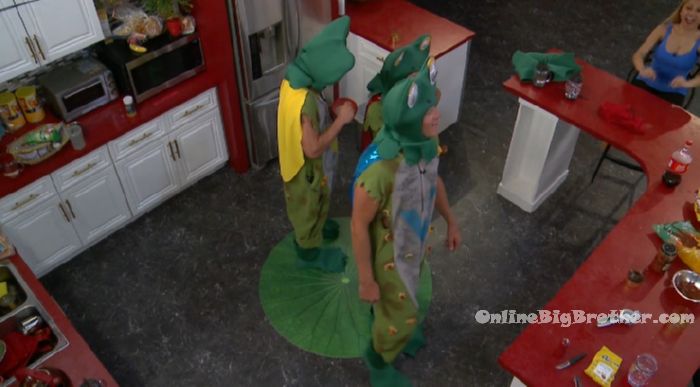 8:15pm Cody, Jessica, Jason are in toad costumes. They have to hop when they're not on a lily pad. They can't walk. Jason – we have to wear these for a week. we're V-TOADS! Christmas tells them they're being good sports about it. Cody does not look impressed. Jason – I won't be so energetic about this tomorrow.
Jason, Cody and Jessica got it with the V-Toad Curse#bb19 @bigbspoilers pic.twitter.com/D7CHK1Ml6T

— Dawg (@DawgsBigBrother) July 8, 2017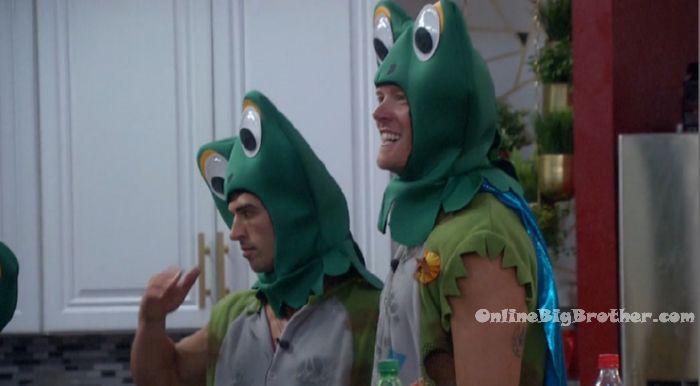 Jessica – all of my clients are going to have this photo. Our children are going to see this. Cody – oh yeah. They start making out.
8:55pm HOH room – Raven, Dom, Matt, Christmas, Josh, Kevin, Jason, Paul, Ramses, Elena and Mark. They head down to the kitchen. Kevin dresses up like Jason.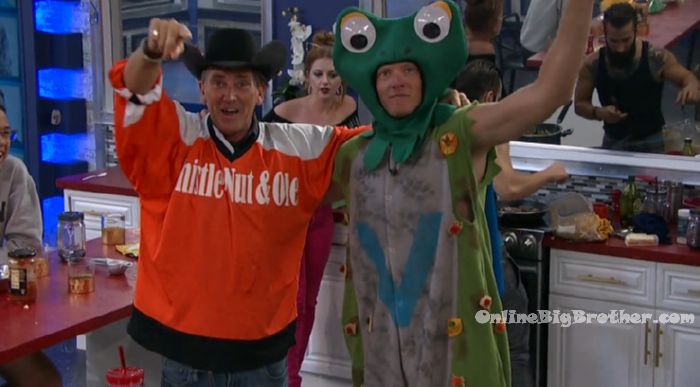 9am – 9:25pm Havenot room – Jessica and Cody.
Jessica – I was DM'd on Instagram from a t-shirt company that put me in touch with CBS to be on here. Cody – you're scared I'm going to let you go? Jessica – no, I'm very hopeful with this. Jessica – I thought I had it in me to fake it till I make it. Cody – I thought I could to but I can't. Cody – I think what I'll do is avoid personal relationships altogether. Just f**king team up but don't like anyone. Jess – what should I do if you leave this week. Cody – be comfortable. Figure out a way to keep your sanity. Jess – you're my sanity. Cody – Fake a relationship because now you have a sweet dagger that you could end up using.

Links to the ranking system
Rank your house guests here
For those of you that like Statistics here are some expanded reports.