POV Holder:
Elissa
Next POV
July 20th
POV Used
?
POV Ceremony
July 22
HOH Winner:
JUDD
Next HOH:
July 25
MVP:
?
Original Nominations:
Aaryn, Kaitlin, ELISSA (MVP – America)
Current Nominations:
Last Evicted Houseguest
David, Nick, Jeremy
Have Nots
Jessie, Candice, Andy, Spencer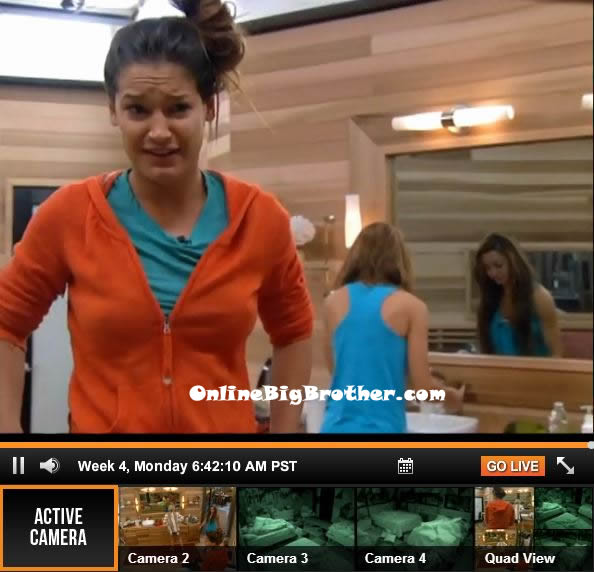 (FYI – the live feed time stamp is wrong. It is 2 hours 13 minutes behind.)
8:30am – 8:55am Big Brother switches the live feeds to the we'll be right back screen to wake up the house guests. In the bathroom – Jessie asks can you be so stressed out that you skip your period? Elissa says yes. Elissa explains that all of their periods will line up together. Isn't that so weird?! Candice says for her it would immaculate conception. Elissa says for her too, I haven't seen my husband in 30 days. Elissa says wouldn't that be so exciting – then I could tell my husband in the diary room. Like "I am going to self evict because I'm pregnant!" Helen joins them and complains about how bad her punishment was. You can't watch anything or hear anything. Howard joins Candice in the bedroom. Candice starts in on him again about telling her to go inside when he was talking to Kaitlin. Howard says okay I won't do it again. Candice says it hurt my feelings but today is a new day. I don't understand it but.. it's over. Howard gets up and leaves and says okay. Howard heads out to run with Helen. Helen asks Spencer if he is okay. Spencer says yeah he is just a little nervous about the nominations. Helen says no matter who it is nominated we just need to stick to the plan and not vote them out. Big Brother announces that the veto ceremony will be in 1 hour.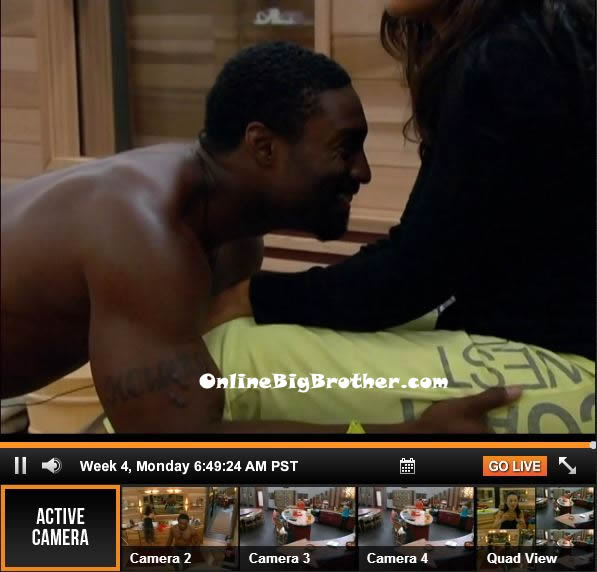 9:20am Jessie talks to Candice on the lounge chair about how she is sick of Amanda. She says that Amanda thinks she is hot sh*t when she's not. She talks sh*t all the time and doesn't clean up after herself. She needs to go. Candice says that she will have to be back doored. Jessie says she was dancing around in her thong. Candice says eww.. that's gross. Candice says that she's said in the diary room that she is fu*king tired of her nipples and her underwear. She is on a mission for Howie and I am tired of it. Jessie says now it is the Amanda and McCrae show and I am sick of it. Candice says that McCrae would be such a strong player but he is so in love with her. He has never had a big t*ttie bi*tch! Candice says we just have to be smarter and win HOH and back door her. Jessie agrees. Jessie and Candice talk about pranking Andy. Candice yells to Andy that she is going to get him. Andy fingers her and yells "I've been CRAB SHACKED!" Andy joins them and they talk about how they would decide havenot teams. Howard, Andy, Jessie and Candice discuss the MVP nomination.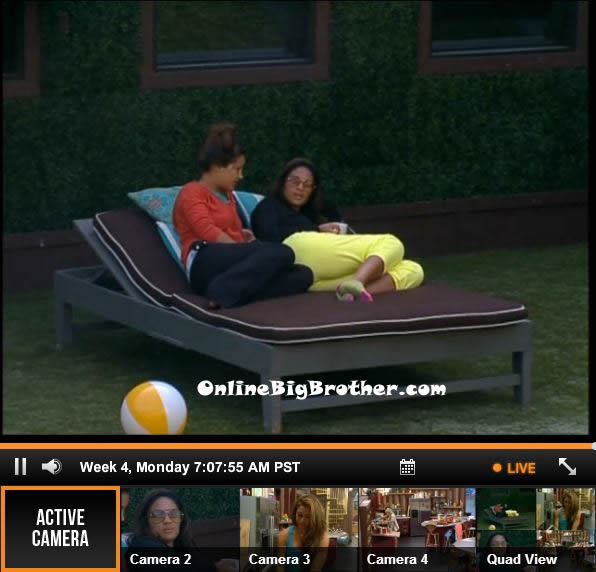 Candice says she is going to get Andy. Andy fingers Candice and says "I've been CRAB SHACKED!" #BB15 @bigbspoilers pic.twitter.com/1LdbNMiZxY

— Dawg (@DawgsBigBrother) July 22, 2013
9:45am – 9:50pm Candice and Jessie head inside to change. Andy naps on the backyard lounger and Howard continues to work out. In the bathroom – Kaitlin is doing her makeup. Judd joins them. Judd says your gonna learn today! Judd says that he is going to say that to Aaryn on a live show. Aaryn says fu*k you. Just like your speech you did, that was so mean. Judd says that was supposed to be a joke but you took it wrong. Ginamarie thought it was funny.
9:50am – 10:10am In the bedroom – Judd is talking to Elissa. Judd asks Elissa if she is going to be sassy in her speech. Elissa asks how did you know? Elissa says her speech would be whoever put me up you should be scared because I'm the best player in Big Brother history. Judd tells her not to say that. Elissa says I am just a sassy person. Elissa says that she is going to nominate him. He tells her not to call people out too hard either. Judd comments that McCrae slept with Godzilla last night. Judd heads into the other bedroom to talk to Gina. Judd talks to her about how he doesn't think Elissa is the MVP unless she is still messing with me. Gina wonders if an evicted HG is the MVP. She starts to wonder who Nick would put up. Judd leaves the room. Judd joins Elissa in the other bedroom again. Big Brother gets called to the diary room. Elissa says really, Howard? She says they're calling you out! Judd comments that Elissa is pretty. Andy jokingly says Meh. Judd talks about how he doesn't want people to think he is stupid. Andy says I don't think anyone thinks your stupid. Judd says I am from a small town and I just don't want it to reflect on my people. Andy and Elissa joke about how it wasn't fair that McCrae got Godzilla for his birthday.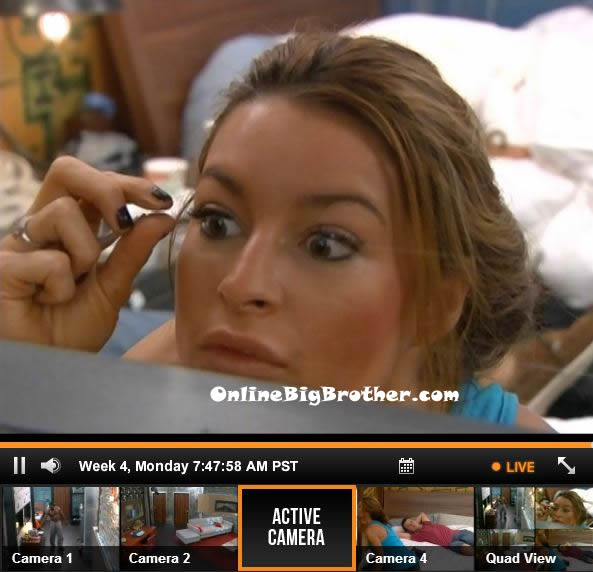 10:15am – 10:30am In the back bedroom – Aaryn, Jessie, Gina, Andy and Judd wonder about who the MVP is. Gina says that Nick told her telepathically who he is nominating. Judd gets up and leaves the room again. Andy says if I get nominated I am going to go on a war path and flip mattresses, rip up the hammock.. Jessie says I hope it is you, that would be entertaining.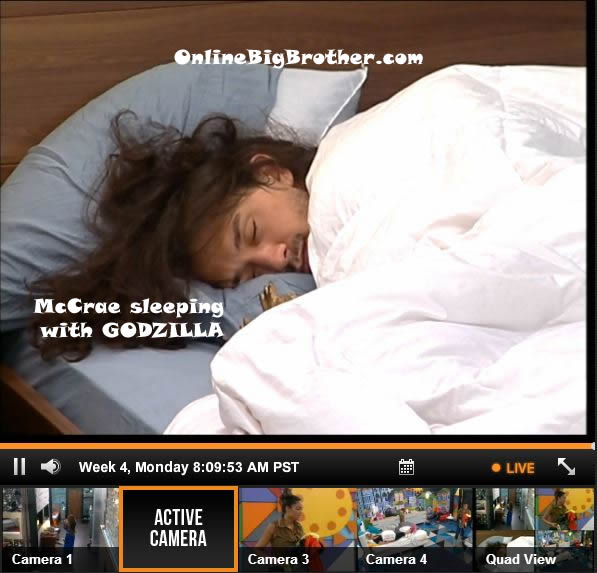 10:30am Out in the backyard – Helen and Andy talk about how Kaitlin and Howard need to go before Aaryn does. Jessie joins them. Helen says that Howard is using Candice. Jessie says he is. Helen says that Howard has Spencer and Candice and he is trying to get her to get Kaitlin to work with them. Andy says this is the red flag for me Kaitlin used to come to me and talk to me about everything and she hasn't come to me in two days. Helen says she hasn't come to me in a week. Kaitlin joins them. They talk about whether or not America was MVP. Kaitlin doesn't think so because they wouldn't have put up Elissa. Helen thinks it could be, because they could be sick of her getting a free pass. Kaitlin, Andy and Helen head inside. Aaryn tells Jessie that she is nervous. Jessie says don't tell anyone but things are changing and I think you are safe. Aaryn says she hopes so. Big Brother tells the house guests they are on an out door lock down.


10:35am The live feeds switch to the we'll be right back screen.
10:40am The feeds switch to TRIVIA for the VETO Ceremony..