POV Holder:
Elissa
Next POV
July 20th
POV Used
YES
POV Ceremony
July 22
HOH Winner:
JUDD
Next HOH:
July 25
MVP:
AMERICA
Original Nominations:
Aaryn, Kaitlin, ELISSA (MVP – America)
Current Nominations:
Aaryn, Kaitlin, GINAMARIE (MVP – America)
Last Evicted Houseguest
David, Nick, Jeremy
Have Nots
Jessie, Candice, Andy, Spencer
(FYI – the live feed time stamp is wrong. It is 2 hours 13 minutes behind.)
10:35am – 11:20am The Big Brother live feeds switch to the we'll be right back screen and then to TRIVIA for the Veto Ceremony. When the feeds return, we learn that Elissa used the VETO on herself. AS MVP America voted GINAMARIE as the REPLACEMENT NOMINEE.
(The replacement was chosen from the next eligible house guest that received the most votes after Elissa in the "Who should America nominate as the 3rd nominee" poll.)
It's going to be a CRAZY WEEK! Watch it all on the Big Brother 15 LIVE FEEDS:
FREE 2 DAY TRIAL!
11:25pm – 11:40am Kaitlin says that was the last thing I was expecting! Aaryn says at least we all know it's not us as the MVP! Ginamarie says well they did put the 3 prettiest girls up on the block! Aaryn says well I don't think I am one of the prettiest but thank you. My picture looked good up on the screen though! Aaryn comments that it's illegal what CBS did. Kaitlin says what's illegal they can do what ever they want it's their show. Gina says "People shook, people scared, people think I am a competitor, I like it! Kaitlin says that Gina is being spunky. Gina says I just wish Judd had put me up so I would have had a chance to play in the VETO. I wish I could have won the $5000. Gina says I came to play, I take it as a compliment, SEND ME HOME, Let's go, bring it! Send me home, I don't care – I will get to see my family, I will get to see NICK! It's all good! Gina says people have their own minds, they obviously don't have their own balls. Gina says I've got pink sneakers, who's cooler than me? Nobody!!! Aaryn says that she doesn't know what to say. Gina says don't say nothing, I'm cool! I am a competitor just like Jeremy! Aaryn says it's the first week that a girl is going home. Gina says yup!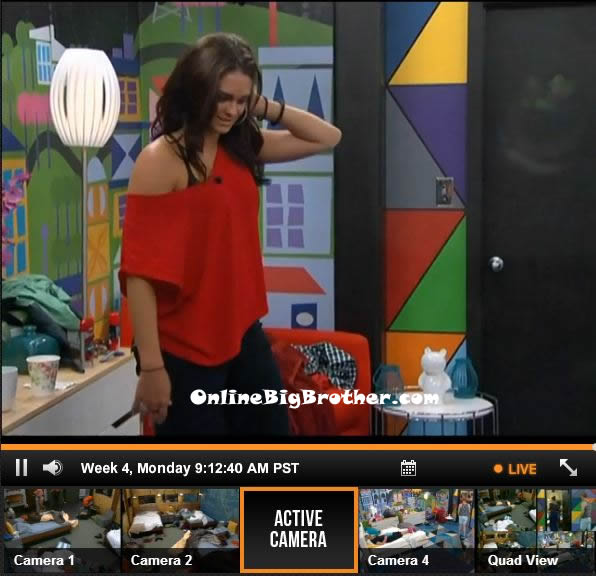 11:40am – 11:45am Judd is talking to Gina and tells her she is fine, there are bigger people to fry. You're going to be the zero vote. Gina says if Elissa put me up then she wants me out. Judd says people like you though. Gina says I am just going to lay here, I don't want to talk to anyone. I am going to just go to bed early. I am going to think about my family and NICK. Judd tells her that he wants Aaryn gone. It would be a waste of my HOH if she doesn't go home! You're fine, you're not going anywhere! Kaitlin joins them and tells them that Elissa was listening to their conversation earlier. Kaitlin tells Gina that you going up seals Aaryn's fate!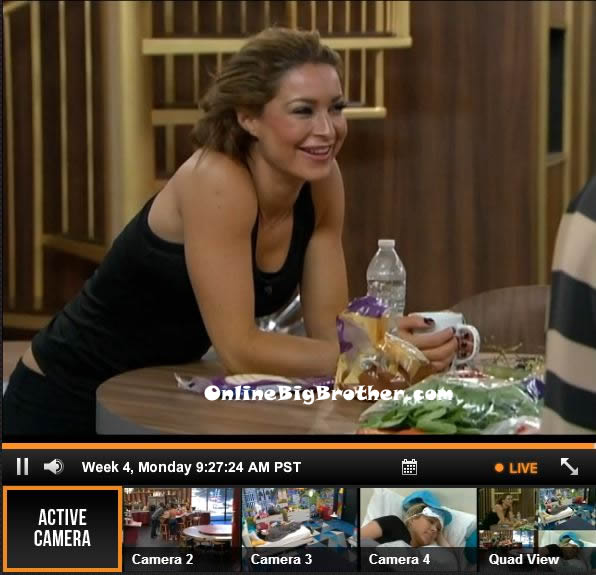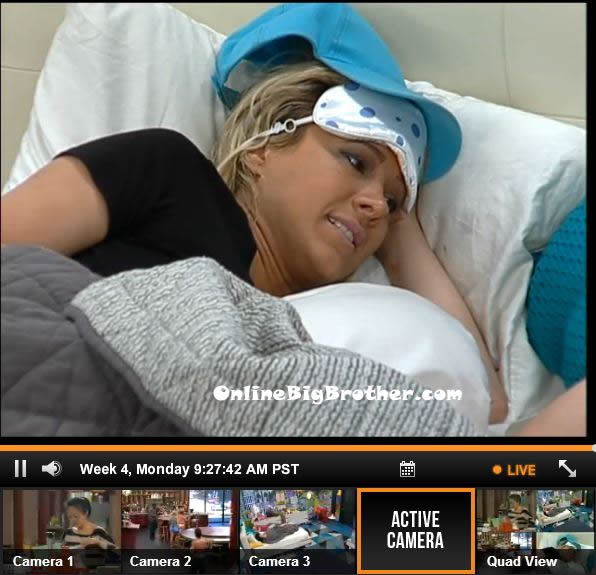 Amanda, McCrae and Andy are out in the backyard talking. They are trying to decide how to get Elissa to vote out Kaitlin. They think Candice will go bat sh*t crazy. Amanda says I was so nervous! The cameras switch the bedroom.
11:50am – 11:55am In the bedroom Helen and Judd are talking. Helen says that in the next POV Elissa can't play. Helen is trying to convince Judd that Kaitlin staying she is more likely to win HOH. Judd says and Aaryn will have a bigger target on her staying. Helen says that McCrae and Andy both want Kaitlin out. Kaitlin joins them. Helen says I really thought I was going up. If anyone really thought Aaryn was MVP, she definitely isn't. Kaitlin says it doesn't make sense, if you were up Aaryn would still be going home, same with Gina. Helen says that she doesn't think its America as MVP now because they would love Gina. Helen says that she thinks it's someone playing both side. Kaitlin asks Howard? Helen says yeah. Kaitlin says Howard is going to keep playing both sides until he goes home. He recently told me that he was throwing competitions when Jeremy was here. Helen says we have to win HOH and back door him. Kaitlin says the night Jeremy got evicted, Howard got called to the diary room twice before me and it was supposed to be a big night for me. Kaitlin asks Helen do you think that Aaryn is still going? Helen says yes!
In the bathroom – Aaryn comments to Elissa that it must be nice to be off the block. Elissa doesn't say anything and leaves the room. Aaryn comments to Helen that Elissa didn't say anything to me. Helen tells her I know, just be nice.

12pm Up in the HOH room – Kaitlin is talking to Judd about how Helen thinks its Howard. She says that Helen said if I win HOH I have to do what the house wants and back door him. Meanwhile we are making a deal with him. Judd says you don't have to do it. She (Helen) thinks she is the house and she isn't. Judd says that he was shocked to see Ginamarie's face on the screen. Kaitlin says she wanted it to be Amanda so BAD! Kaitlin says if Aaryn goes home this week. Then they will back door me next week and not let me play for the veto. Judd says he thinks someone else will be the target. Judd says if they put up Howard, they would probably put up Candice and Spencer for veto reasons. Kaitlin thinks if Candice goes up she will go crazy!
12:10pm Spencer and Howard are in the havenot room. Howard says whatever it don't matter at least we aren't on the block. We just need to focus on the HOH. Spencer says we are in pretty good shape with everyone. Howard says I think people think we are together but that's fine. Spencer says I actually think they think you are closer to Candice. Spencer says he is going to have at least one good talk with Elissa tonight. Spencer says I think we need to name the alliance. If we do that I think Andy will be down instead of thinking we are just talking. Spencer says that Andy is down with us and Judd. Howard says that Andy is smart, he is safe pretty much every week with whoever is HOH. Spencer says that people listen to him too, whoever is in HOH. So that will be good for us – he can keep our names out of people's mouths. Spencer says I talked to Jessie yesterday and she wants Amanda out, which is right on par with what we want. Howard says I like it, we are sitting good! Spencer says we have to be real careful we can't start the war too soon. The best case scenario would be for Kaitlin to get HOH because she would put up Amanda and McCrae. And if Elissa has a power to swap the nominees she would probably put up me and Candice. It's just things to think about. We can't play being scared about a power that might not exist though. Howard and Spencer talk about strengthening the bond with Candice. Spencer says if we fire the shot too soon it could bounce back on us. Howard says either way what's gonna happen, gonna happen.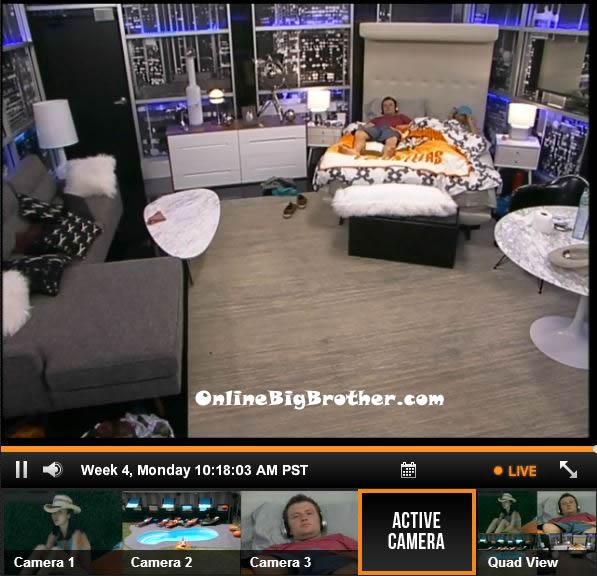 12:30pm In the back bedroom – McCrae tells Gina that she is safe, no matter what she is not going home. McCrae says that she has his and Amanda's vote. McCrae says she is cool with them. He says no one can say anything bad about you. McCrae tells her that he will give her his $5000 if she goes home. That's how confident I feel about you staying. He says that Kaitlin and Aaryn run their mouths all day long and make themselves look bad. McCrae leaves. Gina heads up to take a nap in the HOH room because she is pissed that everyone keeps coming in to the bedroom and slamming drawers and doors even though they see her sleeping there. Judd tells her it's cool, I am just going to listen to music here.
TODAY is your LAST CHANCE to sign-up for the Big Brother 15 Seasons PASS for $26.99!
FREE 2 DAY TRIAL
Starting tomorrow you can only purchase the monthly pass for $9.99 per month.