POV Holder:
Donny
Next POV
?
POV Used
YES
POV Ceremony
June 29th
HOH Winner Team 1:
Frankie
HOH Winner Team 2:
Caleb (current HOH)
Battle of the Block Winner
Brittany, Victoria
Next HOH/ Next BOB
?
Original Nominations:
Caleb noms (Donny, Paola) Frankie noms (Brittany, Victoria)
Current Nominations:
Joey, Paola
Have Nots
Cody, Hayden, Joey, Brittany
POV Players
Donny, Paola, Cody, Zach, Caleb, Victoria (HOST = Jocasta)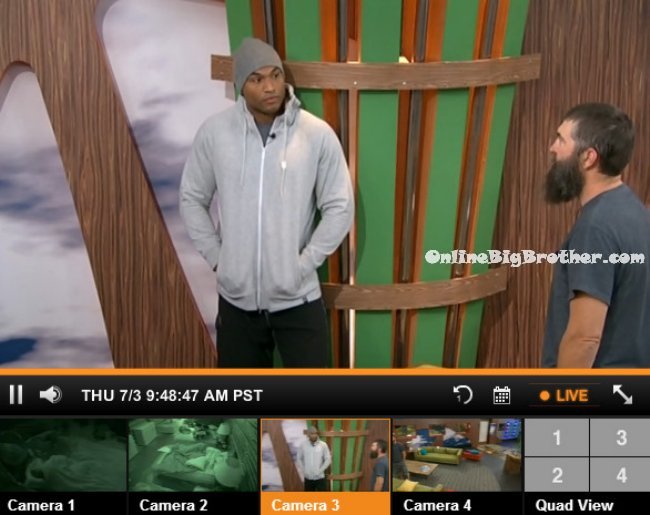 WATCH the next 2 DAYS for FREE – Big Brother 16 Live Feed TRIAL!
9:20am Donny is awake and getting ready for the day. Devin wakes up and stands in the living room near the diary room door. Donny comes by and they start talking. Devin tells Donny that one of the big reasons why he told him what he did was because intergrity and honesty is … Big Brother cuts the feeds… when they come back Devin says I would really like to be friends with you outside the house and even come visit you in North Carolina. Donny tells Devin that he appreciates him telling everybody. What did they say? Devin says I'm not sure .. I tried to look everyone in the eyes and just get it out. After I had to keep moving and went up to the HOH room. Devin says I've really gotten to know you over the past few days with our talks in the backyard.. Big Brother blocks the live feeds again and when they come back Devin is coming out of the diary room with his water bottle. He says that he left it in there last night.
10am – 10:30am Big Brother wakes up the house guests. When the live feeds return – Christine Joey and Nicole are in the bathroom brushing their teeth. The cameras switch to the fire bedroom. Donny is talking to the Brittany, Amber, Jocasta. Joey joins them. He says that Devin was worried about it because someone else was going to be HOH and he was worried someone was going to tell me.
In the kitchen – Devin is talking to Frankie about why he called the house meeting to tell everyone about what he had done. He says that I have a daughter and want to be accountable for my actions.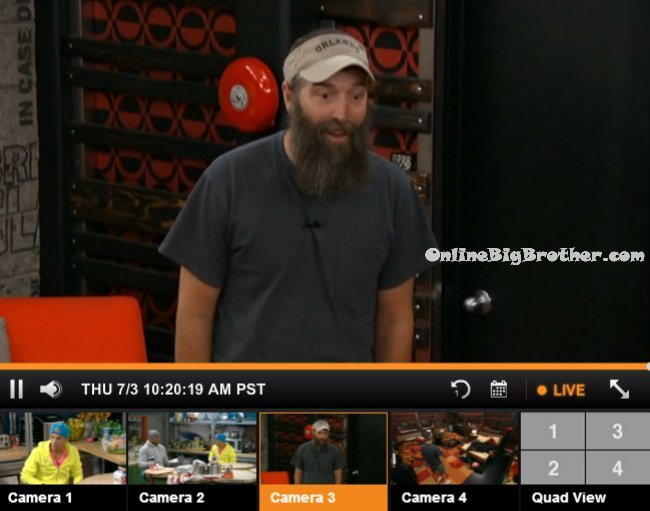 10:30am Big Brother blocks the live feeds and when they return all the house guests are getting ready for the HOH lock down. In the bathroom – Amber, Victoria and Chirstine are getting ready. Frankie comments that he's going to head up to shower and get ready in the HOH room before people start coming up. Devin walks into the kitchen and Frankie says I thought you were showering? Devin says no I'm going to go take a man man. Frankie asks you're going to take a man man?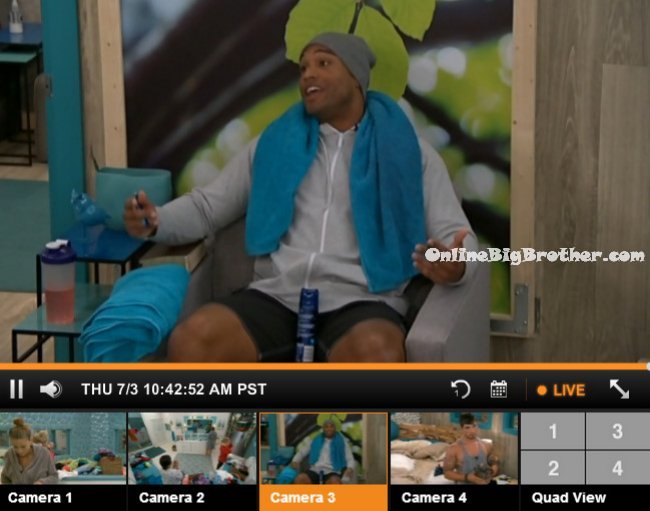 10:40am – 11am Devin heads up to the HOH room with Caleb. Devin tells Caleb obviously we still have our alliance. Caleb says well I heard what you said and I heard that you tried to throw me under that bus. Devin asks what?! No that didn't even happen. Caleb says you said you forced me to put Donny up. Frankie and Derrick join them. Frankie explains that you saying you forced Caleb made it sound like Caleb lied about why he put up Donny. Caleb says I told people that I put up Donny because he fell off first and now you're telling people it was because you forced me. Devin says I don't even care any more, I'm not even in game mode. If I wanted to throw you guys under the bus I could have revealed the bomb squad. You know what I don't even care you guys think what you want. Devin says I'm thinking about just throwing this HOH so that I can go home to my daughter. Devin says I consider you Caleb as one of my closest friends in here. Devin says whatever I don't even care bro! I just wanted to know if you caught wind of what I said. You guys are the people I am closest to in the house. Devin says I just came up here to find out if we're all on the same page about who is going home tonight. They talk about how Joey is the one going home. Derrick says I wish she was the type of person we could tell but Alex will come out. Devin ask them to give him the head nod if things change. I am going to bust my a$$ in challenges and I would never blow you guys up and expose anything. If I go out I will keep my head held high. Devin says that coming in here I said I was going to play as honest as possible and not seen as being willing to do anything for the money. Devin says I just don't want you to ever think that I tried to throw you under the bus. Caleb and Devin hug. Derrick heads down stairs. Frankie and Caleb tell Devin that they know it wasn't his intention to throw Caleb under the bus. Frankie says don't even think about it any more its fixed.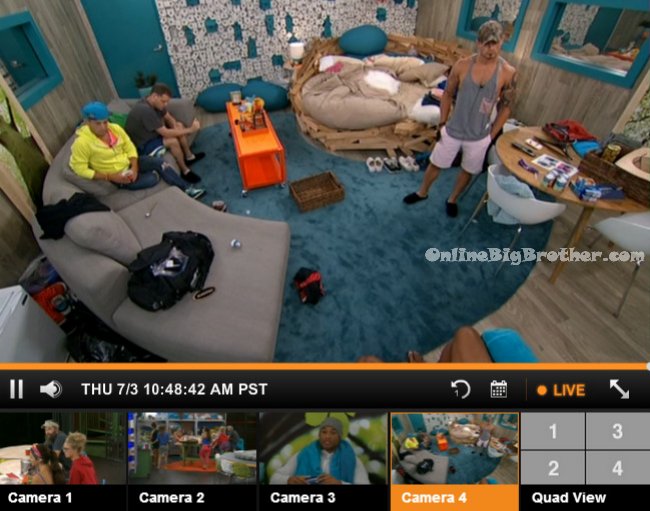 11:05am Frankie tells Devin that he is going to be sober and stop drinking. Frankie says that when I drink I get tired, lethargic, I can't think… I wanted to come in here and compete and I can't do that when I drink. Frankie says that outside the house he went 180 some odd days without drinking. Devin appreciates Frankie coming to him and telling him that. Devin relates stories about his rehab.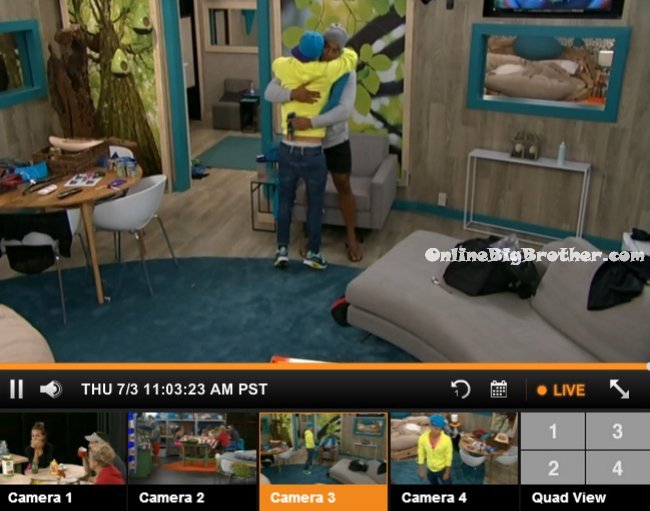 11:10am Big Brother switches the live feeds to the we'll be right back screen.. When they return – Devin is in the bathroom shaving. He says the only thing that bothers me is that Brittany came up to me a couple times saying what I did was sweet. The cameras switch to Derrick telling Christine about the conversation they had with Devin in the HOH room. The camera switch back to the HOH room where Devin tells Amber that for people to misconstrue what he said last night is crazy because he in now way was trying to throw anyone under the bus. Frankie comes out of the bathroom n@ked and tells Devin "You fully have my support!" Frankie turns around and closes the bathroom door.
See what they can't show you on TV! -Try the Big Brother 16 live feeds for FREE!
11:25am – 12:05pm Big Brother blocks the live feeds again ..
12:40pm – 1:05pm Still showing the we'll be right back screen..
1:10pm The live feeds start showing Jeff Schroeder pre-season interviews..
2pm – 3:30pm Live Feeds still showing interviews.. The live feeds likely won't be back up until after the live show airs tonight.
Alliances 
Bomb Squad = Frankie, Caleb, Devin, Cody, Derrick, Zach, Amber, Christine
Fragment of bomb squad no name  = Christine, Frankie, Cody, Derrick Zach
Sub alliance of the Bomb Squad = Derrick, Cody, Zach
Double Ds = Devin, Donny
Bed buddies = Nicole, Christine
Final 2 Deal Zankie= Frankie, Zach
Defunct alliances
TheCrazy8s = Frankie, Donny, Joey, Paola, Devin, Amber, Nicole, Cody
El Cuatro = Paola, Amber, Joey, Nicole
Where the vote is 
As of now Joey is going home..
Stay connected and interact with other Big Brother Fans on our Facebook page.
And Follow: @BigBspoilers and @Dawgsbigbrother on Twitter for the most up to date spoilers.