POV Holder:
Donny
Next POV
?
POV Used
YES
POV Ceremony
June 29th
HOH Winner Team 1:
Frankie
HOH Winner Team 2:
Caleb (current HOH)
Battle of the Block Winner
Brittany, Victoria
Next HOH/ Next BOB
?
Original Nominations:
Caleb noms (Donny, Paola) Frankie noms (Brittany, Victoria)
Current Nominations:
Joey, Paola
Have Nots
Cody, Hayden, Joey, Brittany
POV Players
Donny, Paola, Cody, Zach, Caleb, Victoria (HOST = Jocasta)
12:20pm In the bathroom – Caleb is talking to Jocasta and Frankie about how everyone should be accepted as equals and that love is blind. It makes no difference if you're gay or straight. Caleb says that he loves that he can lay in bed with Frankie. Caleb talks about how judgemental the world is but that it shouldn't be like that. Caleb says he's happy he and Frankie are friends. Frankie says I am happy that I have you as a friend and it goes both ways I didn't know that I could be as close a friend with you. It goes both ways. Frankie and Caleb hug. Frankie tells Jocasta that he's read the bible and hasn't seen one section that says what I am doing is wrong. Jocasta says yeah. Frankie kisses Jocasta on the cheek. Caleb heads to the kitchen. Frankie says my mom just thought that I was going to have a short sad life.
See what they can't show you on TV! -Try the Big Brother 16 live feeds for FREE!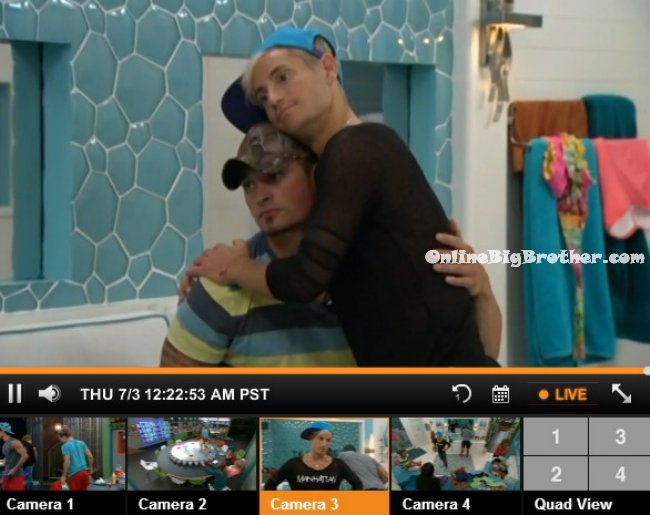 12:30am In the fire room – Victoria and Amber are talking in bed. Victoria is telling Amber about Devin's house meeting speech. Victoria says he (Devin) is retarded.. I'm sorry stupid. Victoria says he forced Caleb to nominate Donny. Victoria says what is wrong with him, he needs his meds! Amber says Victoria?! Victoria asks how do you force someone to do something? Forcing someone is like pushing them up against the wall. Caleb should have been there. It didn't make Caleb look good. Amber says I hope Devin is okay. Victoria asks why!? I didn't understand the point of Devin's thing. Amber tells Victoria about her conversation with Caleb. Victoria says obviously Devin feeds off of drama. Amber asks I don't know why?! Us girls just need the HOH room to our own. Victoria agrees. Amber says that Pow Pow came into the hive room when Caleb and I were talking and he told her that she isn't going home. So I guess the majority decided. Victoria says I am just really confused with Devin. I liked him when we came in. Amber agrees. Victoria says I guess he showed his true colours. Pow Pow joins them. She says if I stay tomorrow and get put back up again, I will just keep fighting. She practices her speech.. I wanna give a shout out to all the Americans in America.. Victoria and Amber start laughing. The Americans? They tell her not to say that. Amber gets called to the diary room and then comes back because she didn't want to do it without make up. They told her she could do it tomorrow. Pow Pow practices her speech and they tell her its good. She does her pow pow dance. Devin comes in and hugs Amber and says good night to them.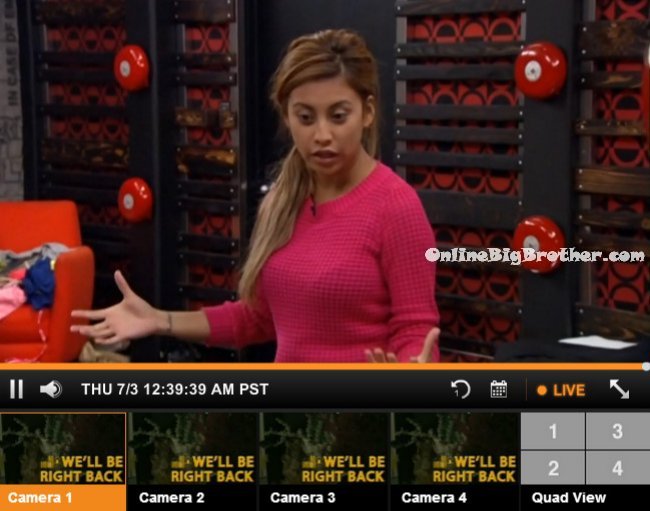 12:45am In the kitchen Caleb and Frankie are goofing around. Caleb is pretending to be Frankie's arms while Frankie talks about being on the bus and someone grabbing his butt.
WATCH the next 48 hours for FREE – Big Brother 16 Live Feed TRIAL!
12:50am – 1am Up in the HOH room – Frankie talks to Zach about Devin. Zach says so he is going home next week. Frankie says yeah. Zach asks if Caleb is on board. Frankie says he doesn't know. Frankie says he's sure he will be. We can have our blood on it but not really. Caleb comes up and Zach asks if everything is good with Amber now. Caleb says yes and she said we could go on a date when we get out. They talk about Devin's speech. They tell Caleb that Donny said he forced you to put up Donny. Caleb says Donny was put up because he was one of the first to fall off. Zach says so we're not all on the same page. Caleb says I definitely did not base my decision on being forced by him. Caleb says well he wants to see his daughter.. then win HOH.. Zach says and if he doesn't he will see her when he goes home. Zach says I believe everything Devin said was genuine. Caleb says it might have been genuine but it wasn't all correct. Caleb says like his daughter understands when she's two that he has integrity. Zach tells them about the conversation Devin had with Donny before the meeting. Zach says I was sleeping right there when it happened. It woke me up. He said that he forced you to put Donny up. Zach says Devin's not doing much good for us right now. Frankie says he's a lone wolf. Caleb says the only person you can trust in this game is yourself.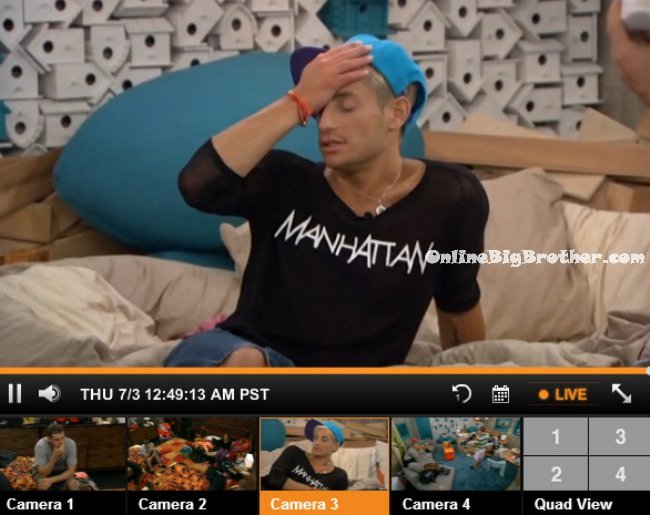 In the storage room – Frankie and Zach are talking about the conversation they had with Caleb in the HOH room. Frankie tells him that he made a mistake by saying it's not doing much good for "us". Zach says oh yeah I f**ked up! Frankie says it's okay, that's why I said Devin is a lone wolf. Zach says then Caleb said the only person you can trust in this game is yourself… Zach says so he saved me too. Frankie says exactly. Zach tells Frankie about how he was in the hive room and said I hate Victoria. I am going to ruin her life. Frankie laughs but says I like her.

1:10am Up in the HOH room – Brittany talks to Caleb about the house speech Devin made to them. Caleb and Brittany think he should have been there. Caleb tells her that my nominations were my decision and not because Devin forced me. Brittany and Caleb finish their conversation and head down stairs.
In the kitchen – Caleb pretends to be Frankie's hands again.