POV Holder:
Donny
Next POV
July 19th
POV Used
YES
POV Ceremony
July 14th
HOH Winner 1:
 Nicole
HOH Winner 2:
 Derrick
Battle of the Block Winner
Donny/Amber
Next HOH/ Next BOB
July 17/July 18
Original Nominations:
Derrick's Noms (Caleb & Jocasta) Nicole's Noms (Donny & Amber)
Final Nominations:
Caleb & Devin
Have Nots
Caleb, Amber, Devin, Hayden
POV Players
Derrick, Jocasta, Caleb, Christine, Devin, Donny
Watch the ENTIRE SEASON of Big Brother 16 for ONLY $26.99 – TRY it For FREE!
12:50pm Devin tells Donny that he really wishes him the best of luck. And when you realize who you can trust make sure you take care of Jocasta. Devin asks what do you think Pow's tactic was about saying stuff when she was leaving? Was it to stir stuff up? Donny says I don't know, like what? Devin says like telling people that Zach's cousin is Amanda Zuckerman. Devin asks do you think I handled this week pretty well? Donny says yes. They head inside. In the kitchen – Jocasta, Devin, Amber, Victoria and Brittany. Jocasta pretends she's in church and starts preaching. Jocasta says that Amber isn't dressed appropriately for church. Devin tells Amber that she doesn't need to run the streets any more. Amber didn't like what Devin was insinuating. Amber says there's nothing wrong with a bathing suit. Devin says don't take it too seriously. Caleb heads up to the HOH room and knocks but Derrick doesn't answer.
1:15pm In the bathroom – Devin talks to Caleb about Amber. She's been acting weird lately. I can't figure it out she's just.. She just won't stop. Caleb says yeah. Devin talks about the battle of the block competition when Jocasta was sick and he asked everyone to quite down and Amber got mad to him saying she was just trying to help. Fuck dude she just bothers me. She doesn't know what to shut up! Devin says you just can't win with her. She wants to Caleb says yeah. She just always wants to put people on blast in front of people. Like dude stop! Caleb heads to the kitchen. Devin heads to the living room. Devin asks if he thinks its ever been this dirty in past season. Caleb says well 14 people living in a house with 1 bathroom its bound to happen. Devin says I feel like if I walk in that kitchen I will get hepatitis. I am done eating in there I'm fasting today and tomorrow.
1:25pm – 1:55pm Out in the backyard – Brittany and Amber are laying out on the lounger suntanning. Brittany comments oh how thinking about the next few evictions its going to get harder and harder. Brittany talks about Devin campaigning yesterday. Amber says that he didn't even come to her. Brittany says I feel bad, it's not like I dislike the person I just feel bad that .. Big Brother blocks the feeds. Brittany says that if Devin had just been the way he's been this week he people would have liked him. Brittany comments on how Caleb has been so quiet lately. Amber says that we haven't talked in two days. Brittany says I think Caleb started to realize that Devin wasn't the best decision so he started to confide in you. Amber says there are good people here in the house. Brittany agrees. I don't even want to think about next week, it will be the hardest.
WATCH the next 48 hours for FREE – Big Brother 16 Live Feed TRIAL!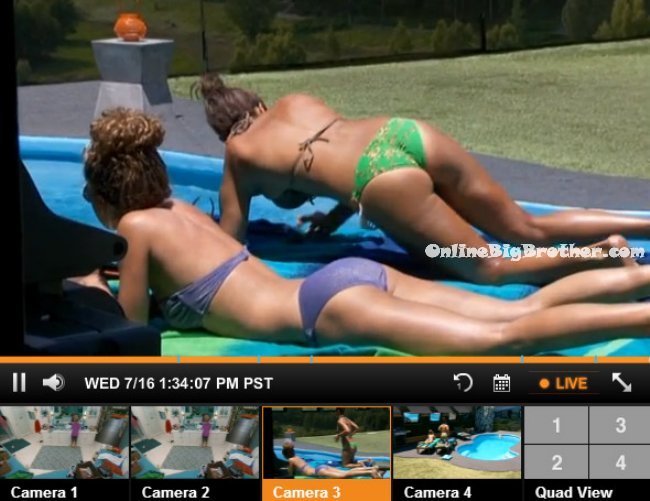 2pm In the bathroom – Christine comments on how she left her heart at the door and will pick it up when she leaves. Nicole says outside the house I cry about everything. I cried when my brother poured hot sauce on my ice cream. Nicole says it's getting boring in here. Christine says yeah no one is voting they way they should. Nicole says I definitely need to start thinking about my game. Nicole asks are you going to try for HOH? Christine says yes I am. Because I do not trust .. If Donny and Jocasta go up I am definitely going up. If it's Hayden, and Derrick and Cody are up there then I will drop. Nicole says its a lot of responsibility .. its fun though to get some blood on your hands. It was suck an adrenaline rush. Christine tells Nicole that she can trust Derrick. She explains how Derrick wouldn't give the name of the person that came up to the HOH to tell her about what Donny said. Thank you Derrick I trust you more. Nicole says I want Hayden and Cody to win it. I really hope Amber and Brittany don't win it. Nicole says people are going to start to showmance Hayden and I. We are not going to kiss in this house. Obviously Hayden is a great player but just be careful when you say that he is the most underestimated player. Christine says oh no I regretted that.. Hayden & Donny join them.
2:10pm – 2:20pm Out in the backyard – Amber gets up to take off her clothing and when she tries to take off her Mic her bathing suit top pops off. Oh my god do you think people saw my boob!? Jocasta says yeah. Amber says I am so mad! I change in front of everyone when I model I guess its not that bad. Christine says she doesn't think the camera's caught it. Jocasta says that Joey had her boobs out and that's probably still people's screensaver.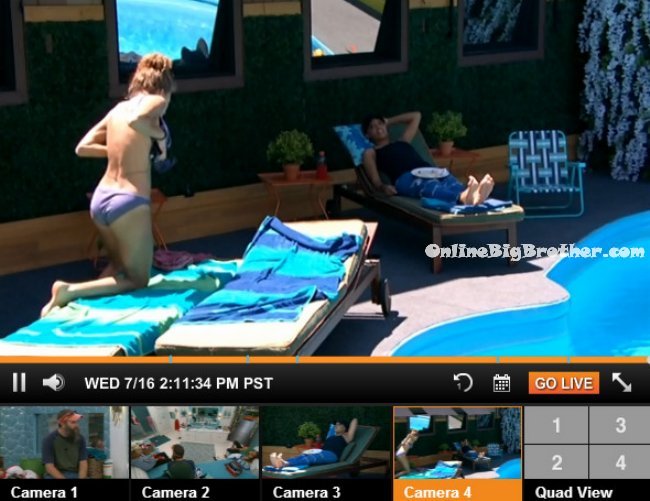 2:20pm – Hayden and Cabel head out to the backyard. Caleb asks him who his next target would be? Hayden says theres a few people. Who do you think? Caleb says Victoria. She hasn't been on the block yet. Hayden says I think she could also go any time. Hayden says if I won HOH I would maybe put up Jocasta, Victoria, Brittany.. who do you think? Caleb says those three definitely. Caleb says I have just been doing a lot of thinking.. Big Brother blocks the feeds. Hayden says you have put a lot of trust and feeling with Amber but she isn't looking after you back. Caleb says if she is up on the block I wouldn't have a problem voting her out. Caleb says its still going to look like ..I mean I am going to do me. I don't trust Cody, Zach .. thats when the time comes .. I do now because I have to but when the time comes its game over for them. When it comes done to it I trust Derrick, you.. and it was Amber.. We are going to be the people winning the majority of the stuff. Now with Amber spending lots of time with Cody in the hammock I don't like it. I put myself up on the block for her and for my alliance. When the time comes it will be the biggest backdoor in big brother history (backdooring Amber). Hayden says I trust Donny, Nicole and obviously you. You are loyal. If any of the four – Brittany, Jocasta, Amber and Victoria went home this next week I don't think anyone would care. Caleb says me personally I can't put Amber up because people will think that its because she doesn't like me. But as far as another alliance member doing it I am okay with it and I will vote her out. Caleb says I think if we have a target we shouldn't put them up right away. If it is Amber and Jocasta it would be better to put them up on different sides so that at least one of them goes home.
2:30pm – 2:48pm Caleb heads up to the HOH room to talk to Derrick. Caleb says a lot on my mind. I'm just trying to think about how to regroup and think about who I can trust. Derrick says good that's what I've been telling you. Caleb says right now I am think that Amber is bad for my game. Amber is all over the place and is going to be where ever she is safest. One minute her and Brittany are bumping heads and then next minute they're hanging out. She uses certain people for safety. Derrick says well she uses you that's for sure. Caleb says not right now but soon we need to put Amber and Frankie on the block together. Derrick says I am done brotha. Caleb says Hayden and I have a lot of trust with each other. Derrick asks what if you win HOH this week? Caleb says One HOH would put up Amber and Victoria and I would probably put up Brittany and Jocasta. Derrick says Jocasta is a straight up floater. Damn man how the game changes. Caleb says I won't be the one to put Amber up but I won't be the one to save her either. Who do you think will be the next target? Derrick says Jocasta. We can vote Victoria out any week.. but the best thing is that she isn't stirring up drama. She thinks she's at summer camp. Caleb says I don't think she should be in jury. There are only 2 more before jury .. I think it should be Victoria and Jocasta. Derrick questions that and says if Brittany gets wind of our alliance she will blow it up. Caleb agrees and says that next should be Brittany and Jocasta. Derrick says Amber might win HOH and if she does you'll need to work with her. Derrick tells Caleb that it will be his call when he wants Amber out. Caleb says yeah I just feel like she will flip flop. Like she did in the first week and how she started to say I had to go. Caleb says at the same point I can't be the one to put her up because it will look like I'm doing it because she won't date me. Me personally I don't think I will go up with the two chances .. when its just the pov I think I will go up. Caleb says that Hayden trusts Donny. Derrick says just because Hayden trusts him doesn't mean I won't put him up. There are definitely pawns that can go up this week and no one will care…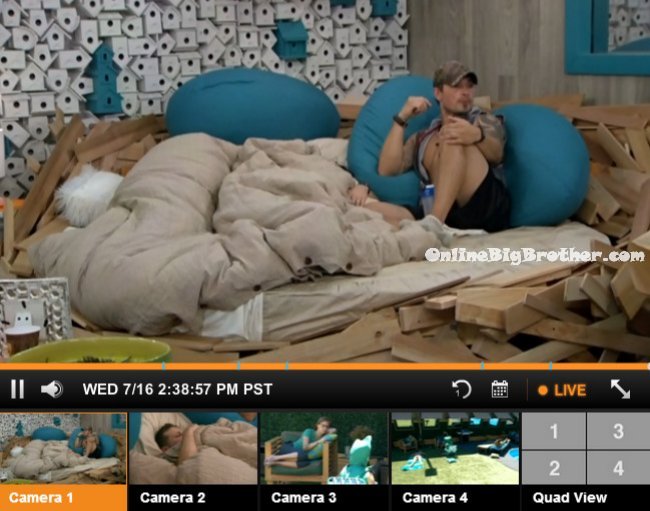 Alliances (Some of these only a few of the members actually think the alliance is real the bombsquad is done but some people still think it's real)
Zankie = Frankie/Zach
Bomb squad = Caleb, Amber, Frankie, Derrick, Cody, Christine, Zach, Hayden
Team America = Donny, Derrick, Frankie
Nicotine = Christine/Nicole
Not a showmance= Hayden/Nicole
Los Tres Amigos = Derrick, Cody, Zach
Feed watchers = Derrick/Nicole
We hate Devin = Christine and Zach
Outsiders = Brittany, Victoria, Jocasta, Donny
Old timers = Jocasta/Donny
Stalker = Caleb/Amber
Quad Kings = Derrick, Zach, Cody and hayden (still being built)
Trilogy = Nicole, Christine & Hayden
The Detonators = Derrick, Frankie, Zach, Christine, Cody
Final 2 Deal "The HITMEN" – Cody & Derrick
Try It Free! Subscribe now to the official BB16 Live Feeds

[polldaddy poll=8185492]