POV Holder:
Donny
Next POV
July 19th
POV Used
YES
POV Ceremony
July 14th
HOH Winner 1:
 Nicole
HOH Winner 2:
 Derrick
Battle of the Block Winner
Donny/Amber
Next HOH/ Next BOB
July 17/July 18
Original Nominations:
Derrick's Noms (Caleb & Jocasta) Nicole's Noms (Donny & Amber)
Final Nominations:
Caleb & Devin
Have Nots
Caleb, Amber, Devin, Hayden
POV Players
Derrick, Jocasta, Caleb, Christine, Devin, Donny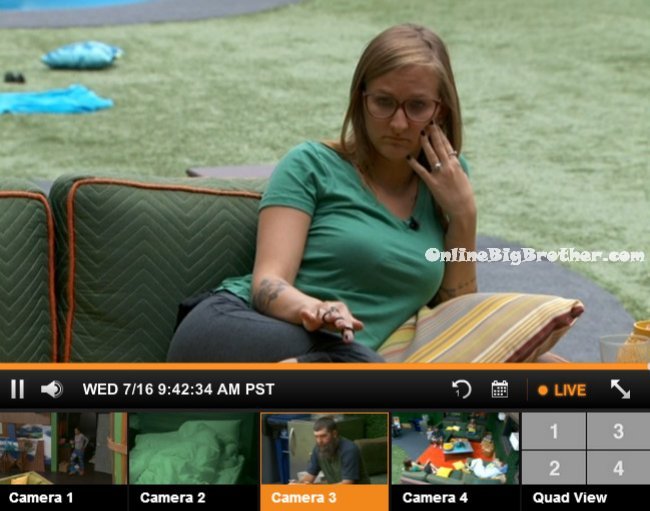 9:30am – 10:30am Big Brother wakes up the house guests. When the live feeds return – Christine complains that someone took her b!ble without asking. She says she really doesn't like it when people do that. She heads outside to where Hayden, Donny and Frankie are sitting on the couch. Frankie asks are you worried about your b!ble? Christine says I'm pissed people keep taking it and not putting it back where they found it. I wouldn't care if they just put it back. Frankie says I will tell you who didn't take it. Me and Hayden and that's the gospel truth! She says that she is also going to hide a bottle of lotion in her dresser just in case you need any. Frankie says it puts the lotion on its body or it gets the hose again. Jocasta comes out and Frankie shows her by climbing on her how Victoria got so close to him and then told him she's sick. My throat hurts. Jocasta says oh my god she did that!? Big Brother asks them to lower the awnings. Frankie heads back to bed after he and Donny finish one side. Christine heads back to bed as well.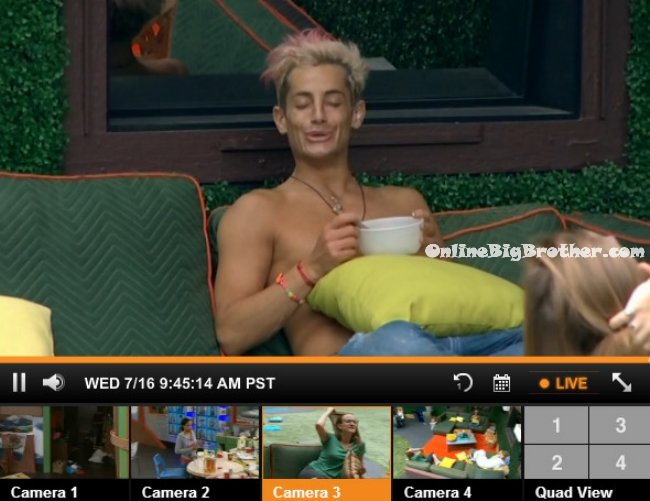 10:35am – 10:55am In the havenot room – Devin lays each of his blankets over top of Caleb and Amber sleeping. Devin heads out to the backyard to sit with Jocasta and Donny. Hayden heads back to bed. Devin discusses his relationship with is Mom with Jocasta. He's says that he's never been that close because of the things that have been said and done. Jocasta urges him to mend the relationship. Derrick heads back inside. Donny tells Jocasta that Devin's stories don't add up. He's told different things to different people about his daughter and where he lives. Donny says it don't matter now I guess .. its his tale I sit on mine. Jocasta says ah that's a good one I'm going to have to use that one. Jocasta walks with Donny around the yard. Jocasta says Brittany told her that Cody said he thought he and Donny would go up on the block. Donny says that she came and talked to me about it. She was worried I heard them talking.
11:10am – 11:40am In the havenot room – Devin is packing his suit case. He looks at the camera and gives it the thumbs up. In the kitchen Jocasta looks at the camera and waves. She says I love you Chris, Jessica. What's up live feeders! Jocasta heads back outside. Donny and Jocasta play a game of pool. Donny says I don't really trust Brittany. Jocasta tells Donny that she forgot to tell Donny how Amber said that I was her target. I told Cody this to see if it would get back to her and it did but she said I hated her. And I was like wait a minute I would never say hate, hate is a strong word. I said target. Donny comments on how some people said they couldn't be friends outside the house. What could people have done to not want to be friends outside?
Devin tells Jocasta in one word what he would say to describe everyone:
Hayden – adventurous
Derrick – honest
Christine – calculating
Zach – growing
Victoria – sheltered
Cody – together / brother
Jocasta – loving / caring / faithful
Donny – wise
Brittany – beautiful
Caleb – searching / big hearted
Amber – confident
Frankie – fun
Nicole – sweet
Pow – katuru
Joey – Alex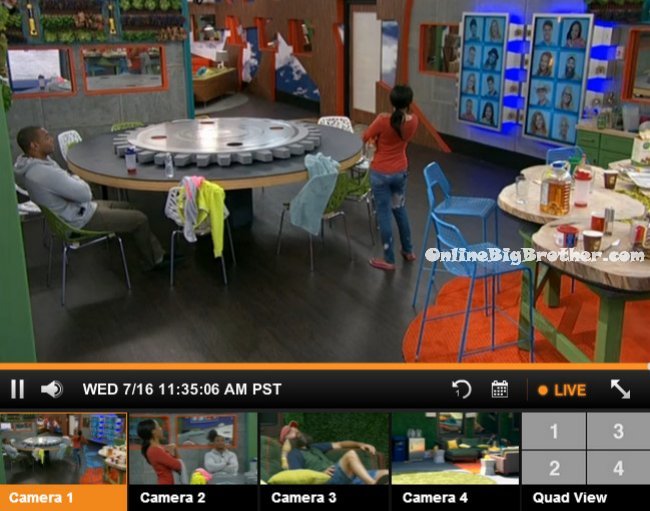 12:15pm – 12:40pm The house is very quiet at the moment. Donny is pacing alone in the backyard. Victoria is inside putting her clothes in plastic bags. Brittany wakes up. She goes into the storage room and finds red solo cups and koozies "We're going to have cocktails!!" She shows the others. No one else is as excited as she is. Why isn't anyone else excited?!
Brittany say over and over again "I love big brother! God I love you big brother! I love big brother! God I love you big brother! I love big brother! God I love you big brother!"
Amber wakes up. Caleb joins them in the kitchen. Donny says that three hill-billies got the camo koozies. (Cabel, Donny, Amber) Donny, Caleb and Amber head outside to enjoy the sun before they're locked down.
12:50pm In the bathroom – Brittany puts on her bath suit bottom and says "Look at my bottoms the fat explodes from them." Christine and Victoria tell her no it doesn't. Victoria complains to Christine that Devin tried to talk to her this morning and it annoyed her "Cant you see I just woke up and don't want to talk." (Devin said good morning Victoria) At the bottom of the stairs Devin whispers / practices his eviction speech. He then heads outside to join Donny on the backyard couch.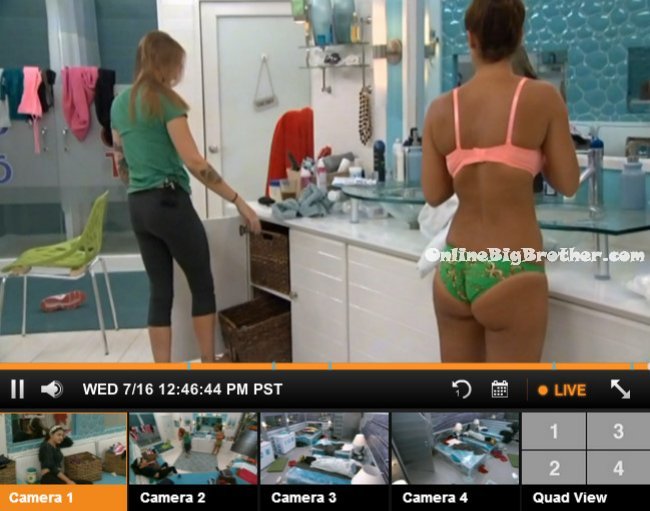 Alliances (Some of these only a few of the members actually think the alliance is real the bombsquad is done but some people still think it's real)
Zankie = Frankie/Zach
Bomb squad = Caleb, Amber, Frankie, Derrick, Cody, Christine, Zach, Hayden
Team America = Donny, Derrick, Frankie
Nicotine = Christine/Nicole
Not a showmance= Hayden/Nicole
Los Tres Amigos = Derrick, Cody, Zach
Feed watchers = Derrick/Nicole
We hate Devin = Christine and Zach
Outsiders = Brittany, Victoria, Jocasta, Donny
Old timers = Jocasta/Donny
Stalker = Caleb/Amber
Quad Kings = Derrick, Zach, Cody and hayden (still being built)
Trilogy = Nicole, Christine & Hayden
The Detonators = Derrick, Frankie, Zach, Christine, Cody
Final 2 Deal "The HITMEN" – Cody & Derrick
Try It Free! Subscribe now to the official BB16 Live Feeds

[polldaddy poll=8185492]