POV Holder:
Donny
Next POV
July 19th
POV Used
YES
POV Ceremony
July 14th
HOH Winner 1:
 Nicole
HOH Winner 2:
 Derrick
Battle of the Block Winner
Donny/Amber
Next HOH/ Next BOB
July 17/July 18
Original Nominations:
Derrick's Noms (Caleb & Jocasta) Nicole's Noms (Donny & Amber)
Final Nominations:
Caleb & Devin
Have Nots
Caleb, Amber, Devin, Hayden
POV Players
Derrick, Jocasta, Caleb, Christine, Devin, Donny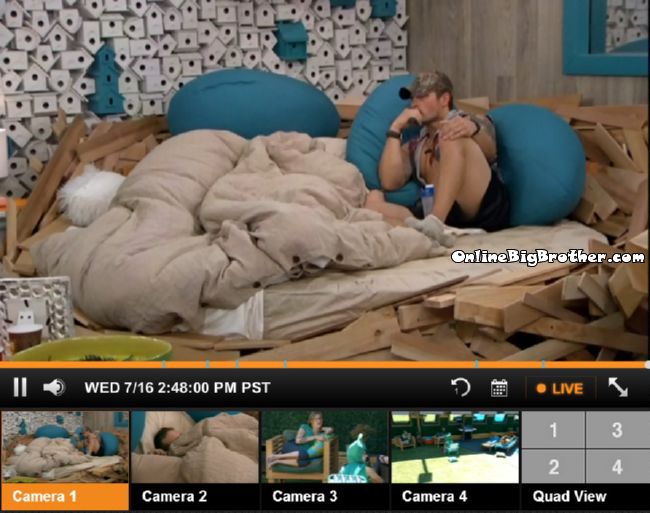 2:48pm HOH Derrick and Caleb
Caleb wants Amber to be one of the first sent to Jury, He doesn't like Cody and Brittany habing those 1 hour sessions With Amber in the hammock. Caleb points out that Amber is spending a lot of time with these other people outside their alliance. Caleb doesn't trust COdy because Cody is close to Brittany and Brittany close to Donny. Derrick asks if Amber still trusts them. Caleb knows she trusts him he hasn't given her any reason not to.
Caleb calls Amber a floater. Mentions how he's done all these things for her and she doesn't appreciate it. Derrick agrees, mentions how what Caleb did was a stupid game move it was "a personal thing". Caleb says he didn't only volunteer to be nominated because of Amber he also did it because he wanted to go toe to toe with Devin. He figured he had a good chance to beat him. .
Caleb – "This Cowboy is about to play his game a little different"
Derrick supports him says he's got his back just like he told him in the BEEHIVE regardless of where the Caleb/Amber relationship goes Derrick is with Caleb.
Caleb – we'll make it to the jury
Derrick – they got to get us out first..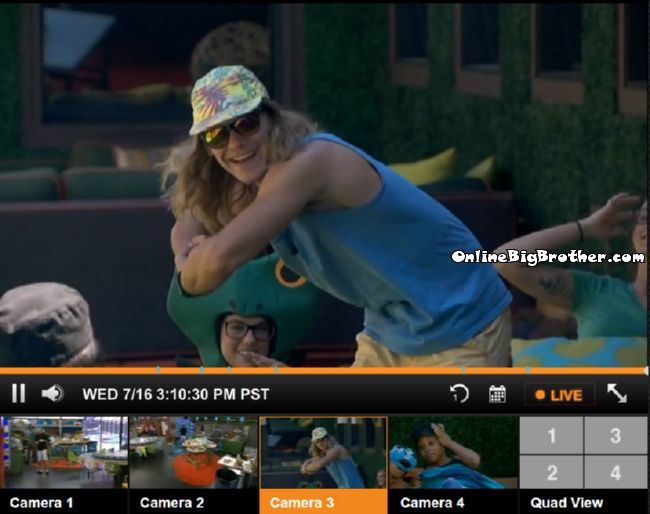 3:04pm Backyard Brittany Cody Hayden, Christine, Nicole, Donny, JOcasta
Brittany – "Zach won't eat unless you feed him" He doesn't like to dirty dishes. Cody mentions how they are going to be in lockdown soon.
Hayden shares a story about rollerblading 40mph holding onto a car. He was holding on to the side of his door with rollerblades on and elbows in. .
Cody – "I can't believe you branded yourself"
Hayden explains they heated a spoon until it was red then stuck it to his calf.
Jocasta – did you video it
Hayden – no no I was in my friends basement
Hayden explains how it got infected and there was "lines" shooting up his leg. he put polysporin on it all day every day until it went away. Cody – Didn't you see a Doctor. Hayden – No.
Hayden was able to hide it from his parents the entire time they don't know until now he would only walk by them on his left side hiding the scar.
Derrick shares a story about playing softball sliding into first second base he got a "Raspberry" on it. His leg was all puffy and there was a line running up his leg into his lymph nodes. It was a mrsa infection they gave him vancomycin and had to cut out the infection, They talked about possible amputation. He was in the hospital for 14 days the guy in the room next to him had the same thing and died "There was a red card on the door"
Derrick "Form a raspberry in softball"
3:37pm Caleb working out Beast mode cowboy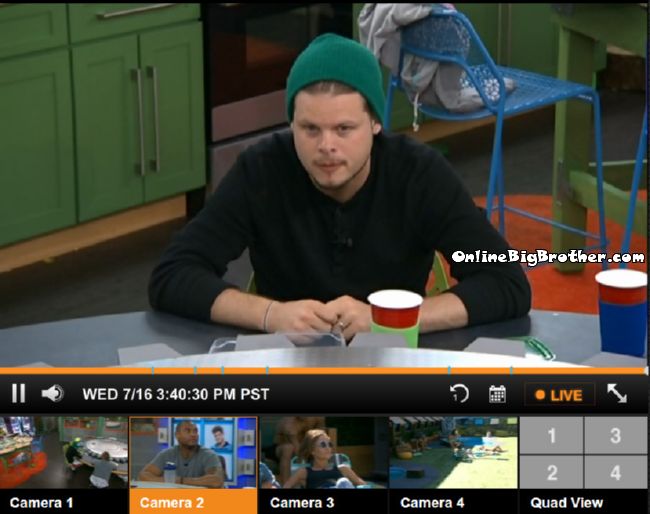 3:38pm Kitchen Devin and Derrick
Derrick really appreciates the way Devin is going out. Devin says of course mentions he has a daughter and he doesn't want her to see him in a bad light.
Devin says the lockdown starts in 25 minutes they must be building something big.
Derrick – I'll tell you one thing people aren't going to question you on
Devin I can eat
Derrick you're a competition beast.. Competition f***ing animal.
Devin is going to make a huge push to get on the amazing race.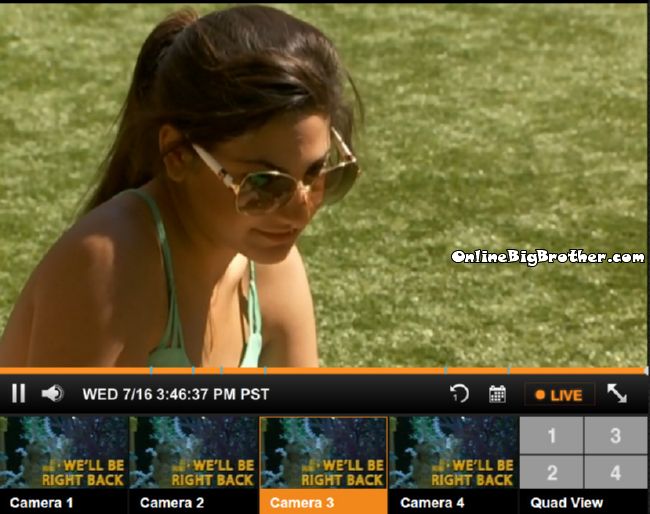 3:46pm Hammock Frog and Victoria
Nicole is being annoyed by everyone in the house.
Nicole tells her she adores Victoria she's one of their best friends … feeds cut
Victoria says Zach really wants Donny gone, Victoria – "I kinda do to"
Nicole doesn't know she says it suck to put people up because they are all still kinda friends.
Lockdown is called so production can build the Head of House hold competition.
Try It Free! Get 24/7 access to the house PLUS more for 48hrs before you decide!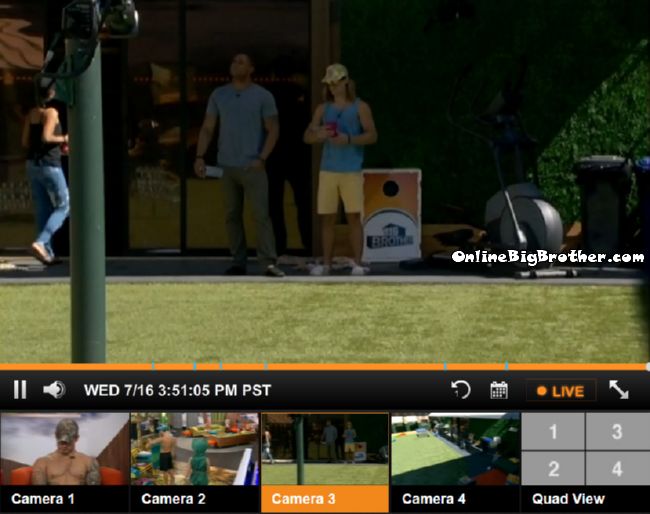 3:52pm Devn and Hayden
Devin is saying goodbye
Hayden – "We're gazing on this backyard reflecting on our experiences and our times here.. Brittany has great b**bs.. thats it"
Devin I concur.
4:00pm Caleb is packing general chit chat and messages in the living room
Devin says he's been doing a countdown until live eviction "I'm tripping but not in a bad way.. it's good"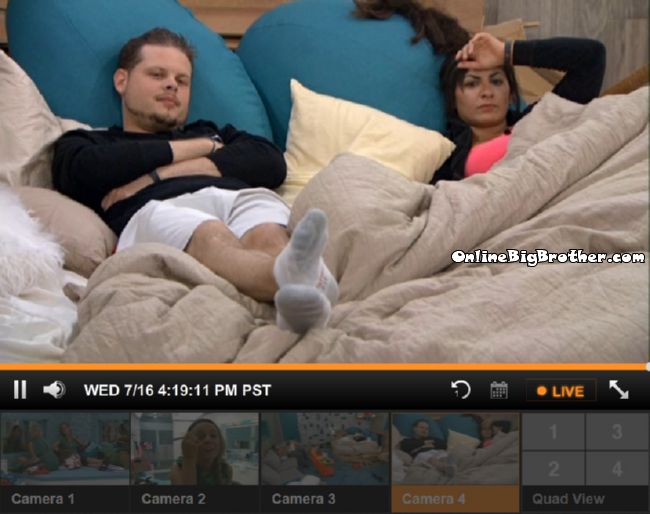 4:14pm HOH Derrick and Cody
Derrick – Dude I'm loving the hit man do.. grew on me" (Hitman Alliance)
Cody – "I'm literally a sniper with a pistol"
Derrick better get a silencer
Cody laughs he's going to get evicted next week right after they found a name.
Derrick tells him he has to win it because Zach is going to throw it.
Cody says if it's him Hayden and Christine left in the competition he's going to drop.
Victora comes up Derick say she can't escape her she's like his wive.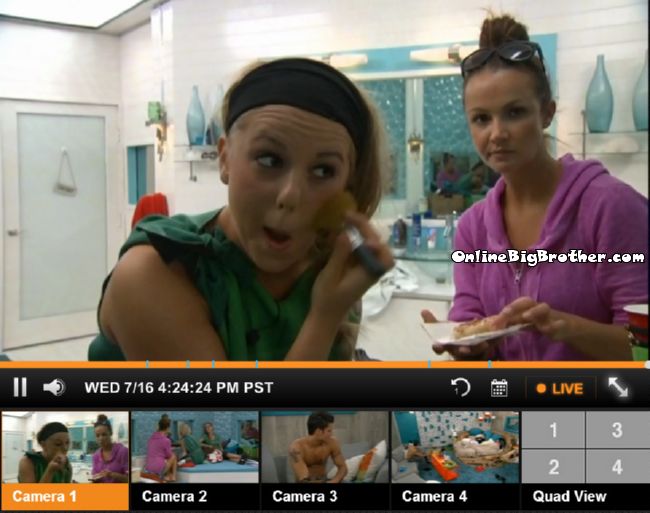 4:16pm CAm 1-2 Frog and Christine
Frog says if she could Kiss one guy it wouldn't be Cody it would be Hayden. Cody flirts with all the girls she doesn't like that he's not her type.
Brittany joins them.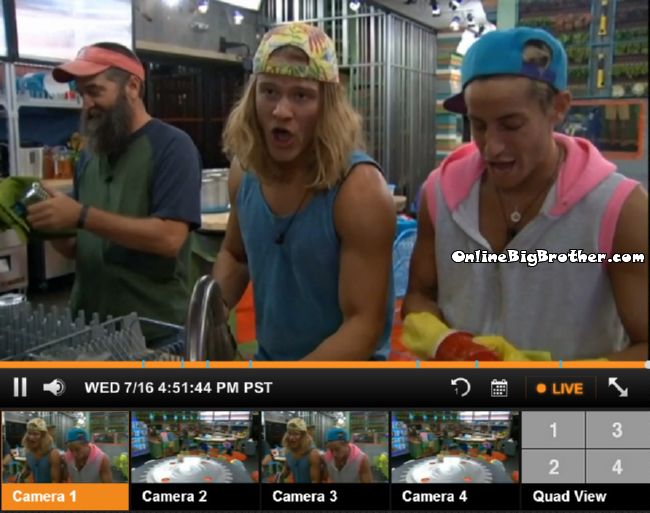 4:41pm Doing dishes Donny, Hayden and Frankie.
Doing their english accents.
Frankie says every time they say a bad word they say "Sticks your fingers in each others holes.
Frankie – "Long john and I we're about to do.. "Quick stick your finger in your holes.. stick your fingers in your holes"
Frankie does a brooklyn accent teaching kids about "The Bird and the Bees" his character didn't like those terms because "I look down there I see no birds I see no Bees" his character calls it "Snakes and tunnels" instead.
Hayden and Frankie and Hayden start some shoutouts.
"Shout out Brittany's B**B, Shout out Brittany's left b**b, Shout out her right b**b, side boob shout out her hair, face, tan, teeth, music videos whispers"
they start doing a "Nickelodeon" show
"Tonight's episode How you talk to your parents" you don't you ignore them 'Slime .. Slime.. SLime"
(they are absolutely goofy makes little sense worth a flashback)
Frankie "Us doing children's show that was the missing piece of the puzzle"
"tonight's episode Stick your binky in your mouth" The less is not to stick it in any other h*le just the mouth. "Slime Slime SLime"
They start doing a Terrance and Phillip act from southpark.
They talk about doing kids fitness segment on their nickelodeon show. Frankie "Bigger hotter faster stronger better"
Try It Free! Subscribe now to the official BB16 Live Feeds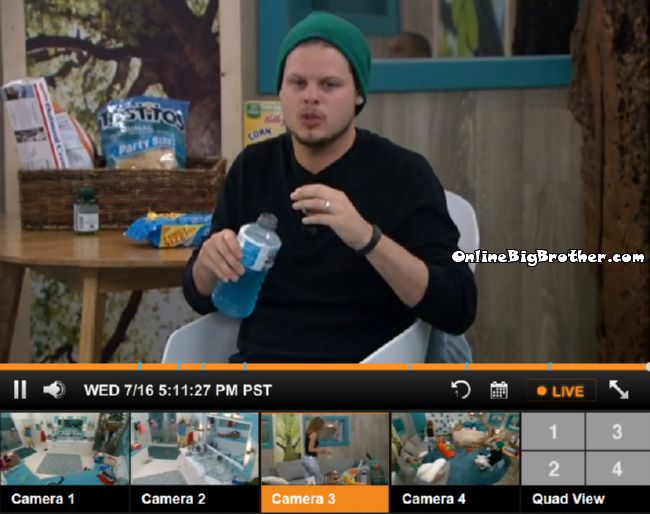 5:10pm HOH Derrick, Devin, Chrisne and Amber
Derrick talking about his job as a grounds supervisor. He wanted to clay the entire baseball diamond but hey didn't have the budget.. Devin says most of minor and major league diamond are clay with what they call diamond dust sprinkled on to make it look like dirt.
[polldaddy poll=8185492]
[polldaddy poll=8179403]