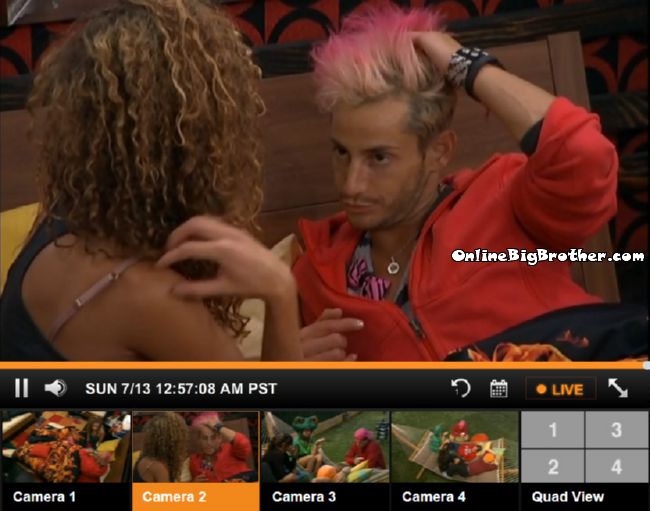 12:54AM Amber and Frankie
Frankie thinks Amber's worries about Donny not using the Veto may have truth in it.
Amber says people have told her not to trust Frankie. Frankie wants to know who is saying not to trust him. Amber says POW told her that Frankie was working with people that were outside the 8. AMber adds that POW told Brittany and Brittany told Jocasta.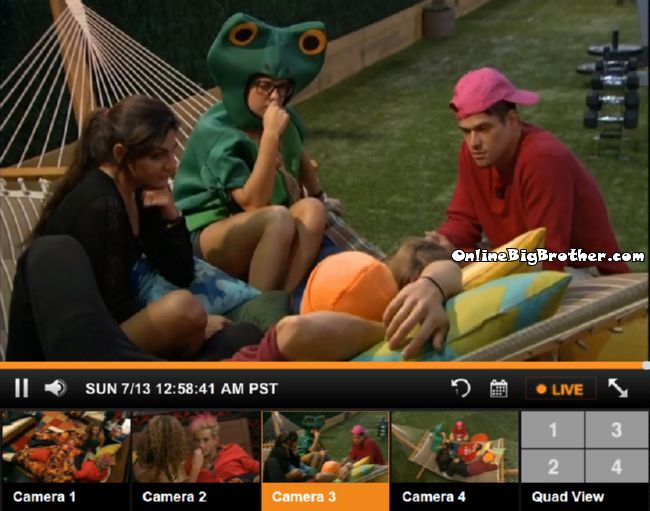 12:57AM HAmmock Zach, Frog, Victoria and Christine
Hating on Devin, Calling him a bully and how much they want him gone. Victoria says Devin degraded women, Christine – He belittles us the way he spoke to Amber in the HOH disgusted ne"
Christine – "THe moment he gets on the block I'm done being nice to him"
Christine says Donny is getting extra creepy around Victoria, creepier than he normally is. "It's making us feel uncomfortable
Christine explains that Victoria was dancing on Frankie Hayden walked by pretending he had a b*ner asn donny goes I'm feeling the same way"
Victoria explains something "Creepy" Donny says about her clothes. The shorts she just got with the 3 dots. They are big around the waist so when she sits they lift up so she always has to lower them down. He came up to her and said Ohh These are new,, And she told him she just got them back and he said OHH if they have more shorts they should give them all back to you.
Christine adds that Donny is always weird around AMber. Hayden points out he was hitting on AMber Hard today, "He asks her for a massage every day"
1:16AM Nicole tells them about Donny being America's player. Mentions Donny told her something in the BEEHIVE and she was supposed to tell Christine because she's smart and will figure it out.
Hayden says Donny is playing him so hard, "I thought I knew DoOnny really well"


1:10Am Backyard Frankie and Zach.
Frankie wants to know if theres another play. Zach says they both know there is, "if it's not used"
Frankie – "Ya.. who's in on it"
Zach "Everyone"
Zach thinks it's a big move it's a good move, "He's letting a girl cloud his judgment and it's biting him in the a$$s for it.. If Donny decides not to use it"
Zach tells him they don't need Caleb around at all. Frankie wants to know who is on board with getting Caleb out. Zach's says it's been talked about with Cody.
Zach adds the reason theres a reason he sleeps during the day it's so he can talk game at night.
Zach – "Everyone is onboard"
Frankie – And we get DEvin out next week"
Zach – "Ya"
Zach is going to go to Donny and tell him every single girl thinks he's the creepest man alive.
Frankie – He is though.
Frankie wonders if DEvin wins HOH does he have a deal with Derrick. Zach doesn't think so.
Frankie – "It's a f***g great move..Derrick is not that stupid he'll make a deal with him "
Zach adds that everyone will still want Devin gone next week.
Frankie is going to talk to Derrick about it. Zach wonders if he should go to Donny and get Donny to not use the POV.
Zach – "None of us are stupid we're all thinking of it but we're just not saying it"
Zach wants to get Caleb out this week and keep Devin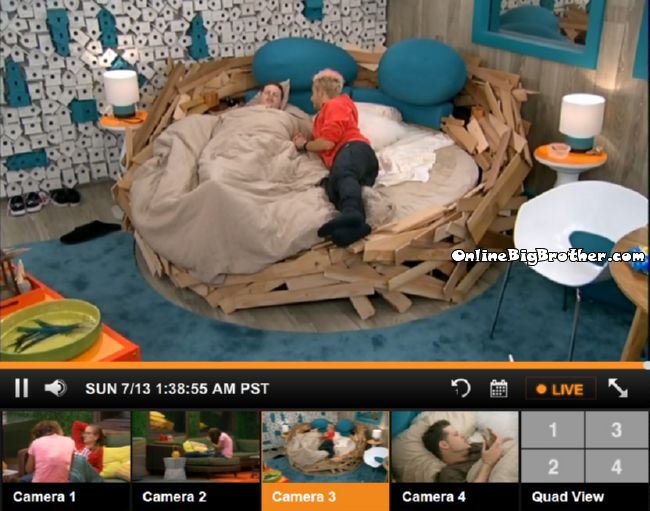 1:38am Derick and Frankie in the HOH
Frankie asks him if there is a plan to get Devin out.
Derrick says 100% absolutely no, Frankie thinks it will be smart. Derick does not and is completely against it.
Derrick says there is nothing they can do about it people are going to vote the way they are going to vote . Derrick points out that there is no way Donny will not use the Veto after what he did with the necklace he would like the worst person on TV. Frankie says he's heard if from other people that there is a play to vote out Caleb.
Derrick says Devin Is the best player in the house right now, Caleb is a great kid but he's not good in mental competitions. Derrick says if Donny doesn't use the Veto Caleb will go home but if Devin is up with Caleb the house will send Devin home.
Derrick tells him they can't do the BB paranoia thing. Derrick says he dropped the seed in Victoria. Frankie said Donny pulled Nicole aside and told her about Zach and Amanda. Right after she came up to him and said Donny is America's player.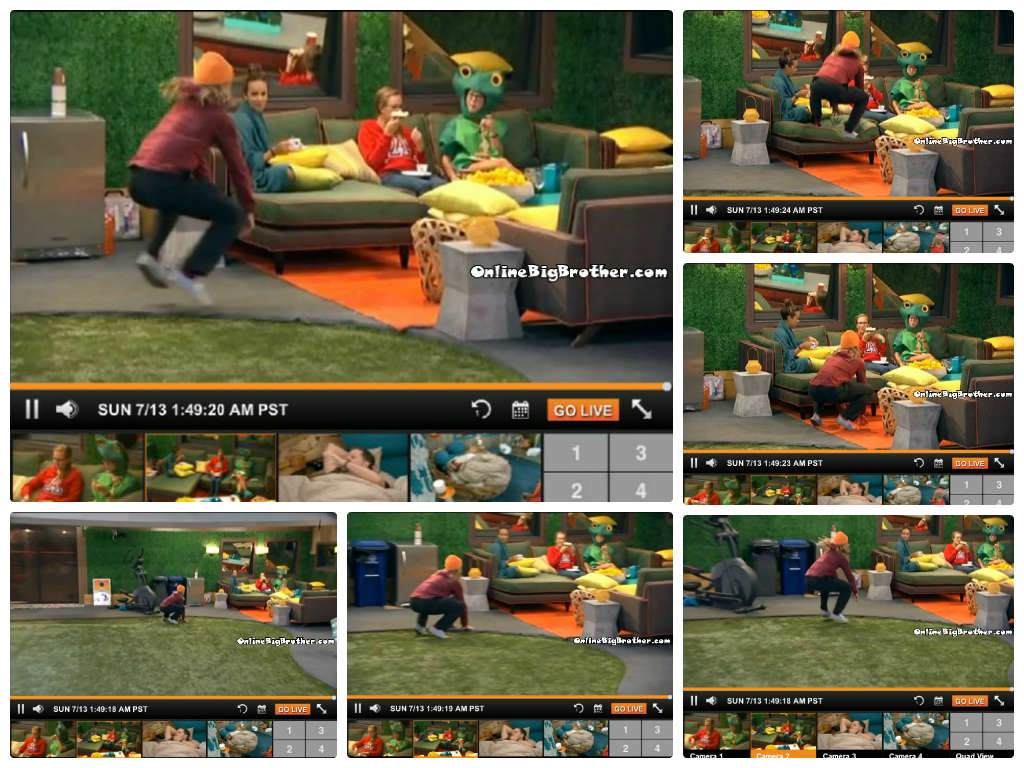 Hayden hops to Nicole.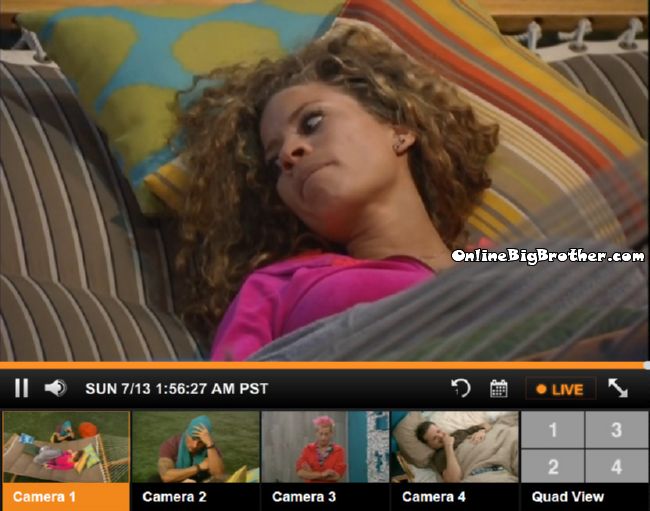 1:53AM Caleb and Amber Hammock
He tells her none of the girls are going to vote to keep Devin they all hate him. Caleb stress she doesn't need to worry if the votes don't go his way He put himself on the block so there's nothing he can do, "Drive on'
Caleb thinks it will be a 11-0 votes nobody will keep Dein. Amber asks about Jocasta's Vote. After a long pauses he says she will go with the house. Caleb says he's real close to Jocasta lately.. "we have a certain kind or relations"
Caleb – "I like jocasta a lot"
Caleb says if he wins HOH he's putting up Victoria because she's a liar. Amber still wants the 8 person alliance to still work with each other. She thinks Donny will try to Backdoor her. She's going to put Donny up if she wins HOH.
Try It Free! Get 24/7 access to the house PLUS more for 48hrs before you decide!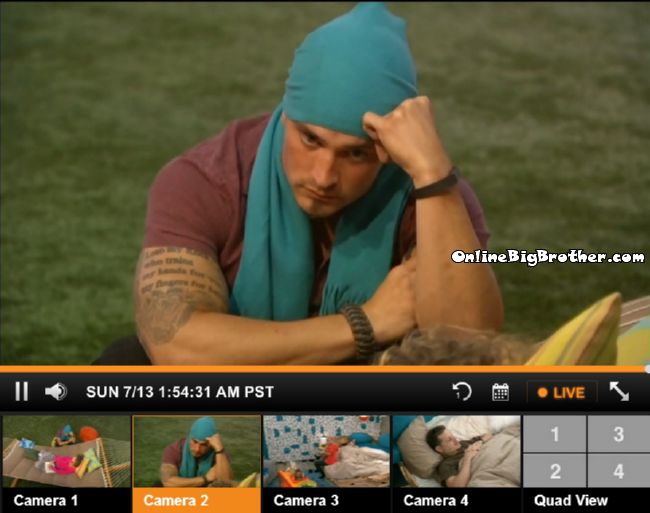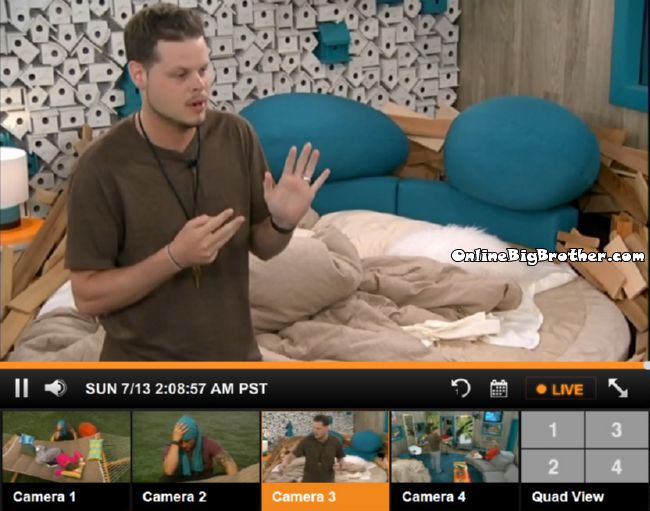 2:09AM -2:30am HOH Derrick, Zach and Frankie
Derrick is telling them there is no way Donny wins the POV against all odds comes into the house and hands the veto to his sick friend resting in her bed. It's TV gold there's no way he's not going to use the veto, Jocasta was bawling her eyes out. Derrick tells them Donny using veto is win win with Donny, He's getting out the strongest player that tried to get him out plus he's getting out a guy who's still going around talking about the Double D alliance.
Zach asks them what if they all go to promise donny they won't take Jocasta out. Derrick says promises mean nothings in this game. Zach agrees, Zach thinks Donny can gain more from this by not using the Veto. Derrick – Zach there's no way in hell"
Derrick tells Zach that Donny is going around telling people there is a 8 person alliance he still thinks there is. Frankie says theres a 4 person alliance, Devin, Jocasta, Devin and Donny and they are trying to flip Amber.
Zach tells Derrick as far as this Big Brother Game is concerned Derick is the smartest guy in the house. He says Derrick is 120% correct.
Derrick tells them they all need to relax and not try to flip the house because there's nothing to flip. If something crazy happens and Donny doesn't use the Veto and the nominations stay the same Caleb is going home it's simple.
2:38AM BEEHIVE Derrick and Frankie
(THey are talking about spreading the rumor that Zach and Amanda are cousins you can call it the TA task)
Derrick asking him if he's told Zach (TA task)
Frankie says no he's just planting the seed.
Derrick mentions he's told Victoria (TA Task)
Frankie says he was talking to Amber and she told him 4 different things POWPOW has told other people about him. PWOPOW literally went up to everyone and told them not to trust someone else.
Derrick doesn't think they should go to Zach yet until they have three people that know about it (TA Task)
Frankie says Donny suggested he go to Devin.
Derrick is worried Devin will tell the house, "If he tells the house it only counts as one vote"
Frankie -"You need one vote from me"
Derrick says if Derrick goes before you it's Him passing it along. Derrick wants to do 3 individual people.
Derrick told Victoria to go ask Brittany if She's heard anything about it (TA task), "DR approved it we now have 1.. her asking someone counts as her spreading it"
Derrick is going to go to Caleb next and tell him. He's always the type of person that wants to pull Amber aside and tell her, "He's always looking for a reason to talk to her and cater to her"
Frankie – "You're so smart, he says Donny already told Nicole so that makes 3"
Derrick wants them to tell one more person before they tell Zach to "Cancel it"
Derrick "we have 5 we know we have 3 and we're 5 thousand dollars richer and 3 weeks away from building a f***ing school. "
Derrick says he's got new motivation ontop of winning the money for himself he's winning it to help Frankie build a school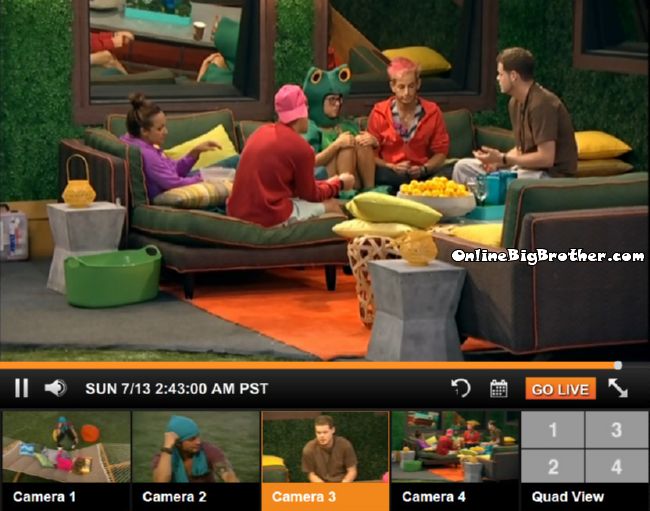 2:42am Backyard Couch Brittany, Frog, Derrick, Zach and Frankie
Derick says Devin still thinks theres a good chance of staying, "Who knows"
Derrick says he's done his part he wants "Donny" gone Derrick corrects himself "DEvin" Gone. If Donny decide to do something and Devin stays then Devin stays theres nothing Derrick can do about that. Derrick tells him he's 100% Donny is using the veto on Jocasta. Brittany mention he already handed it to her.
Derrick goes on about them all getting burnt by…
Brittany – Donny
Derrick – no by devin
Brittany – oh
Derrick we've all been burnt by Devin .

[polldaddy poll=8179403]
Share it YO!
Tweet