POV Holder:
Donny
Next POV
July 19th
POV Used
?
POV Ceremony
July 14th
HOH Winner 1:
 Nicole
HOH Winner 2:
 Derrick
Battle of the Block Winner
Donny/Amber
Next HOH/ Next BOB
July 17/July 18
Original Nominations:
Derrick's Noms (Caleb & Jocasta) Nicole's Noms (Donny & Amber)
Final Nominations:
Have Nots
Caleb, Amber, Devin, Hayden
POV Players
Derrick, Jocasta, Caleb, Christine, Devin, Donny
8:07pm Victoria and Derrick HOH
Derrick says he needs her help to get to the truth of something. He was talking to Donny, You know how Donny and powpow were super close. a couple days before the Eviction POWPOW and Zach got really close and before powpow got evicted Zach told her a secret. Zach told POWPOW that he's AManda zuckerman's cousin. POWPOW told Donny that on his way out the door.
Derrick – 'He's the same type of player he's really aggressive'
Vic "What's his last name;
Derrick – "Rance.. you are pretty close to Brittany and I know brittany was close to POWPOW
Vic – Brittany and POWPOW weren't that close
Derrick wants her to find out from Brittany if she's heard that rumour don't tell her who you heard it from.
Derrick says Donny told him, he wants her to makes sure nobody is around when she talks to Brittany. Victoria says it makes sense they are both jewish and they are both annoying as hell they are from the same area.
Victoria wonders what Zach's mom is thinking about his actions
Derick – 'Well one thing at a time."
Derrick -"Say it in confidence make sure nobody is around say you hears a rumor that POWPOW told Donny"
Victoria – Donny is a bullshiter
Derrick points out that Zach and POWPOW were whispering right before live show started
Victoria did noticed that but why would he tell her that.
Derrick – "He's got a big mouth.. not that it's the end of the world"
Victoria – She's really pretty and he's not attractive.. they did not pick attractive guys.. you all are super young.. you're married you're out of the thing'
Derrick – thanks .. you just like older guys sorry.
Derrick doesn't think there will be any showmances this year. Victoria thinks Hayden and Jicole will.
Victoria says Amanda was at the auditions Victoria didn't want to go but she had to. All of a sudden this loud girl comes Her b**b all out screaming AHahhhh. Victoria thought to herself who does this girl think she is. Victoria says she still had no idea what the show was about. Victoria adds Amanda has a gorgeous boyfriend tanned, blue eyes.. stunning, "I don't know how she got him"
Derrick thinks Amanda used her D list celebrity status
Derrick says most likely donny will use the veto to save Jocasta.. if he doesn't there is a real risk of her going home. They don't know who Caleb is working with he only needs 6 votes to stay if it's a tie Derrick will vote to keep Caleb. They bring up Donny and Devin double D's alliance. Derrick says he never talks to Donny about game all he knows is Donny came into the house after winning the pov and gave the necklace to her. That's not the actions of someone who won't use the Veto.
Victoria says she wants to tell him something.. she doesn't want to go home because of it. Derrick want her to say.
Victoria – 'I dunno..'
Derrick – 'say it'
Victoria – "Ok it was weird yesterday that you called everyone but Hayden to go upstairs to talk to you, zach, Cody.. when you were playing pool.. at 1 in the morning… Hayden was the only one left "
Derick doesn't remember doing that.." I love hayden when did i do that.. everyone was in the HOH last night"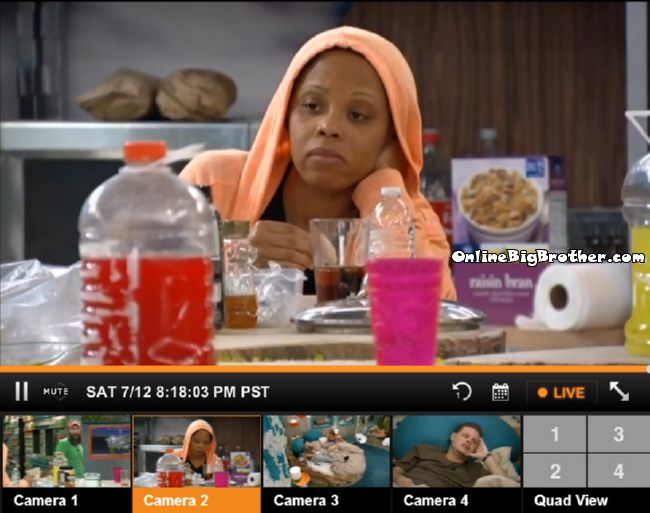 8:16pm
Kitchen Donny and jocasta
Jocasta got dehydrated that is why she's so sick. Excessive use of laxatives dehydrated her.
8:56pm Devin, Jocasta, Cody and Donny Pool table
Talking about the POV competition.
Devin – "Once you get the nerves out and play it like a game it's fun man.. we'll never get to do that again"
The Feeds good
Try It Free! Get 24/7 access to the house PLUS more for 48hrs before you decide!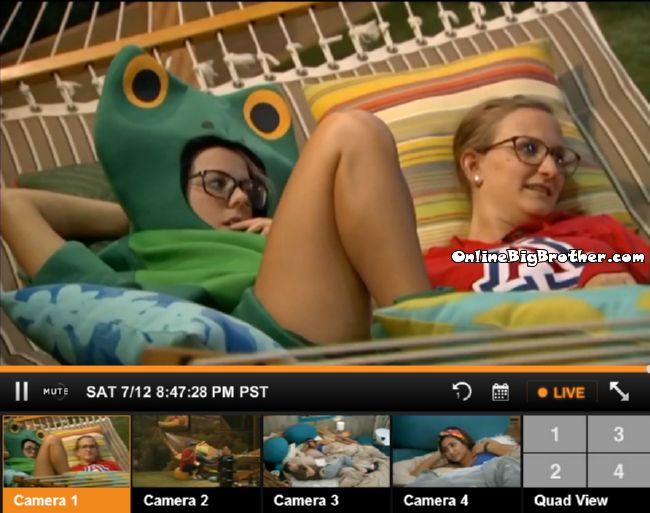 8:40pm
Hammock Christine and Nicole
All of a sudden production comes over the speakers says they are not allowed to discuss their votes.. Christine thinks that's really weird.
Frankie joins them
Nicole – What kind of mouth do I have from michigan do I have?
Sounds like Devin said she's "Mouthy", "Filthy" or "Snobby" they can't remember exactly. Christine says after DEvin goes up on the block she's going to stop being nice to him.
Nicole – "He's Like no human being on this earth
9:00pm
Frankie says he doesn't like men talking about women periods like it's a thing, "I don't like that it makes me feel uncomfortable"
Christine "I hate him I can't even look at him"
Christine and Nicole point out that Devin has tiny legs in comparison to the rest of his body.
Christine asks her if she will be made if she wants Donny out. Nicole says she won't Frankie tells them the game Frankie is playing is dangerous to the rest of them.
Christine says Brittany drinks a bottle of wine every day she's always talking about alcohol.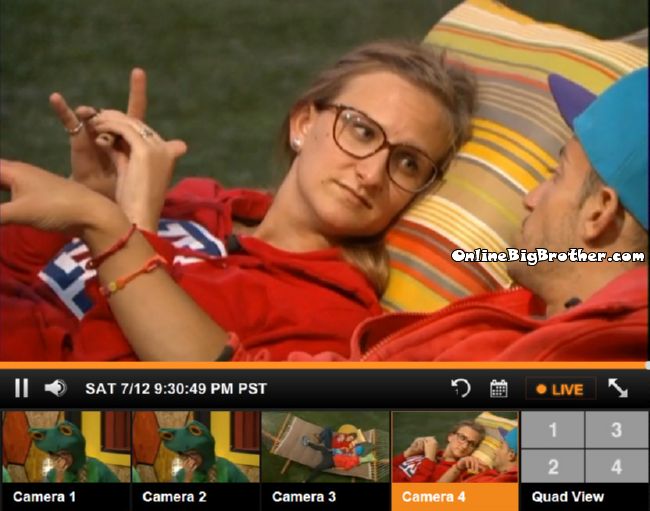 9:19pm Hammock Christine and Frankie
Frankie thinks Brittany is trying to jump ship with Cody. He's been able to convince Zach that Brittany is eval but Derrick and Cody are not convinced yet. They think Caleb and AMber will be targets after Devin goes. He warns her that COdy, Derrick and Zach are an unbreakable alliance. Christine knows that.
Frankie says JOcasta is going to become the new POWPOW. Christine says Jocasta will be her first nominee.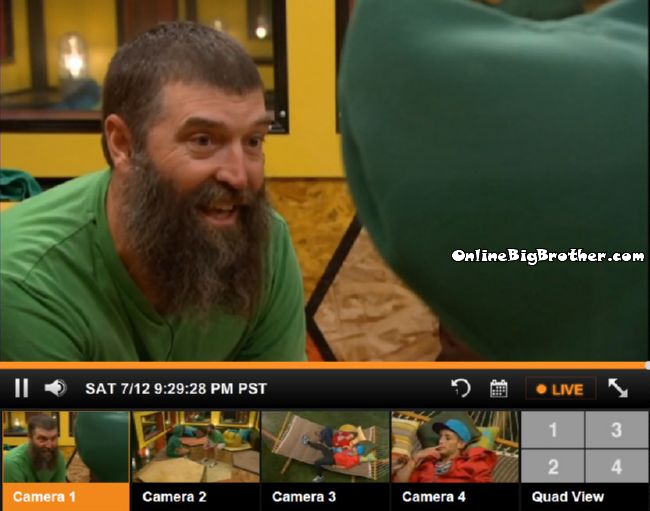 9:30pm BEEHIVE Nicole and Donny
Donny says before POWPOW left she said you watch out for that "douchebag" he told her Zach was Amanda Zuckerman's cousin.
Donny – "What do you think" Nicole doesn't know what to think.
Donny asks her to talk to Christine because she's a smart person find out what Christine thinks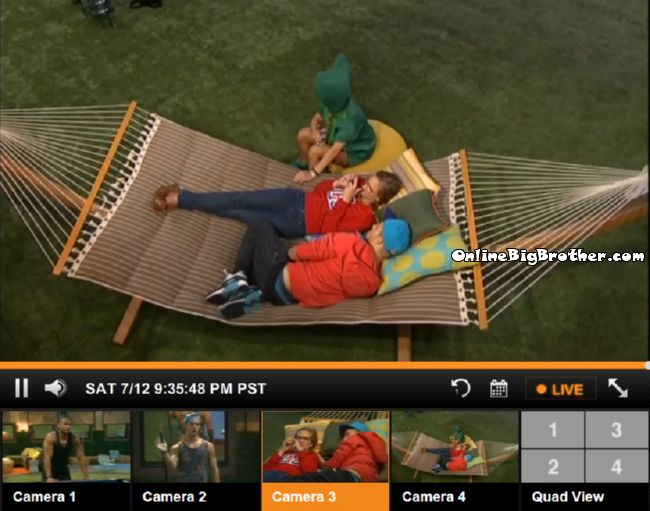 9:36pm Frog, Christine and Frankie Hammock
Frog says she's 100% certain there is an American player this season."Just watch out for it is all I am saying" Frankie isn't sure says he thinks there's something that allows America to change the game.
Brittany comes by they tell her Devin told her "Something -A mean- word Michigan Mouth "
Brittany thinks he's just trying to get people to snap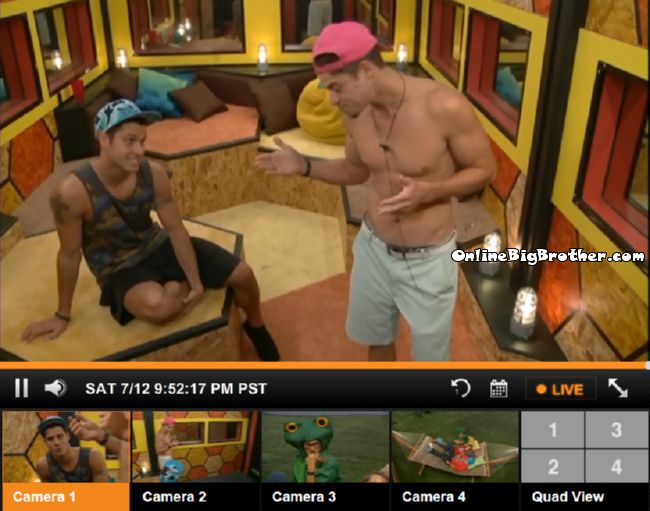 9:50pm BEEHIIVE Zach and Cody
Cody says Amber is into Cody. Cody doesn't think it's a good thing at all. Zach talks about his conversation with Caleb. Cody wonders if Donny is going to use the POV on jocasta. Zach thinks he has to.
Zach says he had a dream that Caleb goes home Cody says if Jocasta and Caleb stay on the block Hayden will flip and vote out Caleb, Zach "ya I would to.. But Donny is going to use it"  They wonder if tehy can get rid of Caleb this week. Both of them would like to. Cody says they talked about it but decided it too early.
They practice their secret handshake. Christine listens in from the hallway (See image)

[polldaddy poll=8179403]