POV Holder:
Donny
Next POV
July 19th
POV Used
?
POV Ceremony
July 14th
HOH Winner 1:
 Nicole
HOH Winner 2:
 Derrick
Battle of the Block Winner
Donny/Amber
Next HOH/ Next BOB
July 17/July 18
Original Nominations:
Derrick's Noms (Caleb & Jocasta) Nicole's Noms (Donny & Amber)
Final Nominations:
Have Nots
Caleb, Amber, Devin, Hayden
POV Players
Derrick, Jocasta, Caleb, Christine, Devin, Donny
Watch the ENTIRE SEASON of Big Brother 16 for ONLY $26.99 – TRY it For FREE!
2:40am Outside on the backyard couches – Derrick, Zach, Brittany, Frankie, and Nicole are talking. Derrick says as far as I'm concerned Devin is going home but if Donny decides to do something else then it is what it is. Brittany says he already pretty much gave it to her. Derrick agrees and Donny already put the veto around Jocasta's neck after the competition. Derrick heads over to the pool table where Hayden and Cody are playing a game of pool.
2:50am Up in the HOH room – Cody heads up to the HOH room. Cody says that Frankie has been grilling me about what me and Brittany talked about. Derrick says that Frankie was asking me if Donny was going to use the veto or not. Hayden joins them. Cody says she was trying to talk to a lot of people to protect herself. rightfully so.. She's doing what she needs to do but I don't think she trusts me any more. Cody says then Brittany comes in and asks if there is more paranoia going around the house. She said well Frankie came in. Cody says yeah Frankie came in and he was asking about you. She was hinting at did Frankie come in and start talking about me. Cody says I told her that Frankie was asking about you. It was getting awkward and honestly I don't trust him. I don't know when the time would be to get him out would be. Cody says I said I feel bad what I did to Donny I think it was paranoia on my end and because after I talked to you and Jocasta .. it was Pow Pow that was stirring shit up. Cody says that Brittany said that she is starting to trust Donny. Cody says that doesn't just come up from no where, you never talk to the dude. Hayden comments that I honestly feel like an idiot. I feel like I got played. Everyone was saying how sketchy Donny has been and I was like sh*t that doesn't look good. Derrick says that Donny is definitely trying to start an alliance to go against the 8. Cody says this is what turned me off about Brittany. I told her that the person that caused all this is going home this week. I told her it would be nice to get out Caleb but honestly with Devin gone the house is divided. Cody says and she said you know see you on the other side. And I was like wow, what?! I don't know if she was joking and I didn't get it or. Derrick says no I think you were having a conversation and indirectly she was like … Big Brother switiches the cameras to Nicole and Christine heading out to the backyard.
Out in the hammock – Caleb and Amber are talking. Amber asks do you have any other questions? Caleb says I just hope you know. Amber says it would be great if you and I were hanging up there together. Caleb ask if we're up there together. Amber says if we're up there together I would still hang on. Caleb says for me I'm not letting a girl beat me in anything. If we're hanging together, just give up! Amber says no. The conversation turns to Caleb service in the military.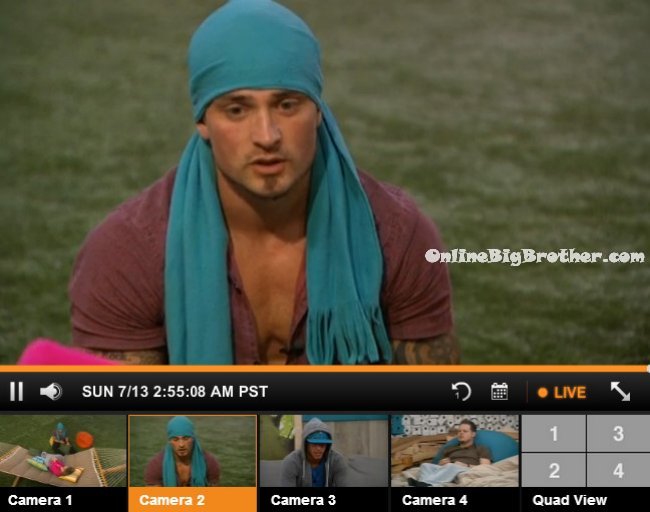 3:05am UP in the HOH room – Cody and Hayden are still talking. Hayden says its good that we didn't win this HOH, so hopefully one of us will win this next one. Cody says that if I won HOH this week I would put up Victoria because I don't know where her head is at, I'd put up Brittany because she doesn't trust me, I'd put up Jocasta but she is so close to Amber. I think she would side with us over Caleb. Hayden says if I had to pick 3 people that had to go in the next 3 weeks… Brittany, Donny and Amber in the next three weeks and then maybe Frankie. Cody says I am literally not trusting anyone but you two (Hayden & Derrick) So if I get f**ked over it would be you two. I am trying to get my trust back with Brittany but.. Hayden says yeah don't even bother. Cody says I am going to f**king try for this HOH. Hayden asks who do you think should go next would be Brittany and Donny… but not Amber. Hayden says that Victoria is potentially a vote for us. Hayden says that Brittany is talking a lot of game. She seems like she is trustworthy but if you tell her too much information she will tell everyone in the house. Cody and Hayden talk about how they trust Christine. Cody says that he doesn't trust Nicole. They talk about how early it is still in the game. Hayden says only 2 people have gone. Cody comments on how no one trust Frankie any more because he was mentioned in the 8. Cody says Caleb would come after me just for the simple fact of wanting more time with Amber. His head isn't in the game. This kid would send me home just for the simple fact if he thought she liked me. Cody says it's clear as day that Amber wants no part of it with him. Hayden agrees and says Caleb is clueless about Amber's disinterest. Cody counts the votes to keep Caleb, he counts 6 votes. Hayden says that Nicole would also go along with you and me. Hayden says Caleb being voted out wouldn't make sense for competitors like you and me. Cody says that Amber worries him because Amber could possibly vote to keep Jocasta over Caleb in order to prove she's not working with Caleb. Hayden doesn't think that would happen.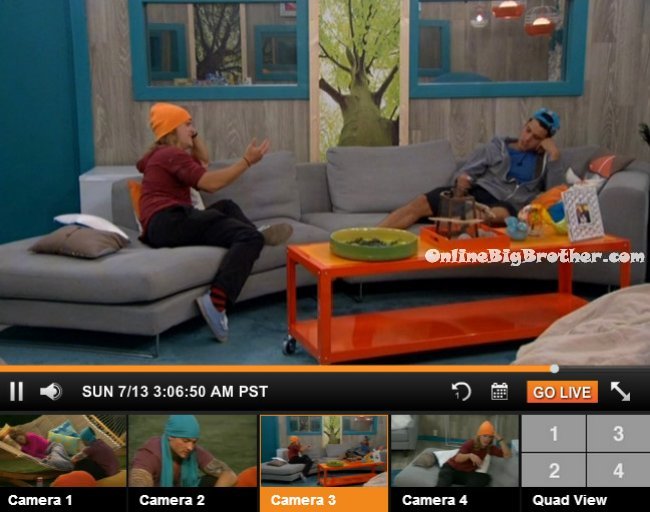 See what they can't show you on TV! -Try the Big Brother 16 live feeds for FREE!
3:35am Caleb and Amber are still talking in the hammock Caleb asks her why she won't be his date to the finale? Amber says maybe. Caleb says we need to get something straight. I put my 500k on the line for you and you are not able to agree to a date? Why not? What is it going to take? That's all I got. If it takes more than that, I'm out of luck. So say yes and say I've have done enough. Amber says all my relationships are long distance. I also need a whole lot before a single date with me. She says I wont even do it for a free meal. Caleb says before it is all said and done, I think you will say yes. Amber says all right. Caleb says you basically already said yes. Caleb says I'm different. I actually have morals, most don't. The good thing is that we both have good morals. It makes it harder and in a sense make it easier. I would never go for a girl without morals. Caleb says girls should be honest and real with him and not string him alone and play games with him. Amber says I think people try to protect other peoples feelings and you end up hurting the person more because you are trying to protect their feelings. Caleb starts talking to Amber about the veto competition.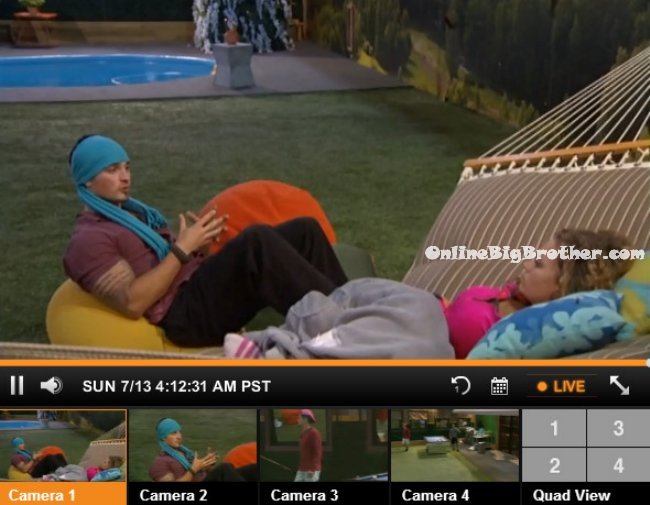 4:10am Zach and Cody playing pool. Zach says you know who's the f**king man. Cody says the thing is Derrick want's to work with me, you and Hayden. Cody says we'll talk later. Cody comments on how he can't believe Amber and Caleb have been talking this long. Caleb and Amber come by as they're heading in. Amber heads inside. Caleb stops and the guys talk about pool. They talk about Devin's odds of getting picked to play in the veto. Zach says but that wasn't your competition. The conversation turns to talking about the havenot food. Derrick comments on how great the corn tortillas taste with cinnamon. Zach says that Big Brother put another bag of the intestine in the freezer. There's a 500 pound Bag in there.