POV Holder:
Devin
Next POV
July 12th
POV Used
YES
POV Ceremony
July 7th
HOH Winner 1:
Amber
HOH Winner 2:
Devin
Battle of the Block Winner
Hayden & Nicole
Next HOH/ Next BOB
July 10/July 11
Original Nominations:
Devin's Noms (Pow Pow & Brittany) Amber's Noms (Hayden & Nicole)
Final Nominations:
POW POW & ZACH
Have Nots
Victoria Brittany, Zach and Derrick
POV Players
Host Donny, Players Devin, Brittany, POWPOW, Derrick, Zach, Amber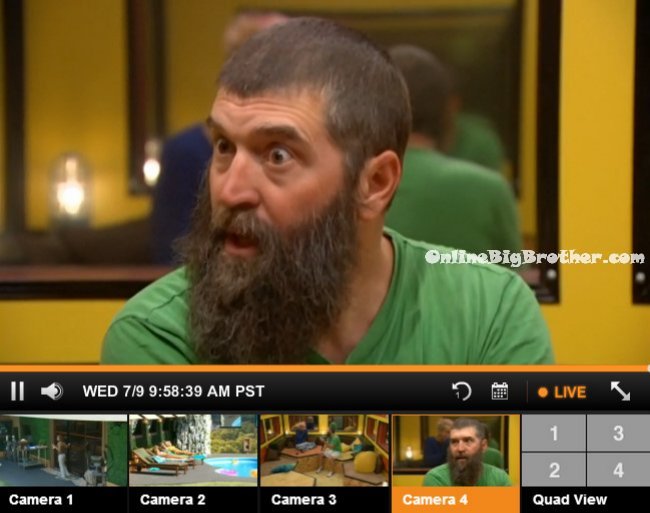 9:45am – 10am In the hive room – Donny explains to Frankie how last night he was woken up to Devin sitting beside him telling him about an 8 person alliance in the house. Frankie says that Caleb and Zach made peace last night and once that was done pretty much everyone decided they were going to vote …. Big Brother blocks the live feeds. When the live feeds come back – Donny says ya'll were the miniority. Frankie says there was an eight person alliance but it was fractured groups. It was never an eight person alliance. Donny says I've decided that Pow is going home and I would like to give her my vote. America will understand if I don't wote with ya'll. When Pow gets voted out she is going to say I love Donny and I don't want America to hate me for voting her out. Frankie says he is sorry that Donny got woken up for it last night. Donny says yeah its not something that couldn't wait till tomorrow. It's not like you guys were going to vote me out today. Frankie says Derrick and I can keep you safe. Frankie says that Devins trying to put you on his side with Brittany, Jocasta and Victoria. Frankie says we need you to be our eyes and ears to keep Derrick and I safe. Frankie says I have no alliance other than Team America. Donny says that he will and that he would have done that anyway. Donny asks are those girls okay with keeping Zach in the house who talks so much smack about women?! Donny says No we don't condone it! We can explain it as we are keeping him in the house as a bigger target. Frankie agrees. They leave the room.
Big Brother 16 Live Feed FREE TRIAL – Use the FLASHBACK feature to watch everything you've missed!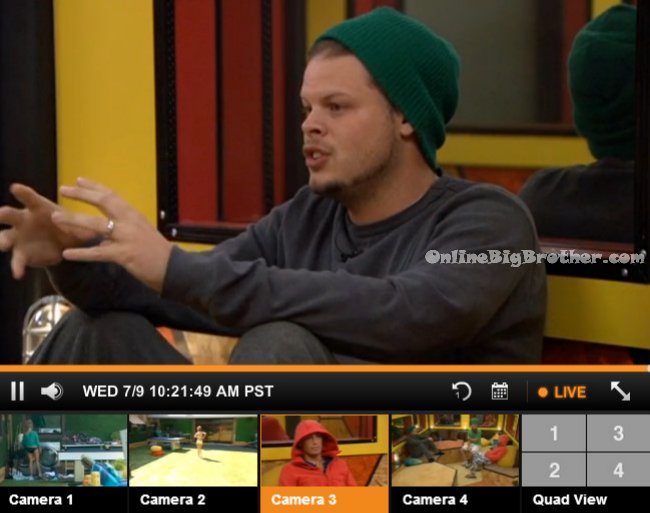 10:05am Frankie heads out to the backyard and talks to Christine about his conversation with Donny. Christine says its perfect because Donny said last time how livid he was the last time Devin woke him up in the middle of the night before. Frankie tells her that Donny said he will be giving Pow Pow his vote. Meanwhile inside the kitchen – Donny tells Derrick how he got woken up again last night. They head into the hive room to talk. Donny says that Devin told him about an 8 person alliance. Derrick says what Devin doesn't know is that you, me and Frankie have decided its best to keep Zach in the house for the best interest of Team America. Derrick says Devin came to us individually and said if you vote this person out I will keep you safe this week. After we all came together collectively and talked about how its not better for us. Derrick says it was obvious that Pow was working with Devin and she threw that competition with you and the one with Brittany. Frankie says Devin forced our hand to be an eight person alliance when we weren't. Frankie and Derrick tell Donny that they only alliance we have is our alliance. He doesn't know that we are in this alliance. Frankie says and he is going to tell you everything. The main thing is to keep the target off the three of us. I agree with Donny that I don't think many people are going to buy what Devin tells them. Donny says I'm not worried today its an eight, tomorrow it will be another eight and next HOH it will be a different eight. Frankie leaves. Derrick talks about how Frankie is playing an aggressive game. Derrick says contractually I don't think Frankie can expose Team America without us. Donny tells Derrick how he likes talking to just Derrick some times without Frankie. Derrick tells Donny in his opinion he should give Pow his vote. Donny is worried if Zach finds out and goes off. Derrick says thats a valid concern. Derrick tells him don't tell anyone and deny it.

10:10am Out in the hammock – Christine is talking to Amber. Christine tells her that Devin is a lunatic. She says that Brittany was acting really weird last night too. Amber says that Devin is trying to control everyone's game. Christine agrees. Christine says what an idiot! Christine says there was nothing you could do, he cullied you into it.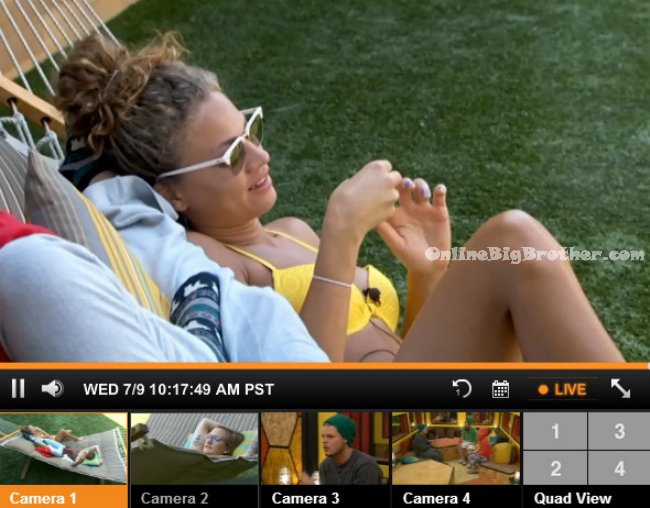 10:35am Out in the backyard – Derrick tells Frankie how he is really close to Brittany and she lied to him last night about what Devin told her last night. SO she is definitely working with him. Derrick says I don't think Donny buys what Devin was saying. Derrick says everyone needs to just ignore Devin. He is trying to send us home. If you are up there too much with Devin people are going to start thinking you are working with him. This is going to be a hard one to get out of because in this game once you lose trust its hard to get it back. Derrick says I've done a lot to keep Brittany in the house and she won't even give me the respect to talk about it. Derrick calls Christine over and tells her to keep her helmet on today. Devin threw you and us under the bus last night. We've decided we won't go up to the HOH room any more with Devin. If he wants to talk to us he can say it in front of everyone. As far as everyone is concerned it was just a 1 week deal. Derrick says Brittany is going to come after us and I think she is going to make you and Amber the icon of this. Just know I will not vote you out.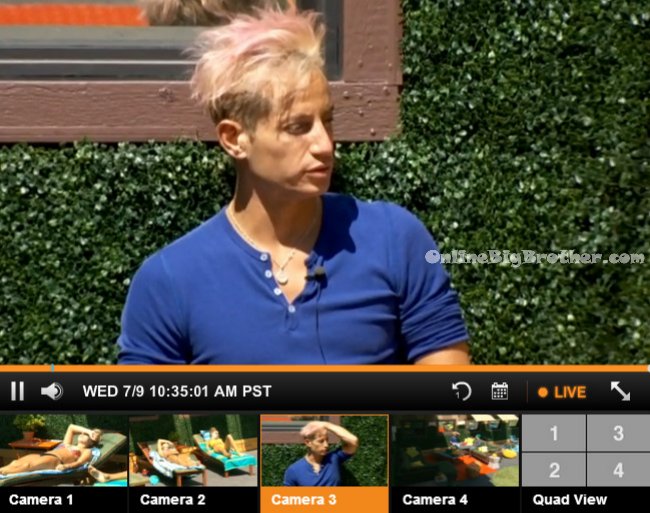 10:50am – 11:10am Derrick and Brittany go over to the hammock to talk. He tells her that it hurt him that she lied to him last night. Brittany says I didn't lie to you. I just didn't want to talk to anyone. I don't know who to trust. Derrick says why not talk to everyone and get your own opinion. I haven't lied to you. I've confided in you more than anyone. I am upset that you don't want to talk to me about it. Derrick says this all happened because we said that we weren't going to vote you out and that we weren't going to vote out Zach. Devin came up to us and said that if we go against him we better be ready for an all out war. There was no alliance. There was a 1 week deal the first week and a 1 week deal the second week. My only problem is that you didn't come talk to me. It bothers me that you just don't care. Brittany says I obviously care, I want to make it to next week. Brittany says I am hurt because I felt like I was on top of the game but the reality is that I had no idea. Derrick says you are telling me everything that I needed to know. You're telling me that you don't trust me. Derrick says I have nothing to gain by coming to talk to you right now. I am coming to talk to you on a personal level. Derrick says I went to battle for you and then you hear one thing about me and you don't even address it. Brittany says I don't want to talk game with anyone. Every single hour things change.
Derrick says I am not working with Devin. He told me he was going to people that. Brittany says I didn't think you were working with him. Derrick tells Brittany for personal selfish reasons I want you here. And then when it comes down to it I want the money. Brittany says your vote doesn't count. Derrick says my vote didn't count last week either but I made sure you stayed. I am not working alone. Brittany says I know you're not. Derrick says I have to know that I can tell you stuff and that I can trust that you're not going to burn me. I am telling you that I am doubting our relationship because of how you acted last night. Derrick asks you okay right now? You're sweating like a pig! Do you want to move? Brittany says no. Brittany says to be honest I think a lot of people made deals with Devin and now they don't want to honour them with him. Derrick says exactly. Brittany says he is tarnishing and toxic to my game. Brittany says I trust you 100%. Derrick says I'm not asking for any information. I just need to know moving forward that we're cool. Brittany says regardless of when I leave I am still team Derrick. Brittany says I am seeing that a lot of the people that I saw as loving caring people .. I am seeing them differently. I just need to gather my thoughts. Brittany says I am questioning Christine and Cody now. Derrick says I should be in that category to then. Brittany says I don't think you are. Derrick says I will give you your space.. I hope you come to me in the next couple days before the HOH because I plan to win HOH and I need to know if I have your back that you have my back. Brittany says I've already told you I have your back. I can't even talk or get words out because I am f**king tired! Derrick says we'll talk when you're ready to talk.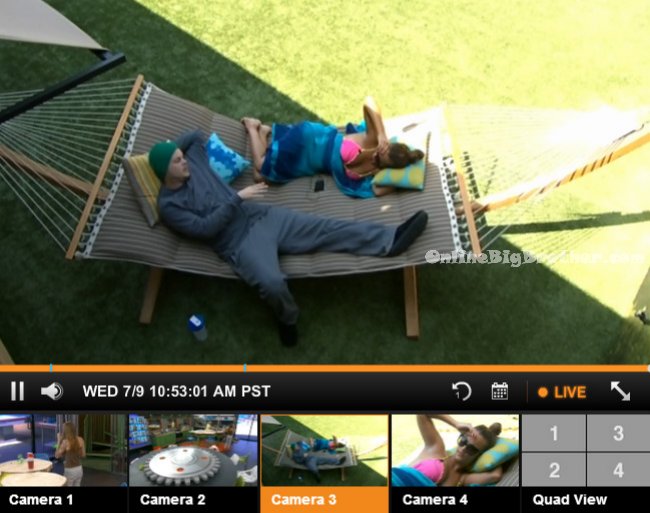 11:15am The camera's switch to Donny talking to Jocasta on the backyard couch. He tells her how Devin woke me up last night. He told me about an alliance that I wasn't a part of. After he left there was a lot of, lot of, lot of talk last night. Donny asks is there anything you want to share on that? Jocasta says I knew there was an alliance but I didn't know it was that big.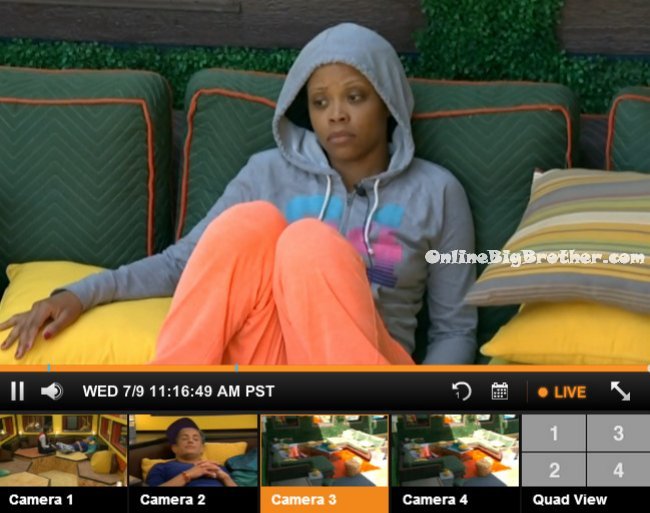 11:30am – 11:40am In the kitchen – Frankie tells Christine that its basically Caleb vs Devin. If you're seen talking to Devin or Brittany people will assume you're working with them. Christine heads out to the backyard couch. Cody tells Christine that if Brittany doesn't come and talk to me and be honest with me .. I am done with her! Amber joins them. Cody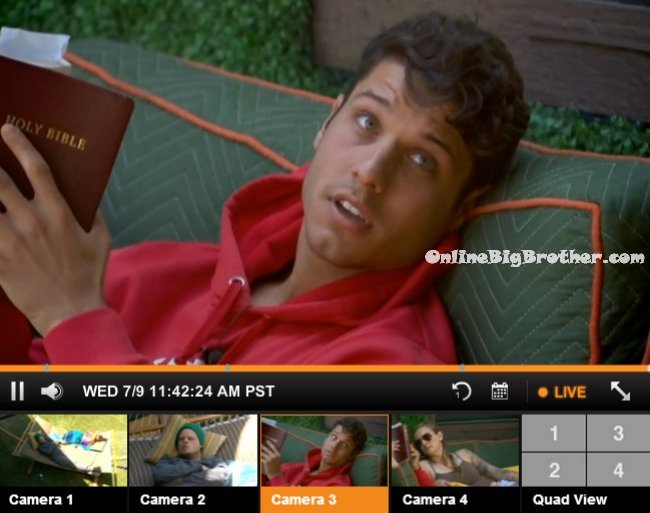 11:55am Donny and Nicole are in the backyard lounger. Donny tells her that they swapped Zach for Hayden. Nicole tells Donny I definitely want to work with you. If I get HOH I want you to know you're safe with me. Donny tells her the same thing. He tells her that he thinks we should infiltrate the 8. Nicole says they are going around telling stories and Victoria is going to believe it. Donny says we can make our own with Cody & Hayden because I feel we can trust them. Nicole says I heard that Hayden at first said no and then was pressured to work with them.
In the bathroom – Brittany is talking to Jocasta. Brittany says this is really difficult because obviously we were never asked to be a part of that.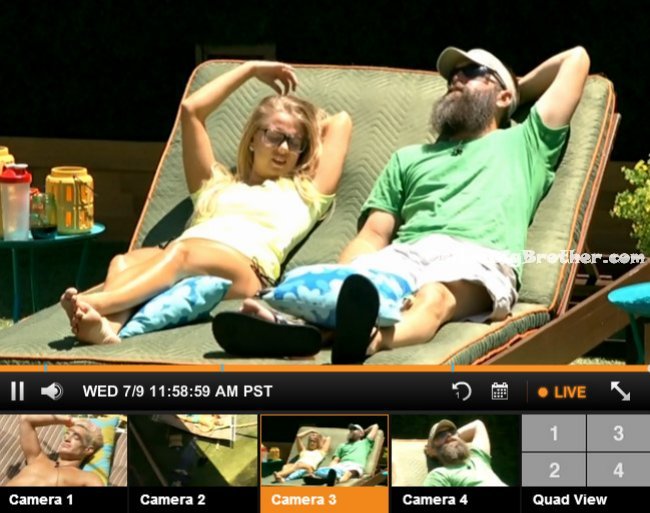 Over by the hammock – Derrick talks to Frankie about his conversation with Brittany. He says that if she doesn't come talk to me then she needs to go because she's not good for anyone's game. Derrick says that Brittany's excuse is that he's tired. Frankie says she's stupid! Well this is Big Brother! Everyone's talking game. We just need to bank as many of these missions to get as many $5000 as we can. Victoria comes out and says that she talked to the diary room and we're not off havenots until tomorrow at midnight. Derrick says he just talked to them an hour ago and they said tonight. Derrick goes to clarify. He comes back out and says nope, they're going to keep us on it.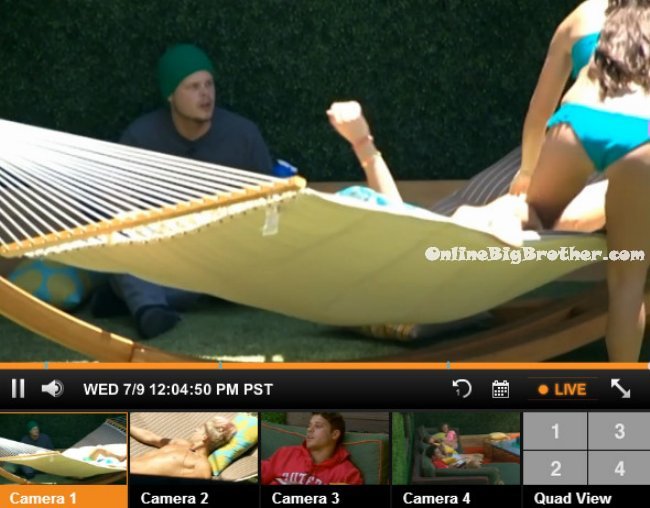 12:10pm Amber, Christine and Cody talk on the backyard couch. Amber says that she thinks Devin will stay up in the HOH all day. Cody says yeah because he's a 2 year old in a giants body. Amber asks if he is going to talk to him at all? Cody says nope, I have nothing to say to him. The only thing I have to say is that I am going after him to get him out. Christine says that she's worried that if Caleb goes up and talks to Devin that they'll start working together because they keep doing that. Amber comments on how he is affecting her game now..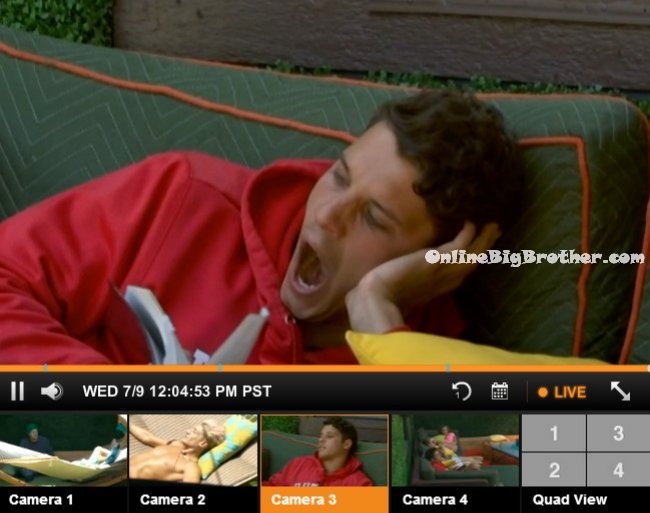 Wheres the vote?
Zach is staying 7-5
Stay connected and interact with other Big Brother Fans on our Facebook page.
And Follow: @BigBspoilers and @Dawgsbigbrother on Twitter for the most up to date spoilers.
[polldaddy poll=8164185]