POV Holder:
Devin
Next POV
July 12th
POV Used
YES
POV Ceremony
July 7th
HOH Winner 1:
Amber
HOH Winner 2:
Devin
Battle of the Block Winner
Hayden & Nicole
Next HOH/ Next BOB
July 10/July 11
Original Nominations:
Devin's Noms (Pow Pow & Brittany) Amber's Noms (Hayden & Nicole)
Final Nominations:
POW POW & ZACH
Have Nots
Victoria Brittany, Zach and Derrick
POV Players
Host Donny, Players Devin, Brittany, POWPOW, Derrick, Zach, Amber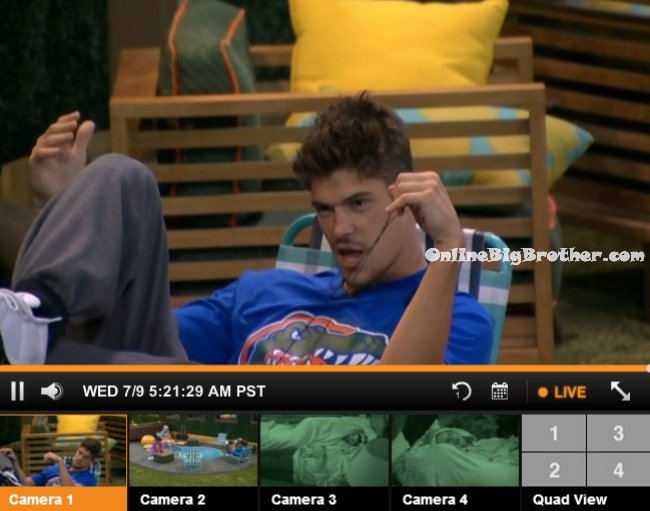 5:15am – 6am Out in the backyard – Zach, Jocasta, Pow Pow and Brittany are talking. Jocasta brings up how she heard Zach say about Victoria that he wanted to rip her tongue out. Zach starts getting mad and says that I never said that! I would never say that! I only said she was pretentious, rude and stuck up. Jocasta says and you said she was a piece of "sugar ice tea". Jocasta says I have a women's ministry I can't be seen voting to keep someone that wants to rip out a girls tongue. Zach says I can understand that. I never said that though. Brittany tells Zach to not worry about it because everyone lies in this house. She says except me! Jocasta says and me!
Brittany asks what they would do with the money if they won:
Zach says I would buy a 200K house on the golf course. Then put the rest in savings and drink beer for the next 6 months. And hopefully find a job after that.
Cody says pay off my brother and my school loans.
Jocasta says donate to my church, pay my mom back. Pay to my uncle and pay off all the debt we've accrued. Zach says you'll have lots left over after that. Jocasta says no.
Brittany says same story as Jocasta. My dad's paid my rent the last two months. Pay him off. Go on a trip with my kids. Brittany says if I don't win I would take my kids to Disney World.
Pow Pow says there are 8 of us siblings in the Philippines. I would buy 8 puppies and but a place in long island.
Pow Pow asks what Zach's brother looks like? Zach describes him as having a round face and square base. Zach says I'm a bad influence but a good role model. Cody says those two things are contradictory. Zach says I try to get him to swear but he just won't.
See what they can't show you on TV! -Try the Big Brother 16 live feeds for FREE!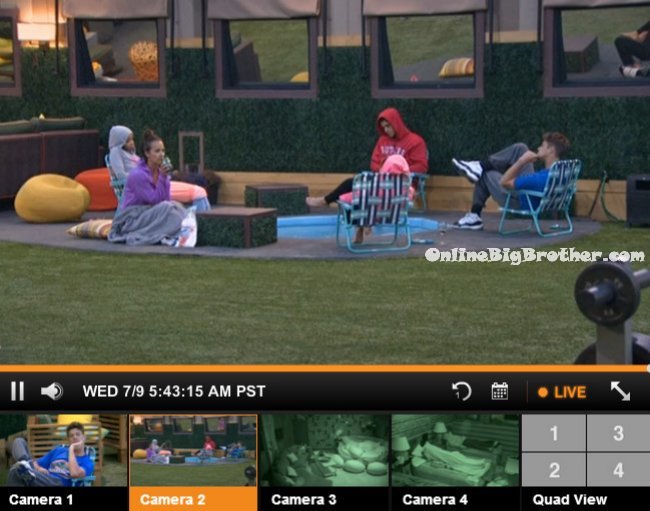 5:55am Zach jokes that Devin is Brittany's boyfriend. Jocasta says WOW! Zach says I don't believe that he actually likes you. Brittany says she doesn't believe it either. Nothing against you. I think its all a facade. Cody says it bothers me, every single day. Brittany says there's strategy behind it. Zach says he has no strategy. Brittany says I don't care what goes through that guys head! Cody says except when we watch the video back and find out what Brittany's true feelings are. Brittany says watch them back and you can all call be and say you're sorry. Pow Pow says you have to say you're sorry with me! Brittany says I did say sorry! If that was me I wouldn't make a deal with someone like that! I'm sorry for you making a dumb decision! Brittany says I don't think anybody should say sorry in this house because the sorry's are fake. Everyone is f**king lying to each other! Nobody's going to stay friends.. Pow Pow says F-you Brit! Brittany says I don't know anything any more. I don't know who I trust in here any more. Brittany says that she's going to sleep. Zach asks her if she's going to in the HOH room. As Brittany walks away she fingers him.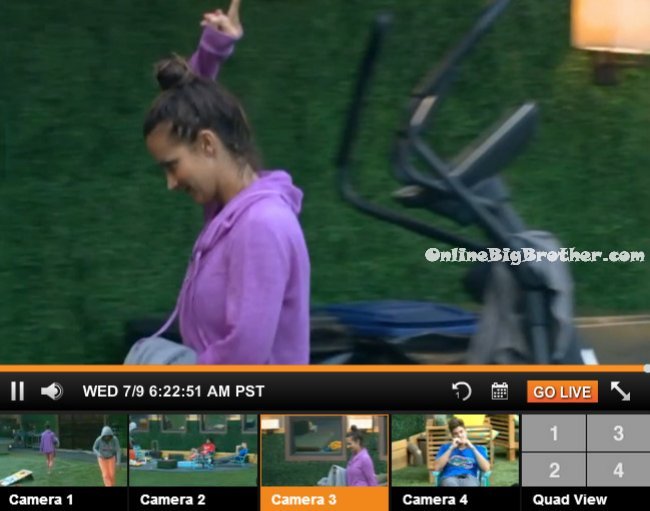 6:30am – 7am In the bathroom – Jocasta and Brittany are talking. Brittany says that she thinks Devin brought us in to pull everyone outside the alliance together. Brittany says I will not be okay with Victoria staying here longer than us. She is lucky to be here. Brittany asks Jocasta if she is going to tell anyone about when Devin told us? Jocasta says no. Brittany says I'm not going to either. Brittany tells her how Derrick tried to get me to talk but I didn't say anything. Brittany says we can't say anything because that makes us a target. Jocasta comments on how I have constipated face and you have sleep deprived face. Brittany goes to bed. Meanwhile out in the backyard – Zach, Cody, Pow Pow and Jocasta are talking whether or not Amber likes Cody. Cody says that it doesn't matter because I wouldn't do anything any way. He says that even in life if there is a girl that a guy likes he wont do anything with her because there are plenty of other girls out there.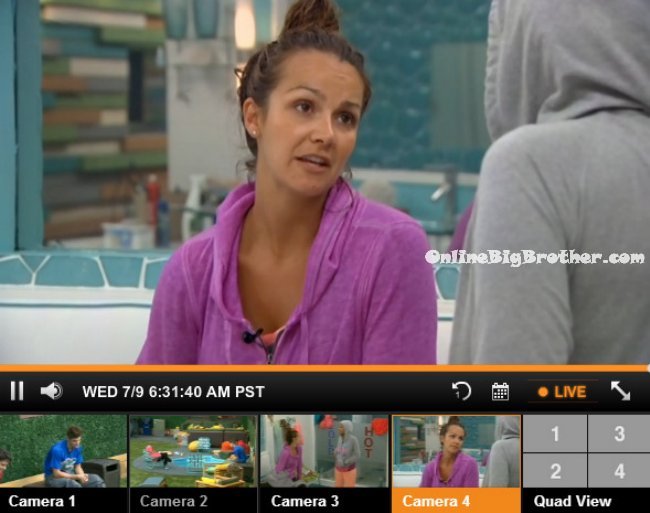 7:20am – 8am Cody and Zach are playing pool and talking game. Zach tells Cody how Caleb said I only care about one person in this game, and that's Amber. Cody says that he doesn't trust Caleb because he is so obsessed with Amber. Cody says that Caleb it is f**king up his game bad. Cody says that Caleb is so grinded by what he thinks is a f**king showmance. Its so funny. Cody says that Amber told him that Caleb freaks her out because he follows her everywhere and is always looking at her. He's creepy as f**k! Cody talks about how Hayden is going to use what Amber said to get Caleb to vote her out. Cody says I was done with the alliance when Devin brought in Christine and Amber. Cody says we don't need to start a new alliance, all we need to do is make sure our social game tight and get out Devin. Zach wonders if he should go ahead with his eviction speech like he was going to. Cody says yes of course! Zach says he is going to hate me but at least him targeting me we still have the votes. Cody says yeah.. just say whatever you want to say.
7:59am camera 3 Zach wonders if Big Brother will take the cost of damaging his mic out of his stipend. I don't think they will, it was an accident! Cody says I don't think they do that. (There's a feed leak of the control room with a guy saying "We should, you tool! Because seriously what the f**k! HAHA Hey! I will say this at least he feels bad. …And compulsively caused Paola to drop the mic. Zach feels extremely fucked up about it, which makes me hate him less! Yeah!")
Zach says I want to win HOH on Thursday so bad! Cody says then do it bro!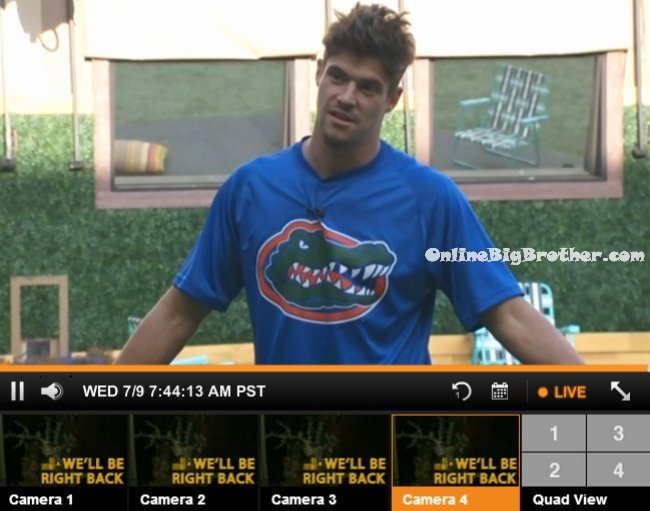 8:25am Zach and Cody head to bed.. They stop by the memory wall Cody says I love Christine. She great! Zach agrees. They think Joey's picture is a good one of her. Zach says I don't get Brittany in that picture, she so doesn't look attractive. Cody says that Frankie look like a troll. Cody says when I look at Devin's photo I just want to slap him in the face.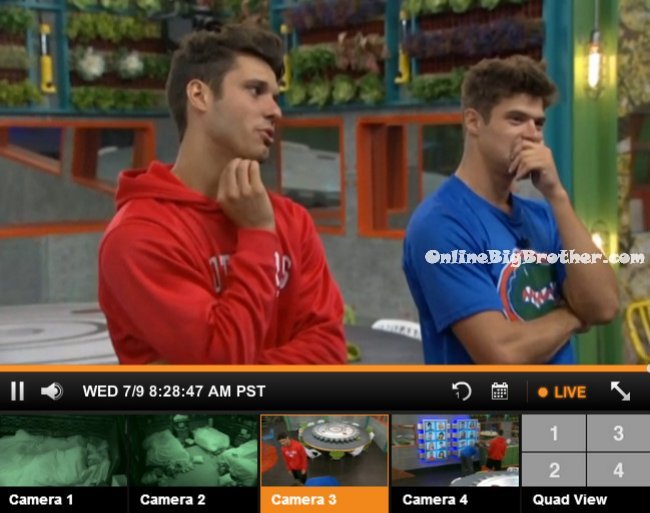 8:30am – 8:40amZach and Cody go to bed. All the house guests are now asleep.. Zach then gets up and goes to the diary room. He comes out soon after, changes his mic batteries and stares at the memory wall. He then goes to bed in the havenot room.
Wheres the vote?
Zach is staying 7-5
Stay connected and interact with other Big Brother Fans on our Facebook page.
And Follow: @BigBspoilers and @Dawgsbigbrother on Twitter for the most up to date spoilers.
[polldaddy poll=8164185]