POV Holder:
Devin
Next POV
July 12th
POV Used
YES
POV Ceremony
July 7th
HOH Winner 1:
Amber
HOH Winner 2:
Devin
Battle of the Block Winner
Hayden & Nicole
Next HOH/ Next BOB
July 10/July 11
Original Nominations:
Devin's Noms (Pow Pow & Brittany) Amber's Noms (Hayden & Nicole)
Final Nominations:
POW POW & ZACH
Have Nots
Victoria Brittany, Zach and Derrick
POV Players
Host Donny, Players Devin, Brittany, POWPOW, Derrick, Zach, Amber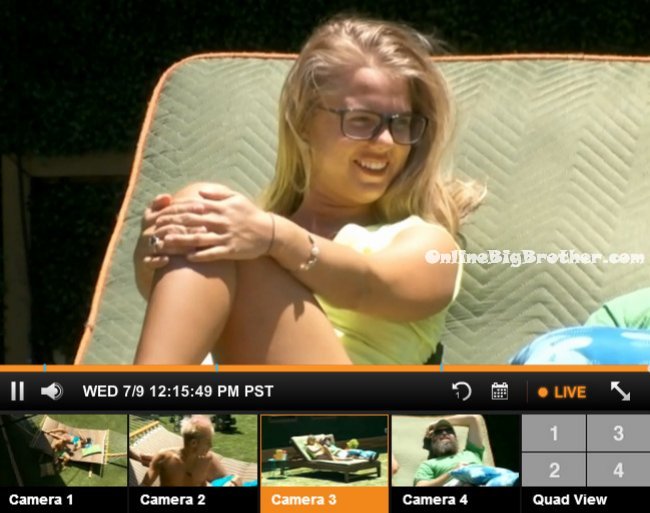 12:15pm Over on the backyard lounger – Donny tells Nicole if she wants to throw my name in there to Hayden you can. It would make you look more presentable too. Nicole says I will. I trust Hayden more than anyone. Nicole says he is smart too! She tells him that Hayden had a 4.02 GPA in high school and didn't even try. Donny and Nicole decide to get out of the sun.
See what they can't show you on TV! -Try the Big Brother 16 live feeds for FREE!
Frankie and Brittany are over by the pool talking. Brittany says that its frustrating that people think I am working with someone I can't stand. Frankie says I had a huge fight with him last night. Brittany says I am tried of being on the block, I'm tired of being a havenot. Frankie says it just sucks because he is just a monsterous person. Brittany says Devin probably wants to work with me because I fight and I don't give up. He's desperate and since he saved me he probably thinks there a good chance I would work with him. Brittany says outside of this game I don't know what kind of person he is but in here is is no good for my game.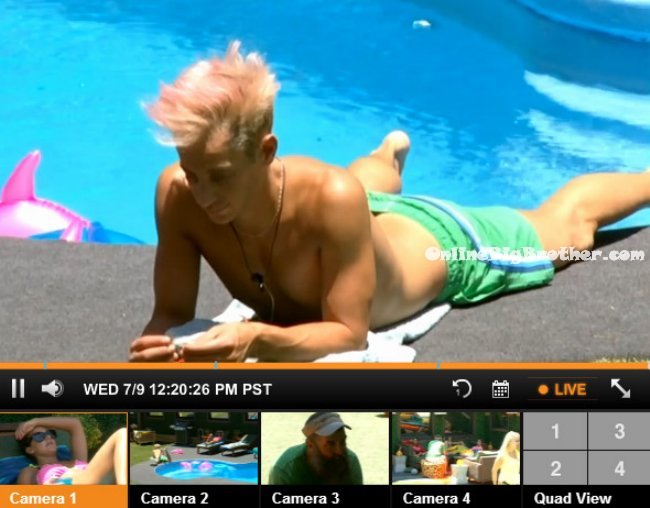 12:25pm Derrick talks to Caleb and tells him about how Devin layed in the bed last night beside Donny to tell him so that no one would see him talking to him. Derrick says that he talked to Donny and Brittany. He says that Donny was more receptive to talking about it. Caleb says at the end of the day Devin blew up our games. Derrick says we should collectively say no one should go up there and talk to him. He's done. He's got to go. If I was you for your game I would tell him if he wants to talk .. not to talk to him in the HOH. If he wants to talk he can talk down here. Derrick says Amber is out there on the couch kind of shaking. You should probably go out there and talk to her. I think she could use some support. Caleb gets up and heads outside. Derrick goes into the havenot room and gets into bed. He talks to Zach about how he asked in the diary room and we're not off being havenots till midnight tomorrow. Derricks says that he also complained how the first week have not we're able to add clothes on the bed to make it more comfortable. Derrick says they said they're working on it to make it more .. Big Brother blocks the feeds.
12:35pm Over by the pool – Caleb tells Frankie that keeping Pow in here is bad because anyone who wins HOH can use her to put up against someone to make sure they loose the Battle of the Block competition. Brittany says people see me and think I am working with Devin. Caleb says people just think that because he used the veto on you. Brittany says I am not working with him and as much as I try to avoid him he calls me up there 10 times a day and if I go up there once people automatically think I'm working with him. Caleb says the weak people need to go. Frankie asks you would save Devin?! Caleb says no, not after last night. I will never go up in that room or talk to him off to the side again. Frankie says he's the plague. Caleb says he is running around making up lies about people. Brittany says that Pow is here by luck and needs to go. Brittany says that Devin's played the kid card a lot. I am going through a divorce and don't know if my ex is trying to get custody of the kids saying I disappeared for 3 months. I am stressing out everyday about that. Caleb says get the people that don't do crap out of here. Caleb says the sucky thing is.. its guaranteed that it looks horrible that he put that veto around your neck. And he can say anything up in the HOH room. Brittany says I tried to reject it but I couldn't.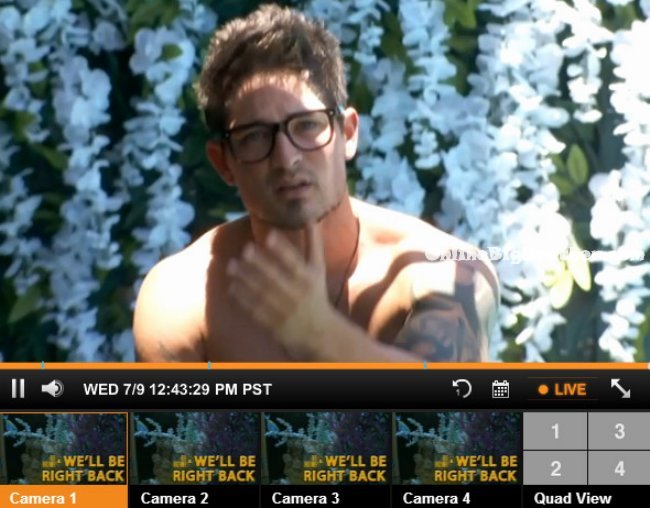 12:50pm
Big Brother puts the house guests on a in door lock down. In the earth room – Derrick says so its an endurance competition. Don't count on me. Caleb says you can count on me. Derrick says I know I can cowboy!
12:50pm Up in the HOH room – Devin is talking to Nicole. Devin tells her that 6 guys formed a guys alliance and then we pulled in two girls. Nicole says I heard bit and pieces this morning. Devin spills everything about the bomb squad. He says that he wanted Brittany gone because she was a threat to me. My alliance didn't want to get rid of her. Devin says my whole alliance got called into the bee hive room and I just didn't want to be a part of it. Nicole says I definitely heard your alliance members talk not nice words about you so I never would have guessed that you were working together. Devin says everyone thinks this is the season of getting rid of the floaters but in my opinion its about how you use the floaters to get out the strong players. Nicole says I'm not stupid and I'm not shocked that theres an 8 person alliance. ..But now its crumbling. I was hurt that I wasn't a part of it but I am glad now that its crumbling that I wasn't a part of it. Devin says that Zach and Caleb made a truce so it went from an 8 person to a 9 person alliance. I didn't want to have anything to do with it so I went to Frankie and told him I'm done. Nicole says I am here to fight and here to play. Devin says I 100% expect to be put up. All I can do is win competitions and the BOB doesn't count because I expect to be put up with someone that will lose. I all I can do is fight to be here and if I go home I go home to my daughter. Nicole says I'm sure the 8 will still stick together. Devin says just keep this quiet or you'll be targeted too. Nicole asks do you ever think you and Caleb will mend? Devin says no, we've had too many ups and downs. I disagree with some of the things he says and does and the direction of his game play. Nicole says I'm not going to say anything. Thanks Devin. She leaves the HOH room.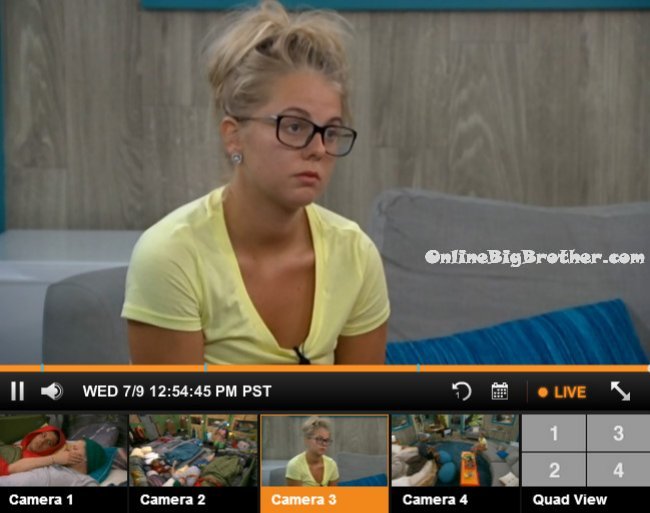 Watch the ENTIRE SEASON of Big Brother 16 for ONLY $26.99 – TRY it For FREE!
1:10pm – 1:25pm At the kitchen table – Caleb is talking to Donny. Caleb says so Donny how does your back feel. Donny says oh its all right. Cabel says I'm talking about when Devin stabbed you in the back. Caleb tells him that Devin and I were working together just him and me! Caleb says that Devin threw me under the bus just like he threw you under the bus before. Caleb says Amber is being targeted now because I'm close to her. She got thrown under the bus. Caleb says it was me that said I would protect her. Caleb says as far as I know an 8 person alliance that's crazy. It never happened. Caleb says that guy up there misconstrued us making deals with each other as being in an 8 person alliance. Me and Devin were the only two that said we were working together. If you can let Amber know that you don't think she was a part of any of this. Caleb tells Donny I know you had a knife in your back and I'm telling you now I know how it feels. Take it of leave it. I know you and Amber are close and I don't want it to get messed up because of me. Donny says I'll talk to her. Caleb then goes to tell Derrick and Cody about his conversation with Donny.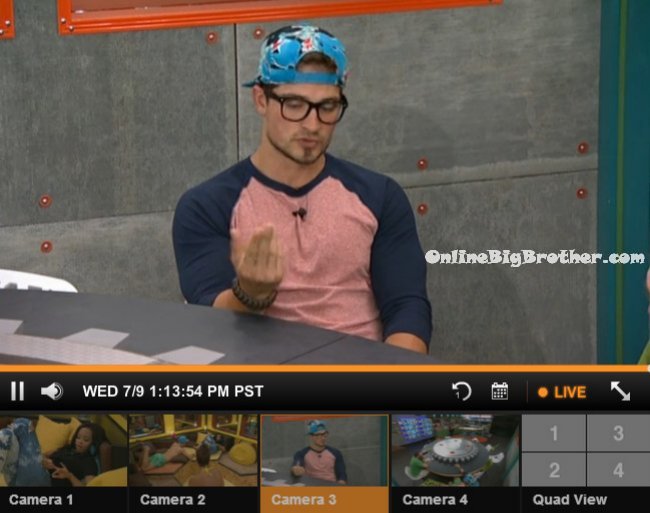 1:30pm In the storage room – Hayden tells Donny I feel very proud to be the replacement number in the alliance. Donny says why could't it be me! Hayden says Devin being Devin ruined it. Hayden says Brittany and Jocasta are still going back and forth up there. Hayden says I don't trust Brittany obviously he made a deal with her to use the veto on her. Donny says he will probably call me up there too and I'll go up. Hayden says that Amber is not to be trusted. I am not an Amber fan. Donny says that's what Caleb was selling me right there. Donny tells Hayden that he trusts Jocasta 99%. Donny says I trust you and Nicole 100%. Just be careful of who you trust. Hayden says right now everyone but Caleb doesn't trust Amber. Hayden says I have good information to switch Caleb to want to get out Amber. Hayden says there are 4 people we can get out over the next 4 weeks.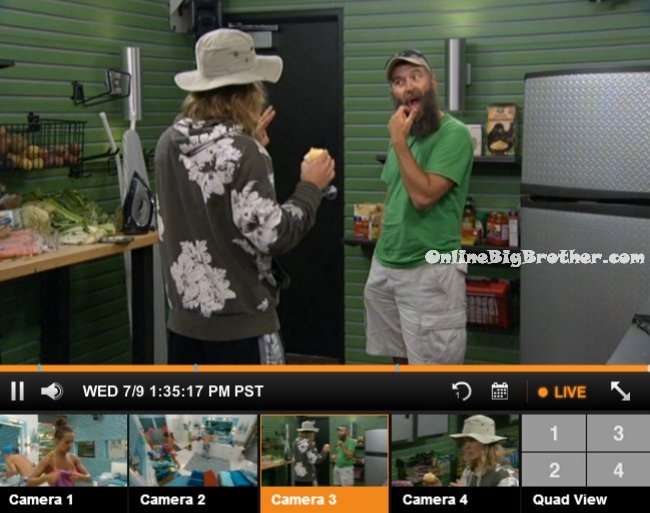 1:40pm Caleb talks to Victoria in the kitchen about how Amber had nothing to do with it and she's being dragged into it. Caleb says it makes me mad that he is dragging her into it because it makes you look bag. Caleb says that's my princess! That's my princess! Caleb tells Victoria that Nicole just got called up there alone. It doesn't look good. Hayden tells Nicole that if she gets called up there he'll go up with her. Cabel says I won't because if I do it will be world war 3.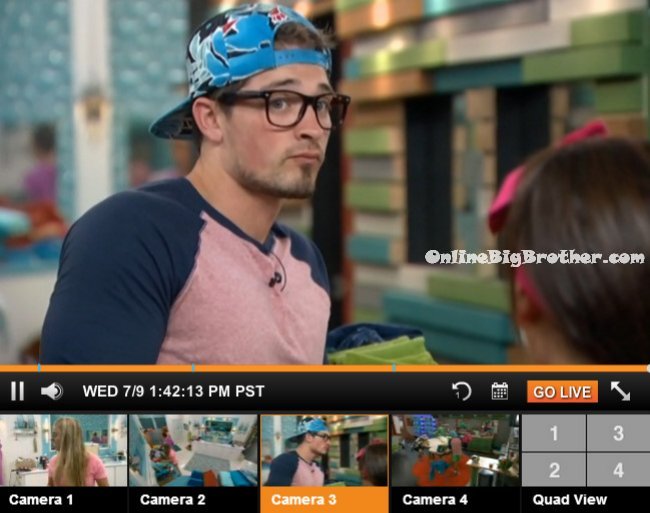 1:45pm In the earth room – Jocasta is laying beside Cody. She starts to cry and says that its hard because they can lie and stuff but that being who she is she can't. She says that her pastor told her not to lose herself in the house. Don't let them change you because you won't come back from it. She says telling more people about the saviour is the best thing that I could do. Jocasta says I've come through a lot. I've hurt people because I hurt. She says that her mom made her go get therapy in a Chruch. I was mad that she wanted me to do that when thats where it happened. I dated a lot.. I dated a lot of men and got screwed over so I dated a woman because I thought a woman wouldn't screw me over. And she did. I went to the therapy and faked the funk just to get through it so that I could tell my parents and leave. She says then I left and it didn't get better it got worse. She says one day she freaked out. I was in the bed doing the wrong thing when it happened. I just started to feel real nasty, dirty. And you can just imagine the look on the guys face. Jocasta says I told my husband that story and he just laughed. She says five months later is when I met my husband. I was transformed. I am able to get along with people because I can be like ..did that! Did that! Cody says that he's been through a lot too. I grew up really young. I hung out with my older brother and started drinking at a young age.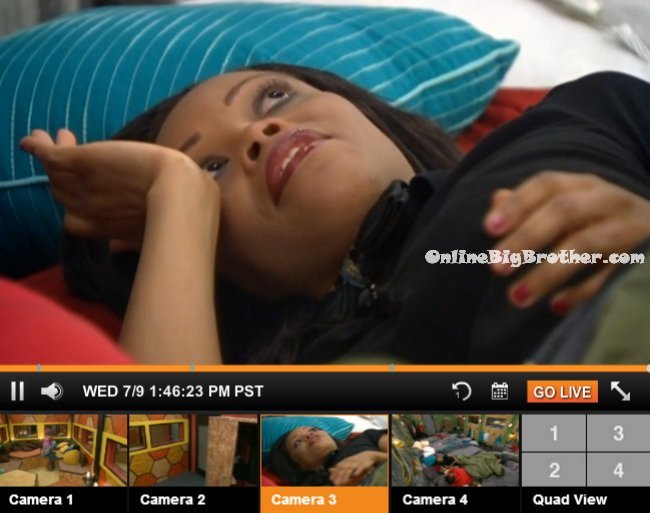 1:55pm – 2:10pm In the kitchen – Hayden asks Nicole so you don't want to have a kiss on national tv? Nicole says no. Hayden asks why? Nicole says because what if it's horrible. They start talking about name brand things and Nicole says that you'll never see her buy something because its a name brand. Hayden says I would give you things that I would make for you. I would build a house for you. Nicole says I don't think you know how to nail a nail. Hayden says I know how to nail a nail. Nicole says you said you don't know how to do manly things. Nicole tells him he needs to learn how to do manly things like change oil. Hayden says he'll learn.
Nicole asks Donny if he knows what the medical abbreviation NSAI stands for and during the feeds being block Donny told her it stands for non steroidal anti inflammatory drugs. When then feeds come back Donny is called to the diary room. Caleb tells Nicole there is no way anyone else in the house would have gotten that. He says that Donny had to have gone to Harvard Medical school. Nicole says if he had he would have gotten it a lot quicker than that.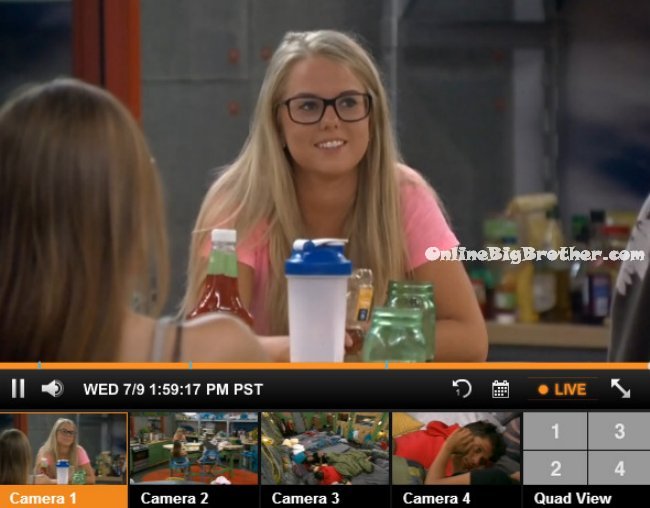 2:20pm – 2:40pm Amber and Cody talk about talking to Donny together later. Amber says she thinks he's been bombarded a lot today. Amber tells Cody that she is going to give him a nickname she says I'll call you Grease .. then she says I'll call you lightening. Cody and Amber talk about how they like Jocasta and think she deserves to stay here longer. Amber comments on how Devin hasn't been down all day .. and why .. because he's embarrassed. He's hot and cold all the time. Amber says I will never put someone up for personal reasons. Cody says Devin has completely crippled Caleb's game. Luckily he has us to protect him. Amber says I am having a change of heart. Cody says me too. Amber says I can't believe we tried so hard to keep Brittany. Cody says I put my neck on the line for her and this is how she treats us. Amber says that Devin being HOH honestly thinks he's … Cody says king of the castle. Amber says yes. Amber says when Caleb was HOH everyone was up there and had his key. Cody says after day 1 I couldn't trust Devin. He showed his cards and I knew I couldn't trust him. Amber says I really want to talk to Donny. Cody says yeah but not today. Amber asks can we at least make sure he goes to jury? Cody says we can try. Amber says why don't we just switch things up and play our own game. Amber says that she would like Jocasta to make it to jury too. Cody says I trust you to tell you things. Cody and Amber agree there is no alliance. Jocasta joins them.
2:55pm – 3:10pm The house is fairly quiet. Amber is doing the dishes. Donny is sweeping. Victoria, Hayden, Cody and Jocasta are sitting at the kitchen bar talking about food and other random things. Christine is sitting at the kitchen table with her head on it. Most of the house guests are sleeping. Devin has been hiding out up in the HOH room all day and hasn't come down.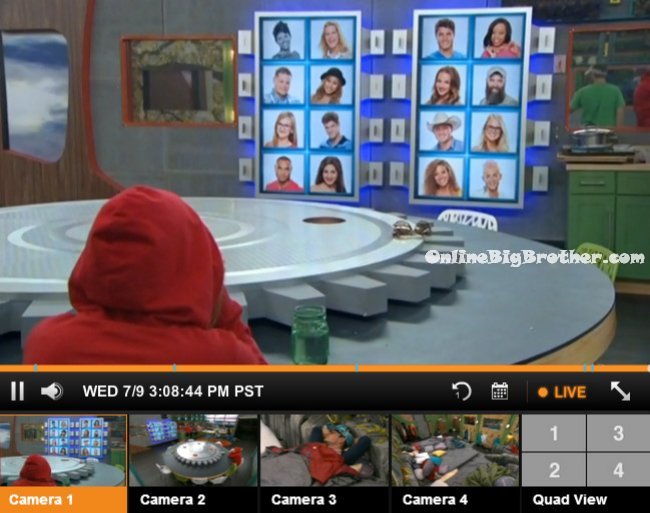 Wheres the vote?
Zach is staying 7-5
Stay connected and interact with other Big Brother Fans on our Facebook page.
And Follow: @BigBspoilers and @Dawgsbigbrother on Twitter for the most up to date spoilers.
[polldaddy poll=8164185]