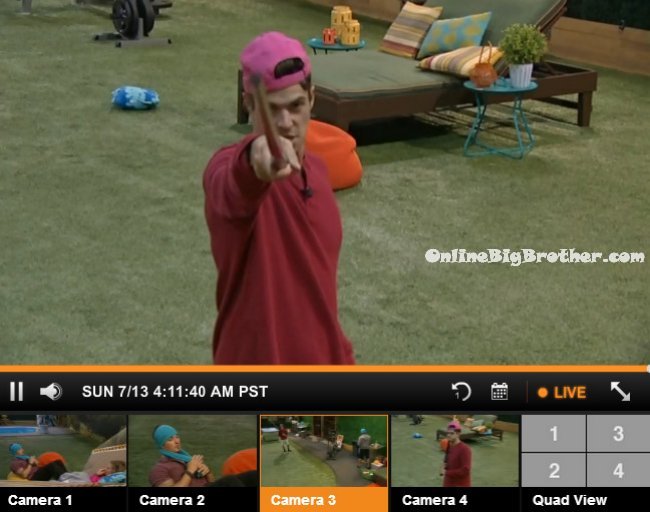 4:45am – 5:10am
Derrick and Zach head inside. Derrick asks Zach if he is feeling better after their talk. Derrick says if Donny doesn't use the veto on Jocasta … if does people will think he is showing his cards. Using it on Jocasta show there is an alliance between him, Jocasta, Brittany.. So people might just vote out Jocasta. Zach says I don't think people would vote her out. Derrick says Donny pretty much already gave the veto to Jocasta. Derrick says if Devin stayed his targets would be me and you. Derrick says we just need to stick together. We're like the Brigade! Derrick comments on how this is a game, its a big game for 500K but its a game. I want to enjoy every minute of it. Derrick says if you win too many competitions ..ie Donny people start to notice that and if Donny is ever on the block people will be thinking about getting rid of him. Derrick says we're golden. We just have to rid out the week. Zach says I don't think anyone is coming after us. The only way we wouldn't get to compete is if we got backdoored and people aren't going to do that this early. Derrick says the only one we're backdooring is Devin because he's a douche. Caleb and Cody come inside and they sit around the kitchen bar. They can't believe how disgusting the kitchen is when Amber and Brittany cleaned just last night. Derrick says that Donny is a hero this week .. he went up against the biggest guys in the house for his sick friend and won it. He then came in and handed Jocasta the veto telling her she's safe. Derrick says by Donny using it on Jocasta he is acknowledging he's going against the house. Derrick says Devin is going up and going home. Caleb heads to bed.
5:15am – 6am
Derrick, Zach and Cody head out to play another game of cut throat. Zach says that Cody is the one that needs to be worried. Derrick says that if Devin doesn't go home we have something to be worried about. Cody says Amber trusts me and the only person that would say anything to her about me is Calbe but she told me to my face that she doesn't trust Caleb. Zach says if Donny keeps the vote the same then we send Caleb home. Cody says its better to keep Caleb. Derrick says hypothetically if Donny doesn't use the veto who is the only person who would be the swing to vote out Cabeb. Cody says only Amber. Derrick asks what about Hayden? Cody says Hayden loves Caleb but thinks it could be a good time to get Caleb out. Cody says that he thinks Brittany is a lying sack of… Derrick Derrick starts using the pool balls to count the votes. They continue to discuss the possibility of Donny using / not using the veto. Zach says lets talk about something else because this week is a wrap! Cody says I am just extremely bothered by Brittany. Derrick comments on how Brittany isn't that hot without make-up. They comment on how Brittany has a lot of baggage. She's 29 and has a 12 year old daughter. Cody says I would take Amber over Brittany in not even a second. They talk about how Christine is losing credibility. Zach says she is weak as hell. Derrick says I don't know about that. Derrick says being up in HOH people are coming up to me throwing her name out. They discuss how Christine's story about the bomb squad didn't match up with everyone else's story which makes people not trust her. Zach says do you know what the fakest relationship is in this house… its me with Caleb. I stroke his ego all the time. Cody comments on how he heard Amber say to Jocasta that he (Cody) is her favorite person in the house. Cody says its only bad for my game as long as Caleb is still in the house.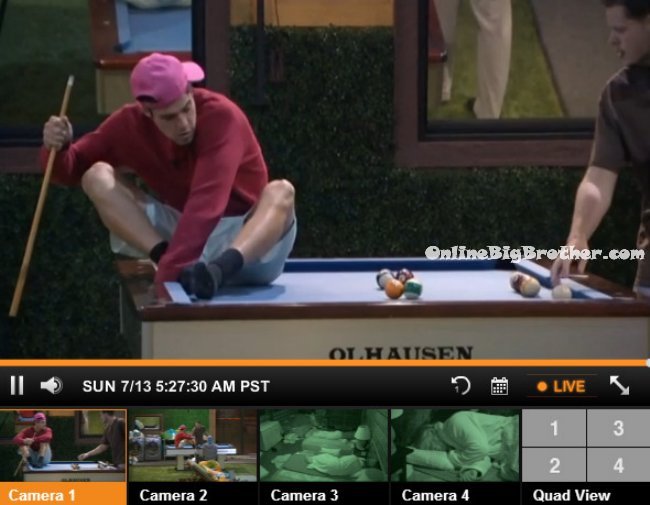 6:15am – 6:30am
Cody says I won't make out with anyone in the house. Zach asks you wouldn't make out with Brittany? Cody says if I was laying right next to Brittany … yeah I would make out with her. Zach asks so if Caleb was out of the house you wouldn't pound Amber out!? I could stand behind the fire door. They all laugh. Zach says how you are with Brittany she is completely different with me. Zach and Cody both say if they win HOH they would put up Victoria & Jocasta. Zach says I would just tell them I put you up because I wanted to. Good luck in the battle of the block. Sorry, not sorry. Devin wakes up and comes out for a second. When he goes back inside Zach says I hate you! Cody brings up how in the first couple days Zach told him he wanted to f**k Frankie. Zach asks I said that?! I literally talk out of my a$$. Cody, Derrick and Zach stop at the memory wall and talk about how some of their photos look nothing like them in real life. Cody and Zach go through the house guests they think are hot and which ones aren't. Cody says Victoria isn't, Christine is like a sister to him so no. He says Brittany and Amber are hot. Zach says he's not attracted to Victoria at all. Zach says looking at Pow Pow's photo she is the hottest one but in real life not at all. Devin comes through and they ask him. He says he would think Pow but in the first 30 seconds of talking to her .. HELL NO! Derrick, Cody and Zach head to bed.
6:30am Devin is up for the day making a havenot breakfast.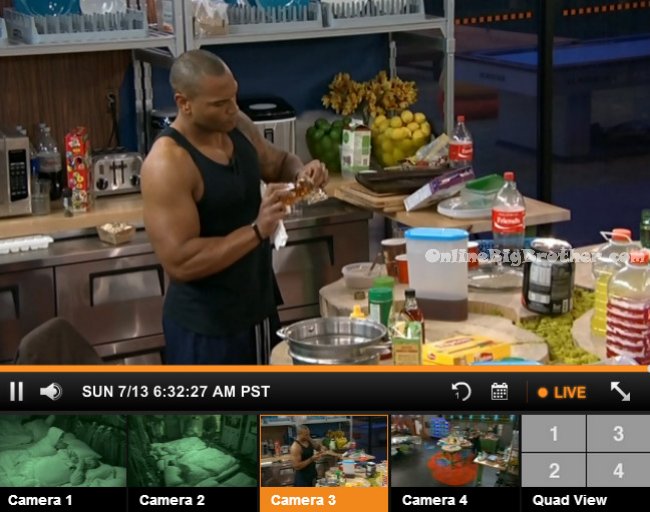 6:40am – 7:40am In the earth room – Cody and Zach talk to Brittany about her kids. Cody and Zach ask her if she was as hot in high school. They ask her about how she was in a Ying Yang Twins video when she was 18 and went to the Playboy mansion a lot. Zach tells Brittany that he feels Cody and Brittany have been distant. He says I want us to be a threes*me of friends. Zach, Cody and Brittany continue to joke and talk about random things. Cody and Zach can't sleep and get up to make breakfast.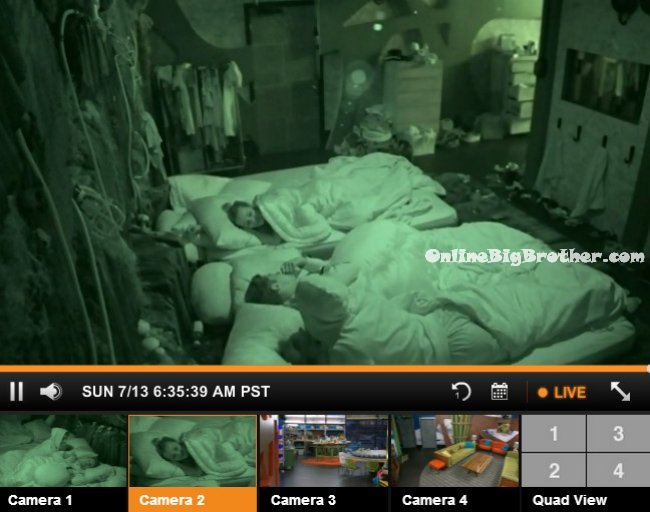 [polldaddy poll=8179403]
Share it YO!
Tweet