POV Holder:
Donny
Next POV
July 19th
POV Used
?
POV Ceremony
July 14th
HOH Winner 1:
 Nicole
HOH Winner 2:
 Derrick
Battle of the Block Winner
Donny/Amber
Next HOH/ Next BOB
July 17/July 18
Original Nominations:
Derrick's Noms (Caleb & Jocasta) Nicole's Noms (Donny & Amber)
Final Nominations:
Have Nots
Caleb, Amber, Devin, Hayden
POV Players
Derrick, Jocasta, Caleb, Christine, Devin, Donny
See what they can't show you on TV! -Try the Big Brother 16 live feeds for FREE!
7:50am – 8:15am In the kitchen – Zach and Cody get up because they can't sleep and head into the kitchen to make omelets. Zach asks Cody on a scale of 1-10 how hot is Brittany? Cody says her with a ponytail she's a 10.. na like strong 8 .. na 9! Zack agrees she's smokin. Cody asks what would you give Amber? Zach says an 8. Cody asks what?! I think they go hand in hand. I think Amber's face looks like a lion. Zach says one of us are winning big brother! Cody says my only problem is that I might be playing too much of a social game! My social game is going to bite me in the a$$.. hopefully not ..sooner ..more like later. Even if I just make it to jury. Its just like fun to bullsh*t people all day and talk and get them scared as F**K! LIKE WHAT THE F**K IS GOING ON?! And then be like Dude we're golden! They both laugh! Zach asks what do you think the HOH comp will be? Like hang on a wall? Cody says maybe. Zach says I think I am going to throw it. Just because I feel like there are way better targets in the house. Cody says its not an easy thing for me to throw it because when I get in it I'm trying. Making decision like as HOH f**king suck! Zach says yeah that's the worst part about it. I know who I wouldn't put up. Cody says if you put up Victoria and Jocasta you're not a target. If you and I are up in the HOH we're f**ked. We would have to put up like Victoria and one of our own and Jocasta and one of our own. I feel like we can't put up Donny right now because if we do there's no working with him. They head out to the backyard.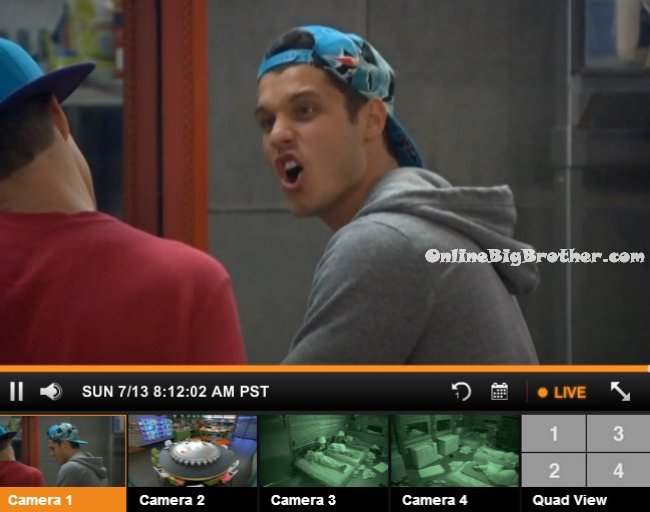 8:15am – 9:15am Cody says I just feel bad for Donny because he has a bad social game. Zach says you better not f**k my game for Donny. Cody laughs. Cody says I just wonder what is going on in Victoria's head. Zach says I don't think anything is going on up there. Zach asks are you going to try for HOH? Cody says yeah, I don't have a problem with putting up Victoria and Jocasta. Jocasta does like nothing for my game. Zach says I think if we keep playing the way we're playing ..we're golden. It all depends on who wins the HOH's. Zach says my game plan was just come in and make people laugh. Cody says mine was to come in and be likeable and just not be a target the first week. Zach says one thing that I'm not sticking to my game plan is I said I wouldn't be friends with anyone. ANd you and Derrick are my boys! I have no problem slitting someone's throat though. Cody says wow, that makes me feel great about working with you. Zach says if I can't win it I would want you or Derrick to win it. I would have no problem cutting Frankie. Cody says thinking about Brittany being a single mother of 3 just going through a divorce ..I would feel horrible about cutting her. Zach says that's why you need me here to tell you to get over it bro! Zach says I think everything is going really well. Cody says I think so too I just want Devin out of this house. Zach says I think we should start an alliance with Donny. Cody says not right now. Cody says I feel like I am getting the BB paranoia. I just need to chill the f**k out. Zach says as long as the LTA doesn't get out we are golden. Cody and Zach talk about wealth and spending money on cars. Zach says he would buy a Prius. Cody says that's a tampon wheels. Cody wants a new BMW 3 series. Zach says that's a total waste of money. Zach says while we're here we can't take our eye's off the prize. Cody agrees. That's why I like to talk about things because I get paranoid.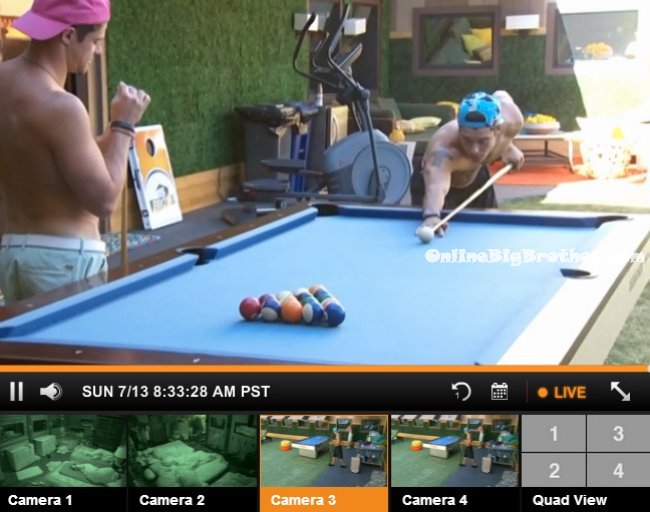 9:20am Zach and Cody head to bed. All the house guests are now sleeping..
10am – 10:40am Big Brother wakes up the house guests. Nicole and Victoria are awake in the bathroom. Meanwhile out in the backyard – Donny and Hayden are out by the hot tub. Donny comments on how poor of a sleep he had last night. Donny wonders if the veto ceremony would be today. Hayden says he doesn't think so usually it would be tomorrow but you never know. Hayden comments on how he thought there was going to be some money involved in the veto. Maybe this next HOH?! Donny says possibly. Hayden says I feel like this HOH will be endurance. Donny wonders if they might leave that until later when there is just one HOH. Donny says wouldn't it suck to be here at the end with people you don't like. Hayden says yeah like Devin. Donny says every time we're in a group of people together he comments on how we should do the amazing race together.

10:55am – 11:50am Donny asks Hayden what he would do if he won the money. Hayden says he would buy a cheap economical car and then take 3 trips in a row. Island hopping. He says he really wants to go to Europe. Devin comes out to join them on the couch. Donny says he would like to go to Europe too. Devin asks you'll go to Europe but you won't do Amazing Race with me. It's the same thing! Donny says no it's not. Nicole joins them. Donny asks Nicole have you tried peeing on someone to see if they get warts?! They all laugh. Donny asks havent you heard that if a hoppy toad pees on you, you'll get warts. Jocasta tells Nicole and the camera that there will be a lot of guys wanting to date her when she gets out and that she'll help find her a good one. Devin says I'll be your big brother and chaperone the dates. Devin gets called to the diary room. Jocasta heads inside. Donny starts talking about how crazy it is we're on a tv show and not a rinky dink show either. Donny says people are saying good things about us. Donny talks about how loud Zach, Cody and Brittany were this morning. He says they said lets be quiet Donny is sleeping and they they were hooting and hollering for 3 hours after that. Nicole asks Hayden if he is brushing his teeth with salt water like he's supposed to. Hayden says no. Nicole jokes you're not going to be able to slice and dice girls with Zach if you don't take care of your teeth. Donny says if he doesn't have any teeth he can still gum on their ears. Nicole says Donny!!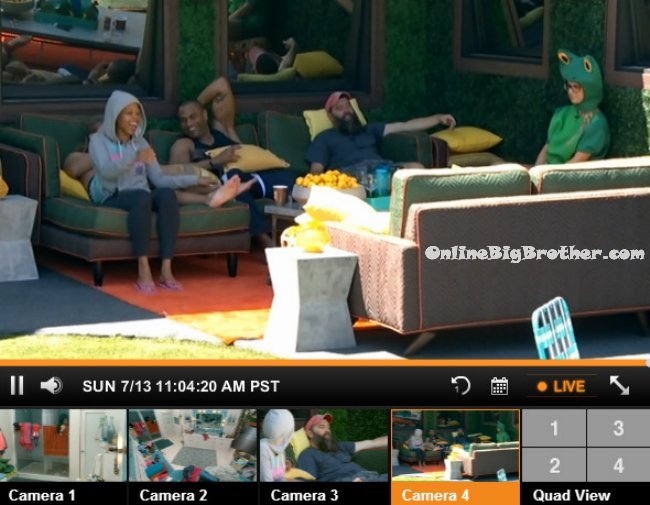 11:55am – 12:05pm Hayden heads inside. Donny tells Nicole so Zach likes you. Nicole says apparently. Donny asks what do you think about Zach and Amanda? (Team America mission) Nicole says I don't know. Donny asks what did Christine say about it? Nicole says she said it was a possibility. Nicole says it could be true. Donny says they do look a lot a like. Donny says its in the eyes. Nicole agrees and says Christine says they have the same eyes too. Nicole asks of the three boys (Hayden, Zach, Cody) if you were a girl which one would you pick. Donny says oh there you go asking my opinion. Last time I gave it I got in trouble. Nicole says I'm sorry I feel so bad about it. Donny says I would pick Hayden. I think Cody is too good looking and will get bombarded by girls. Nicole says yeah I think so too. Nicole says that Hayden is nice and funny… a little inappropriate at times though. Devin joins them and they talk about California.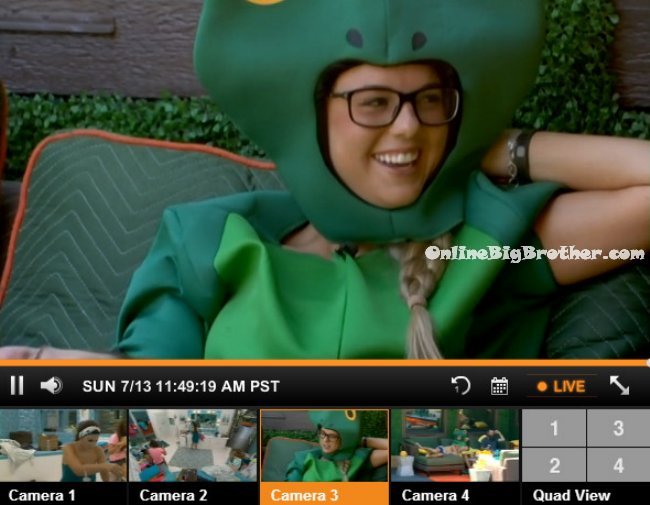 [polldaddy poll=8179403]