POV Holder:
Chrsitne
Next POV
Aug 2nd
POV Used
NO
POV Ceremony
Aug 4th
HOH Winner 1:
Donny
HOH Winner 2:
Nicole
Battle of the Block Winner
 Caleb/Victoria
Next HOH/ Next BOB
Aug 7/Aug 8
Original Nominations:
Donny's Noms (Victoria & Caleb) Nicole's Noms (Zach & Jocasta)
Final Nominations:
Zach & Jocasta
Have Nots
Frankie, Cody and Hayden
POV Players
Nicole, Christine, Jocasta, ZachAttack, Caleb, Victoria,
12:40am Hayden tells Zach and Cody that he and Nicole were laying down in the rock room with Caleb and literally all we talked about was Amber. The whole time, it was so funny! Nicole comes out and Zach calls her a Vixen. Nicole asks what's a Vixen? Zach says AKA a sl*t. Nicole asks what?? Zach says you're a beautiful woman. Nicole says I am honestly glad I just talked mad crap about you in the DR! Zach tells Nicole if his girlfriend was half as perfect as you, I would be married in three months. And that's if I was a divorce lawyer, so that basically I would be doing my own divorce. Hayden says so you just said you would marry her and then divorce her?! Zach says if she found out I cheated on her but if you don't find out then… Cody says then technically its not cheating. Nicole says WOW!? Cody says just kidding Nicole.
Big Brother 16 Live Feed FREE TRIAL – Use the FLASHBACK feature to watch everything you've missed!

Meanwhile – Frankie, Derrick and Christine whisper on the hammock. Frankie says if Zach walks out the door I am going to act really upset and say that Hayden, Caleb and Victoria voted to evict him. Christine asks what if the vote is 5-3? That means one person in our alliance flipped. Cody's going to think .. but if you just distract him. Frankie says yeah I'll distract him. Frankie says I got it. Derrick asks what if he doesn't want to talk to you? Frankie says I think thats the way to go .. I'll handle it. Frankie leaves. Christine sasy whatever happens, happens I guess. Derrick says I don't think it will work. Christine says if its 5-3 its going to look like I flipped. Christine says Nicole wants it to be 4-4 vote so she can personally vote Zach out. Derrick asks why don't you find that out? That would be perfect. Christine says I know for a fact that Hayden is voting out Jocasta. Nicole comments on the big bite marks or zits on her back. Derrick looks and tell her it could be from her mic. Its in the exact same spot.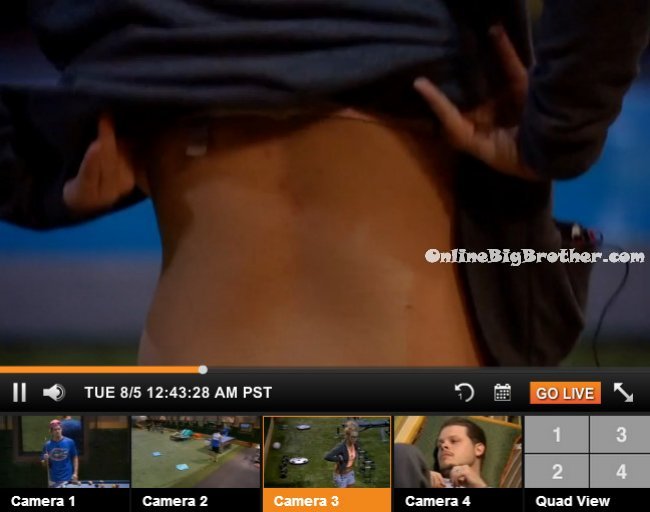 12:55am Frankie and Christine are in the hammock. Christine says that Hayden doesn't think that Zach is ever coming after him. Frankie says that after Donny and Jocasta are out of this house, his target is going to be me or you. Christine says we need to know how the four are voting so that we can just our votes accordingly. Frankie says he doesnt think so unless Nicole grows some balls and starts bullying people in the HOH, then we're fine. Christine says I think I will just not confirm who I am voting for. Frankie agrees. Christine says its scary because if it is a double eviction we won't have time to cover our tracks. Frankie says everyone isn't going to think it was us, they'll think it was everyone else. Frankie says all I think he (Zach) wants to so is be the first to jury so that he can vote for me. Frankie says I don't want to work with Nicole! I want to work against her, which is why I would like to vote to evict Jocasta. Frankie says maybe we sit down with Caleb and Victoria and tell them that Zach is coming after them. Which is true and everyone know how unpredictable he (Zach) is. Frankie says the other option is we keep him and know that everything he says is a lie. We know he is working both sides of the house.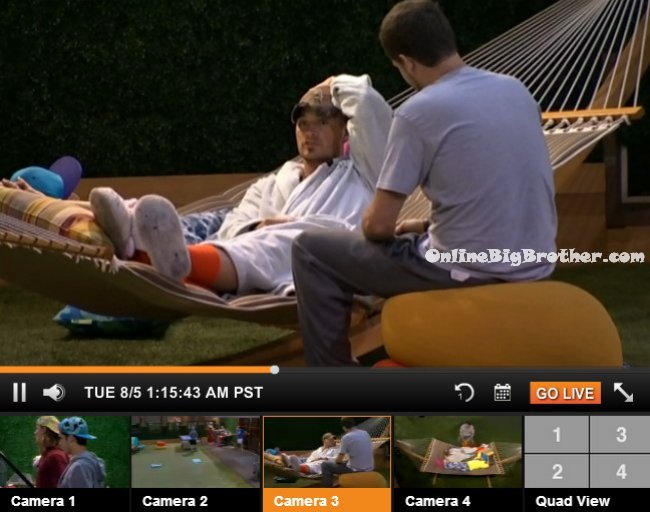 See what they can't show you on TV! -Try the Big Brother 16 live feeds for FREE!
1:13am Caleb joins Frankie on the hammock. Caleb says it just eats me up, its killing me that I am being punished for all of this. Frankie says we're just trying to figure out where the rest of the house is going to vote. Like if its going to be unanimous. I don't really believe that Donny would vote out Jocasta. Caleb doesn't believe it either. Frankie says this is just an opportunity to see where the vote would lie. I don't know how Victoria would vote either. Derrick joins them. Frankie I don't believe Donny and Zach are working together. Derrick says I think Victoria will vote with the house. Caleb says I just want to vote Zach out.. just the fact that he lost and he is eating right in front of me. Derrick says the better man won it. Frankie and Derrick comment on there was no way Zach threw that competition. Derrick says its got to be a double eviction on Thursday. Caleb says as soon as I get out Beast Mode Cowboy BB16 is going to be my new name and no longer "insain_physique". Caleb says I can't wait to see all the fans I have when I get out. Derrick says everyone is going to have fans and people that hate them. Caleb says Amber's parents probably love me after they've seen everything I've done.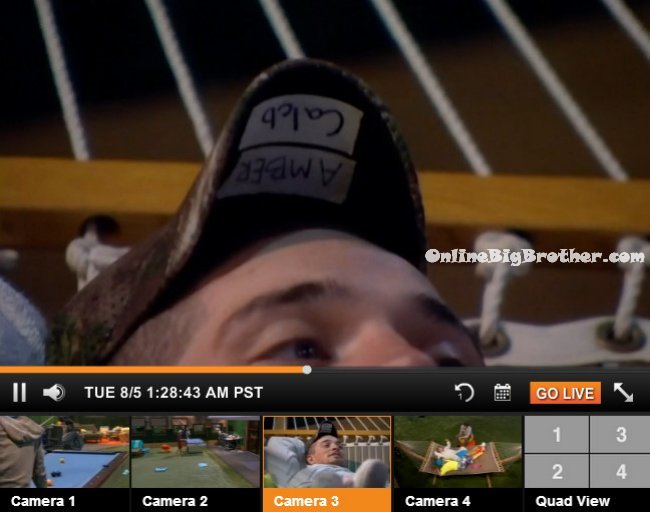 Derrick, Cody, Frankie and Caleb are playing pool and watching each other play. Zach comes out and starts twerking. Chirstine laughs. Zach says I love that you laugh at everything I do. Christine says I especially love it when you twerk on something.
Take Advantage of the FREE 2 day Trial to watch all the drama!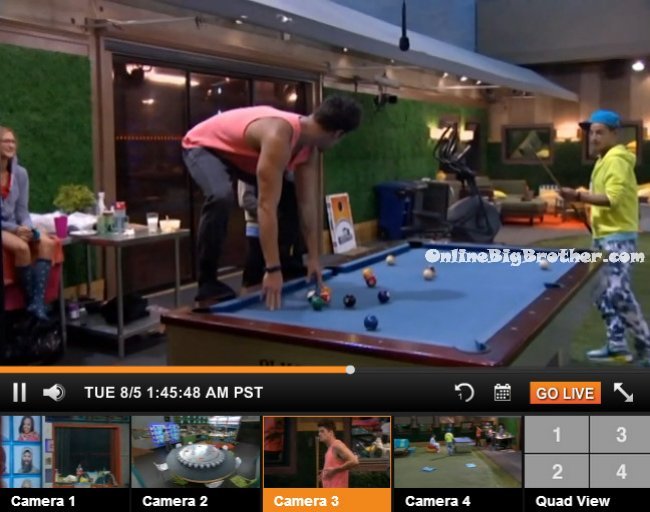 2am In the bathroom – Hayden and Cody are talking. Hayden asks what is the plan for how we go about the next few days? Cody asks with who? Hayden says with Caleb and Frankie. Like how are we going to do that? Cody says I feel like Frankie is going to flip because of Christine. Hayden asks you think Christine is getting in his ear? Cody says oh 100%! Cody says it wouldn't be detrimental but it wouldn't be good. It's going to go right to Caleb. Hayden says its so ridiculous how we have to treat him like a kid. Like how are we going to break it to him this week. Cody laughs. Like last week and this week. Hayden says maybe 2nd times the charm.. like Caleb he said you're his target! They laugh. Cody says maybe plant a seed tomorrow and then tell him on Wednesday.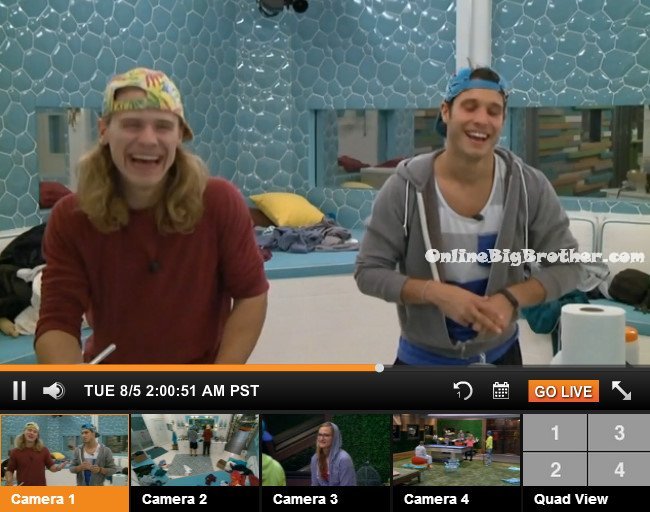 In the kitchen – Cody, Christine, Zach and Derrick are talking. Zach looks at the memory wall and says one of those people are going to win half a million dollars!! Caleb pulls out his Memory wall key and hold it on his forearm. He says that's the tattoo I'm going to get right there when I get out. Zach says the exact same one Frankie's getting.
2:45am Cody says Hayden and I were talking in the bathroom. Cody says that the other day Christine told me about how Frankie told her about the Tres Amigos. Not the Tres Amigos the three, the Tres Amigos the final 3. Cody says Frankie said he never said anything to her. Derrick says he said the same thing to me. Na I haven't said nothing to her. We know he's lying to us a little bit. Cody says he tried to play it off like Zach told her but he didn't it was Frankie. Derrick says I don't know Frankie told me that Zach told him. Cody says Zach told him, Frankie told her. Derrick says whatever happens I don't care. Christine joins them. Big Brother blocks the feeds. When they return. Cody says to Christine someone is going to get tripped over it and say someone told me this for him to stay. Christine says thats why we have to make sure its Hayden. Cody says that Nicole and Hayden are tight. Christine says that Hayden will tell me how he's voting. Cody says its risky convincing people for Zach to stay but wanting him gone. Derrick says the more I think about it the vote should just be unanimous and then we do damage control when he goes out. Derrick says we just need to wait to see where the vote is in a couple days because Caleb could come to us and be like I want to vote Zach out.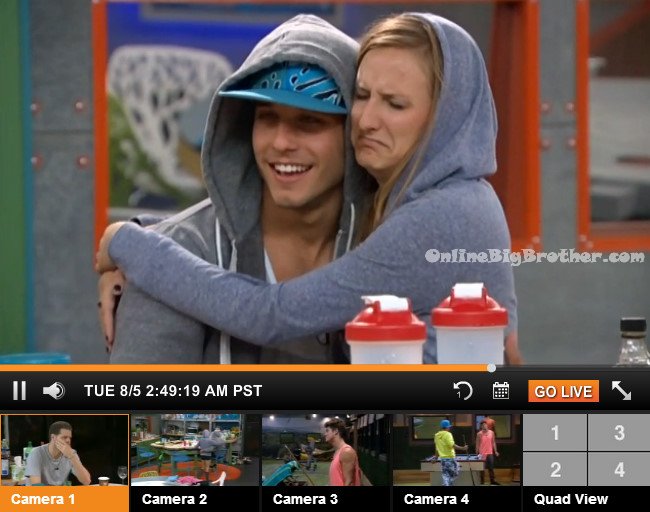 3:20am – 4:35am Cody, Frankie and Derrick playing pool and talking about how Caleb is getting pissed at Zach for talking about how he can eat. Frankie says I think at least a 5-3 vote it gives him something to think about. Cody says I think he would still blow up on Christine and .. Zach comes out and ends the conversation. The conversation turns to talking about different medications they've taken for ADHD. Like concerta, adderall, xanax, etc. Zach and Cody Zach says he was on ADHD medication before coming in to the big brother house but didn't want to take in here. Why would I need it, when I can just sleep all day. The conversation turns to talking about whether or not Victoria is lying about having a photography business. Zach says he doesn't think she is smart enough to own her own business. Derrick says I don't think she is dumb. Zach says you think she smart? Derrick says no I said I don't think she is dumb, but I don't think she is intelligent either. Derrick asks what does it matter if she's lying or not. I try to see people at their best. Zach says Victoria is just so f**king annoying … she claims to be so independent but she can't go to sleep by herself?!?! Zach asks am I just a hateful person?! Derrick says you literally said you hate half the people in the world. Zach says I just hate people that are dependant. She just really grinds my gears. Zach and Frankie head inside. Derrick says if Victoria was my daughter and Zach talked to her like that, I don't care how many CBS security guard are here, I would break his jaw! Zach comes back out and says I just don't get why Victoria is here. Derrick says exactly for the reason why you don't like her. Zach says it is working for me .. I'm in the alliance that's running the house. Frankie says yeah its working everyone wants you out.