POV Holder:
Chrsitne
Next POV
Aug 2nd
POV Used
NO
POV Ceremony
Aug 4th
HOH Winner 1:
Donny
HOH Winner 2:
Nicole
Battle of the Block Winner
 Caleb/Victoria
Next HOH/ Next BOB
Aug 7/Aug 8
Original Nominations:
Donny's Noms (Victoria & Caleb) Nicole's Noms (Zach & Jocasta)
Final Nominations:
Zach & Jocasta
Have Nots
Frankie, Cody and Hayden
POV Players
Nicole, Christine, Jocasta, ZachAttack, Caleb, Victoria,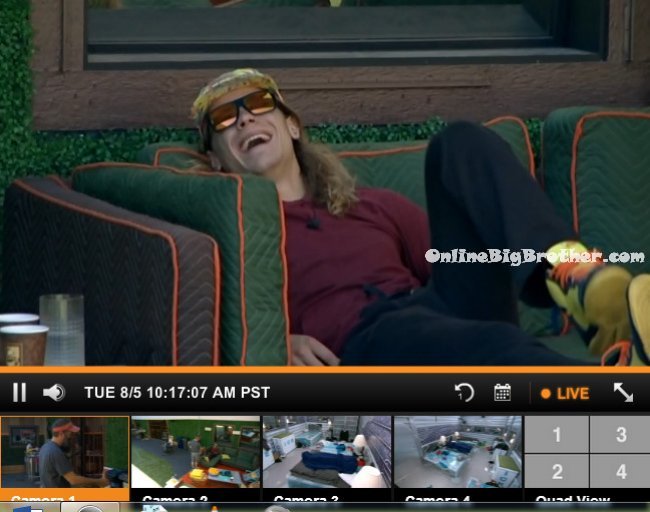 9:45am Big Brother wakes up the house guests. Out in the backyard Hayden, Cody, Christine head inside after dancing to the wake up music. Hayden says this is the best morning ever. One of the songs they played was: Disturbed – Down With The Sickness. And Korn – Freak on a Leash. They head inside. In the storage room – Frankie comments to Victoria that he liked Miley Cyrus better. Hayden heads out side and Donny joins him. Donny tells Hayden he's a freak on a leash. Donny says I hope they play Lynyrd Skynyrd – Free Bird. It's 9 minutes long. Big Brother blocks the feeds. When they come back – Donny asks you don't think his buddies will let him know before that? Hayden says I don't know, I don't want to talk to him because I don't want Frankie to run to Zach and then blow up. I mean maybe and I guess Caleb because he would automatically assume. Donny says did you get an opportunity to speak to Caleb? Hayden says yeah but his mind is hard to change, I mean he knows he likes fighters but..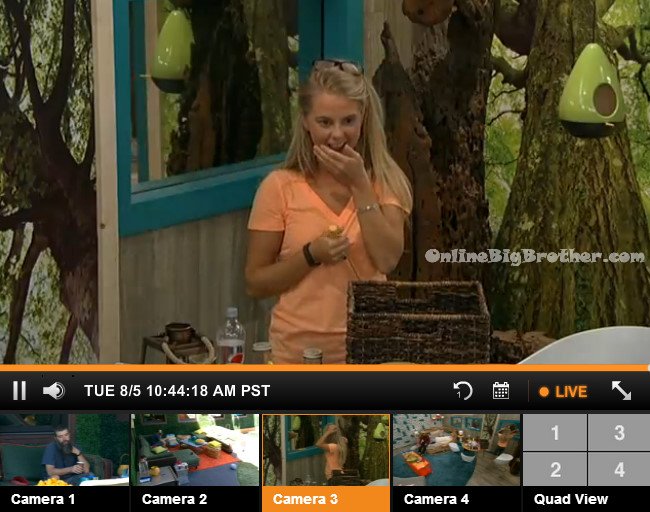 10:45am – 11am Hayden heads up to the HOH room. Nicole tells him that she was just talking about his wake up music to Victoria. Nicole says that she was watching from the top of the stairs. She says she said into her mic "This music sucks!" Nicole says its cool that they play music that each person likes. Nicole asks about writing in her HOH blog. Nicole says so I would talk about how great it is to be in here and about my family but what else. Hayden says then talk about boats and hoes! He laughs. Talk about the things you didn't expect coming in here. Hayden then says you could talk about how much you hate Victoria and how much Hayden hates Victoria. Victoria in the bathroom says oh my god Hayden. Victoria brings up how guys in the beginning were so dramatic thinking I was demanding. I say can you and that's demanding!? Everyone else asks for stuff and I'm demanding? Hayden says if anyone in this house is dramatic, its you Victoria. Victoria says never in my life have I heard that I am demanding! Hayden says you haven't heard a lot of things we've told you. Hayden says you're the princess of the house. Victoria says me a princess!? What just because I like to look good. We're being filmed 24/7. Victoria says you love me Hayden. Hayden says I do. Victoria says every girl wants to be a princess. Hayden says not every girl.
See what they can't show you on TV! -Try the Big Brother 16 live feeds for FREE!
11:20am – 11:30am Out on the backyard couch. Victoria comes out and tells Hayden she would like to have a discussion with him later. Hayden says okay. Donny and Hayden laugh about Victoria wanting to have a discussion. Donny says I think Beast Mode Cowboy is ready to go to jury. Hayden agrees and says he keeps saying when I get evicted, when I get evicted. Hayden laughs about how Caleb was outside yesterday wearing the overalls with one side undone and a hat on.. he took off the hat and said he didn't want to look like a dofus. Donny says these people are characters. Donny says think about how things played out.. they wanted me gone week 1. Hayden says I really do hate .. that Zach seems to be going home. Donny comments on how Zach hugged me every time I've been up there. Zach is good tv. Donny says maybe he will have a good speech to convince people to keep him. Hayden talks about Zach speech. Donny says a lot what he does is planned out but not his anger. We'll just have to see how it plays out. Hayden says I would like to see Frankie go. Donny says he doesn't like to be around me. Hayden says he doesn't let people talk. Donny says Derrick is a smart one.. Likeable. Hayden agrees. Donny says he is very persuasive without being head of household. Very persuasive. They talk about Christine. Hayden says it weird's me out how much Christine touches Cody. She's married. She touches Derrick too. I get weirded out just thinking about touching a married woman. Hayden says I think its part of her strategy.

12pm – 12:20pm In the bathroom – Victoria tweezes Haydens nose hairs. Victoria says its going to hurt. Hayden says yeah make me cry. Victoria says oh my gosh Christine he's crying. Hayden says okay that's officially the first time I've cried in this house. Victoria then plucks his eyebrows. Hayden sings I'm a man, doing manly stuff! Victoria says when you stretch it, it hurts less. Hayden says that's what she said. Christine joins them. Hayden start using pregancy breathing techniques. Christine says they rarely get you to breath like that, they just tell you to breath normally. Hayden asks if you don't mind me asking, how far a long was she in her pregnancy? Christine says 8 weeks but I couldn't even get an appointment until I was 11 weeks along. It was a blessing because.. Big Brother blocks the feeds.
12:25pm – 1:10pm Nicole gets her HOH camera and they start taking photos. Christine goes to take a photo of Victoira and Nicole. Victoria says she needs to be on the other side. Christine says you look the same from both sides. Victoria says no I have a face defect on one side. I'll show you when we get out. Christine says no you don't you wear your hair back all the time. Big Brother calls Derrick to the diary room. Donny and Hayden comment on how much he gets called in. Hayden asks what is he doing? Maybe he's America's Player. They continue to take more HOH photos.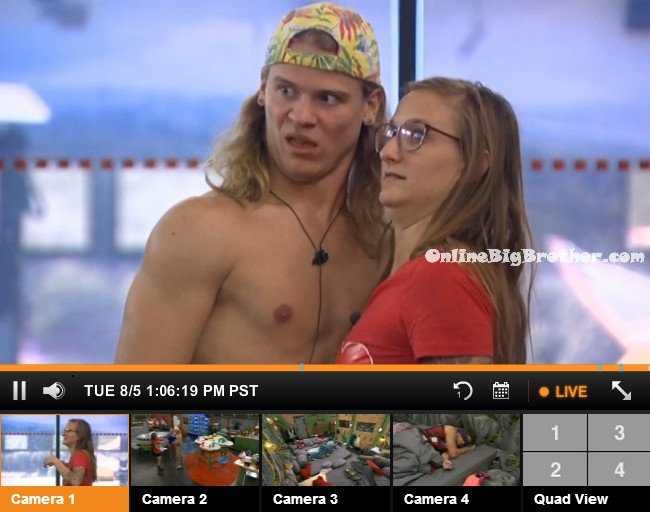 Alliances 
The Rationale = Nicole, Derrick, Hayden and Cody
Zankie = Frankie/Zach
The Detonators = Derrick, Frankie, Zach, Christine, Cody
"The HITMEN" – Cody & Derrick
Trilogy = Nicole, Christine & Hayden
Team America = Donny, Derrick, Frankie
Old timers = Jocasta/Donny
Nicotine = Christine/Nicole
bottomfeeders = Derrick and Nicole
More polls here https://www.onlinebigbrother.com/big-brother-compendium/big-brother-16-polls/