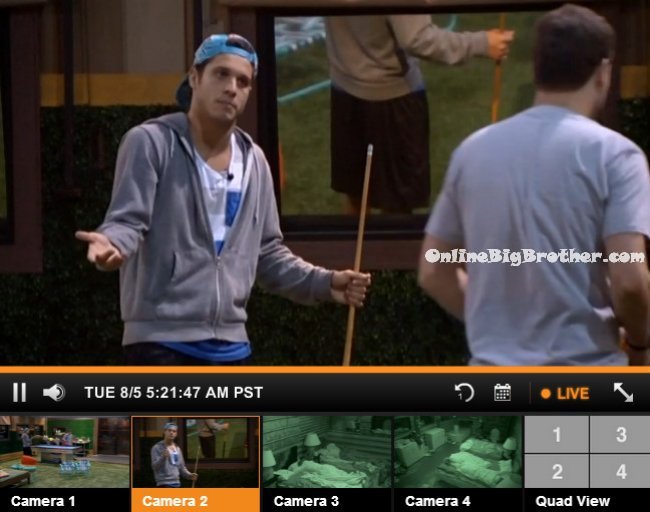 4:40am – 5:45am
Zach and Frankie head to bed. Derrick says we don't trust Christine or Frankie completely. Cody says I kind of trust Christine. I genuinely think that she thinks Hayden is voting for Zach to stay. Derrick says people are starting to realize that we're friends, that we're working together. Cody says Christine is trying to play Nicole and Nicole is trying to play the f**k out of Christine. Cody says I am getting so lost in the information they give me. Not knowing what is true or not. Frankie joins them and says that Zach is falling a part. He's missing his friends and family. He is just playing too hard. Frankie says maybe we make it unanimous and then I'll jump up and tell him you f**ked up don't keep f**king up .. just walk out that door. Derrick says that Victoria is assuming that Zach is the villain and the house would want to keep Jocasta over him. Frankie heads inside again. Derrick says we're in a great position. Cody agrees. They talk about taking out Zach cripples Frankie. Derrick says he'll be a one finned fish. Derrick talking about Victoira says you think I like talking to Victoria? When I'm talking to her in the hammock I want to hang myself. I don't talk sh*t about Victoria around him because it would get back to her. Derrick tells Cody if you go my game is crippled because I don't have the rapport with other people like I do with you. If you go I will see you in jury a few weeks later. Derrick says if we decide its going to be unanimous we should go tell Caleb before Frankie. Cody says I am going to tell Caleb the next time I see him that we're voting out Zach.
Derrick says we know we're not Hayden's top priority. Cody says all this alliances are stupid. We're just in them to play the house. The only one that matters is the Hitmen. Derrick says if Hayden wins and he wants to get rid of Frankie then we say team Rationale, conversely if Frankie wins and wants to backdoor Hayden then we say team Detonators! Derrick says if we needed to right now we could have me, you, Caleb and Victoira. And we could blow Frankie out. Derrick says we can't let Caleb go home. Cody agrees. Derrick says that Christine was talking about wanting to get out Caleb. Cody wonders if its possible for Nicole and Christine to be working together and playing both sides. Derrick says if thats true then they got us. But I don't think they're that smart. Nicole is too nervous. Derrick says when it comes down to it we could put up Nicole & Hayden and if one of them comes off then we put up Donny. Donny is getting lost in the game which is exactly what he wants. Cody says I am not letting Donny get to the end. Derrick says he's already won 4 comps and he hasn't been a havenot yet.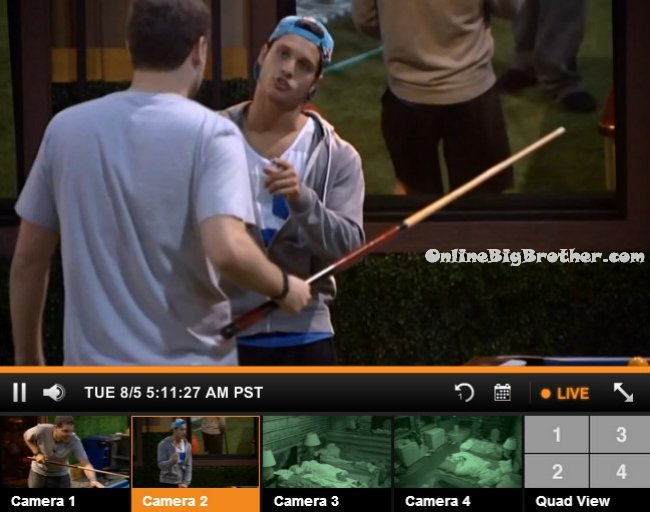 5:45am – 6am Derrick says it could be me, you and Jocasta or me, you and Victoria in the end. Cody agrees and says it really doesn't matter who the 3rd person is. Cody says I will literally never take anyone over you when it gets down to the final 3. Derrick says they're not going to put us up together for a long time because the other one will stay and will be coming after them. Cody asks what do I do to keep Christine close. Derrick says you need to keep hugging on her. Cody says but that's what gets me in trouble with the girls. We're with Nicole and if she see that she is going to question it. Derrick says you need to do it in private and keep whispering sweet nothings to both of them. Derrick says regardless of whether Nicole and Hayden tongue f**ked or not.. they're working together. And the bearded bandit is sitting in the corner watching all of us. Cody says he barely even goes to the DR though. Big Brother blocks the feeds. When the feeds come back Derrick and Cody continue to talk about telling Caleb before Thursday that Zach is going home. Derrick says we're dangerous because we know so much information.. people don't want to come after us.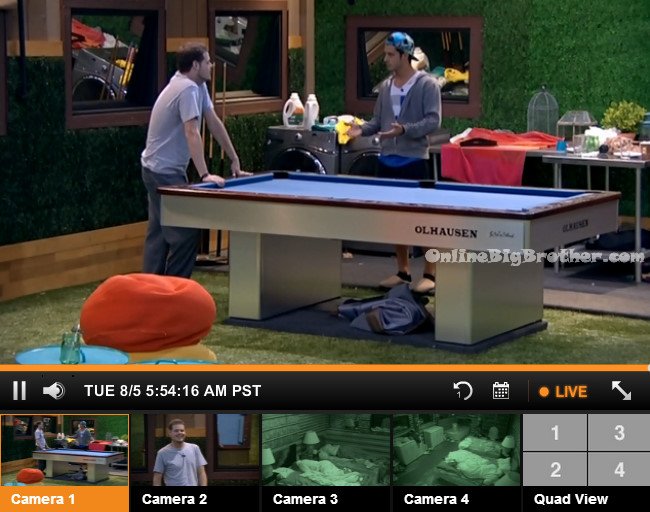 6:05am Derrick and Cody head to bed.
CODY scratches "CALZONE BB16" into the bathroom stall door #bb16 @bigbspoilers pic.twitter.com/Sv75ZIIewX

— Dawg (@DawgsBigBrother) August 5, 2014
Alliances 
The Rationale = Nicole, Derrick, Hayden and Cody
Zankie = Frankie/Zach
The Detonators = Derrick, Frankie, Zach, Christine, Cody
"The HITMEN" – Cody & Derrick
Trilogy = Nicole, Christine & Hayden
Team America = Donny, Derrick, Frankie
Old timers = Jocasta/Donny
Nicotine = Christine/Nicole
bottomfeeders = Derrick and Nicole
More polls here https://www.onlinebigbrother.com/big-brother-compendium/big-brother-16-polls/
Share it YO!
Tweet