POV Holder:
Devin
Next POV
July 12th
POV Used
YES
POV Ceremony
July 7th
HOH Winner 1:
Amber
HOH Winner 2:
Devin
Battle of the Block Winner
Hayden & Nicole
Next HOH/ Next BOB
July 10/July 11
Original Nominations:
Devin's Noms (Pow Pow & Brittany) Amber's Noms (Hayden & Nicole)
Final Nominations:
POW POW & ZACH
Have Nots
Victoria Brittany, Zach and Derrick
POV Players
Host Donny, Players Devin, Brittany, POWPOW, Derrick, Zach, Amber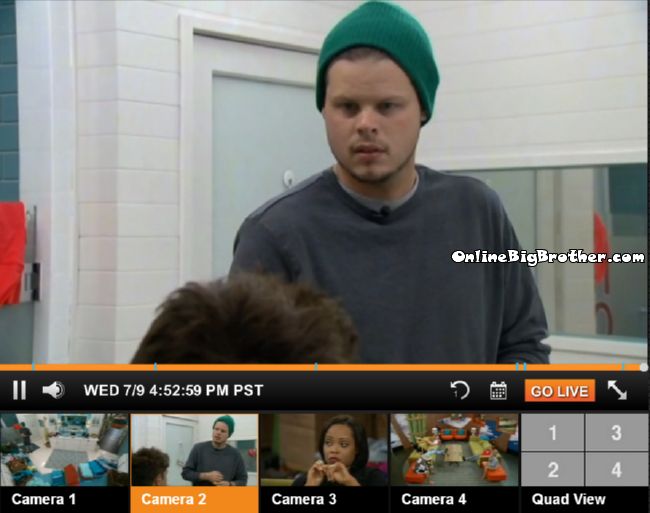 4:50pm Bathroom Zach and Derrick
Derrick tells him Devin went Straight rat and is now trying to flip the house to get Zach out.
Derrick saying they have 7 votes locked. As long as Devin doesn't win the POV he's going home next week.
Zach – "Is there a way I'm going home right "
Derrick – "as long as we stand fast no"
They count the votes , Derrick Cody, Caleb, Frankie, Hayden, Christine, Amber
Frankie rolls through says everyone is fine they have the votes to keep Zach.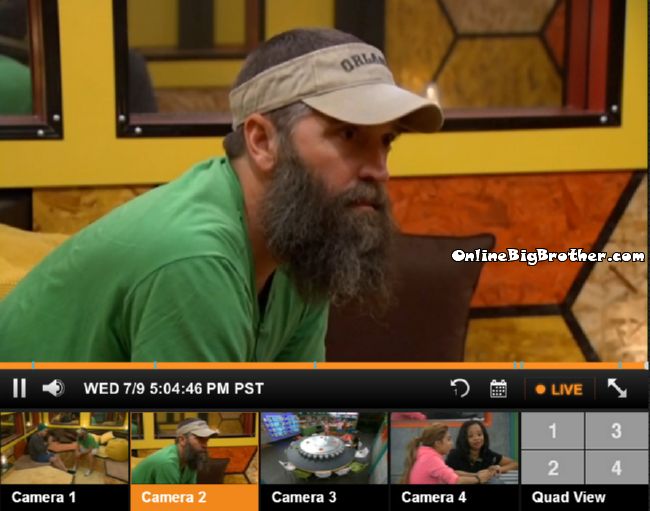 4:55pm BEEHIVE Donny and Derrick
Donny says Caleb is not his favorite player in the house, 'I don't talk to him he talks to me.. it makes me sick.. I don't like his cockyness.. the way he walks around with his hood on like he was bad"
Derrick can tell Donny doesn't like Caleb, "When you talk to me I can tell it doesn't show in the house"
Donny wants to know if there was a first 8 why not someone come to him before Devin did. Derick says Devin is embellishing a bit it was a one week thing. Derrick gives Devin his side of the bombsquad story. (More or less the same as Devin except derrick says the Bombsquad was 1 week and Devin said the Bombsquad was until jury)
Derrick tells Donny week one there was never a group setting where they wanted to get Donny out.
Donny says the core four Caleb, Devin, Amber and Frankie have a final 4. He thinks that alliance is still strong and what they are doing right now is an act. Derrick tells him Devin or Caleb are going home if he wins HOH. Donny thinks they need Caleb gone to break 2 alliances. Donny asks him what they do if they make a play to get out Caleb/Devin/Amber and Frankie doesn't want to. Derrick doesn't know says they may have to make a move without him.
Dony about Frankie – He goes around with everybody
Derick "Oh ya he's everywhere.. I hope you trust me.. I got your back
Donny – "I do"
Derrick – 'I can promise you this If I win HOH one of them are going out god willing " (Caleb/Devin)
Donny points out Devin is very paranoid but Frankie isn't because he's getting all the information from them and Caleb is getting information from Amber. Donny says Amber always walks in on conversations.
Derrick thinks Frankie won't blow up Team America. donny agrees but adds that Frankie isn't going to jeopardize his 'powerhouse' alliance.
They agree to only talk Team America stuff with Frankie.
Derrick says Frankie cannot blow them up can't name names. Derrick – "we'll keep him along for the missions"
Donny points out that Frankie is always saying Caleb will win the HOH he's saying that to scare people into moving toward caleb. Derrick doesn't think the next HOH will be physical
Donny mentions how Frankie knew that Devin talked to him last night but Donny never told anyone.
They chat about the team America tasks Derrick is really excited about it because it will give him a fun "Side Game" to play (LOL) POWPOW comes in Derrick says he's certain tomorrow is going to be endurance.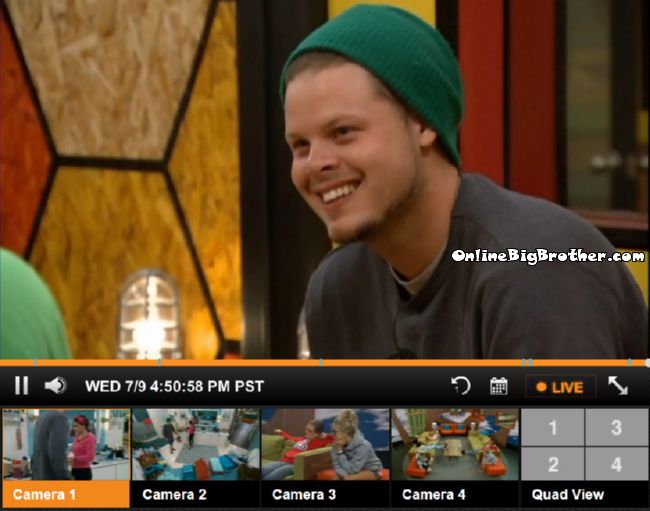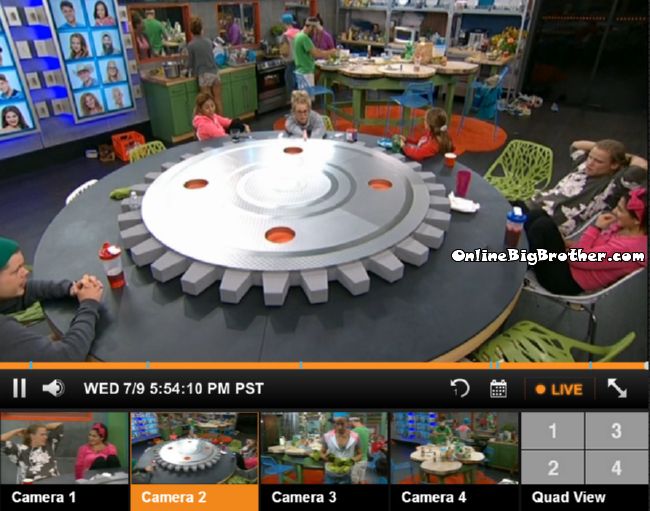 5:54pm Lots o nohting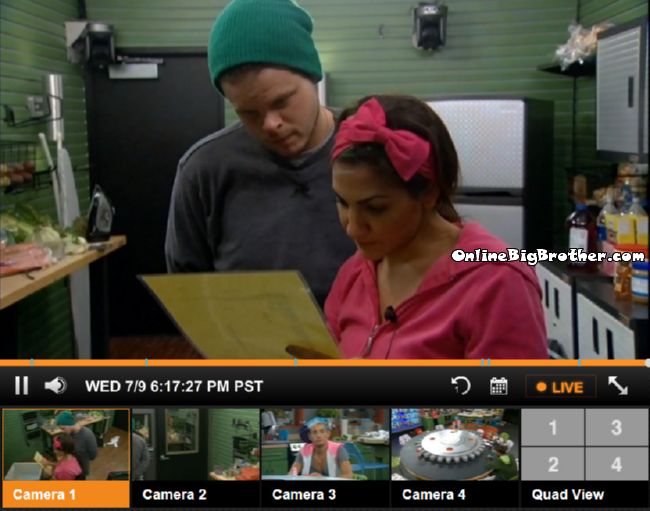 6:17pm Victoria and Derrick Storage room
Going over the nutrional information for the Have Nots Slop.
Victoria – "Sh1t this is fattening as hell why isn't it filling me up.. 240 calories for a fourth of a cup"
Try the feeds for free.. help out OBB and get them using one of the links on this site. You can go back and watch everything we showed on this site. A live feed subscription comes with access to the Big Brother Archive letting you rewatch from day one. It's a pretty sweet setup!
FREE 2 Day TRIAL! watch the ENTIRE Season of Big Brother 16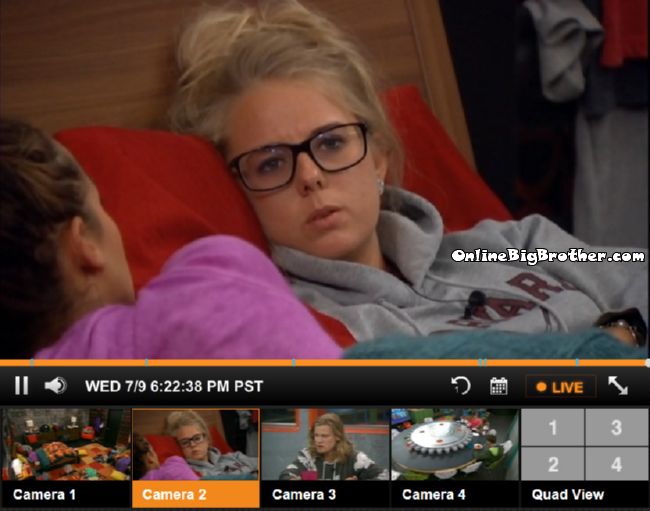 6:20pm FIREROOM Brittany and Nicole
Brittany doesn't trust Devin so she doesn't know if he's telling the truth. She does believe they did start an alliance but doesn't know if she believes the details Devin is saying.
Nicole – they did start with 6 boys and they brought the 2 girls in
Brittany – They are all falling apart
Nicole – The thing that bothers me is it would still have bene a secret if Zach was never on the block.
Brittany says if they (Bombsquad) continue with their alliance and they are still strong they will eliminate them all one by one.. they have to start figuring out how to break them down but they don't have the numbers.
Britney – 'It's nearly impossible for us to make it to the jury"
Nicole says she still has a good feeling about their chances. Brittany agrees says she's close to Derrick and Cody "they're falling apart"
They agree Amber, Caleb are still working with Devin, Brittany "I've never trusted them since day one"
Frankie rolls in
Brittany starts talking about her kids and how much she misses them.
Nicole gets called into the Diary room
Frankie asks Brittany what the play is
Brittany says she wants to make sure theres a target in the house because she has a feeling that Caleb and Devin will keep putting her up.
Frankie tells her Caleb and Devin won't even look at each other during the activity tracker meeting.
Frankie – "I think Devin has to go next week"
Brittany thinks Devin knows everyone wants him gone.
Amber rolls in.. They chat about the house drama for a bit Brittany tells them it's better for her game for Zach to stay because it leaves a BIG target in the house and takes the target off her.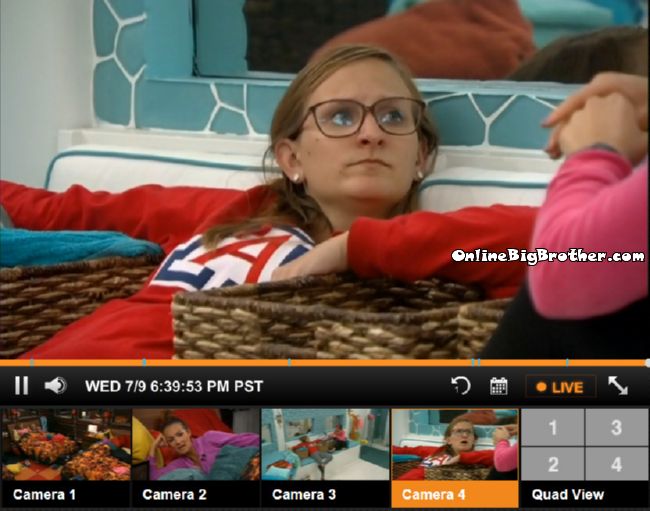 6:40pm Bathroom Christine and Victoria
Christine asks her if she knows who she's voting for.
Victoria – "What the heck isn't everyone voting for Zach to stay"
Christine says Donny is voting to keep POW because he wants to stay loyal to her.
Victoria "Caleb is so disgusting I hate him… " (Caleb called Victoria out saying she made a deal with Devin to not go up on the block. He did this in the kitchen with Donny around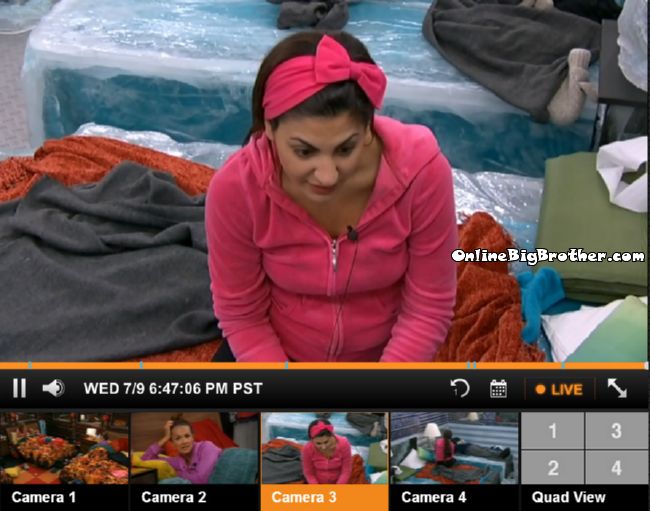 6:47pm Victoria and Derrick
She tells him she doesn't like Caleb the way he talks to her. Derrick says she was saying she likes him yesterday. Victoria likes him as a person she just doesn't like him in the game. Derrick starts to explain what went down last night. Frankie went up and told Devin the house was voting to keep Zach. Devin panic and pulled Brittany and Donny up in to the HOH and start throwing everyone under the bus to flip the house back. Victoria wants to know why Frnakie would do that.
Derrick – "maybe they are working together.. I don't know"
Derrick tells her there was no 8 person alliance it would be impossible to pull off in the game. Derrick – "Do you trust Brittany"
Victoria – "I do"
Derrick -"He (Devin) wanted her gone then used the POV on her.. keep that to you.. for all we know she's telling him everything.. now he's got a HUGE crush on her and she was up there for 2 hours last night.. she's telling him what we've been saying about him"
Derrick tells her that Brittnay sold her soul to Devin Devin made a 180 on Brittnay in under 24 hours that's never been done before. Victoria says she doesn't trust Frankie anymore, Derrick doesn't either, "I'm not talking to Devin at all I drew my line with him" Derrick tells her he's taking Devin out next week. Victoria says she doesn't trust anyone even Nicole and Christine. Derrick says if she has anything she can come to him. Derrick says the person that confirmed the 8 person alliance is working with Devin, "Was it a girl" Victoria won't say. Derrick says there was an agreement no alliance.

[polldaddy poll=8164185]