POV Holder:
Devin
Next POV
July 12th
POV Used
YES
POV Ceremony
July 7th
HOH Winner 1:
Amber
HOH Winner 2:
Devin
Battle of the Block Winner
Hayden & Nicole
Next HOH/ Next BOB
July 10/July 11
Original Nominations:
Devin's Noms (Pow Pow & Brittany) Amber's Noms (Hayden & Nicole)
Final Nominations:
POW POW & ZACH
Have Nots
Victoria Brittany, Zach and Derrick
POV Players
Host Donny, Players Devin, Brittany, POWPOW, Derrick, Zach, Amber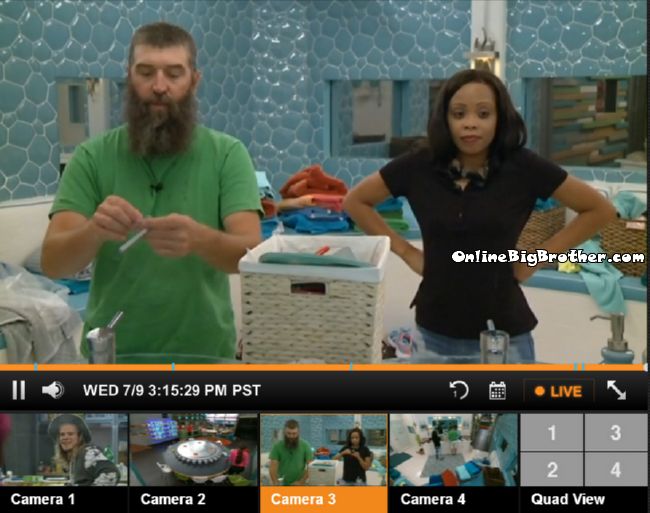 3:15pm Donny and Jocasta Bathroom
Donny saying the '8' is not as strong as they all think. Jocasta has never heard about a 8 person alliance being in this game. Jocasta starts talking about her kids saying "You freaking me out man" and her husband doesn't like it.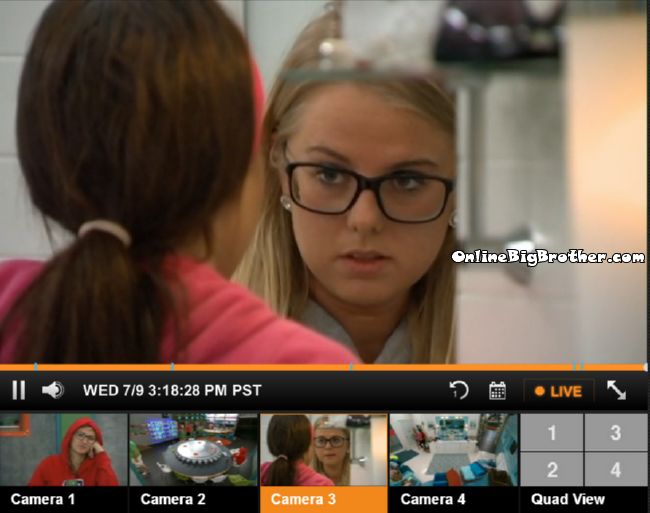 3:18pm Nicole and Victoria
Nicole says there really was a 8 person alliance her and HAyden weren't in it that is why they went up on the block this week. Victoria says Caleb told her there was no alliance of 8. Nicole again tells her it's true they had a plan to make it to jury there was 8 of them.
Victoria – "Caleb is making sh1t up"
Nicole – "they all are… There was a 8 person alliance 100%
Victoria brings up that Zach bullied her in the have nots to get her vote so she told him he has her vote.
Nicole begs her to not tell Frankie she knows about the bombsquad
Victoria promises she won't claims she never tells Frankie any game talk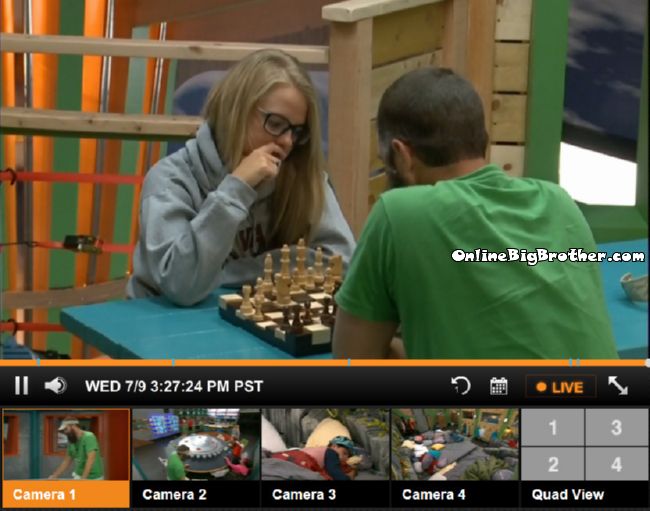 3:35pm Donny and Nicole playing chess.
Donny is teaching her how to play.
Nicole says Caleb is saying there wasn't an 8 person alliance
Donny says there is a 8 person alliance he talked to Hayden earlier today and filled him in, 'Hayden was not in on it"
Donny explains his understanding of what happened. There was a 8 person alliance Devin got mad at Zach put him up and they tried to bring in Hayden to replace him. Devin left the alliance after they decided to keep Zach.
Donny thinks Cody was maybe playing along with them all but it's hard to tell who to trust even with the people you like.
Donny says the four main people in that alliance is Devin, Caleb, Amber and Frankie the rest are thrown in for numbers.
Nicole – "this is a small chess board."
Donny – "I don't know why it's uneven it makes me nervous"
Nicole tells him that Frankie is most likely playing all the side in the house. Donny agrees say it reminds him how Andy played last year./
Donny suggest that maybe they can sit on the sidelines and watch Cody/HAyden fight Devin/Caleb
Donny suggest if they can get rid of Caleb is cuts the the Devin-Clabe-Amber Alliance. He proposes if they both win the HOH they nominate Amber on one side and Caleb on the other that way they guarantee one of them go up.
Donny asks how close she is with christine.
Nicole says fairly close
Donny think they should nominate Devin/Amber and Christine/Caleb.
Try the feeds for free.. help out OBB and get them using one of the links on this site. You can go back and watch everything we showed on this site. A live feed subscription comes with access to the Big Brother Archive letting you rewatch from day one. It's a pretty sweet setup!
FREE 2 Day TRIAL! watch the ENTIRE Season of Big Brother 16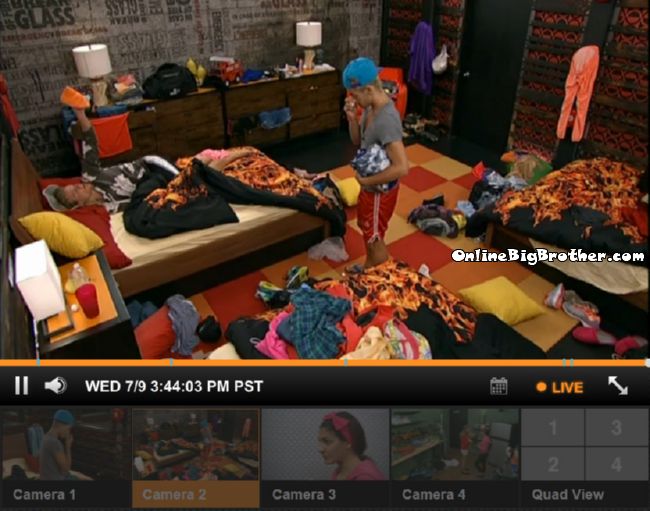 3:44pm Hayden and Frankie
Talking about the entire house wanting Devin out and nobody is believing what he's saying. Frankie says the house knows everything about the bombsquad there's not secrets anymore.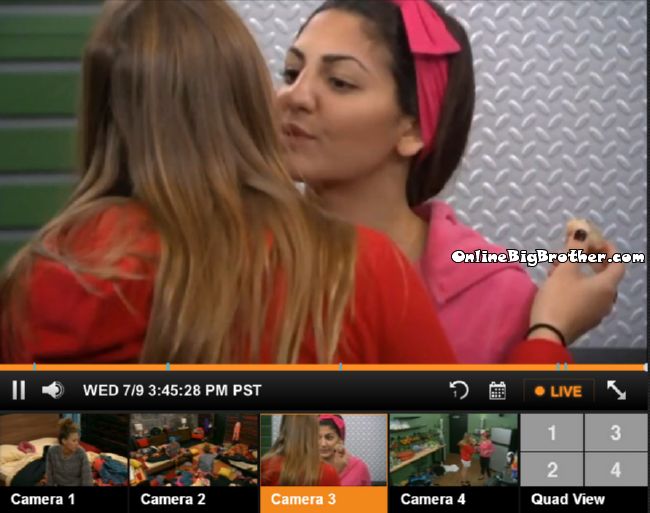 3:42pm Storage room Victoria and Christine 
Victoria brings up Caleb coming up to her in the Kitchen saying that Devin is spreading rumours about her saying she's made a deal with Devin to vote out Zach.
Christine says the same reason Victoria promised to vote Zach out to Devin is the same reason she followed along with them , 'You can't say no" Victoria say Caleb is mean and degrading. They Hug Victoria lands a kiss on the cheek.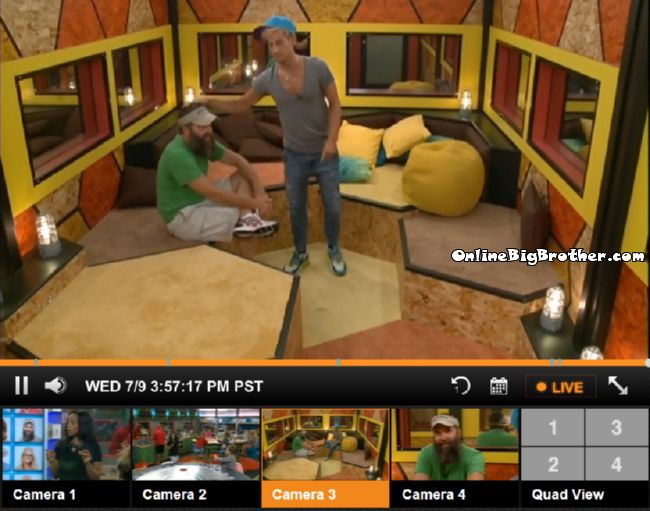 3:56pm BEEHIVE Frankie and Donny
Frankie asks him how everyone is doing. Donny says everyone is being very pleasant it's feeling like half the people are already gone. it's been quiet. Donny tells him he saw Brittany and Amber whispering when he came out of the room. Frankie leaves and pats Donny on the head.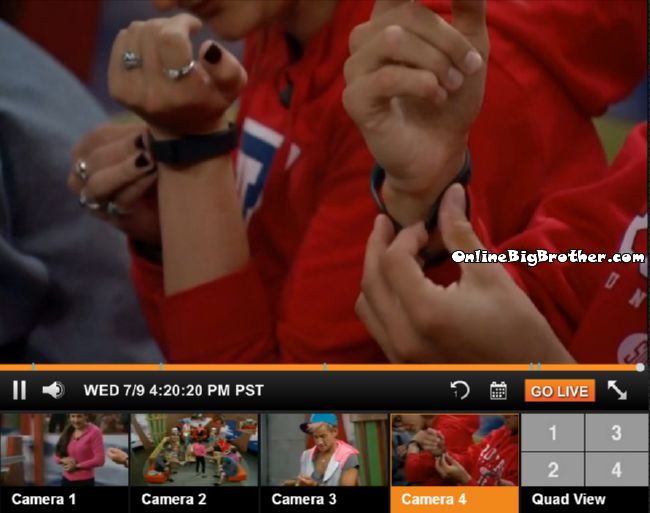 4:20pm Everyone Living room
Victoria comes in with a box and a card. She reads from the card.
Houseguest in this box each of you will find brand new activity tracker to wear while living in the Big Brother house this summer. This will allow all your fans to monitor your Activity levels including how many steps you take, total miles, Active minutes and calories burned"
Each player will receive a tracker which is individually labeled they are not allowed to swap the wrist bands or the tracking devices in the bands. When changing their audio equipment in the morning they are to place the activity tracker in the box provided this is when they sync the devices for online. Please wear form when they pick it up to when they drop it off. The devices are waterproof but you do not have to wear it in teh shower unless you want to .
4:30pm While the players in the living chat about the activity trackers Devin is in the storage room alone.

[polldaddy poll=8164185]