POV Holder:
Danielle
Next POV:
Aug 11 (Saturday)
POV Used
???
POV Ceremony
Aug 6 (Monday)
HOH Winner:
Danielle
Next HOH:
Aug 9 (Thursday)
Original Nominations:
Wil and Frank
Current Nominations:
Have Nots
No Have-Nots for the Week
Last Evicted Houseguest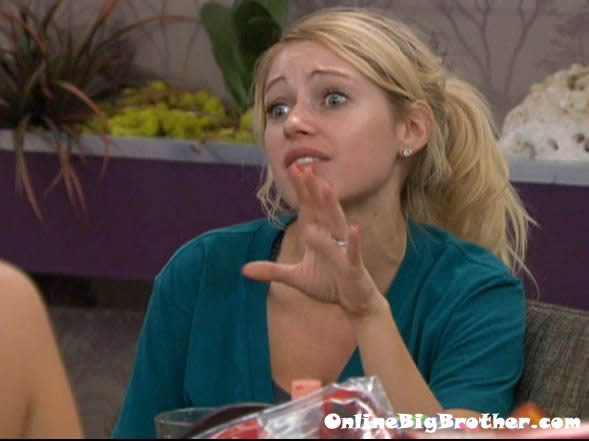 12:30am Danielle and Britney are up in the HOH room talking. Danielle asks Britney if it is bad that she doesn't feel bad? Britney says no, if she treated me the way she has treated you, I would be like BYE! Britney says that she just feels bad, but she knows she has to do what is best for their game. Danielle tells her that Janelle plays that emotional card on Britney because she is such a sweet person. Danielle says that she hates bullies, and when she sees them, it lights a fire under her a$$ that I can't soon forget. Britney is crying and tells Danielle that says she felt horrible when she did this to Matt Hoffman in her season, and she didn't even have a deal with him. Danielle says that Janelle would be coming after Shane, and she walks all over Britney. She has to go! Britney says that at the end of the day, if it were me, Janelle would not even bat an eye at getting me out. Danielle says that is the difference between us, we have hearts and Janelle is a cold hearted bit*h. Janelle comes up to the HOH room and Britney runs to the bathroom.
Sign-up for the Big Brother Live Feeds and get the MOBILE Feeds for FREE!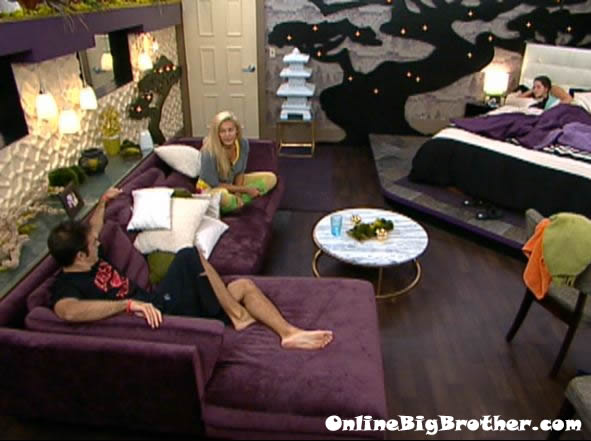 Janelle asks Dan what everyone is thinking. Dan tells her people are talking about why we should keep Frank. Janelle starts talking about how dangerous Boogie and Frank are in the game. Dan and Danielle tell Janelle that they want to go down to eat and Janelle follows because Britney is having a shower. Janelle then heads out into the backyard and talks with Wil. They talk about what is going to happen this week. Wil says that if Danielle sticks to her guns, Frank will go. Wil says that Frank should have gone home last week. Janelle says she doesn't think she will budge, she's strong. Janelle tells Wil that Frank is a goner, but says if she is going to go, she wants to go before jury because she wants to see her daughter. Janelle says she knows Danielle isn't coming after you, or me. Then Janelle says well, maybe she is coming after me, who knows? Joe joins them and asks if there is anything they need to know. Janelle says that as far as she knows they are safe. Joe asks if they were trying to throw her under the bus? Janelle says yeah, Boogie and Frank said if they stay they are coming after me.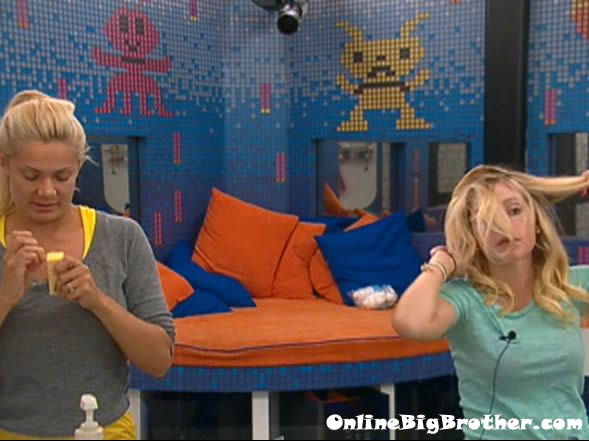 1:25am In the bathroom, Janelle and Britney are talking. Janelle is talking about how she wants to talk to Dan again before the power of veto ceremony. Janelle says that they need to win HOH and offers for Britney to sleep up in the HOH room with her if she wins it. Britney says thanks. Janelle says that she can't believe Boogie is so obsessed with someone he is willing to save them at the expense of his own game. Janelle says that there are so many people and asks how do you think it will work? Britney says that she think they will do a double eviction and when it gets down to final four and maybe do a fast forward. Janelle asks do you think we can keep the coaches? Britney says maybe me, you and Dan, but Boogie won't be workable if Frank goes home. Janelle says that Boogie told her he likes her, but doesn't trust me. Britney says he that Boogie told her the same thing. Janelle says that she is not going to beg someone to work with her; I won't beg a douche bag who wants to save his bed buddy. Britney gets called to the diary room. Dan joins Janelle. Janelle starts talking about how her talk with Boogie wasn't good. She says Boogie said that the only way he will work with them is if Frank stays. Janelle asks what is his problem? The guy is a freaking loose cannon, he is just all emotional, and no logic. Janelle says that she regrets trying to work with Boogie, because he will use it against her. Dan tells her to deny it. Janelle asks are you serious? Yeah, we will deny it and then he will look like such a fool. Janelle tells Dan that she will tell Britney to deny it too. Dan heads to bed.
2:15am
Danielle and Dan are talking. Dan tells her that tomorrow is going to be tough but that she just needs to do the right thing. Danielle asks him what the right thing to do is. Dan tells her to just not play the game personal. Danielle says that she really thinks Boogie and Frank will keep their promise. Danielle says that when Janelle leaves, we will go after them. Danielle asks if he still think it is the right thing to do? Dan says yes, it is our best move right now, I don't think we will regret it. Dan asks what the votes would be? Danielle says it would be 5 to 1. Dan says okay and heads to bed. Britney joins Danielle. Britney asks if she talked to Janelle and if she told her everything is still the same. Danielle asks what, we didn't say a word about things being the same. Danielle says that Dan said verbatim that Boogie was just trying to explain why we needed to keep Frank. Danielle says this is why she needs to go. Danielle says that never came out of our mouths, ask Dan. Britney says that Janelle fully intends to put Shane on the block next week, she is laying the groundwork. Danielle says that Shane has never said anything about getting rid of coaches. Danielle says that she would feel way worse sending Janelle to jury because she has a baby. Britney agrees. Danielle says that she feels bad for blind siding her. Brintey says that she is going to think I knew about it all week. Danielle says that Janelle wants to use the showmance against me and Shane. Danielle says I am just as smart as she is. Danielle says that Janelle insulted her the other day by calling me unintelligent. Danielle says I am glad she thinks I'm not smart. I see right through her blonde a$$. Danielle asks Britney if the viewers will hate her for doing this. Britney says that they will hate both of us. Britney says that Janelle is the most popular big brother house guest ever. Britney says people respect Janelle's gameplay. Britney says that Janelle didn't need to come into the house and make up lies. They start talking about what the HOH competition might be like. Britney then heads to bed.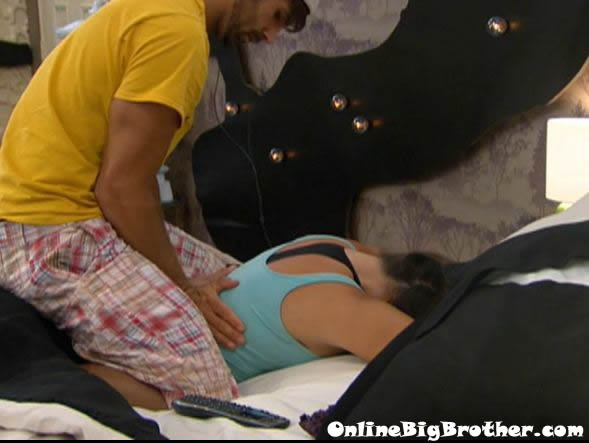 3:15am Danielle and Shane are up in the HOH room talking. Shane wants to call out Janelle tomorrow in front of people using what he has heard from Britney. Shane says that he wants to say that he has heard her throwing his name around, and ask her if it is true. Danielle tells him he should ask Britney first. Shane says that he can't wait to call Janelle out. Danielle says that Janelle gave us a showmance name, Shanielle. Danielle says that Janelle will use things against us like that we are the biggest threat, we are in a showmance, and we are the only veto holders. Shane gives Danielle a back massage.

Watch it ALL on FlashBack: Big Brother 14 Live Feeds – FREE 3 Day Trial!
4am – 5:30am Jenn, Wil and Ashley are in the backyard talking. Ashley says that she wonders if she will be the next target in the house because people think she is close to Janelle. Wil and Jenn tell her that they don't think the others will be coming after her because after the vote they will know she isn't with Janelle. They talk about how they think Joe will be the next target. They talk about how when they need to talk to each other in private they will use the code word, "tits" to let each other know to meet in the storage room. They call themselves team tits! Ashley says that she wonders if they could be having a double eviction this week. Jenn says that if one of them wins HOH they have to put up two coaches against each other and think they would put up Boogie and Dan. Wil says that he would want to put up Dan and Danielle because he thinks Danielle would have the votes to stay. Wil comments on how the coaches are playing the same way they were the first time they came into the house. Jenn reveals her secret to Ashley and Wil, she tells them that she is in the band Kittie that sold over a million records. Ashley and Wil are surprised. Jenn continues to talk about being in a band and says that she played at Ozzfest and is friends with Kelly Osbourne. They talk about random things. Ashley says team tits is the sh*t! They finally head to bed.
6am All the house guests are still sleeping..
Share it YO!!
Tweet