POV Holder:
Danielle
Next POV:
Aug 11 (Saturday)
POV Used
???
POV Ceremony
Aug 6 (Monday)
HOH Winner:
Danielle
Next HOH:
Aug 9 (Thursday)
Original Nominations:
Wil and Frank
Current Nominations:
Have Nots
No Have-Nots for the Week
Last Evicted Houseguest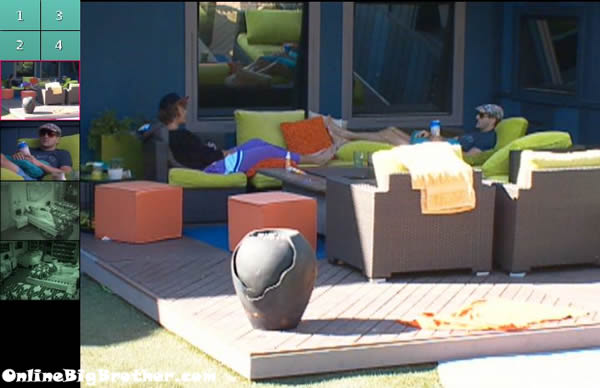 9am Mike is up and out in the backyard by himself. Mike tells Dr Will to tune in Wednesday he has a suprise for him. Mike says sorry to the superfan's that love Janelle, but at least you all will have her all summer in the blogs and to chat with. Mike then tells Dr. Wil to watch his flirtmance go out the door. He says totally awesome and says maybe you guys will not be mean to me now.
Watch what happens, AS it happens: Big Brother 14 Live Feeds! Subscribe today for your FREE 3 DAY TRIAL!
Frank joins Frank out in the backyard. Mike says he hates Janelle says up late, you never know if she is up talking. Frank says he was able to go to sleep easier when he remembered that Britney was the one to bring up Janelle's name. Frank says that Britney just wants to be a part of it too. Mike says that Britney saw firsthand being a part of the brigade and one of them winning the half million. They talk about buddying up with Joe. Frank says that he can tell Joe he was the one that wanted the coaches out, now put up or shut up. Frank says once they do this they are in waist deep. Mike says if we want to get really diabolical once Janelle is gone and we win HOH we could put up Britney and Shane. Frank says or Danielle and Shane, I am tired of her. Mike says she has gained favour with me if she does this, this is pretty ballsy for a Alabama girl. Mike says honestly it feels like I won if this goes through on Thursday and she is gone. Mike says Joe is gonna be real surprised this morning. Frank says yeah he thinks he is going up. Frank says that the way Ian is acting shows he's nervous. Mike says he is real tired of Ian staring at him from a distance. Frank says he want to see Jenn's face too, look at your ship that you just jumped on. She will change her tune when her leader gets put up. Mike says that he would rather have Jenn in our third spot, than Ashley.
9:40am – 10am
Danielle says that she is stressed. She says how would you feel if I used the veto on you. Wil says that it depends on who you use it on because right now I think I am safe. Danielle says what I think I am going to do is huge. Wil guess who are you going to put up, Janelle? Danielle says yes, it's going to go down and shits going to hit the fan. Danielle asks him you aren't friends with her now are you? Wil says HELL TO THE NO! Danielle says good. Wil says that he can help get the votes to evict Janelle. Danielle then asks Wil for her safety next week if she uses it to take him off the block. He says yes you are safe next week. Danielle asks for Dan to be safe too. Wil says he is safe too with him, but that he has been hearing people talk about him. Danielle talks about all the lies Janelle has been spreading about her. Wil talks about how he thinks all the coaches pushed the button to enter the game and that Dan is the only honest one. Wil asks who else knows about this? Danielle say no one. Wil asks not even Dan. Danielle says no. Wil says he can assure her 4 votes to get Janelle out. I won't name names but I think I can get Joes vote. Danielle wonders if people will be mad at her. Wil says that Ashley wants her out. Danielle says that she is worried about Janelle slinging her name through the mud. Wil says that he will stick up for her. Wil says she is nasty, she is a bit*h! Danielle tells him not to tell anybody that she is thinking of taking him down. Wil says that he won't. He tells her not to tell anyone he can get her the votes. Danielle says that she has never, ever not been able to play for the veto and she has made it to final 3 twice. Wil says we can use this if Frank gets HOH again to stay safe. Wil asks if she has told him yet. Danielle says no I haven't told anyone. Wil says she is a nasty bit*h, she needs to go! Danielle says that she is going to say in her speech, I choose to use the veto to save Wil, there is someone else in the house that has been talking sh*t about me behind my back and so Janelle will you please take a seat beside Frank. Wil says that's perfect, thanks again for saving me. Wil leaves the HOH room.
Watch what happens, AS it happens: BB14 Live Feeds!
Subscribe today for your FREE 3 DAY TRIAL!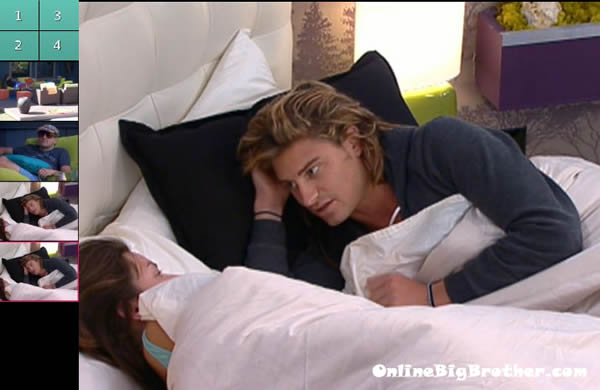 10:15am Jenn and Wil are alone in the backyard. Jenn brings up how she noticed he was gone this morning. Wil says he was up in the HOH room. Wil tells her not to be surprised today. Jenn asks are our people safe? Wil says yes, but that he can't say anymore. Mike comes out into the backyard. Wil starts talking about how Boogie looks like a leprechaun. Boogie says he self admittedly says at the right angle he looks like a leprechaun.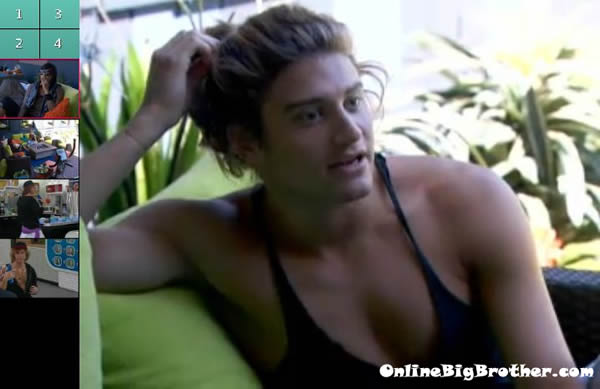 10:40am All the house guests are up and getting ready for the Power Of Veto Ceremony. Dan, Shane and Joe are out in the backyard. Shane says that he has never been on this side of the POV ceremony. Shane asks Dan if he is proud of Danielle. Dan says that he is very proud of her, she did a great job.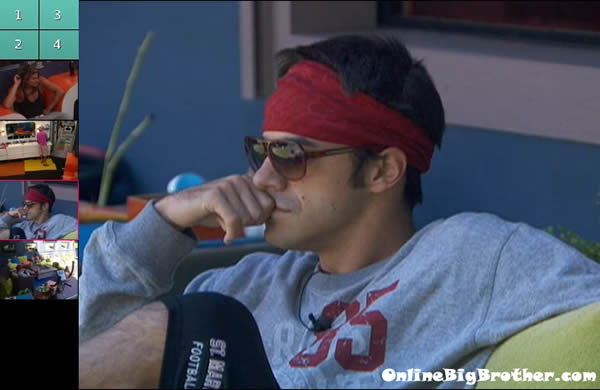 10:45am Big Brother switches the live feeds to TRIVIA.. The Power of Veto Ceremony is happening right NOW!
Share it YO!!
Tweet