POV Holder:
Danielle
Next POV:
Aug 11 (Saturday)
POV Used
YES
POV Ceremony
Aug 13 (Monday)
HOH Winner:
Danielle
Next HOH:
Aug 9 (Thursday)
Original Nominations:
Wil and Frank
Current Nominations:
Janelle AND Frank
Have Nots
No Have-Nots for the Week
Last Evicted Houseguest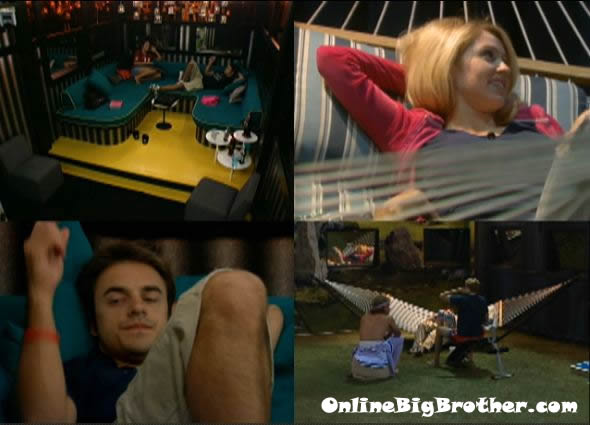 1am Danielle and Dan in the arcade room talking about Janelle. Danielle says that she hates bullying and says that she has struggled with anorexia growing up so it hurts to hear that Janelle was calling her fat. Danielle says that she knew Janelle called her fat. She says I have known the whole time! She says that she has known girls like Janelle before. Danielle says that she wishes Dan could have seen the way she looks at her. I wish you could have seen the way she looked at me on the ship, it was the worst. You will see it when you get home. Danielle says that Janelle told Wil he was not allowed to cheer for me. I want to knock her in her face and walk away. Danielle says that she has had a bad feeling about Janelle from the start. Dan and Danielle talk about how Boogie figured out she is nurse. Danielle asks why Janelle is threatened by her? Dan asks what do you want a coach answer or personal. Danielle says both. Dan tells Danielle that it doesn't matter, she is gone! Dan says that she is probably threatened by you, she is getting older. Dan says that Janelle probably wanted people to vote out Kara for personal reasons. Dan says at the end of the day you get the last laugh without being mean about it. Dan says that she is going to be in Minnesota watching the live feeds and there is nothing she can do about it. Dan tells Danielle that when she gets older things like this won't bother her as much. Danielle says that it's just that Janelle just had a baby and she is attacking me. Britney joins them and they talk about the possibility of it being a fast forward this week. Dan says we need to make sure Joe doesn't win it. Britney says yeah or Wil. Britney says it makes her nervous because Boogie never talks about trying to get him out.
Watch what happens, AS it happens: Big Brother 14 Live Feeds!
Subscribe today for your FREE 3 DAY TRIAL!
1:25am Shane and Danielle are now talking up in the HOH room. Danielle says that she found out some other stuff that Janelle that she didn't know. Shane says that he freaking loves it that Janelle will be blindsided. Danielle tells Shane that after she heard the comments Janelle made about her weight, she didn't eat for two days. Shane tells Danielle that she is beautiful the way she is and that he likes the way she looks. I can't stand other women that can't stand the way other women look. And how she talked about how she didn't understand how you liked me. Shane tells Danielle that Janelle is a materialistic bit*h and that she is just jealous of Danielle. Danielle says that she won't give Janelle a hug tomorrow. They talk about how they both left Janelle mean goodbye messages. Danielle says that she is excited about Shane leaving Janelle a mean goodbye. Danielle says that she started to leave a nice message but the diary room said they won't accept that, so she started to say how she really felt. Shane says that what sucks is we will have to see her again at the finale. Danielle asks why the hell is Janelle talking about me when she has bigger pants than me? Danielle talks about how Janelle's lip has so much collagen in it that it is starting to do the wave. Danielle says that she used a Rachel line in her goodbye message; she says that she said no one comes between me and my man. Meanwhile in the backyard, Jenn and Ashley are playing a game of badminton against Frank and Wil.
2:35am Jenn, Ashley, Wil and Frank are sitting around the kitchen table. They talk about how someone might volunteer to go up against Joe next week. Frank says that the negative is that Joe could win the POV. Frank says that he could see himself going up as a pawn next week against Joe. Jenn says that she thinks there is going to be a fast forward/double eviction coming up this week. Frank tells them that he is going to break the unitard curse tomorrow. He says that everyone who has been on the block in a unitard goes home, but that is staying. They continue to talk about wanting to vote Joe out next week. Wil says that he wouldn't mind being the pawn because he would get to make a speech. They talk about how there is a risk to their plan because Joe could win POV but that isn't very likely. Wil says that there are people in this house that need to go quick and quicker than Joe. Frank says that he would like Joe out next but with Janelle gone he says Joe is a one trick pony, he won't have anyone left. They talk about how no one will want to work with Joe. Frank says that when Janelle walks out the door and Joe sees it was a 8-1 vote he will be like oh sh*t! Wil says that he thinks Joe is here for publicity. Ashley starts talking about a dream she had about the old coaches room. She says that she was in that room making out with a dog. Frank says that he thinks she had that dream because Ian is dressed as a dog this week. Wil says that when he gets out he is going to get sh*t faced and a massage, he is going to be a slut when he gets out of this house.
3:15am – 3:45am Joe and Shane are talking about and studying the past events of the house. They wonder who Jenna or Ian would put up if they won. Joe thinks Ian would do whatever Boogie wants. Joe says that if he wins he is putting up Wil, just because of trust. Shane says that he would put up Boogie. Shane says that what is good for him is that he is playing for the veto no matter what. Joe says that Danielle can't play and that it would be good if Britney won. They think the next HOH competition might be Q&A because they aren't building anything out in the backyard right now. Shane says it might be America`s vote. Shane tells Joe that in the America's vote he needs to make sure he thinks how America would vote and not how he would personally votes. Joe asks like who looks better in a bathing suit Kara or Danielle. They continue to talk about the events of the house. Shane says that it could be a before and after competition too. Shane heads to bed. Joe goes outside and sits by himself for a bit on the couch and then heads to bed.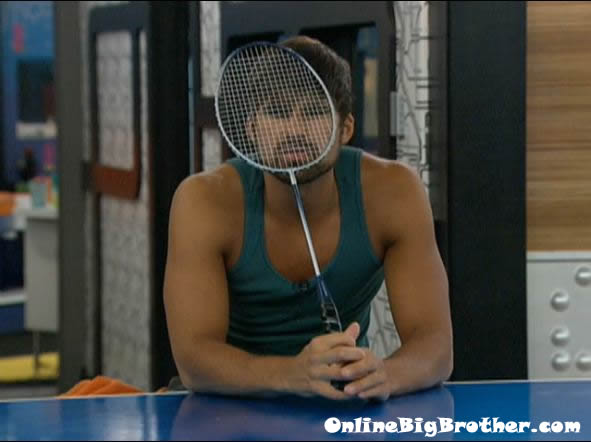 5:50am All the house guests are still asleep..

Share it YO!!
Tweet