POV Holder:
Danielle
Next POV:
Aug 11 (Saturday)
POV Used
???
POV Ceremony
Aug 6 (Monday)
HOH Winner:
Danielle
Next HOH:
Aug 9 (Thursday)
Original Nominations:
Wil and Frank
Current Nominations:
Have Nots
No Have-Nots for the Week
Last Evicted Houseguest
2am Shane, Ian and Danielle are up in the HOH room talking. Danielle talks about how they will need to somehow convince Dan that getting rid of Janelle. Danielle says that Janelle told her that Frank hates me because I was going to vote him out last week, I won HOH, then I nominate him, then I beat him in the POV, then I stole the POV from him and put him in a spirit-tard. Shane says wow she brought all those things up?! Danielle says that then Frank talked to me and he wasn't mad at all. Danielle says that if Frank had talked to her, she would have probably put up Janelle instead. Ian says that the more we hash it out, the more I feel that it is the best decision to get rid of Janelle. But that it is you decision and I will do what you want. Danielle says we need to get Dan up here tomorrow and hash it out. Shane says even if he isn't on board I think we should still do it. Danielle says she doesn't know. Ian says look we talk to Dan and say alliance of 5, 4 out of the 5 think this is what is best for the alliance. Danielle says Boogie is in the game no matter what and he is going to continue to alienate himself. He doesn't throw out a mist he just throws out facts. Shane says that Boogie just doesn't want a floater to win this. How much can we trust him. Danielle says it doesn't matter we can't trust Janelle. Janelle and Boogie can't be in the house at the same time after next week. Ian says that is not Frank's time to go. Danielle says he is fixing to be a Wikipedia champ by escaping death 3 times. Danielle says that her and Frank need to have a heart to heart and he needs to put blood on it.
Re-Watch ALL THE DRAMA on FlashBack: Big Brother 14 Live Feeds – 3 Day Trial!
Danielle asks what Janelle will do if she puts her up. Ian says that she will self-destruct and try and get votes from people. Shane says that Janelle will only have Jenn, Joe and Ashley, maybe Jenn. Danielle says that we will have Ian, Shane, Dan Britney, me, Frank, Boogie. I've already got 6. Shane says even if one wavers we are still good. Danielle says that Boogie would like nothing more than for Janelle to leave at his hand. Ian says Frank and Boogie's vote would most likely be to evict Janelle unless he is a very good actor and he wants to vote Wil out and he would have Janelle .. then it would be really messy. Ian thinks he is going to need to go on a fact finding mission tomorrow. Danielle asks if Frank swore on his nana would he stick to it. Ian says I would hope he would, but I don't know. Danielle tells Ian to hang out with Frank and find out what he says and wants. Danielle wants to go to sleep.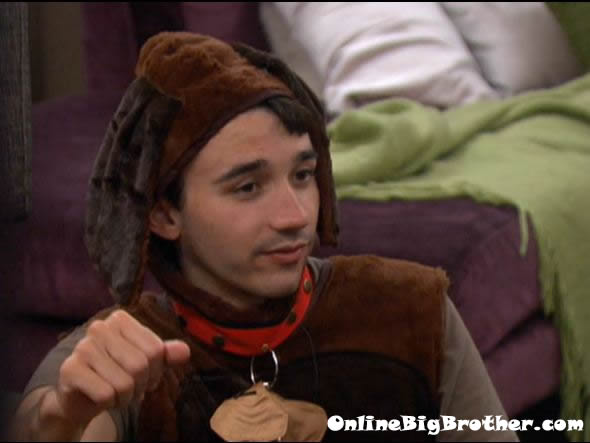 2:20am Britney joins them. Britney says that Boogie only wants to work with us if Frank is here. If he isn't he will work with Janelle. Danielle says that there is no way he would trust us after already trying to make this deal if we didn't keep Frank. Danielle says that Janelle's wrath will be terrible. Britney says if we put Janelle up and Boogie's team and Janelle decide to work together anyways they all vote for Wil to leave, it's a 5 – 4 vote, they would have the votes. Shane wonders if they got out Boogie could we get Frank. Britney says this is what you would need to do for Frank to stay, put Janelle up against Frank. That is the only way to make sure we get out Janelle. We would then have 4 votes plus Boogies. We have to secure the votes. They talk about running it by Dan. Britney says that she will be the mystery vote, that she will be telling Janelle she has her vote. Then we can sell Joe down the river and say that it was him.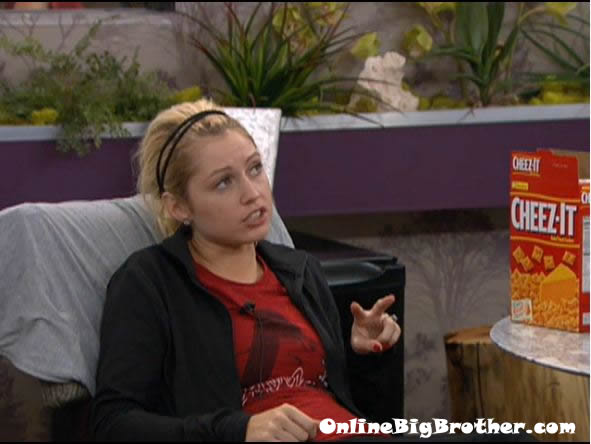 Watch what happens, AS it happens: Big Brother 14 Live Feeds! Subscribe today for your FREE 3 DAY TRIAL!
Britney says we need to figure this out tomorrow, because POV ceremony is Monday morning. Danielle says if Boogie gives any attitude about Frank staying up then the deal is off. Britney tells Danielle to make sure she only says we have 3 votes and that Boogie has Ian's vote. Britney tells Ian that he is in the best position. She laughs that Ian is in the best position and his is in a dog suit sleeping in the backyard. Britney then takes Ian out to his dog house. She says this is kind of sad. Ian says no it's not it cool.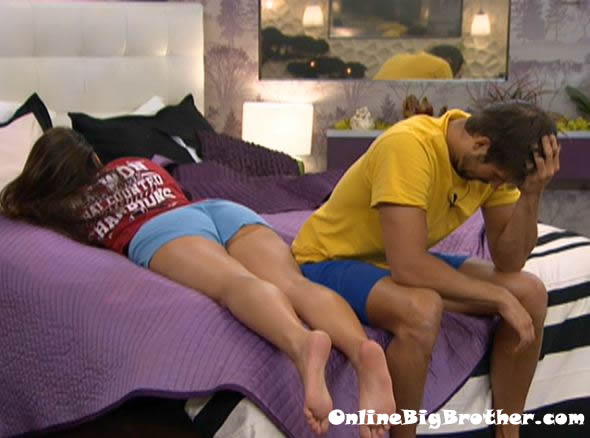 2:30am – 3:30am
Dan joins Danielle up in the HOH room. Danielle talks to Dan about back dooring Janelle. Dan doesn't think that Boogie would rally to keep Janelle. Danielle tells him the option of putting her against Frank so they were assured he would not rally with Janelle. Danielle says the thing is, Janelle is going to scream and attack me. She says she is not worried, but if I put her up she has to go. Dan says this is actually not a bad move. Dan tells Danielle that she just told a room of people that you're going to put up Janelle. Dan says Janelle would not put you up, but now if you don't they have this. Dan says putting up Janelle is personal not strategic. Dan thinks it's better to keep the nominations the same. Danielle asks do you think Frank or Janelle is a bigger threat? Dan says it doesn't matter; it's about how you play this game. Dan says that we would not want people to know they are working with Frank and Boogie. Danielle asks who Dan thinks would be easier to beat in a competition. Dan says Boogie. Danielle asks another question, who do you think will be easier to get rid of later down the road? Janelle or Frank? Dan says Janelle, people will always want to vote her out. Danielle asks what if we put her up and she wins the veto, she told me she has won 9 vetos? Dan says yeah, she has won like 11 competitions in two years. Dan tells Danielle that is playing personal. Danielle says yeah, but if you look at the strategy. Dan says that's your cover up, you say it isn't but… Danielle jokily says she can't win with him! Dan says it's not about me being right; it's about you being self-aware. Dan says that the wheels are in motion and it will be difficult to stop. Dan heads downstairs to bed. All the house guests are now in bed.
5:30am All the house guests are still sleeping..
9:20am They're all still fast asleep.
9:55am Ian is stirring in his dog house.. Boogie wakes up and heads to the bathroom.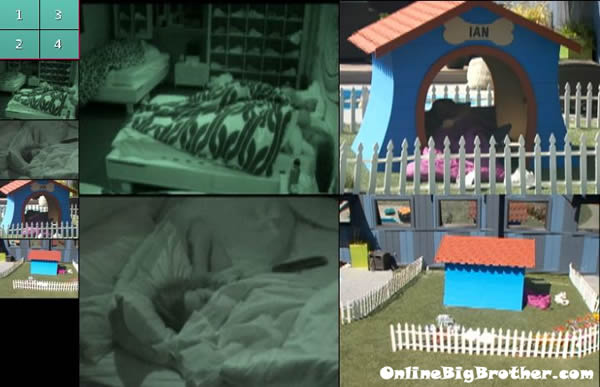 Share it YO!!
Tweet