POV Holder:
Shane
Next POV:
July 28 (Saturday)
POV Used
Yes
POV Ceremony
July 30 (Monday)
HOH Winner:
SHANE
Next HOH:
Aug 2nd
Original Nominations:
Ashley And Joe
Current Nominations:
Joe And Frank
Have Nots (Cereal & Salmon)
Joe, Ian
Coach Competition Winner
Janelle (Wil SAFE)
Next Coaches Competition
August 3(Friday)
Last Evicted Houseguest
JOJO
8:23pm Cam 3-4 Arcade Room Dan, Boogie and Frank
Dan is telling them that Danielle is leaning towards saving Frank but he's going to really work on her late tonight.. Right before they go to bed.
They start chatting about the two nominees and how they lose their time for a speech because production has to explain something
Dan: "where do you think his confidence is at"
Boogie: "7 or 8"
Dan: "What do you think is happening"
Boogie: "It's big.. could be us going in.. could be a player coming in"
Dan says he thinks that they are all going to compete in the same competition and the first coach to drop is out of the game. Dan: "It's decision time"
Boogie: "If they do that the coaches thing has to end"
Dan: "Tomorrow is the day of reckoning.. there is no more (Coaches) after this"
boogie: "Spool of lies" .. boogie explains to Dan about season 7 when Howie told them his guess for a question from production riddle was "Spool of lies"
Dan asks him if he's going into the game. Boogie: "If Frank stays.. no definitely not"
Dan will go in unless he can get Kara then he might want to roll with 2 players in the game
Get The Live Feeds for your iPhone or Android Phone! Comes with a regular subscription to the Live Feeds
Subscription Link
8:26 Cam 1-2 HOH Wil, Shane, Britney
Janelle is talking about if she wins the coachs competition maybe she can brign Kara back into the game. Janelle laughs says maybe JOJO.. Shane doesn't want JOJO coming back he jokes that they want Willie back.
Wil points out that Kara smoked JOJO in the first competition she was the only one on that team that made it back with a bear.
danielle leaves abruptly.. britney asks "where you going Danielle" Danielle: "Downstairs" . Janelle: "Oh my God.. what is wrong… what is wrong"
Britney: "She acted mad"
8:32pm Cam 1-2 Have Nots Danielle and Wil
Danielle: "Did they send you down here?"
Wil : "no no"
Danielle explains that she's upset about be treated badly from people. She doesn't like it when 'Certain people" make is sound like she is heavier in the game. Danielle: "I weigh Less than AShley"
Danielle feelings are hurt, she's tired of people in this house giving her dirty looks. Wil: 'Well Fuck them.. I don't do this girly Bullshit games" (That Janelle and ashley are doing)
Danielle is sick of all these little jabs from Janelle and Ashley . Wil thinks they underestimate Danielle they do not see her as a serious player.
Wil makes it really clear that he's separated himself from Janelle and wants to team up with Shane, Britney, Dan and Danielle. Wil is done with all the lies Janelle and her team are spreading.
8:42pm Dan in joins them in the havnots
Wil asks him what they are going to do after Frank goes home if They win HOH
Dan says it's time to start making alliances but it's really hard in this game because of the teams. Dan: "you can never know if the player is going to run back to their coach"
Wil: "I don't trust Janelle, I don't trust Joe and I don't trust Ashley"
Wil says next week he wants to partner up with Shane and AShley
Dan: " no one must know.. otherwise two go on the block"
8:54pm Cam 1-2 Have nots Danielle and Dan

Danielle explains to Dan about Janelle saying that Ashley is their only chance to win the HOH next week.
Danielle said "Thanks Janelle" to her
Janelle replied to her "you're taller and your bigger than Ashley"
Danielle adds that they all made it sound like Kara was the only player on her team that was any good. Danielle: "I weigh LESS than Ashley"
Danielle says that Janelle is a nasty person she was talking in teh HOH about how she's going to make personal attacks on Ian during the HOH to throw him off.
Dan tells her next time she needs to stick around when people are nasty becuase
1)Other people see how that person is
2) gives you ammunition when you have to put someone up
3) creates sympathy for you with the other players.
Dan: "It's like when Jerry called me Judas it really propelled me to final 4 everyone was against him and they all expected me to put him up.. You want people to say those things about you"
Danielle: 'I cannot stand her DAN.. I cannot Stand her.."
Dan tells her that Janelle personally attacking her is a good thing because She now knows Wil cares about her, it shows other people what kind of person Janelle is and when she goes into the game Danielle has a reason to put her up.
Dan says that he had people personally attack him all the time on season 10. Michelle told him to burn in hell and questioned him being a teacher.
Dan goes on a and on showering Danielle with Praise. give her advice about hiding her emotions. He says that Dr Will was a master at it and after he watched those season he knew that was the way to play the game. Dan tells her it's tough to hear those mean things beign said to you but if you stick through it you'll end up farther ahead in the game.
9:12pm Cam 3-4 Storage Room Dan and Danielle Dan warns Danielle to not share her emotions with Bitney "She's a hair away from Janelle and if Janelle stays.. " Danielle agrees. Dan tells her he trusts Shane more that Britney.
9:12pm Bedroom Wil tells Boogie every decision he makes from this point on is his own he's breaking free of Janelle. Boogie: "That's good buddY"
9:13pm Storage room Wil, Dan and Danielle Watch with FlashBack FREE TRIAL!
Wil tells them he just told Boogie that he has his vote. Wil is laughing.. (Wil lied to Boogie.. His plan is to try and pin it on Jenn)
Dan:"'welcome to the game.. my friend."
Wil asks Dan if he still thinks that voting Frank out is the best plan. Dan: "I always think that removing the most roadblocks is the best way to go if you want to win.. and you need one or 2 people you can trust.. a large component of this game is luck .. 20% if you can control the 80% 100% for the time you're in good shape… another part is controlling your emotions.. if you let that slip you end up like Willie"
Wil starts talking about all the lies Janelle is saying he's had enough.
10:10pm Cam 1-2 HOH Britney and Danielle
(Just a note Danielle HATES Janelle)
Danielle: "Ashley is way over 140 and I'm only 135"
Danielle asks her if she trusts Janelle. Britney says of course not. Danielle wants Boogie and Janelle up if they win HOH. Britney says that will start a war. Danielle knows but she thinks they need to get one of those 2 out. Danielle goes over all the nasty things Janelle said.Britney says if Janelle wins HOH she will put up Boogie and Dan. Danielle: 'I have a real fire under me to win that competition"
Danielle: "I always thought all you and Janelle did was talk shit about me week one"
Britney says that not a single person in the house has ever talked bad about Danielle to her. Danielle doesn't understand why people are so mean to her.
Danielle about Janelle: "She's threatened by me she thinks i'm really smart" Britney brings up that Janelle has been asking her about Danielle profession, they do not think she's a teacher they think she's a med student.
Britney starts grilling her.. Danielle sticks to the story.. they start to giggle (britney doesn't believe her)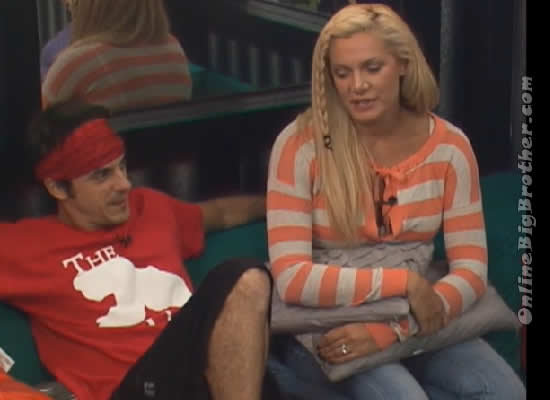 10:35pm Cam 3-4 Arcade Room Janelle, Ashley, Wil and Joe
Janelle wants to have a team meeting. but it's more like a grill Wil meeting, She asks him about the conversations he was having today with Danielle in the have nots, Dan in the storage room and Boogie in the bedroom. (Just FYI Eagle eye told her about these conversations taking place)
Wil avoids the Danielle conversation in the have nots he explains that Danielle is OK he just had to calm her down . He kinda says it was about Danielle feeling second to Kara. Wil says that he never agreed to vote to keep frank but he implied it. wil went into the Storage room to request chap stick and Danielle and Dan were in there. Wil: 'I trust Danielle but I don't Dan"
They call Dan in and start grilling him. Dan plays down his relationship with Danielle they bring up that Danielle offered her 1 week of safety if they keep her in the game last week. Janelle wants to hear from Dan if Danielle is voting Frank out. Dan reminds them that he doesn't get to vote. Dan: "I coach her to honor her deals so if she made you a deal she'll honor it"
Ashley tells him she's not targeting Danielle she's targeting Ian. Dan acts surprised by that.
Janelle: "we shouldn't be worried about the hour long conversations with Boogie"
Dan: "no.. I talked to everyone you know that… It doesn't mean I talk Game"
Dan and Wil leave..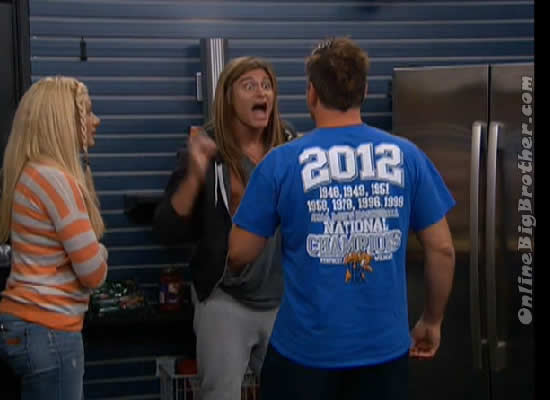 11:10pm Storage Room Dan and Janelle
They laugh at how brainwashed Janelle's team is. Dan can't believe she's convinced AShley to target Ian. Janelle asks him if they are still working together Dan: "yup" Janelle: "And i'm going to win HOH's and you'll pick who we take out" Dan: 'Yup"
Janelle: "who's on your hit list"
Dan: "I don't know"
Janelle asks if he's talked to Boogie about entering the game. Dan has a bit Boogie would enter if he had 2 players but not if he has 3. Dan thinks if he had 3 players he would stay a coach but with only one he's going in for sure and he's excited. Janelle is thinking about going in.. she doesn't think her players can beat Boogie and Dan.
Wil barges in starts starts freaking out that Joe is in the bedroom telling Jenn he has"vital information"
Janelle runs out to grab Joe into the storage room. She asks him what he's doing.. Wil Barges in again freaks out on Joe says he's feeling like voting Joe out right now, "Give me 5 reason why I shouldn't vote your ASS out" . Joe explains that he was only telling Jenn that he had information that is important to her if he goes home. Both Janelle and Joe tell him he should just keep his mouth shut.
11:26pm Bedroom Jennm, Wil, Boogie, Ian, and Frank
Boogie tells them that he heard Janelle saying to Eagle Eye "That is too much information why did you tell him that" boogie heard it when Janelle rolled into the room to grab Joe. Boogie wants to know what she meant by that. Joe: "He just stiring things up last minute"

Link to Nip slip
11:59pm Bathroom Britney and Danielle Britney tells her if there is a big blow up they still need to vote Frank home. She adds that Frank and Boogie's team will try and get between Danielle and Janelle all night.
Share it YO!!
Tweet