POV Holder:
Shane
Next POV:
July 28 (Saturday)
POV Used
Yes
POV Ceremony
July 30 (Monday)
HOH Winner:
SHANE
Next HOH:
Aug 2nd
Original Nominations:
Ashley And Joe
Current Nominations:
Joe And Frank
Have Nots (Cereal & Salmon)
Joe, Ian
Coach Competition Winner
Janelle (Wil SAFE)
Next Coaches Competition
August 3(Friday)
Last Evicted Houseguest
JOJO
6:26pm Cam 3-4 Janelle and Trixie They are studying the dates and events that occurred in the Big Brother House.
How many times has the Power of Veto been used?
Who won HOH week 1, 2, 3
Who was a have nots and who designated the have nots.
What did the have nots have to eat.
6:53pm Cam 3-4 Kitchen
Frank talking about littlebigboy being a sweet game. He talks about a bunch of other games he likes to Play. Dan is really into football fantasy games. Frank gets really excited is using his hands a lot when he talks. Joe asks him if he can talk with his hands tied up.


7:53pm Cam 3-4 Dan, Wil and Frank Living Room
chatting about video games. Dan says he "platinumed" Grand Theft Auto 3 and Fallout Frank explains to wil all about achievements in video games and getting platinum means you get all the achievements. Frank is really surprised with Dan getting platinum with Grand Theft Auto 3 He comments about the amount of time that must of taken.
Dan really liked Bioshock.. and so does frank.. (So does Simon)
Dan asks Frank why he's a playstation player. Frank explains he doesn't like the Xbox360 controller… Dan agrees says when he got out of Big Brother 10 he signed his Play Station 2 and used the money towards a Playstation 3. (I wonder how much that increased the value?)
(Dan and Frank talking some hardcore video game talk)
7:17pm Britney in the Kitchen "Holy crap they're still building out there.. It's going to be big kids" (talking about the HOH Tomorrow)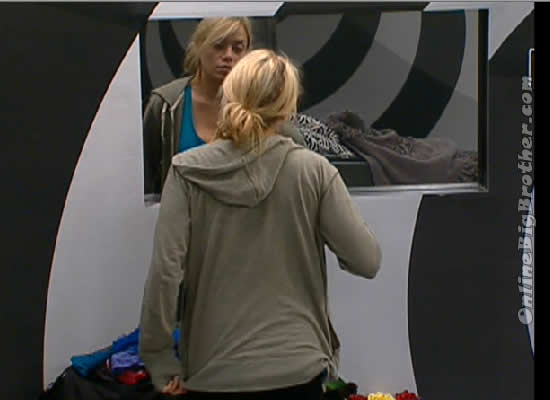 7:19pm cam 1-2 Have Nots room Ashley Ian
Ashley trying to get Ian to Vote out Frank.
Ian: "umm sorry sorry Ashley… I just can't do that.. sorry.. it's nothing against Joe"
Ashley understands, frank is on his team, "did you promise him your vote.. "
Ian: "Ya.. "
Ashley asks him how his day has been . It's been a shitty day for Ian he doesn't like being in Lock Down all Day.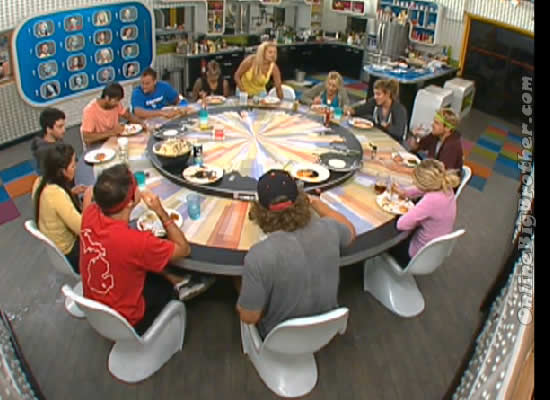 7:30pm Family Dinner (They needs some grenades in their yo)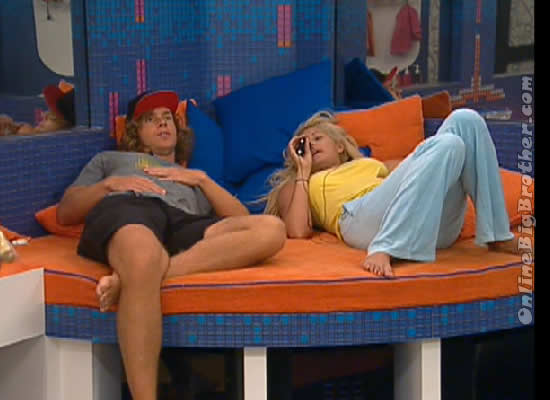 7:49pm Cam 3-4 Frank and Janelle
Talking about how little food Boogie eats. Janelle
Frank wishes it was more like prison food, "I never knew there was going to be such a variety"
Janelle: "Do you really hate me?"
Frank: "When Did I saw that"
Janelle: 'By the table the person you hate the most" (During table topics Frank said he hated Janelle as part of the game"
Frank: "it was a joke.. I love you Jani"
Get The Live Feeds for your iPhone or Android Phone! Comes with a regular subscription to the Live Feeds
Subscription Link
7:52pm HOH Brintey and Danielle
They are walking up to the HOH when they get to the balcony Ashley asks from the Kitchen if she can come up. They say yes. Britney and Daniellle rush inside the HOh room. Danielle tells her that Janelle told Ashley to come up here. Danielle is pissed.
Ashley comes in says he's full from all joe's cooking.. Flops on the bed then kinda passes out. Britney and Danielle look at each other and giggle. AShley finally wakes up says a bunch of weird things.. cut to fish.
Shane in the HOH talking about her husband whose an electrical engineer for the OKlahoma power company .. he's a Protection control engineer.
Just Chit Chat.. talking about dogs.
Shane: "Did you dog stay with your mom on season 12"
Brit: "Hmm ya"
Britney asks Ashley about how she got on the show.
Ashley applied to Eva Longoria dating show "The One" she didn't get on the show but the next day she was called to be on Big Brother. Danielle also applied for the same show and didn't get on but got on Big Brother.
Britney: "What! .. you both applied to be on the same Dating Show and ended up on Big Brother"
Danielle and AShley: "YA"
(Does anyone ever get on BB by just applying ? )
Share it YO!!
Tweet