POV Holder:
Shane
Next POV:
July 28 (Saturday)
POV Used
Yes
POV Ceremony
July 30 (Monday)
HOH Winner:
SHANE
Next HOH:
Aug 2nd
Original Nominations:
Ashley And Joe
Current Nominations:
Joe And Frank
Have Nots (Cereal & Salmon)
Joe, Ian
Coach Competition Winner
Janelle (Wil SAFE)
Next Coaches Competition
August 3(Friday)
Last Evicted Houseguest
JOJO
9:58pm Cam 1-2 Dan, Boogie and Frank Watch with FlashBack FREE TRIAL!
Boogie says that britney husband is loving life right now with her gone. Dan: "She the type of person to Control all aspects of her household.. I couldn't live that way" Boogie jokes apologizes to her husband says that Britney is coming home next week sorry.
Dan asks boogie if he nervous that Frank is his only player with a chance to win competitions.
Boogie doesn't think Jenn will win anything, he thinks Ian might win endurance.
Boogie about Jenn: "I thought she was going to be the rocker chick who can fire it up.. JOJO was.. No I don't have any hopes" (Any hopes for Jenn and Ian to win)
Frank: "I want to get Janelle out next week.. I wish there was a way "
Dan asks them if they have any conspiracy theories about the twist.
Frank thinks a player might come back on Thursday but if the coaches come back in he thinks that it will be 2 or 3 coaches and it'll happen the following week.
Dan brings up the possibility that they will be given a choice to come back. Boogie says if he has 3 players left in the game he would choose to stay as a coach. Dan agrees says he only has 1 player so chances are better for him to join.
Boogie says his 2 predictions about the twist are a) The winner of the coaches competition will get to choose one of the evicted players, Jodi, Kara, JOJO and Whoever leaves this week. b) All the coaches get dropped into the game in 2 weeks.
Boogie: "They don't care they'll flip this house all up.. it's their show"
Get The Live Feeds for your iPhone or Android Phone! Comes with a regular subscription to the Live Feeds
Subscription Link
10:14pm Cam 3-4 Arcade room Janelle and Wil
Janelle asks him if he's mad. Wil say no he is not he just wants to know what janelle is doing that will affect his game. Wil was upset about her and ashley "Sucking up to frank" to keep him out of the game. Wil doesn't like the word MAD he wasn't mad at her.
Wil tells her that Frank thinks he's safe and when he leaves on Thursday it'll rattle ian so much. Janelle: "Ian needs to go next week"
Wil mentions that Frank is saying he'll pull a willie on Joe and call him out for stuff. Janelle hopes he does because she'll bring up that Frank went up to Ashley and told him that Wil was his biggest target.
10:34pm Cam 1-2 Dan and Danielle

Danielle saying that Ashley is driving her crazy right now. Dan: "What does your gut tell you" Danielle: "get out Frank.. he's the bigger threat"
They head to the arcade room
Dan tells her he just got finished with talking to Frank and Boogie they're good really good..
Dan: "I would rather work with his team but frank is a big threat he's the safer choice to go home"
Danielle: "What should I do"
Dan: "Either way you are good.. you're going to lose someone"
Danielle says that Janelle's group is intentionally trying to piss her off. Danielle brings up that Janelle was saying in the kitchen that Ashley should hook up with Shane.
Dan recommends she forget about Shane… she might get 2 nights of passion from him but there will be nothing there. Danielle: "Right now I only like him as a friends.. nothing more"
Dan calls her out on it says he doesn't want to lose 100K for some highschool crush.
Danielle goes on and on about Janelle and all her Snide remarks
Dan points out that Janelle has no idea what she is doing.. her previous season were all about winning comps. she's not used to playing this type of game, She's not in control.
Danielle is really pissed at Janelle and Ashley she says that it takes a lot for her to get Mad but when she does it's big. Danielle: "They are getting me close to being that MAD.. WHY is Janelle tryign to push my buttons.. Why is Ashley stalking me.. why "
Dan: "It's girl things and she's dancing with clowns right now "
Danielle now knows that Ashley's lalallala attitude is a act and that Ashley is 110% behind Janelle. "I would trust Joe over Her". Dan: 'that's scary"
Dan whispers to her 'I'm coming in"
Danielle asks how he knows about it., dan just has a gut feelign.
Dan: "who do we run with? "
Danielle: "Shane.. boogie will take you out period.. Shanes more physical and trustworthy"
Dan is going to start hanging out with Shane more, agrees with Danielle says that Shane has nobody else in the game he'll be more likely to stick with them.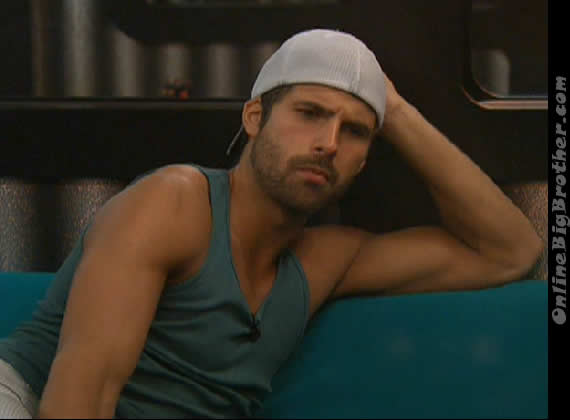 Shane joins them.
Tells them he doesn't trust AShley one but everything he tells her goes to Janelle. Shane says they have Wil's vote locked in.
Dan brings up that if he drops in the game he wants to run with Shane and Danielle to the end. Shane agrees says him and Britney will be down with that. Dan says that Shane is loyal and they can trust him Dan is serious about this.
Dan asks what the next move should be, Ian or Joe. Shane thinks Ian.
Dan says that Britney is still really mad at janelle and he thinks that will cloud her judgment a bit.
Britney joins them they all agree that Ashley cannot be trusted.
Britney tells them everyone has to be careful, 'I've heard things getting made up out of thin air.. The only people I trust are the ones in this room"
Britney asks her if he trusts Janelle, Dan says no. Dan is worried about Shane and Danielle next week.
Shane mentions that maybe he should take the ring.
Dan: "you think she brought a fake one in"
britney doesn't think so she thinks it's 50 grand.. I swear to god.. Shane take the ring especially if you don't trust her"
They start talking about what to do when Britney and Dan get dropped in. Dan says he wants the 4 of them to roll. Britney: "Janelle's players will be gunning for the coaches"
Dan and Britney agree if given the choice they will enter the game. Dan wonders if Janelle will because they still 3 players. Britney: "but they are BAD players.
Dan asks them if he gets to pick who to come back on his teams who should it be. Shane quickly answers "KARA" (LOL Shane really likes Kara)
11:25pm Cam 1-2 Talk is about Janelle and how much lying she's doing around the house. Dan watched her season and doesn't remember her lying so much. Britney: "The only reason Janelle wants Frank out of the game is because she believes the coaches are coming in and doesn't want to have to deal with Frank"
They all like Wil the most of the 3 Janelle players and think Joe should go next week than Ian.
11:41pm Boogie joins them
11:47pm Janelle joins them Janelle and Boogie say DR. Will had liposuction before he went on Big brother 7
Share it YO!!
Tweet