POV Holder:
Shane
Next POV:
July 28 (Saturday)
POV Used
POV Ceremony
July 30 (Monday)
HOH Winner:
SHANE
Next HOH:
Aug 2nd
Original Nominations:
Ashley and Joe
Current Nominations:
Have Nots (Cereal & Salmon)
Joe, Ian
Coach Competition Winner
Janelle (Wil SAFE)
Next Coaches Competition
August 3(Friday)
Last Evicted Houseguest
JOJO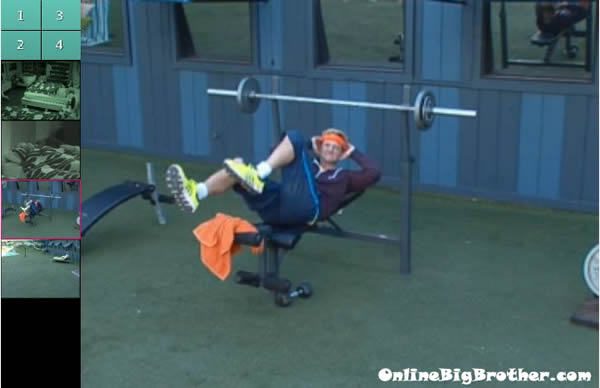 6:30am – 10:40am Mike wakes up, makes coffee and heads out into the backyard to workout. He starts doing laps around the yard, push-ups, stretches and free weights. Mike Boogie is working out like an animal in the backyard. 8:45am and he is still going at it. Looks like Mike is getting ready to be released into the game. At 9am Boogie finishes up and heads inside to take a shower. 9:30am Joe wakes up and head out into the backyard. Joe says what a night last night? Mike says yeah! Joe comments on how he slept better. He then goes and lays out in the hammock. Joe heads inside and prepares some salmon for breakfast. When he comes back outside he says that he is going to pitch an exit strategy. Mike asks what it is. Joe says that he is going to try and buy himself two weeks by offering to exit in two weeks. Mike says yeah it's worth a try, so your Harry Potter with your magic wand. They talk about how hard Wil parties and can imagine him at a real party. Mike says imagine if he had real alcohol and a place to go. Joe says that Wil was tipsy after one drink. Frank and Dan are awake. They head inside to make breakfast.
Re-Watch ALL THE DRAMA from last night on FlashBack:
Big Brother 14 Live Feeds – 3 Day Trial!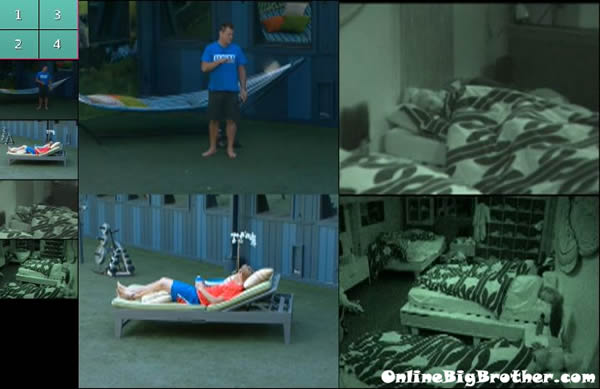 10:45am – 11:10am Mike is alone in the backyard and starts talking to the camera. He says that Joe must think his players are stupid to think that he can get his plan to work. Mike says what fu*king snake oil is he trying to sell! What's the point in staying here two more weeks and then leaving? He must think I have a shirt on that say I am stupid. But I really want to hear it, I am up for a good laugh on a Sunday! Dan comes out into the backyard. Mike says do you wanna hear a little stand up comedy? Listen to this… Mike tells Dan about Joe plan to offer himself up to exit in two weeks. Joe comes out right then and the conversation ends.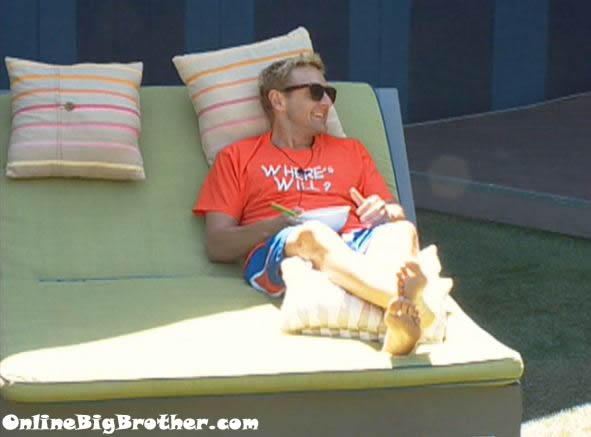 11:30am Wil, Ian, Shane, Frank, Dan, Ashley, Mike, Danielle and Jenn are out in the backyard talking about random stuff.
11:35am Mike is in the storage room with Frank. Mike tells Frank about Joe's plan to offer to evict himself in two weeks. He asks what does he think we are stupid? I just want to listen to him say it for the comedy of it. Frank says yeah watch him say as part of it that he just doesn't want to be alone with Jojo. Mike says his plan is straight up retarded. Mike leaves the room. Up in the HOH room Shane and Britney are talking. Britney says that Janelle's whole team is gullible. Shane says that if Jenn or Ian win HOH and nominate me, then I am going to lose it. Britney tells him that he would just need to win POV, or I could win the coaches comp and save you. Britney heads down stairs with her laundry.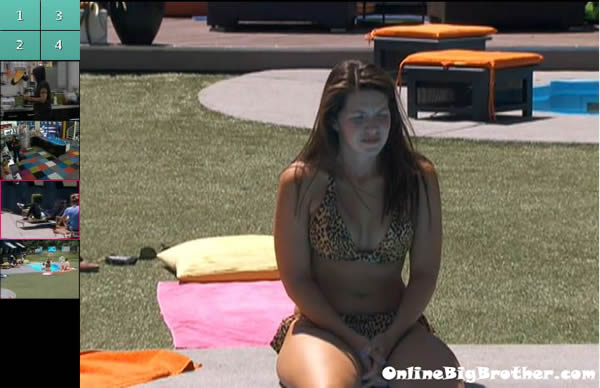 12:05pm Ian, Danielle, Joe, Britney, Ashley and Wil are out in the backyard by the pool talking. They talk about how Big Brother has all of their names pre-recorded. The conversation turns to talking about Jodi. Ian says that she walked in on him going to the bathroom. Ashley comments on how Ian is over her. Ian tells her that he is not over her. Dan brings up that Ian has a crush on a girl back home. Ashley asks how many people go to
his university. Ian says 5 grand. Ashley asks so 5000? They laugh.
Ashley tells them about how to reset your body by shaking your body and moving around. They get Ian to go up and do it with her. They all laugh as Ian and Ashley shake their bodies. They continue to lounge around the pool and talk about random things. Meanwhile in the kitchen Wil, Janelle and Britney are talking about New York.
12:40pm Out in the backyard they bet Ian can't climb into the metal ball in the yard. Joe says that it is mathematically impossible. Ian takes the challenge and climbs inside it.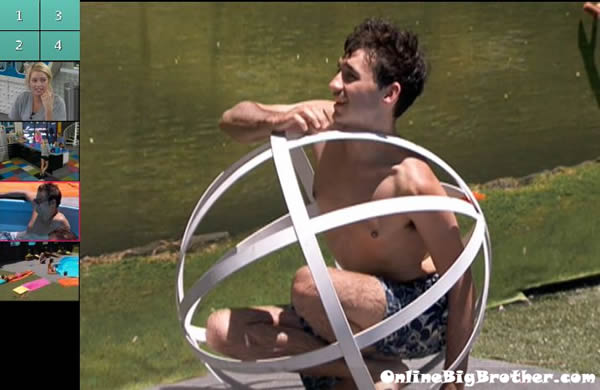 12:45pm – 1:45pm The house guests are having a relaxing Sunday. Not much going on, no game talk.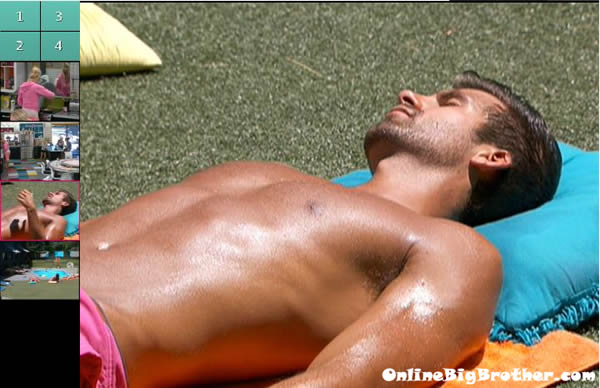 2:15pm Dan and Joe play a game of beach volley ball against Ashley and Frank.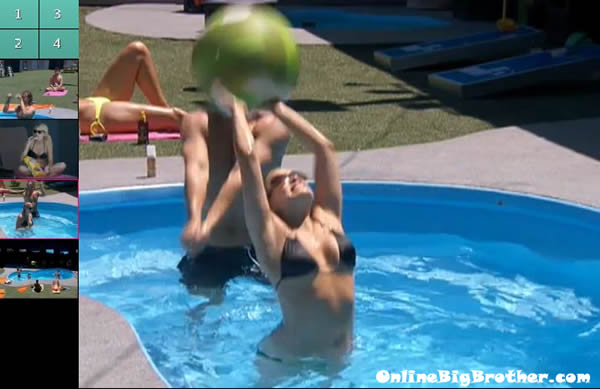 Watch what happens, AS it happens: Big Brother 14 Live Feeds! Subscribe today for your FREE 3 DAY TRIAL!
2:40pm Frank tries to one-up Ian by showing him that he can fit in the metal ball too!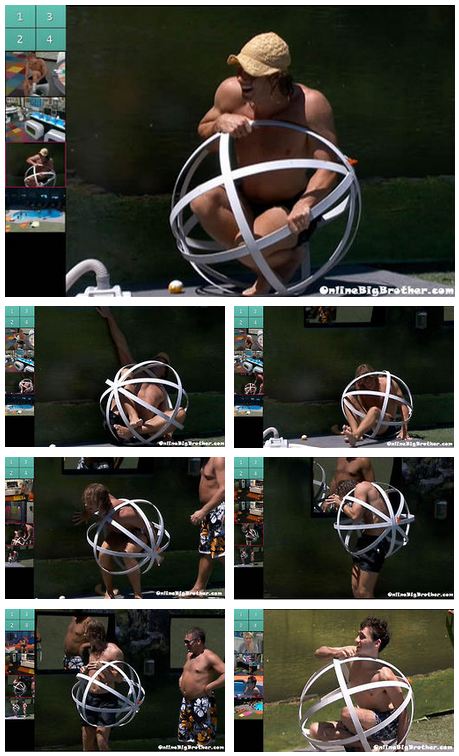 Share it YO!
Tweet