POV Holder:
McCrae
Next POV
June 27
POV Used
Yes
POV Ceremony
June 29th
HOH Winner:
McRae
Next HOH:
Wed July 3rd
MVP:
Elissa
Original Nominations:
Candice, David, Jessie
Current Nominations:
Jessie, Elissa and David
Last Evicted Houseguest
?
Have Nots
Andy, Elissa, Jessie, Howard, Helen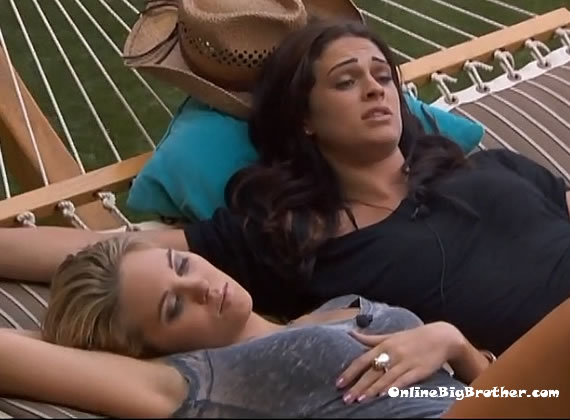 7:40pm Cam 1-2 Aaryn, Gigi and Kaitlin
Kaitlin: "Elissa the crazy B!tch cornered me.. dude she never corners me.. she asked me Is Jess hooking up with Jeremy"
Aaryn: "Oh she's trying to stir up Sh!t"
Kaitlin: "I told her I know that she likes him it's ok go ahead flirt with him.. she was like WHAT"
They all agree that Amanda is on the dark side now..
GiGi: "definitely dark side Candace is already on the dark side she's already dark"
Aaryn: "Be careful what you say in the dark man you won't see the b!tch"
Gigi brings up her DR session earlier today. The DR told her someone said she was swinging her microphone around.
GiGi is certain that it's Helen. Apparently GiGi was swinging it around last night and Helen "Left in the middle of it"
Kaitlin: "She's a complete nut job"
Aaryn: "complete Nut Job"
They do not trust Andy anymore after the conversation with him in the hammock last night.
7:50pm Cam 1-2 Amanda and Kaitlin Hammock
Amanda and Kaitlin Hammock
Kaitlin: "Do you have underwear on?
Amanda: 'Ya I do my V***** is eating it though"
Kaitlin brings up what Elissa told her about Jessie and Jeremy hooking up. Amanda agrees that she's just trying to stir up shit.
Amanda asks her if she would be mad if Jessie and Jeremy really did hook up.
Kaitlin :"I really don't think so "
A: 'C'mon really! be honest"
K: "YA I'm seriously a different breed than him.. if he would hook up with Jess I would cut him loose.. he has to make that decision.. he's a big boy."
Amanda asking how big Jeremy is.
Kaitlin: "When we were spooning"
A: "He poped one"
K: "1/2 mast but.. I don't think it was really that big.. maybe i've just had HUGE d****'s in my past".. Sorry dad.. i'm so sorry Richard"
A: "McCrae has a kickstand… I'm like damn why do I have a boyfriend"
Amanda thinks Howard might have a sml P*****
Kaitlin: "there is no way Howard has a sml p*******"
A: "you don't know that"
K: "I've never seen a blk d**** in my life.. I've seen the black mamba online"
A: 'Who are we gunning for after this"
K:"I have no clue.. "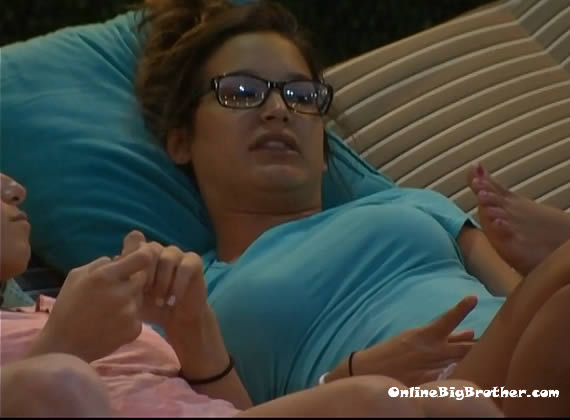 8:16pm Cam 1-2 Hammock Jessie, Amanda and Andy
Jessie is talking about the day when her and Jeremy were flirting together and then she found out that night Kaitlin and Jeremy had slept in the same bed. Amanda pours fuel on the fire saying "I can't believe she flirts with him in front of you"
Jessie explains that Jeremy told her he wasn't interested in her and wasn't looking for love on the show.
Jessie: "I still think he's freaking adorable.. he's a cutie"
Andy: "I just wish I had a ragan fox in this house"
Andy: 'I think you are in a really good spot right now"
Jessie: "I just hope the house doesn't put me up next week"
Amanda: "I don't see that happening"
Jessie tells them she's heard Helen is on Aaryn's sh!t list, "she's got a short fuse"
Amanda asks Jessie if she is allied with Bieber fever (David, Jeremy, Aryn and KAitlin)
Jessie says no
Andy says the plan is to get rid of Elissa but the following week "The line has to be drawn"
Jessie: "Nick and GIGI are a pair now.. "
They all agree it's odd.
Andy: 'He's an odd duck for sure"
They all agree they shouldn't talk game with Nick.
Jessie: "The other thing about NIck is he never does anything without a purpose"
Andy: "Why is he getting called in other DR 5 times more than I do"
Jessie: 'Sometimes I get the impression that he's MVP"
Amanda: "I do not feel too safe with him in the house"
They all agree it's hard to make a connection with Nick.
Andy: "everyone has shown me a side of their emotion except for him"
Andy: "Everything about him is plain.. what got him here.. everyone else has a story"
They all say "I want him out of here. Jessie adds that Nick is strong so they will have to BD him or use a MVP
Amanda leaves
Andy tells her that Helen is not allied with Elissa at all. Jessie says she really likes Howard she thinks it's like having a personal life coach.
Andy: "one thing people need to get in their heads is friendships and Alliances are two separate things.. I could be talking to Helen as a friend and not making some super alliance"
Andy says he doesn't talk to Elissa very much, "she has so little to say"
Jessie: "she can barely complete a thought"
Andy: "ya totally "
Candace joins them.. Andy says they need to work out a system
Andy: "Girl you need to drop that.. seriously"
Candace: "why should I be scared or something.. "
Andy: "Girl drop it"
Candace: "I guess"
Candace doesn't understand why someone can mess with her game and she's suppose to let it go.
Gymnastics..
9:03pm Cam 1-2 Beiber fever Backyard
They are commenting on how the entire house is up in the HOH now.. Jeremy: "We're the only ones that like to have fun"