POV Holder:
???
Next POV:
Aug 4 (Saturday)
POV Used
???
POV Ceremony
Aug 6 (Monday)
HOH Winner:
Danielle
Next HOH:
Aug 9
Original Nominations:
Wil and Frank
Current Nominations:
Have Nots (Cereal & Salmon)
Last Evicted Houseguest
9:24pm Cam 3-4 Dan and Janelle Watch with FlashBack FREE TRIAL!
Janelle wonders if they can get Boogie to throw the POV and side with them. Dan doesn't think that will happen, it's not worth even asking him. Janelle asks who Danielle will pick for POV, Dan says Shane he's got a good chance to win it.
Dan wonders why Boogie was shocked about the nominations. Dan: "If I am Boogie and I see the nominations I start to think why did that happen" Janelle mentions that she would think that Dan was trying to save her. Dan doesn't think that even was on his radar he thinks Boogie see is as Dan is trying to backdoor him. Janelle: 'Then we need to talk to him"
Janelle wants them to confront Boogie and tell him to drop Frank and join up with the coaches. Dan saying that Boogie won't even look at him right now so if Janelle wants to talk to Boogie and set something up she'll need to spearhead that. Dan: 'He's very salty right now.. was he like that on season 7?"
Dan: "Does boogie want to go home?"
Janelle: 'Yes.. he told me last night he wanted to leave"
Dan: "Maybe I overestimated him as a player.. why didn't he even come up here to talk to Danielle"
Janelle saying if Frank leaves on Thursday than he can join them and slide back into the game. If Frank and him stay then the entire house will be gunning for them again. The bottom line is he needs to cut Frank loose. Dan: "He's clearly isolating himself from the rest of the house"
Janelle says that Boogie doesn't like to ally with females inside and outside the game. Janelle: "He lived with a bunch of guys until he was 40"
Dan: "If Dr.Will was here what would he say to Boogie"
Janelle: "Leave Frank he's a lost cause"
Wil comes in for a second to grab something. looks pissed at Janelle.
Dan: "I've never seen so many emotional players"
Janelle: "at least trixie is normal.. and loyal"
Dan laughs" I won't say normal but loyal yes"
Janelle: "whatever we tell Boogie goes to Frank than the entire house" Dan knows he thinks Janelle should hint at things to Boogie and let him piece it all together "Say you know the nominations were set for a reason"
Janelle bashes Boogie calling him a shitty player and nothing without Will
Dan wonders why Boogie is so into Frank.
Janelle: "He's addicted to a relationship with a straight male. "
Dan says the longer those two stay in the game together the tighter they get.
Janelle points out that their chances to win this game goes down drastically if a coach leaves.
Dan wants Janelle, Shane and himself to go into the Power of Veto that way they have the best chance to win it. They decide to talk to Boogie the second he's not glued to Frank.
10:04pm Cam 1-2 HOH Britney and Janelle
Janelle saying they need to get at least 3 coaches into the Jury that is the only chance they have at winning the money. She wants to pull Boogie in with the other coaches. Janelle asks her if Shane will target the coaches. Britney says no. Janelle wastes no time slamming Boogie calling him a stupid player.
Britney points out they need to get a meeting with all four of them together. The problem is Frank is always with him, "He's in love with Frank"
Janelle: "He falls in love with Men all the time"
Janelle: " hate Frank so much.. He's worst that Cappy because he's a better game player" (Hate is a pretty strong word to use.. Frank is actually a decent guy He just doesn't have the HOH so no need to be nice to him. I'm not a big Frank fan but he hasn't done anything to warrant hate)
10:20pm Cam 3-4 Britney in Hottub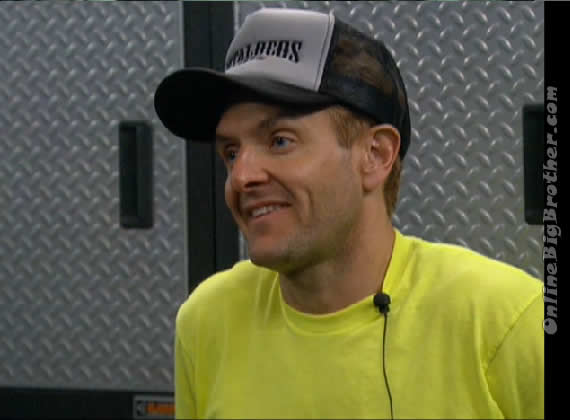 10:32pm Cam 1-2 Dan and Boogie Storage Room Watch with FlashBack FREE TRIAL!
Dan: "what's up you pissed"
Boogie: "ya I'm a bit perturbed.. you surprised?"
Dan: "ya I am because I hope you can see with the nominations for what they are"
Boogie: "II feel like this is a backdoor attempt"
Dan: "II don't want to go to the end with Daniele, Britney or Janelle I want to play this game with you and i've told you that from the very beginning"
Boogie: "Wait we need to take a back up because You said we were good and working together and I found out you were going to take out the guy I was close to"
Dan wants Boogie in this game not Frank because with Frank in the game Boogie and Frank will get put up every single time.
Boogie says that this smells like a backdoor because his key was in last and the only guy he's working with is nominated. Boogie cannot understand why Dan doesn't see the problem here.
Dan tells him all the coaches want to keep him in the game. the coaches want to stay close and protect themselves against the newbies.
Boogie asks Dan if he ever thought about taking out Janelle, why target Frank if they were running together in the house why choose to get rid of him.
Dan tries to explain that he knew the twist was coming in and Frank was safe
Boogie says that things really fell into Dan's lap with the twist because there is no way Dan knew that was going to happen he got lucky.
Boogie: "actions speak louder than words and all I've been is lied to in this game by everyone but Frank"
Boogie: "You guys were going to pull a real scumbager on us.. that's ok it's game play" Dan says he wants Boogie in the game with the coaches, but he feels like Frank is holding him back.
Boogie: "You are asking me to cut loose the only person that has been true to me for 3 people that lie to me"
Boogie says the exact words Dan told him when he entered the game on Thursday were
"Me and Danielle are rolling with you guys.. In my mind that means Frank, Ian, Jenn, Boogie, Dan and Danielle"
Dan says it was the heat of the moment he was excited by the live show he screwed up.
Boogie says that he knew dan lied to him and he was going to look like he had egg on his face with all of America
Dan says when they got dropped into the Game Boogie told him he hoped Frank was gone. Boogie shakes his head asks him if he really thought he wanted to play the game without Frank, Boogies says dan completely misunderstood him.
Boogie: "why didn't you put up wil and joe they have said they're going after the Coaches"
Dan: "The coaches want to come together"
Boogie :"Are you in an alliances with Britney and Janelle"
Dan: "No"
Boogie: "We were exciting to work with you and you really pulled a fast one on us.. hey thats the game"
Boogie: "Do you really want to work with janelle? seriously.. the point here is you can have the same relationship with Frank than I have with frank.. he's a beast in competitions he's a great allie"
Boogie: "the HOH wasn't even over a 30 minutes and Janelle is starting shit with britney she's a liar"
Dan doesn't want to work with Janelle he just feels like they need the numbers right now.
Boogie: 'it sounds like this fast one was your brainchild" (getting Frank out last week)
Dan: "No it wasn't.. i'm trying to protect you..In hindsight, I should have told you exactly what is going on "
Boogie: 'I feel like those are your nominations aren't they"
Dan: "no she wanted Frank and you up.. With Frank gone i'm hoping that maybe you and I can work together"
Boogie is pissed about being dragged into Big Brother under false pretenses.. if he knew he was coming in he would have played the game much differently. 'I don't like this game when things are going good.. when i feel like i'm hunted it's even worse.. I'm miserable"
Boogie tells him that he's not going to be party to any scenarios that include getting rid of Frank.
Dan: 'Do you have any interest in working with the coaches"
Boogie: "Janelle is a big liar.. do you feel like you can trust her.. all three of you lied to me in the last 24 hours" "
Boogie says the caule of Frank is clear all that flip flopping was never him. They keep Danielle safe last week when everyone was wanting her out, "Did we not forget you guys wouldn't even be in this game"
Dan asks him if he'll want to work with the other 3 coaches if they keep Frank in the game. Boogie says he would.
Boogie tells him he has no honest relationship with any of the coaches. Boogie is open to working with Dan because at this point he has no options. Ian doesn't even know how to play the game and Jenn.. Whose Jenn. Boogie is still pissed but would like to have a conversation after the Power of Veto.
11:51pm Hot tub Jenn, Joe, Wil and Ian
Wil saying that Danielle promised her safety during the HOH competition that is why she dropped. He confronted her in the storage room about it and she told him he would have to wait and see. Joe acts really surprised. Ian says they have so far lived up to their endurance comp promise. Wil mentions that today's nominations were all Dan and that Danielle is playing Dan's game.
Wil says that he's not worried about being nominated if he goes he goes.
Wil: "it was funny no coach was nominate"
Joe: "I personally think this is a back door situation.. but I do not want to see a coach win"
Dan joins them and they start talking about the endurance comp
around midnight Janelle said this to Britney about Frank "why would any women like him he's a piece of shit" (He must of harmed her in some way off the feeds or she's just a monster because she hates big time)
12:07am cam 3-4 Boogie and Frank
Boogie explaining his conversation with Dan. (read Above) Boogie basically says he never held anything back on Dan and really stuck it to Dan. Boogie's recount of the conversation is more or less accurate.
Boogie makes a point to tell him that Dan told him the Coaches are forming a group to take on the other players.
Boogie adds that he told him "If my Disk comes out of that Bag I'm playing for keeps and I'm going to use this. and do you really want A guy like Frank to be coming after you.. I woke up mad and I'm going to bed mad but tomorrow i'm going to bring it"
Boogie says if Frank leaves on Thursday he's not going to join up with Dan. If Dan wants to work with them they need to take Frank off the block. Boogie told Dan to keep Frank out of harms way and they can make a run on the house.
Boogie: "They think I'm going to cut you to roll with them.. FUCK YOU" boogie refuses to work with Britney and Janelle.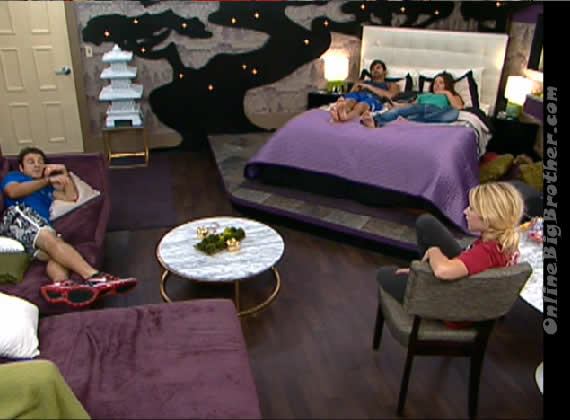 12:29am HOH Room Dan, Danielle, Britney, Shane
Dan telling them he thinks if they can get rid of Frank it'lll cripple the players and bring Wil in. He thinks if Frank stays he'll rally Joe and Wil and come after the coaches
Britney points out that Ian didn't come up and have a bath with them so it's pretty clear he's shunned the alliance. Dan says he was outside in the hot tub and he felt like he was breaking up a anti coaches meeting. Ian told him he was suppose to take a bath in the HOH today. Dan puts his hands up I thought it was just a random thing. Dan calls Ian "A little Scum bag" (Dan claims Ian rated out their group to Boogie) Britney says she just doesn't see Ian as that type of person. Dna does points out that Ian wanted to see what happened after nominations before he agreed to a deal.
Dan gets called into the Diary Room
Britney tells them that Janelle was trying to start a coaches alliance but she just told her downstairs that Boogie won't do it.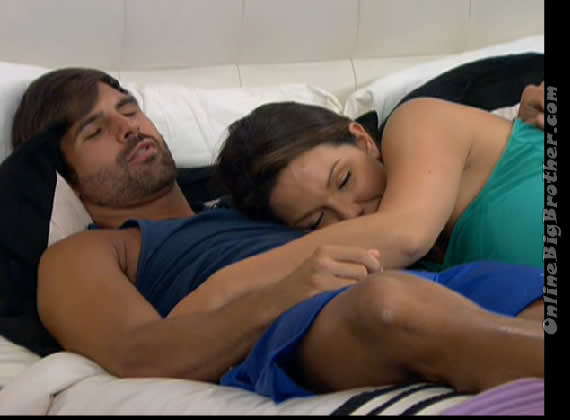 12:45am HOH Danielle and Shane getting closer
12:53pm HOH Britney and Danielle
Britney telling her that Frank, Wil and Joe are coming for her and Dan. Danielle says that Janelle is targeting her. Britney disagrees says that Janelle is targeting Joe and Wil. Britney thinks Janelle has a really good chance of winning the HOH so she recommends Danielle stays off Janelle's radar. Britney mentions that if Janelle wins HOH she'll keep the Coaches safe. She think Joe and Wil are going to be nominated or Maybe Shane
Dan comes up tells them that Joe just told him that Wil was telling people how close Danielle and Dan were. (Ahhh eagle eye) Britney: "Why would he tell you that" Dan explains that he gave eagle eye a look when he interrupted their anti coach meeting at the hot tub.
12:59am Cam 3-4 Jenn, Ashley and Wil
Wil telling them that the coaches are working together they need someone who is not scared of the coaches to win HOH and take out Dan.
AShley says something about having to wake up. (lots of whispering about the coaches being an alliance) They still think Shane is close to his britney and Danielle is super close to Dan. Wil mentions he saw Shane and Frank talking to each other. Shane walks in and game talk ends.
1:24AM Cam 1 HOH Janelle, Britney, Danielle and Dan Janelle: "I've never been called a floater in my life" (Biam you're a floater)
They talk about he "Newbie" squad and whose in it. Janelle tells them that Ashley is with then. Britney says that Boogie is a lone wolf they cannot count on him.
Share it YO!!
Tweet