POV Holder:
???
Next POV:
Aug 4 (Saturday)
POV Used
???
POV Ceremony
Aug 6 (Monday)
HOH Winner:
Danielle
Next HOH:
Aug 9
Original Nominations:
Wil and Frank
Current Nominations:
Have Nots (Cereal & Salmon)
Last Evicted Houseguest
8:00pm Cam 3-4 HOH Wil, Danielle and Dan Watch with FlashBack FREE TRIAL!
Wil telling them it's OK he knows he's not the target. Wil tells danielle not to feel bad he still respects her.
danielle tells him she wants him to still come up to the HOH and Hang out with them. Wil says he will, it's just a game and he can still hang out with them all.
Danielle: "I think so highly of you.. I'm sorry"
Wil: "Don't Worry.. Give me a hug"
Wil hugs both of them and leaves.
Dan: "Ian's a rat" Dan caught Ian talking to Boogie after the Power of Veto Ceremony. Dan tells her they cannot trust Ian they'll have to see what he says tonight. Dan: "Wil wins the POV you should put Boogie's ass up"
Dan says that Boogie is pissed he looked at the fire pit the entire time, "If Mike Boogie is such a good player.. lets see him pull a rabbit out of his hat"
Dan asks her if she wins POV will she consider removing Wil as a nomination. Danielle is considering she's definitely going to fight for the POV. Dan: "Yeah of course you want all the power" Dan says that Boogie was pissed because he thinks he's the greatest player and Danielle didn't nominate him.
Britney comes up tells them the lowdown downstairs. She says Boogie is PISSED and Janelle is a bit happy but not 100% Britney explains that Janelle wants to start a Coaches alliance and work with Boogie.
Dan: "how's this for a zinger Ian's a rat.. Don't bring anything up to him.. lets see what he says"
Britney isn't sure about Ian he's coming up tonight to take a bath and he';; talk to him then.
Dan explains that Ian leaves a bad taste in his mouth especially when someone comes to you with an alliance then steps back. Dan thinks he's waiting for something better with Boogie.
Danielle mentions how when Janelle was last up in the HOH she used cheese crackers to count the votes out to her. Danielle thinks Janelle underestimates her intelligence, D "I can do MATH"
Shane comes up
Dan says he'll defer to them if they are down with Ian he's down with Ian but right now he's 50/50. Danielle mentions she trusts Wil more than Ian. Britney doesn't trust Wil at all she trusts Ian. Britney points out that Wil is after the coaches. Shane says that Wil is after Janelle and Boogie.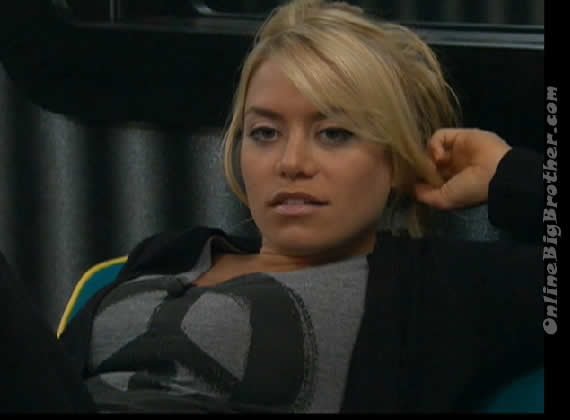 8:20pm cam 1-2 Arcade Janelle and Ashley
Janelle and Ashley talking about voting Frank out this week. Janelle is pissed at boogie.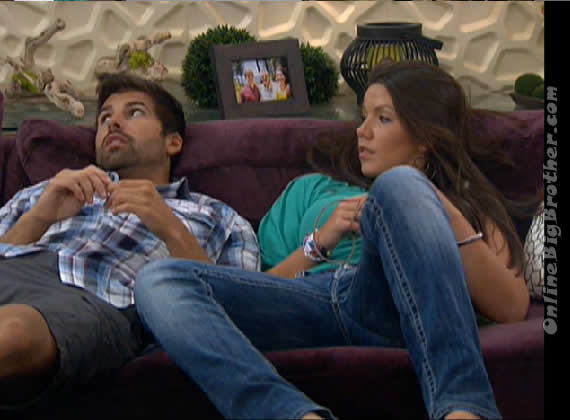 8:24pm CAm 3-4 HOH Danielle and Shane They are saying how they trust Wil. Wil has promised to keep them safe but he hasn't promised Dan and Britney.
8:25pm Cam 3-4 Boogie and Frank
Frank saying everyone in this house has lied to him to a certain degree except for Boogie. 
Boogie is pissed.. says at least this week his name will be up for the POV. 
Frank wants to tell Dan to Fuck off.. but he can't he needs to keep it classy like a gentleman. Frank points out he's been nominated three times and this time he wasn't even worried. 
Boogie: 'I'm the one that stands between him and this legacy.. you know with the books and his web chats.. he knows if he gets me out He's the winner" Boogie goes on about how Dan wants to be the guy that takes out the great MIke Boogie.. and backdoors him. Boogie says that he has a real life outside the house he's not one of those Big Brother internet nerds. (I am) 
Frank: "If I win HOH next week i'll fucking scalp him" 
Boogie: "I don't think I can live in this house for much longer without exploding on him" Frank doesn't think Dan will fight back. Boogie says he knows how to get under people's skin. 
Frank: "America.. Dan and Janelle are the biggest phonies that have ever played this game… this is real talk with Frank eudy". Mike says he probably would not have signed up for this season if he knew he was going into the game. "It's like playing 2 different games but the first one doesn't count" Frank mentions how Dan had been telling them for the last 4 weeks he wants to roll with them and he was lying the entire time. 
8:47pm HOh Cam 3-4 Dan and Danielle
Dan saying that they are in a good position for tomorrow.. Danielle: "As long as boogie doesn't get picked for POV" Dan isn't even worried that if Boogie gets picked because it'll be 5 on 1 for the veto.
Dan asks her why Britney is so afraid of Wil, he's starting to trust Wil more and more. Danielle says that Wil is targeting the Coaches and britney is freaked out about that. Dan is OK about that as long as he targets Boogie and Janelle.
Dan: 'Who do you think the first non shane or britney person that will come up here"
Danielle: "Ashley.. Janelle.. Jenn"
Dan says he would be pissed if a player like ashley or Jenn win Big Brother 14 because in his opinion they really don't play the game, 'Mind you those type players never win they may get to the end but they won't win it"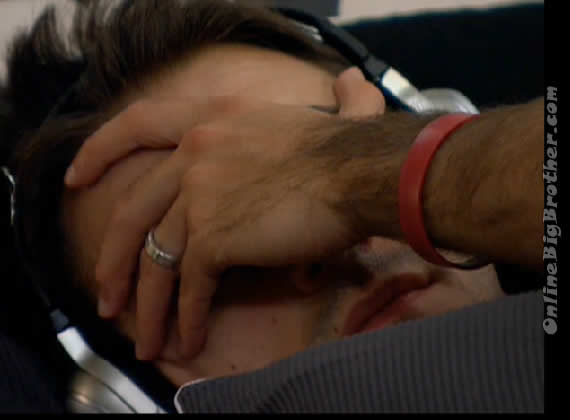 9:15pm Dan in the HOH listening to some tunes.. everyone else down in the kitchen listening to eagle eye talk about bacon.
Share it YO!!
Tweet