POV Holder:
Devin
Next POV
July 12th
POV Used
YES
POV Ceremony
July 7th
HOH Winner 1:
Amber
HOH Winner 2:
Devin
Battle of the Block Winner
Hayden & Nicole
Next HOH/ Next BOB
July 10/July 11
Original Nominations:
Devin's Noms (Pow Pow & Brittany) Amber's Noms (Hayden & Nicole)
Final Nominations:
POW POW & ZACH
Have Nots
Victoria Brittany, Zach and Derrick
POV Players
Host Donny, Players Devin, Brittany, POWPOW, Derrick, Zach, Amber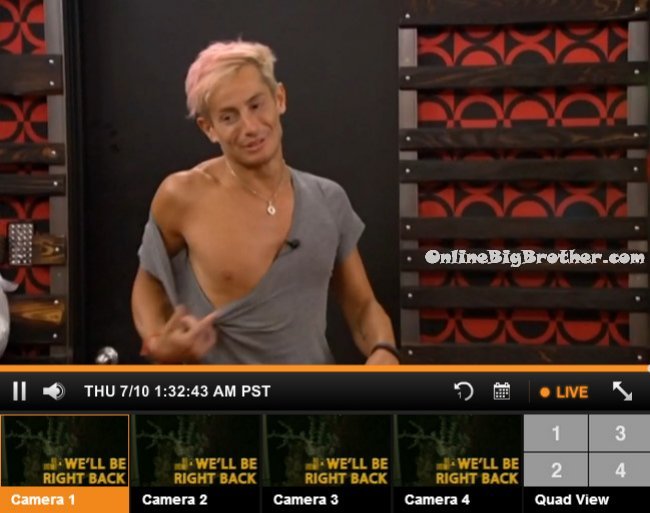 WATCH the LIVE FEEDS for FREE – 2 DAY TRIAL!
1:30am In the fire room – Nicole says that she's only ever kissed 4 people. Zach asks you've only kissed 4 people?! Want to make it 5?! Caleb tells Zach and Nicole that he wishes Amber would just say you and me date in the hammock. Frankie comes in starts doing his Claire Bell impersonation. He jumps on top of Zach and starts wrestling with him. Christine, POw Pow, Amber, and Jocasta join them and they get Frankie to do a meditation session with them. Caleb can't stop laughing and leaves the room.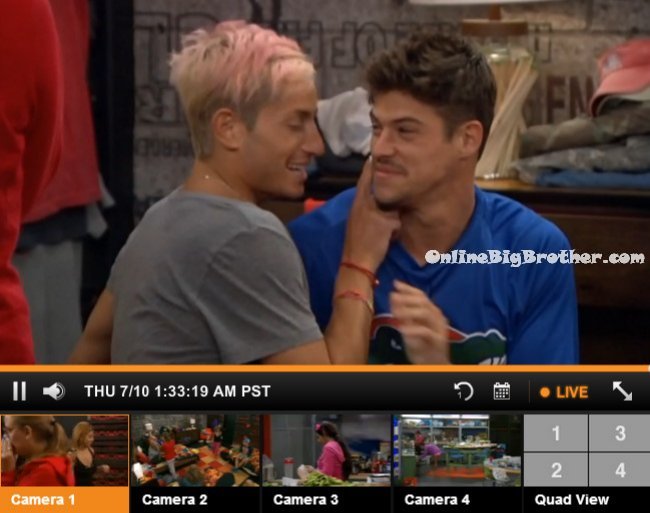 In the bee hive room – Hayden and Amber are talking. Amber says that she is going to dress up like Hayden tomorrow. She says that she'll be the girl version of Hayden. She starts practicing his Teddy Spanks impression. Amber says okay I'm waking up on the right side of the bed as Hayden. So I can't sleep with a shirt on? Hayden says nope.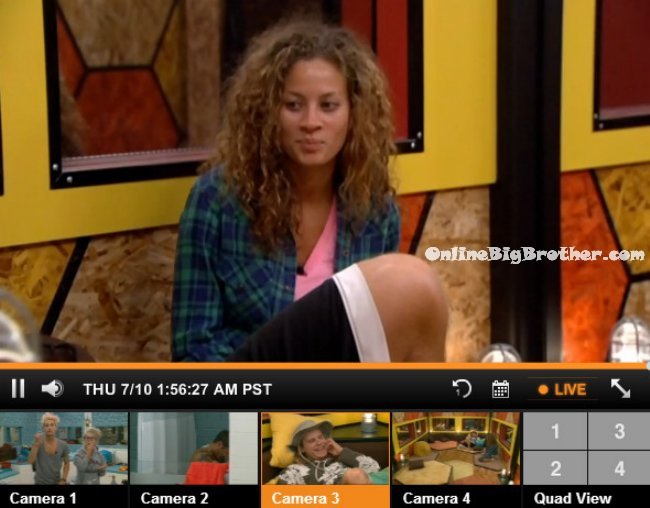 Watch the ENTIRE SEASON of Big Brother 16 for ONLY $26.99 – TRY it For FREE!
2am In the fire room – Nicole and Christine are whispering in bed. They talk about how they think Donny could be a biology professor because of all the things he knows. Nicole says Donny plays this so good. Like when I wanted to talk to him he pointed to the sky to make people think that's what we were talking about. Nicole says that she thinks Cody is the best looking guy in big brother history. She says but Hayden is the most intriguing to her. She says that Hayden tried to kiss her the other night. Christine asks what did you do? Nicole says I turned my head. They laugh. She says he kissed me on the cheek. Christine asks I wonder if Cody is going to try and kiss someone. Nicole says he misses some girl from home. Nicole says he is the flirtiest guy in here. Christine says I wouldn't trust him as a boyfriend. Nicole says but Hayden is different. He's the sweetest person. Nicole says she is worried that Hayden will get sick of hanging out with her because he said he gets bored easily. Nicole says so I have to make sure we hang out sparingly. Nicole says I definitely not too nice in the diary room. I crack a joke or two or three. Christine says my goodbye message to Pow Pow was mean. Nicole says thank god we're not the targets. I really don't think you, me or Donny are targets. Nicole says that she hopes Brittany wins HOH because she's been havenot for 2 weeks and so that she could see her children.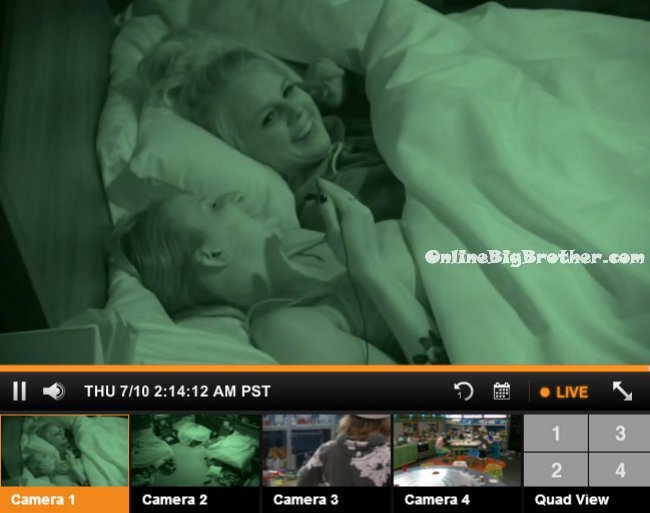 In the kitchen – Caleb says if I win HOH I am going to put Devin and his 3 personalities as havenots. Hayden and Jocasta talk in the hive room. He tells her about how he was forced to be a part of the bomb squad super alliance. I had to say yes. Its not like it was real any ways because it was just Devin forcing everyone to be together to get people out of the house. It was Devin saying you have to be in it or you'll be voted out. Jocasta says that people came to her before Devin told her about the alliance. Hayden says I was brought into it 2 days ago and forced into it. Hayden says I do feel like I play a trustworthy game and try to be as honest as possible. Jocasta says I feel bad that the just threw you in there with the wolves. Hayden then talks to Brittany and tells her what he told Jocasta. Brittany says if I leave before Victoria and Pow Pow I would literally die! The past couple days I've gotten closer to Nicole and Christine and I love them.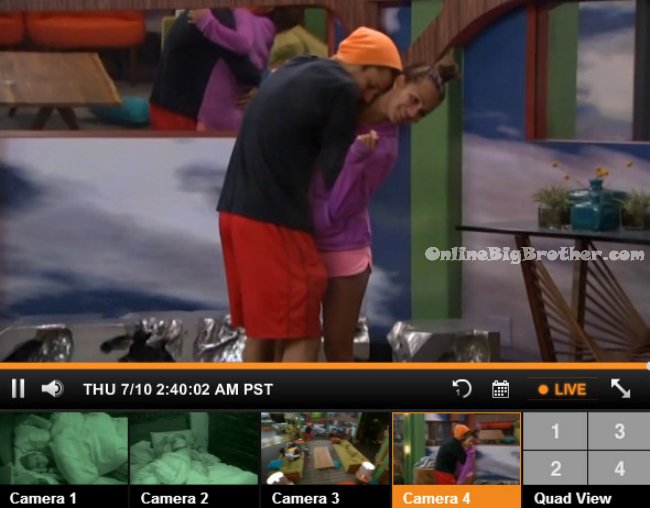 2:45 – 2:55am In the living room – Derrick and Jocasta are talking on the living room couch. Derrick tells her that he respects her game. They talk about the drama with Devin. Derrick asks how do you go from hating and wanting someone out to using the veto on them and having a crush on them. Cody, Caleb< Amber and Brittany join them. Cody heads to bed. Everyone leaves but Amber, Caleb and Derrick. Derrick comments that too many people are going into that room (Hive room) talking about what happen the other night and their sharing more than they have to. They're giving more information than they were even given. Caleb says its all right its over. [gallery ids="89709,89710"] 3am Derrick whispers to Brittany in the havenot room. They talk about how Pow Pow is trying to swing the votes. Derrick says it doesn't matter any ways because she is going home. I am voting to keep Zach here 100%. Brttany says I don't think Cody is working with them. I trust Cody. I think Caleb is going out of his way to act like he isn't working with Devin. It makes no sense him saying that he would never put Devin up. Derrick says I think Caleb will vote with the house. The wake up Victoria. They talk about what the HOH competition will be like. Derrick says it's not going to be difficult tomorrow its going to be pure luck. Brittany says one of us is winning HOH. Derrick says if Pow Pow goes that's one less number for them. And if Devin doesn't win next week he goes home.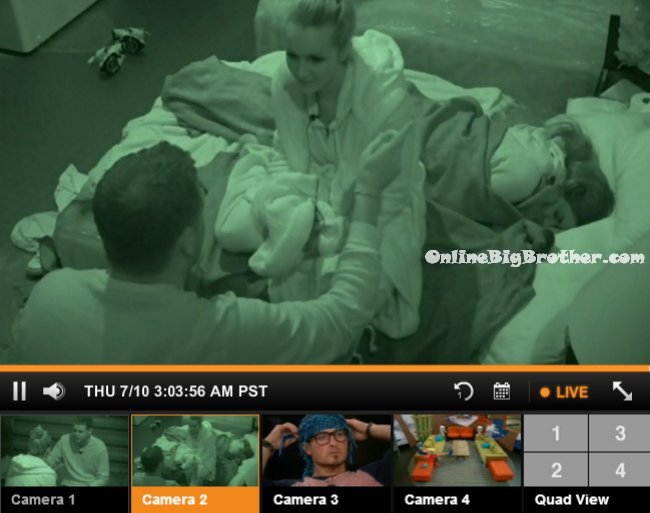 3:30am – 4am In the living room – Amber, Caleb and Pow Pow are talking. Amber asks Pow Pow if she will give Zach a kiss if she goes tomorrow. Amber says I am going to ask Zach the same thing. Pow Pow says that she would do it. Amber asks how would you do it? Pow Pow says I would grab his butt first! They all laugh. They think it would be better if Zach doesn't know to see his reaction. Pow Pow says she thinks Frankie would be heart broken. Amber says no, Frankie doesn't like him like that. They just joke around. Amber suggests we practice it. Caleb jumps up and says yeah lets practice! Amber asks really!? They start talking about Donny. Amber says that she and Donny never talk game. She says when she first saw Donny it was love at first sight.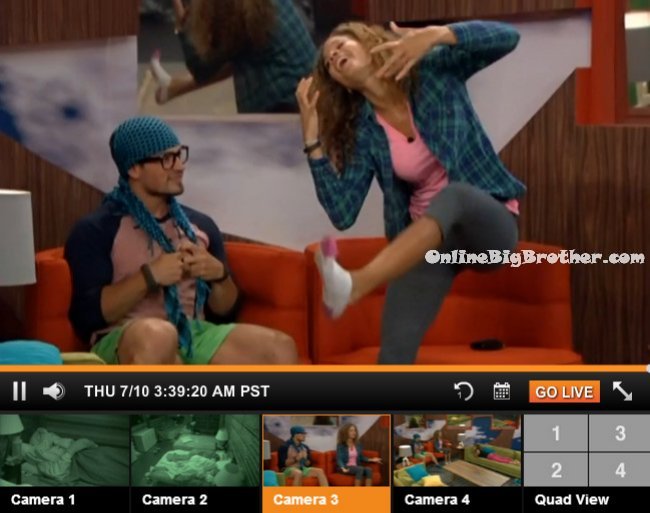 4:35am – 5am Pow Pow asks who Caleb would rather stay. Caleb says for game Zach and for personal you. Pow Pow says damn. Do you think I'm going home? Caleb says I don't know. No one tells you what they're going to do because it could affect their game. Amber says I am playing this game by myself now until I figure things out. Caleb asks if she's serious. Pow Pow says you can't play this by yourself. They continue to talk about random things and the head to bed.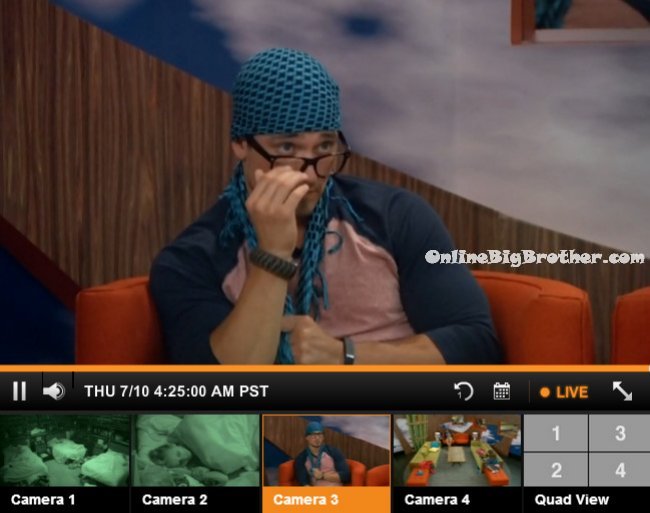 8:45am All the house guests are still sleeping….
9:45am Big Brother wakes up the house guests..
Where is the vote
Zach staying POWPOW leaving it's on lock

[polldaddy poll=8164185]
[polldaddy poll=8176232]