POV Holder:
Donny
Next POV
July 4th
POV Used
?
POV Ceremony
?
HOH Winner Team 1:
Frankie
HOH Winner Team 2:
Caleb (current HOH)
Battle of the Block Winner
Brittany, Victoria
Next HOH/ Next BOB
?
Original Nominations:
Caleb noms (Donny, Paola) Frankie noms (Brittany, Victoria)
Current Nominations:
?
Have Nots
Cody, Hayden, Joey, Brittany
POV Players
Donny, Paola, Cody, Zach, Caleb, Victoria (HOST = Jocasta)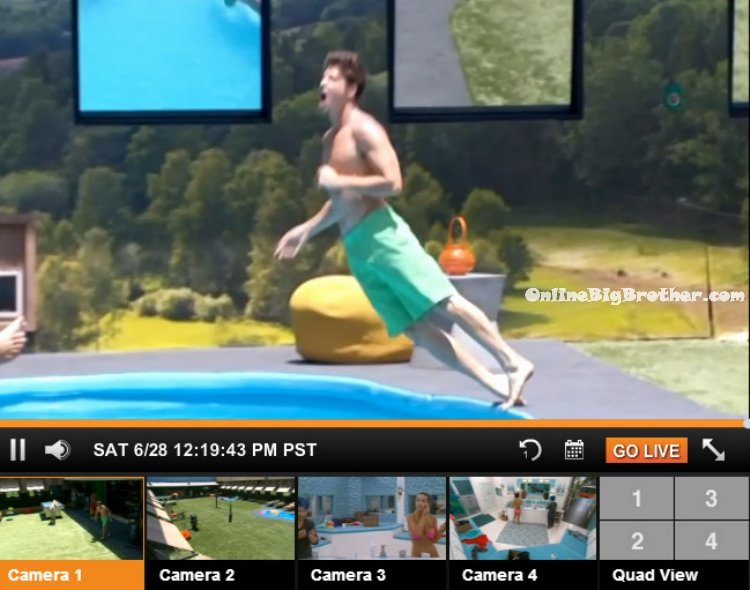 12:20pm The boys finish their laps back and forth in the backyard. Zach then goes over to the pool and falls into it. Big Brother then says there is ABSOLUTELY NO JUMPING IN THE POOL! They get out and layout in the sun. They comment on how Nicole's birthday is on Monday. Frankie tells her that he's going to make her a birthday cake. Nicole asks if Devin is having a hard time with it being his daughters birthday today. Frankie says yeah, I think he's just going to separate himself from everyone today.
Meanwhile in the bathroom – Brittany and Joey are still getting ready for the day. They finish and had to the kitchen to eat.
12:50pm Hayden walks over to Nicole and asks her if he can pour water on her. She says okay and he pours water on her from his water bottle. Caleb says I wanted to be the first showmance of the season but I got beat. Christine and Nicole ask him by who? Caleb doesn't say… he says I don't even know what's considered a showmance. Caleb says I don't have a chance. Nicole says yeah you do with Amber. Caleb says I don't think she even likes me. The others tell him yes she does, she's even walking around wearing your hat. Joey talks about how she was in the washroom this morning and Devin opened the door and freaked out. Christine says that she was outside the bathroom waiting when Devin was in there and when he came out he freaked out too. She says it looked like he was going to kill me. They all laugh. The conversation talks about videos of April & Ollie from Big Brother 10 doing it. Frankie asks if you could see anything. Christine laughs as she says that Ollie was getting really into it and the covers were coming off them.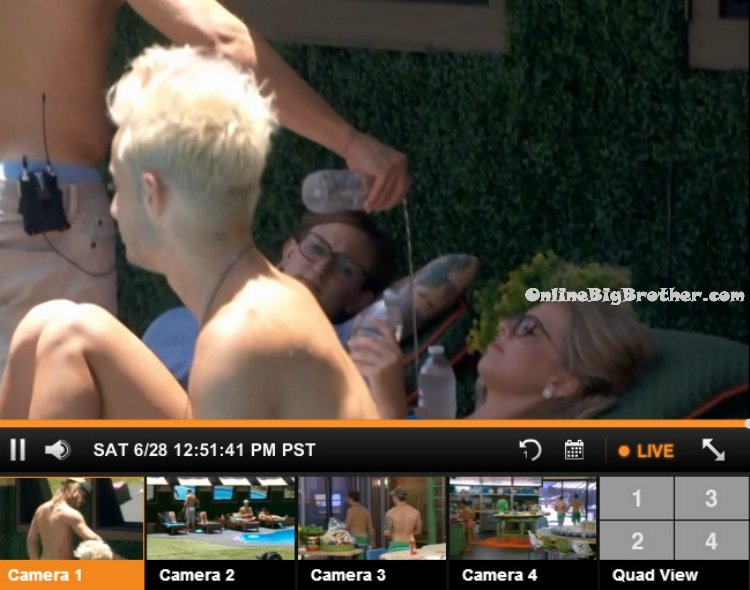 1:20pm In the fire bedroom – Pow Pow asks Donny if Caleb asked him who he should put up? She tells him that he's going around asking everyone so that he doesn't have to make the decision. Donny says no he hasn't asked me. And I wouldn't tell him any names anyway. I wouldn't let him put it on me, that's all on him. Its his decision to make. Donny tells her to just lay low and be happy. Don't question anyone or anything. Paola says okay. They leave the room.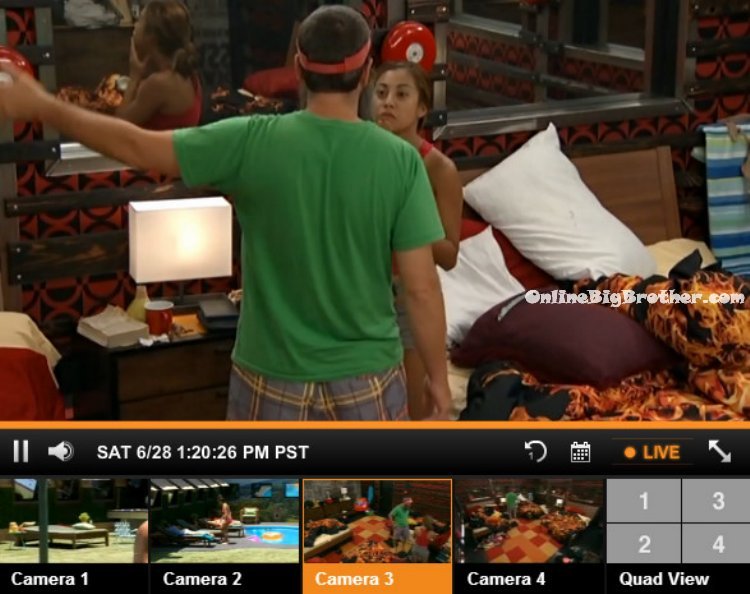 1:40pm – 1:50pm In the bathroom – Paola and Amber are getting ready for the day. Jocasta is chatting with them. In the kitchen Frankie, Donny, Nicole and Victoria are talking about music and other random things.