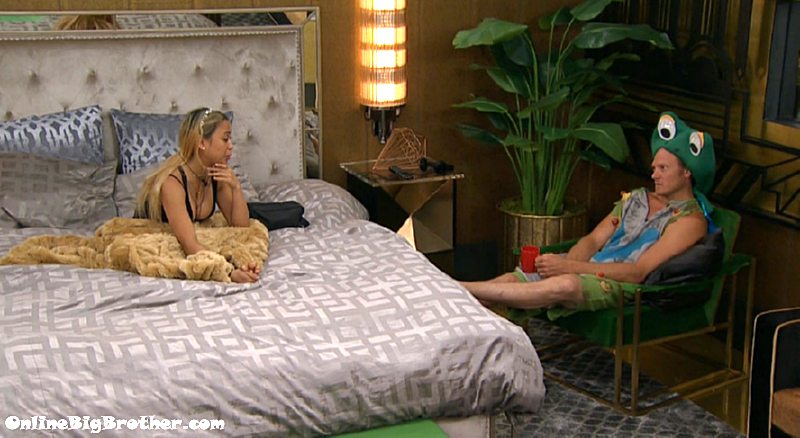 Feed subscription lets you go back and re-watch everything we post here CBS All Access Live Feeds with a FREE 7 DAY trial.

11:20am Alex and Jason HOH
Alex more or less tells him Dom and Jessica are going up, Dom is the target Christmas is potential backdoor if Dom win veto.
Alex says they have 5 solid votes; "Me, you, Ramses, Josh, Paul"
Jason – What about Kevin
Alex – I'm going to talk to him
Alex – I know who's loyal to us from the beginning.. Josh is a little b1tch , he's a good person.. Do I like what he did NO..
Alex says even if Jessica goes they've done enough damage to Dom and have built enough trust that the house might go after her the following week.
Dom comes in to shower..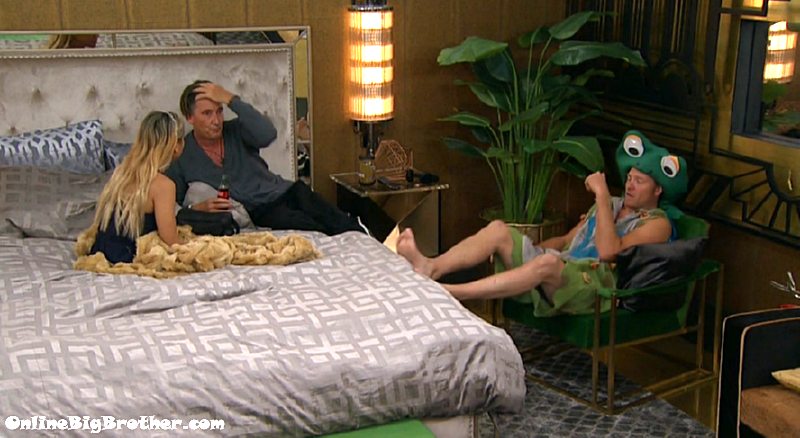 Kevin comes in gives Alex a hug.
Alex – I was up till six. (ugh I know)
Dom leaves..
Kevin – so whats up
Alex – I need you to stand by my nominations
Kevin – are they dictating things
Alex – Nope
Kevin – Ok that's all I need to know..
Kevin – I'm telling you I will never go against you.. I have a relationship with Paul
Alex – I trust Paul..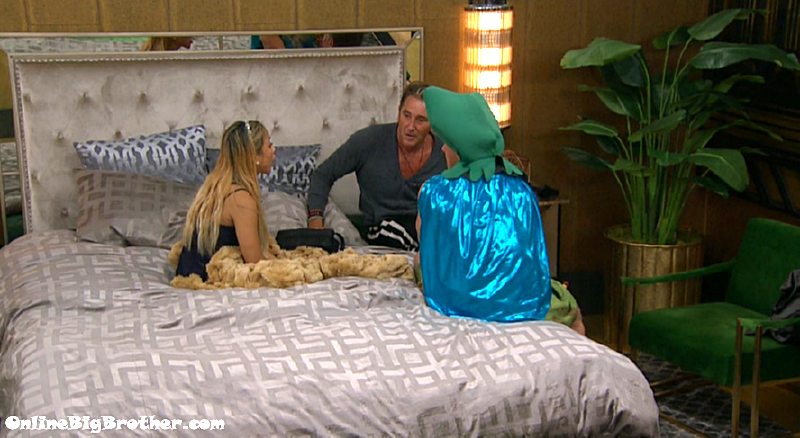 Kevin – Some people they just irk me man..
Kevin is talking about how some people in the house worship . Says Paul will tell a joke that's not funny and they're certain people that will just laugh. (Raven, Matt, Mark, Elena)
Kevin brings up the Houdini death argument he had with Paul last week.Says Raven was acting like everything Paul was saying was right. Kevin swears he knows the correct way Houdini died. Just last year his son did a project on it and they read a book on it. (this is funny he brings it up because it was a perfect example of Paul worship. 5.38pm)
Paul joins them. They chit chat.. Paul heads to the bathroom.
Kevin – I tell you I trust Paul.. He plays like her (Alex)
Alex – do not tell Josh we trust Paul
Paul – I'm going back to bed.
Kevin – can I say a quick joke.. It looks like I'll have my own show soon..
Jason says Kevin's buddies back home are probably "They're laughing their d1ckhole's shut" at all the things Kevin is getting into on the show.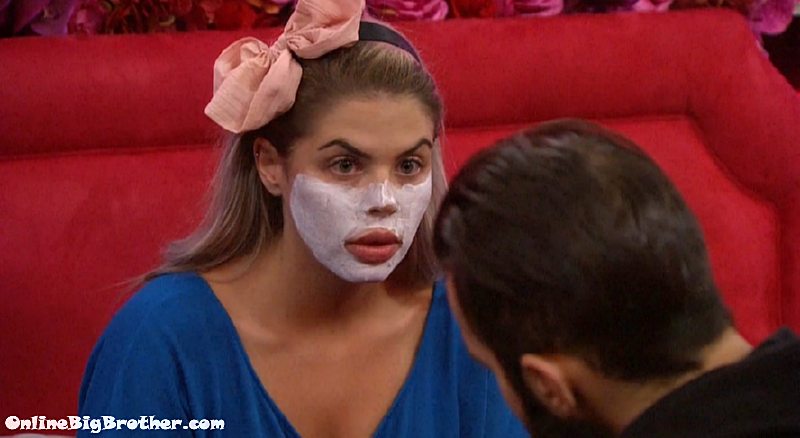 11:42am Paul and Elena
Paul – Mark is good.. D not so much
Elena says Dom thinks the lord spoke to her about being nominated.
Paul – God is not helping you in Big Brother. That's a little bit silly
Paul – he's got more important sh1t to worry about than Big Brother
Elena explains it's more like Dom will feel like reading a verse and within that verse she figured out she'll be nominated.
Paul – I'm pretty sure she's (Dom) going on the block and that entire side of the house wants her out.
Paul says once Dom goes on the block they'll see how she handles it.
Paul thinks something is up with Dom.
Paul says there's 5 votes that want Dom out. IF they decide to battle the other side to keep Dom they might be risking too much.
Paul says they can saw next week they'll win the HOH but they can never assume anything.
Paul says during their season they all thought Corey was dumb like a pumpkin but he won a mental competition and shocked them all. (we all thought he was gay as a pumpkin) Stresses that anything can happen.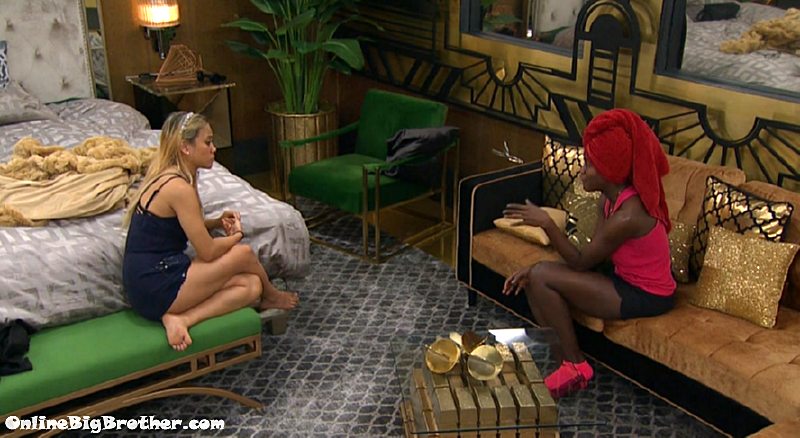 11:50am HOH Dom and Alex
Dom is saying she never voted Ramses..
Dom asks if anyone has planted that seed that it was her who voted out Ramses.
Alex says no.
Alex starts hinting that she wasn't Christmas up but can't put her up when she never got a chance to defend herself.
Alex says Ramses throw her name out a lot
Dom says she saw the kind of person he is and said it. "I called him out"
Dom says she wanted to look her in the face and let her know she voted out Cody he threw her name under the bus twice she had no reason to vote Ramses.
Dom started getting a feeling that her group would target her.
Dom says she's pissed at her group for what they said about the show. THey all told her they loved it to her face then she finds out with the exception or Paul they all had a issue with it.
Dom – I take criticism and respect criticism..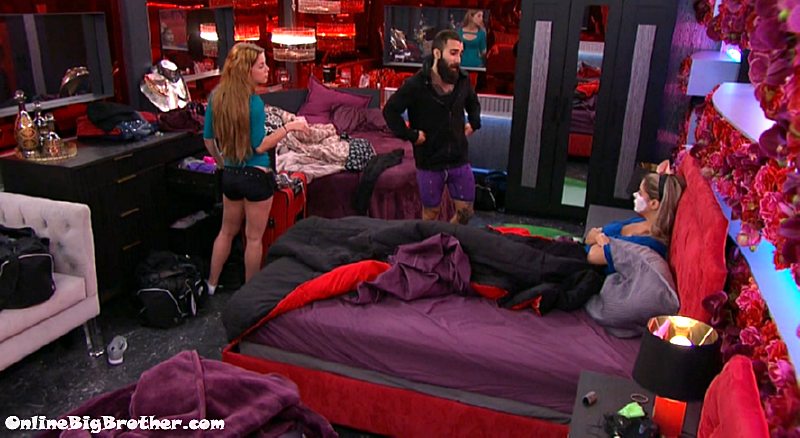 12:03pm Raven, Elena and Paul
Raven is complaining about Xmas being gone for so long is unfair.. Says that Alex was even saying she won't put Christmas up because she doesn't have a chance to talk to her.
Paul – If she's not here how do you nominate her..
Paul points out Xmas might not come back until tomorrow.
Raven – screwed no vaseline..
Elena chimes in that it screws them.
Paul says if Christmas comes back they have to make this point to "somebody" how unfair it is.
(Sounds like they don't like what's going on with Christmas)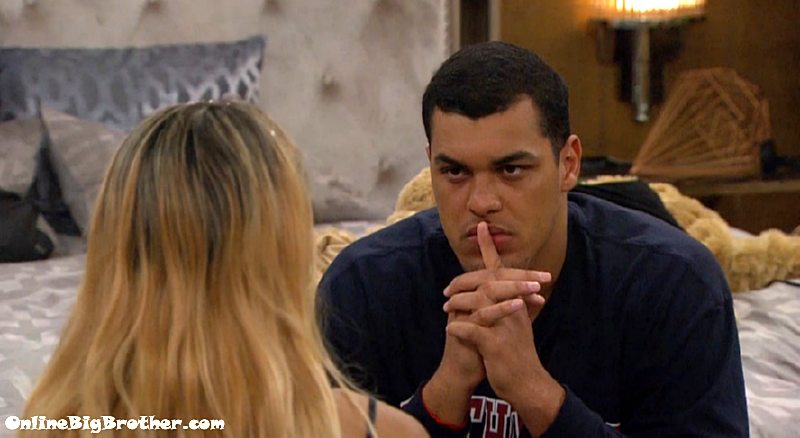 12:06pm Alex and Josh
Tells him they are taking a power shot but she needs him to back her up this time.
Josh is worried they can't get this person out if they are on the block with Jess.
Alex says she can get the votes
Josh – I trust you
Josh goes on about screwing them with the week 1 vote and how he can't change th past but he can move forward with them.
Josh – I'm giving you my word as a man.. From here moving forward I want to work with you and Jason..
Josh – they have us in a pecking order.. That's how silly.
Josh – how do you feel about Paul.. he doesn't lie..
Alex – keep him at arm distance..
Alex – I'm trusting you right now I'm telling you
Josh – I'm working with you
Alex – you have to be nice with Ramses.. He's snake..
Josh says they have to make a game move..
Josh is swearing up and down his loyalty to Alex and Jason.
Josh – as soon as I get power I'm putting up two of the biggest targets up..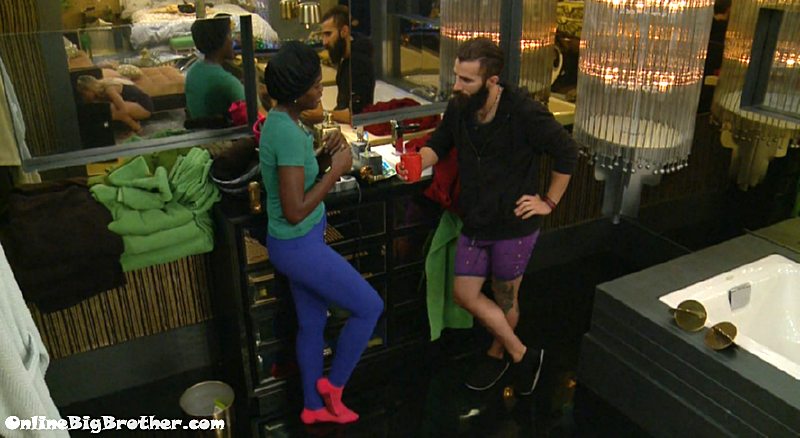 12:19am Dom and Paul
Dom says she has a hunch that someone in their group is targeting her. She's going to win HOH find out who it is and take that person out.
Paul starts complaining about Christmas being able to leave the show fro so many days. Calls it bullshit.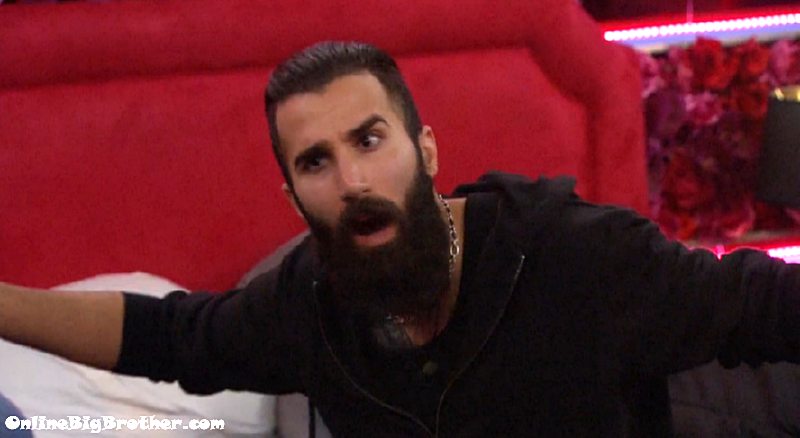 Mark and Paul
Paul and mark complaining about Christmas.
Mark – best case scenario Christmas goes home this week
Mark she's with us.. but her mouth man
Paul – true..
Paul – do we waste it on Christmas who can't compete.. yes her mouth works but we know what she's doing or Ramses who has this backwards weird agenda.
Paul – Jason is guaranteed tied into that (Ramses)
Mark thought the 3rd vote was Jason.
Paul – we don't need to find out who the third vote is..
Paul – Calling it now this week is going to be a shit show.. shit is going to hit the f*ing fans buddy
Tells him if he doesn't keep quiet Mark might get pulled in
Paul – this week is going to be a pressure cooker
Mark – As long as Jessica is on the block we can handle it.
Mark – I'm going to keep my distance with Christmas..
12:46pm No more toads.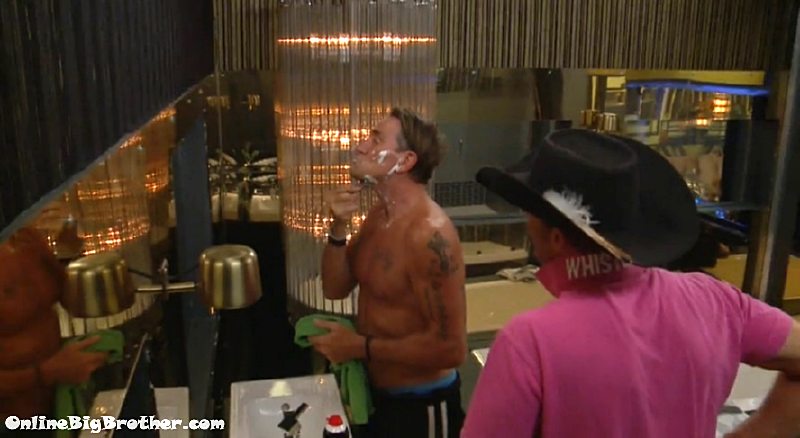 1:00pm Jason and Kevin
Jason says Jess and Dom are most likely going up. They have to make sure they vote out Dom because Jess leaving is a waste.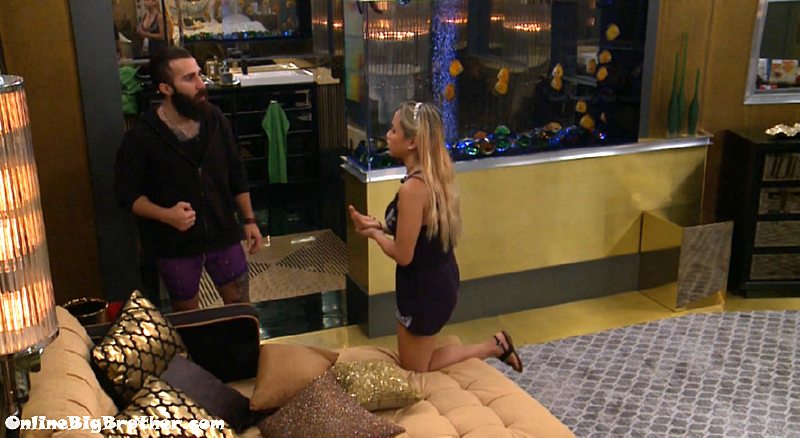 1:05pm Paul and Alex
Paul says Dom thinks someone on the inside is after her she has no idea it's him,. ewn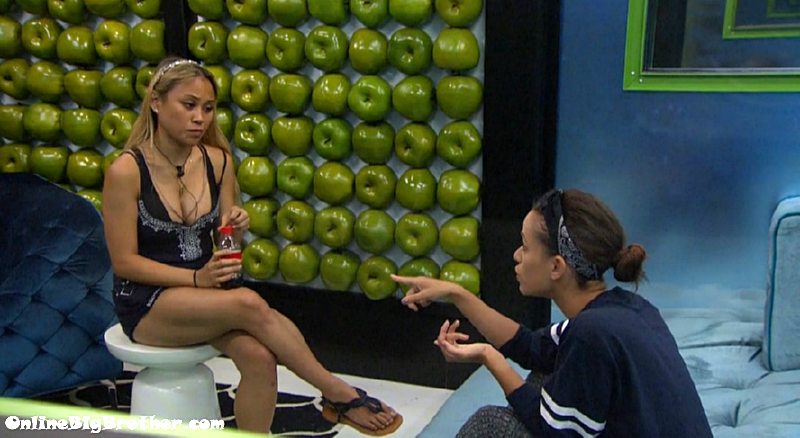 1:13pm Jessica and Alex
Jessica says if she wins the HOH she's putting two of the other side in the block..
Alex – why the f* do they want to keep Christmas
Jessica says Elena and her had a deal for the end game and Elan turned on her over Christmas.
Jessica says Raven hid her Alex's cat ears and was dumping out Alex's coke.
Alex tells her she's going to try and do Jessica a solid and flip the house. Jessica has to be quiet.
Alex – someone is going to be super salty and theirs going to be spray.
Alex says she can act mad at her and surprsied.
1:22pm
Ramses says the banner looked like Mark and Dom. That is what he thought he saw.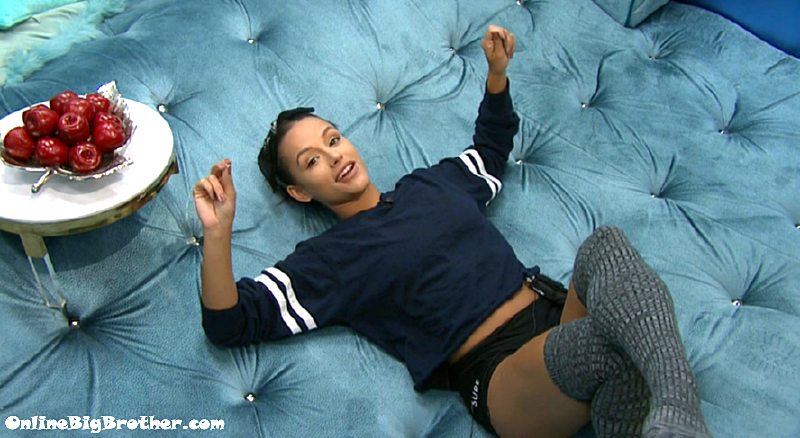 If you plan on buying anything from Amazon. Use this link Amazon home
Doesn't cost you anything and we get a small cut.
Links to the ranking system
Rank your house guests here
For those of you that like Statistics here are some expanded reports.