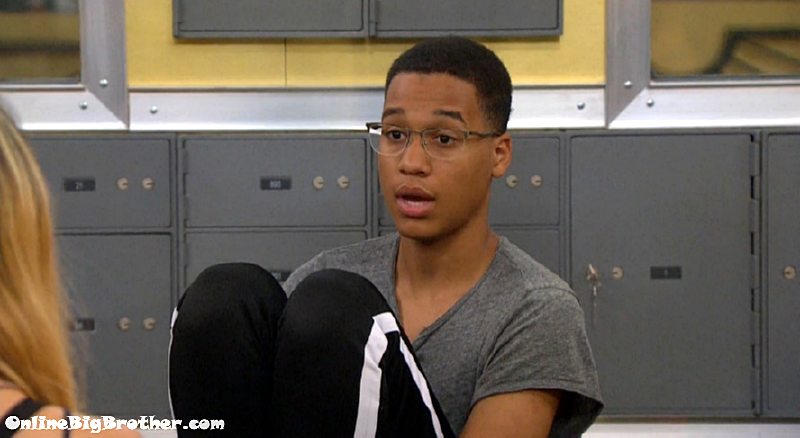 Feed subscription lets you go back and re-watch everything we post here CBS All Access Live Feeds with a FREE 7 DAY trial.

1:48pm Ramses and Alex
Ramses said he's learnt that someone is saying that he's throwing Dom's name around.
Alex says Dom is doing that herself to put the target on Ramses.
Ramses says ever since yesterday Dom has been shitting bricks.
Ramses – Raven is kinda nervous too.. Which I love cause they need to feel the heat for a week or 2
Ramses says Dom called him out about the banner plane. He didn't talk about the banner plane because production told him not to.
Ramses says the banner plane clearly said Mark.. the rest was obscured from smoke but he thought it said DOM. They have no idea if it was game related or not or what the whole banner said.
Alex says he's safe this week, you're not my target there's other people that need to be taken down.
Alex says her agenda is to find out the 2 people that voted Ramses to "Stir the pot" She thinks she knows one.
Alex says as long as they stick to their plan and nobody flips they can turn things around.
Ramses – do you trust Josh ..
Alex says Josh is more angry against other people like Jessica.
Ramses – I was the target to go home this week.. On their side..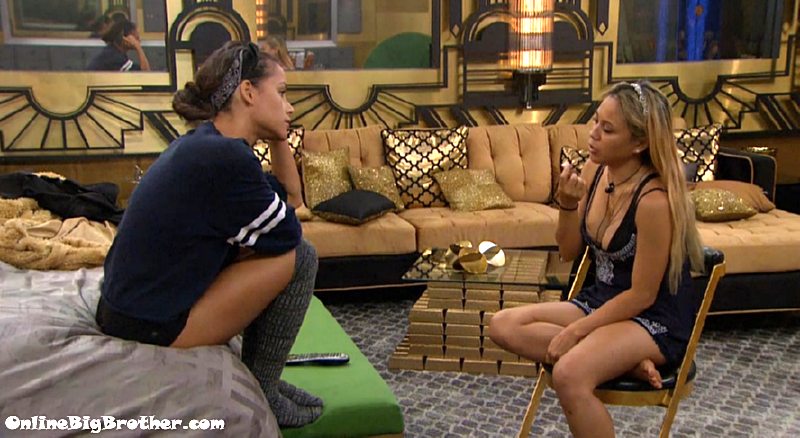 2:07pm Jessica and Alex
Jessica says the only way to get the numbers is to backdoor one of them and make sure two of them are up .
Jessica – Kevin, Josh, Ramses, and who would be the other two
Alex doesn't want to name names.
Alex says she has 5, it's like what they had with Cody. Alex highlights the only difference is the people this time are solid.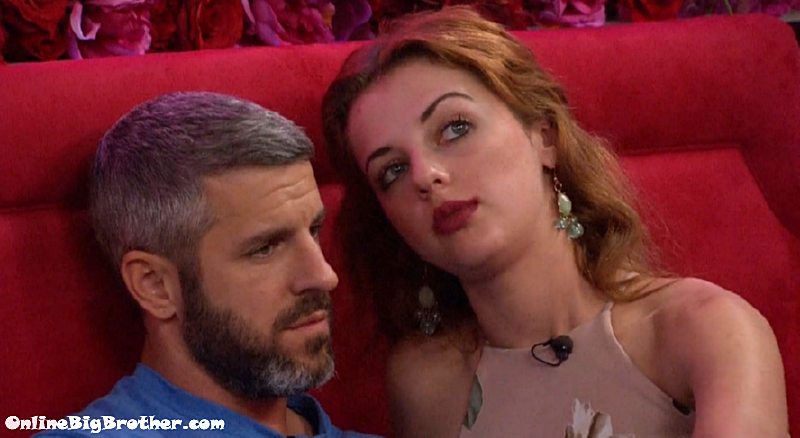 2:14pm Matt and Raven
Raven says after nominations things are going to be bad. They will have people running up to them asking them if they knew.
Matt – Nope
Raven – Nope
Mat says protecting her is his number 1 priority.
Raven says Mark needs to control his emotions. Says he's been moping around all day.
Raven – chill the hell out eat some chicken.
Matt says he never knows what the situation is with Cowboy so he's not going to try.
Matt says he would prefer Paul start focusing more on his own game than that of the group. Matt really appreciates what Paul did. Making the big move to get out Cody.
Raven – he was like look.. I don't want to win this game
Matt – neither do I
Matt – If you, Paul and Elena, get kicked out of this game yes I want to win.. Sure… that's not what I'm here for . (You're pathetic)
Matt – the chances of that happening are very slim
Matt – as long as the 3 of you are in I'm good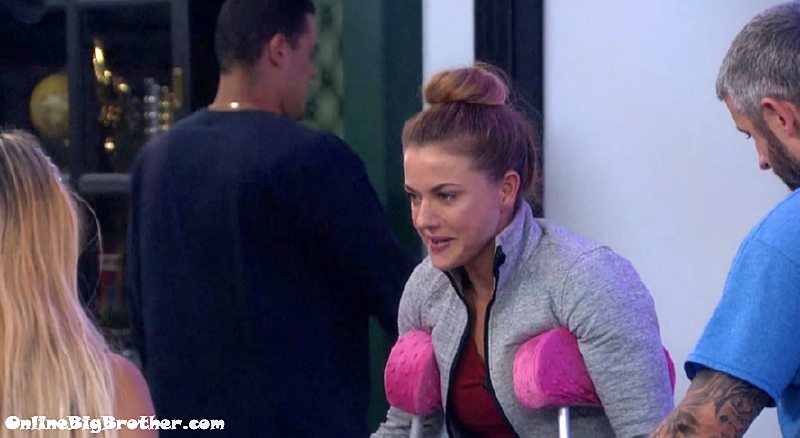 3:09pm Christmas is back.
Christmas – I feel like I've been gone forever.. I need updates..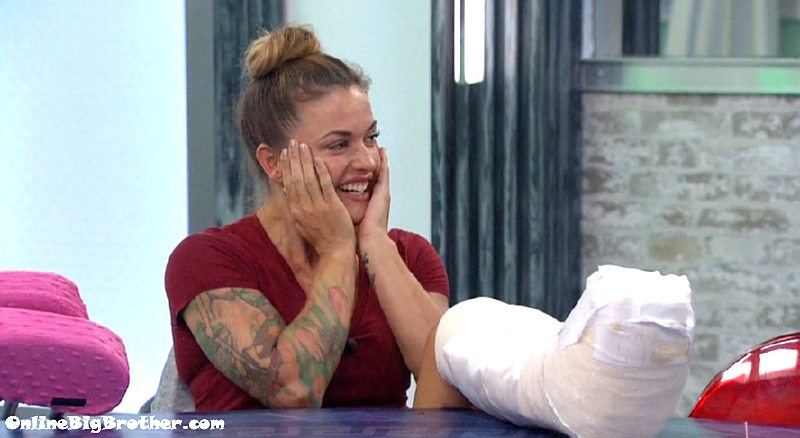 3:29pm
Christmas talking about how much pain she's in.
Christmas – ths has to be elevated as long as possible.. Minimum 6 weeks in a cast with an additional 3 weeks if needed.
She says she had a donor bone put in.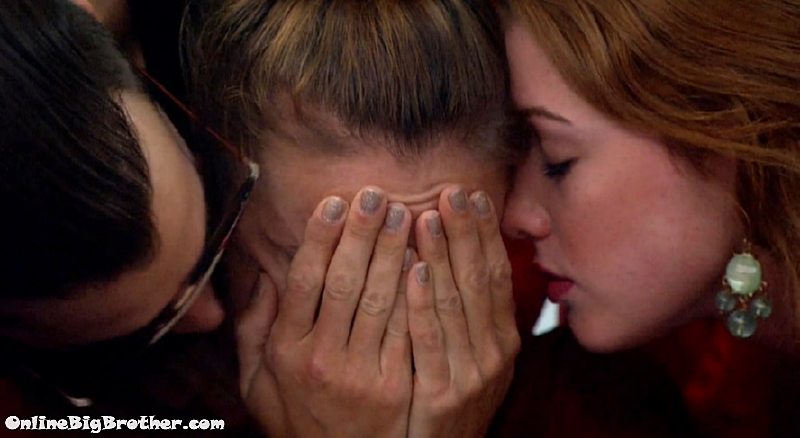 Christmas starts to cry… "it'll take about a year to recover.. Arthritis will set in in 3-5 years.. And i'll have to have another surgery to fuse everything.. "
Christmas – I'm retired from athletics now..
Christmas – don't feel sorry for me just help me out..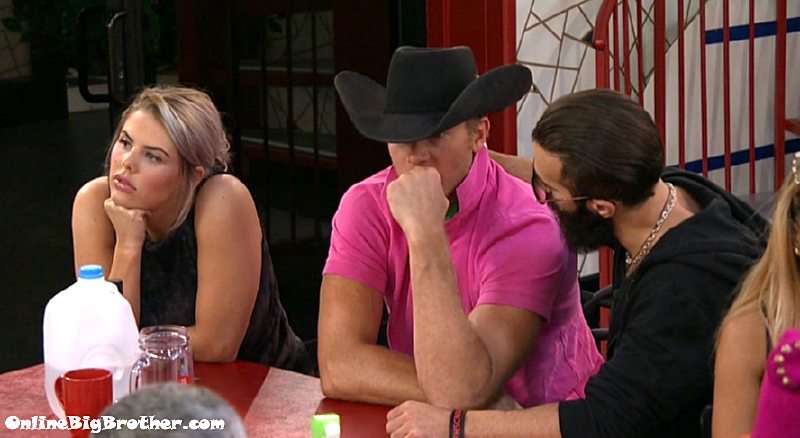 Paul comforting Jason.. Who's upset as well..
Dom approaches her and says they know God.. several stories that exist that show you if you stay strong and you challenge to beleive different… (Good god this season..)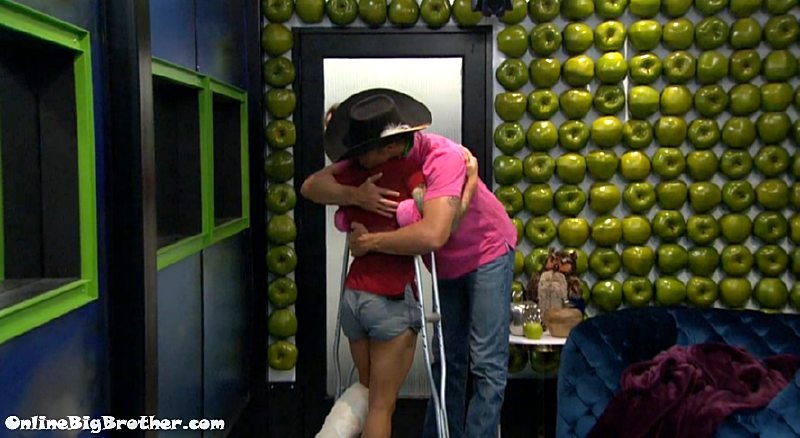 3:28pm Christmas and jason hug
Hard to hear but she doesn't want him to feel back she was the one that jumped on his back.
Christmas – this was god's plan..
Xmas – do not lose sleep over this do not carry any guilt..
Xmas – I've been through so much sh1t you can't imagine..
Jason – your toes look really good.. They're colourfull.. Will there be some big ol' ugly scar.
Xmas – who cares.. I was riding a cowboy in the big brother house
Christmas – if you cross that line I make a honey badger look like a hamster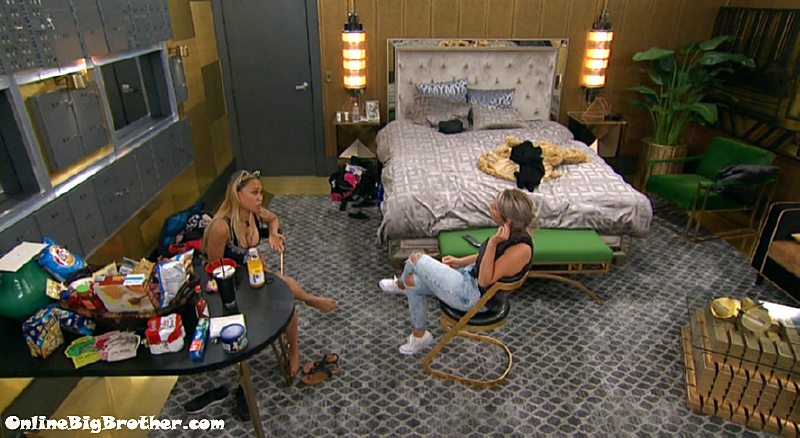 3:53pm Alex and Elena
Talking about bringing Jessica in on their side for a couple weeks. Alex says if Dom gets pulled off the block Christmas is going up.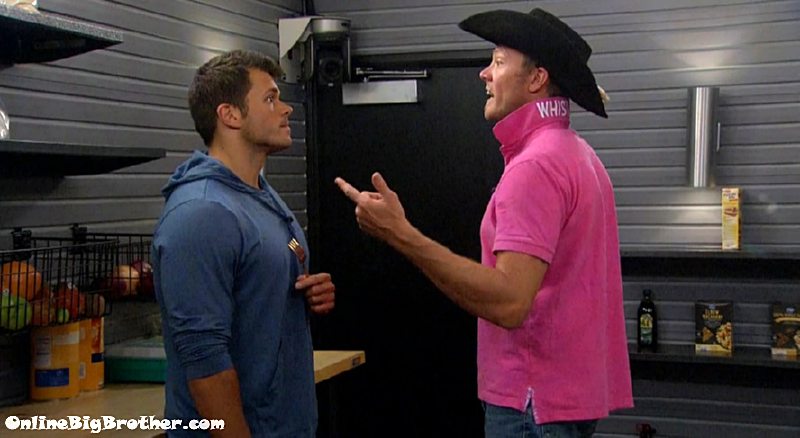 Marks saying he wants to work with Jason. He wants to get HOh next week so he get prove it.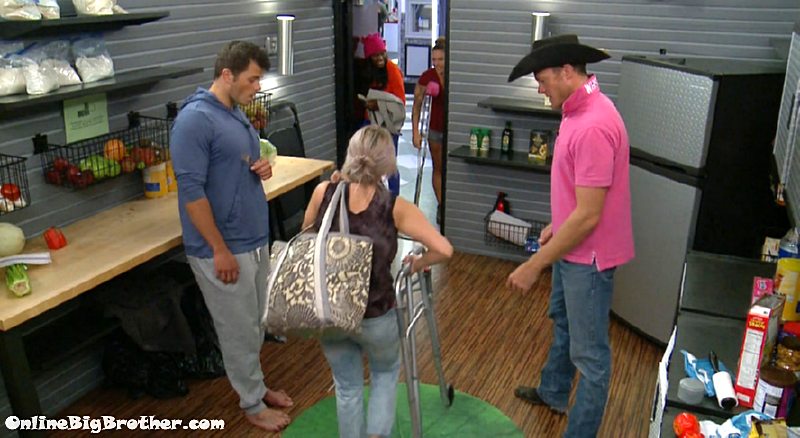 Elena grabs Christmas' walker..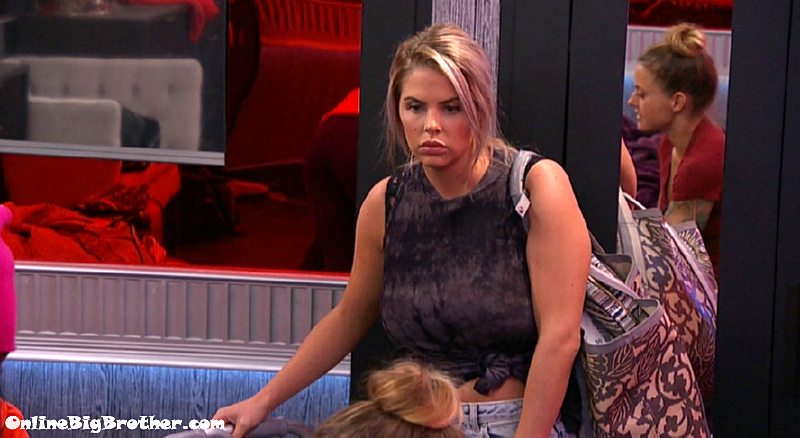 Elena is thrilled to help Christmas ..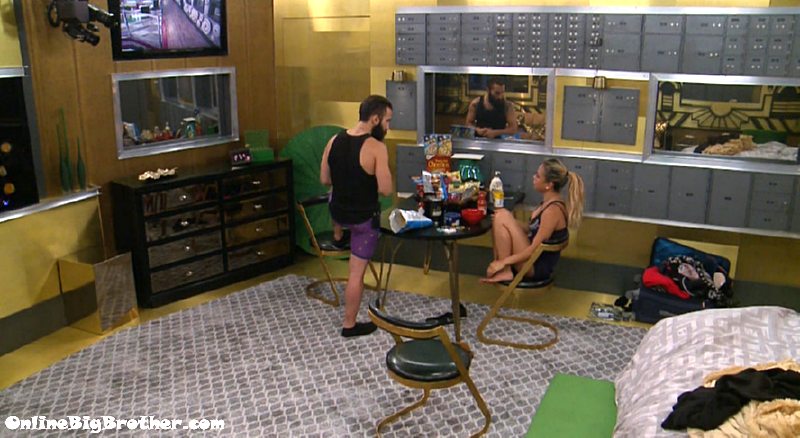 4:11pm Paul and Alex
Paul says she can count on his vote this week. Alex says they have 5 solid.
Paul thinks they can get Raven and Matt.
Alex mentions the only reason why they all threw the HOH to Paul is because they are too pu$$y to take the shot.
Alex – what do yo think or Raven
Paul – I trust her..
Paul – Jessica is a liar..
Matt comes in .. says he's really concerned about Christmas. She's done irreparable damage to her foot does she really want to be here..
Paul warns him not o say that to Christmas when he did she gave him the look of death.
THey start talking about why Christmas is doing this.. She doesn't need the money or the exposure and her foot is f*ed. Feeds cut before we hear the end of it..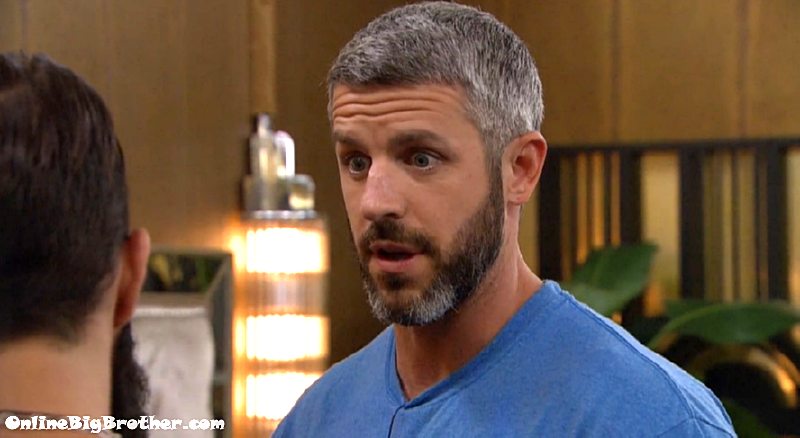 Boys2men – I'm shocked production is giving her a choice right now..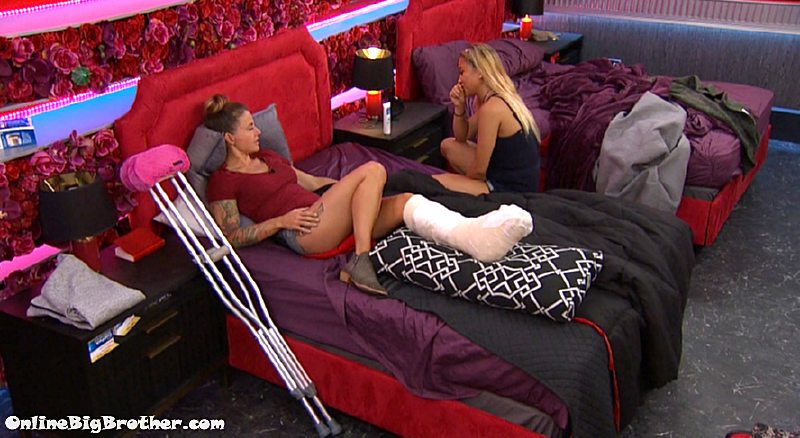 4:20pm Christmas and Alex
Alex wants to know about the conversation she had with Cody before she left..
Christmas says she feels that Alex is closer to her "nucleus"
Alex asks her if she stays off the block Alex needs her to not vote against the obvious target but vote against the person that has been stiring the pot
Christmas – done, Nominations are tonight right
Alex – yes.. they wanted them earlier but they wanted to wait for you..
Xmas asks how Jessica did on the wall.
Alex – she's a good competitor.
Xmas bring sup what Cody told her. How during one of Dom's shows Xmas asked mark if his relationship with Elena was a showmance or a romance.
This really triggered Dom and Mark. Apparently they went up to the HOH and told Cody they didn't trust her anymore.
Alex says she's putting up someone beside Jessica that is a girl and she wants that person gone.
xmas – what can I do for you
Alex – nothing, eat cake.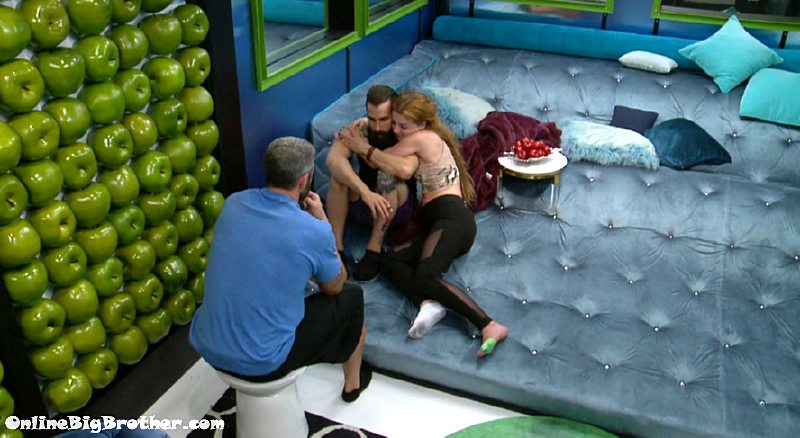 4:45pm Matt and Raven listening to every word Paul says.
If you plan on buying anything from Amazon. Use this link Amazon home
Doesn't cost you anything and we get a small cut.
Links to the ranking system
Rank your house guests here
For those of you that like Statistics here are some expanded reports.