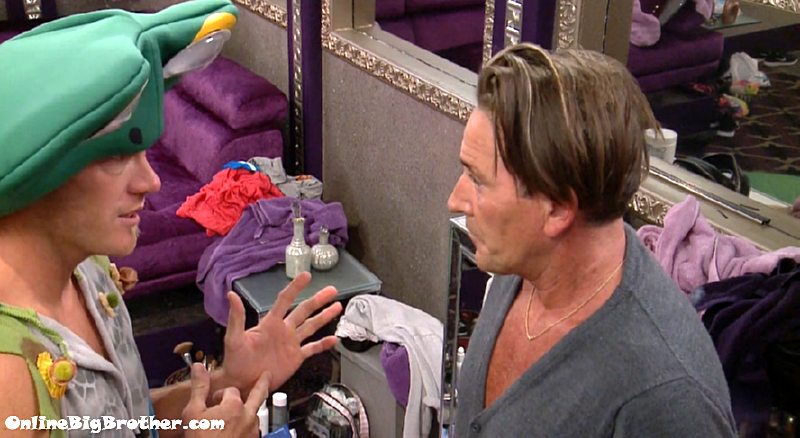 9:35am Jason and Kevin
Kevin says Jess is going
Jason – NO NO the target is DOM
Jason explains they need 5 votes to get her out and they believe they have them.
Jason – they've been up her a$$ like a razor blade.. All of them..
Jason – she swears she has our back..
Feed subscription lets you go back and re-watch everything we post here CBS All Access Live Feeds with a FREE 7 DAY trial.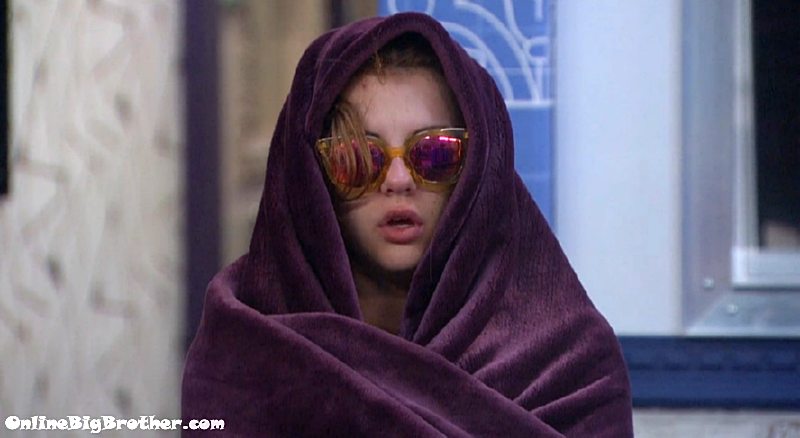 9:38am Raven and Matt
Raven – I found out things about Jessica last night that pissed be off
Raven says Jessica told Jason she hid Alex's cat ears.
Raven – I went to bed at 4:30 last night
Matt – that was a late one (I know.. )
Matt – how if go with Alex and Elena
Raven says Alex told Elena today she'll make her decision and Elena will be the only one that knows out of respect so she wouldn't be shocked.
Raven says Alex told her she trust me, Paul and Matt.
Matt says he'll be upset if Christmas comes back acting like a fool.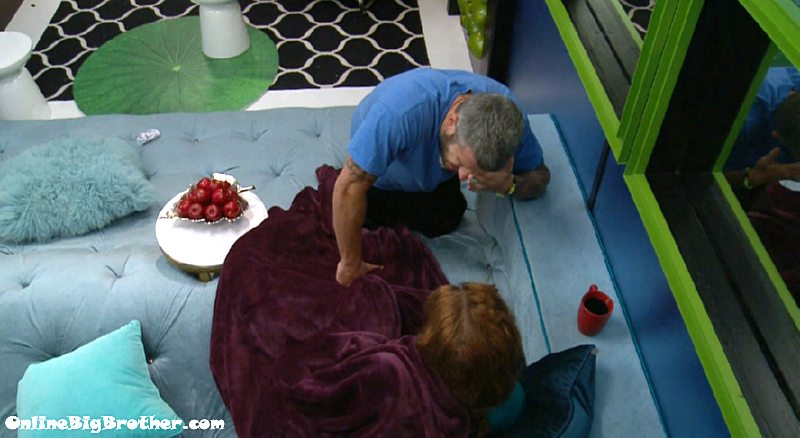 9:58am Matt and Raven
Matt – I'm going to do everything I can to help Mark but.. This is going to be really bad when becomes a have not. There will be a lot of sh1t floating around about him on that end.
Matt – I don't know what to do about that
Raven whispering sounds like she's saying Chill out about Mark.
Matt – it's like the perfect storm for him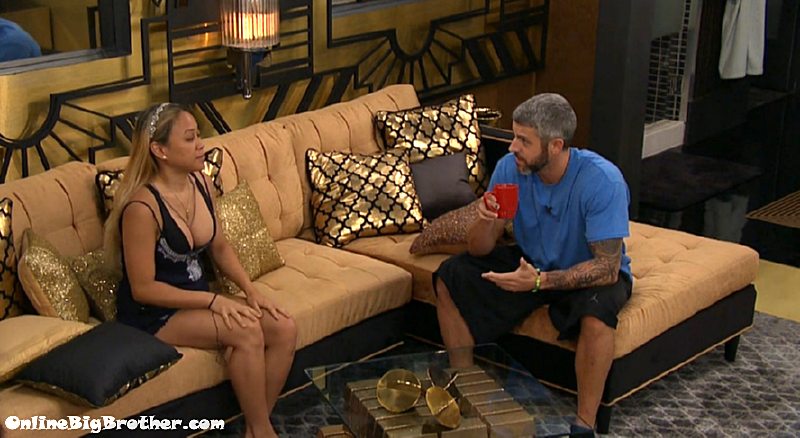 10:13am HOH Matt and Alex
Alex says Elena is "kinda" on board with the plan.
Alex – cause I promised you Jessica is probably going up, I'm not allowed to say for sure because of the rules.. it's the second one we have a problem with.
Alex says she's trying to figure out who voted for Ramses. By order of elimination she figures out "there's some concerning parties on our side"
Alex says she needs to know that they are 100% on board.
Alex – it sucks because it's someone on our side.. but I wanted to make sure we annihilated them now
Matt – absolutely
Alex says the second nominee will be a person who's name came up often.
Alex – even if they aren't the third nomination they are stiring the part
Matt – ok cool..
Alex – to be fair the other person would be a backdoor because they can't defend themselves.. (xmas)
Alex warns him that Jessica is dangerous. She is trying to throw Raven under the bus by telling her that Raven hid her cat ears and dumping out coke to spite her.
Alex – I don't believe her.
Alex says she doesn't want to have a Cody situation where everyone is in the dark.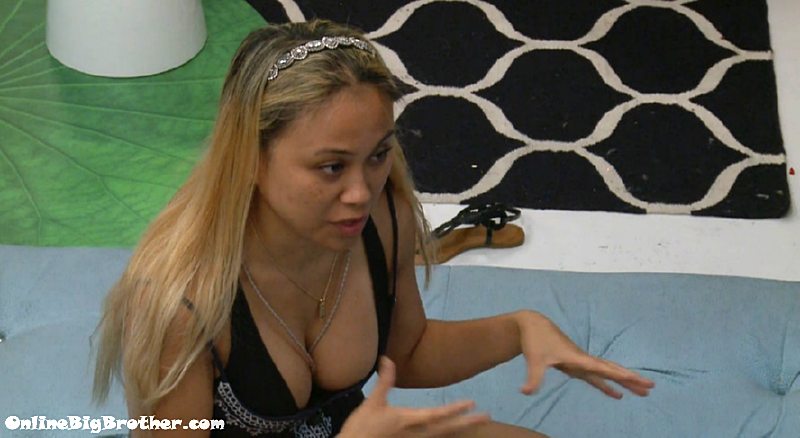 10:10am Alex and Raven
Alex – I told Matt about the Jessica situation and how we have to keep her at arms length.
Alex says she doesn't want to put Christmas on the block because Alex did have a chance to talk to her and she doesn't think it would be fair.
Alex says if Christmas was here and was able to defend herself she would be "the next best option"
Alex is trying to figure out who voted out Ramses in their group. She's building up how dangerous this third vote is to their "group"
Raven – whoever you choose I respect.
Raven says she watched Season 16 and everyone voted the same.
Alex – I don't like Ramses either (game wise).. he's nice to talk to and hang out outside the game.. same with Jessica..
Raven going on about how she feels bad for Paul because he had a plan as the HOH and someone in their group turned on that plan.
Alex – I'm doing this to help the group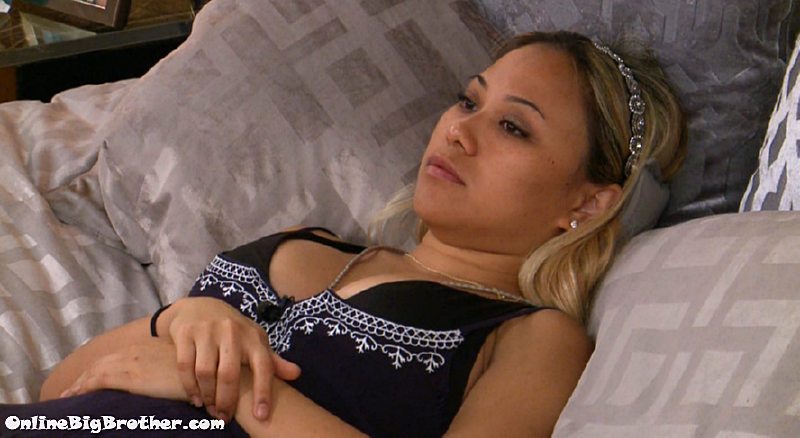 10:28am Alex alone HOH
"I wanted to give everyone a chance to talk to me and be fair give them options to talk to me before nominations but everyone is asleep and I feel like they don't care. "
"So if you don't care enough to defend yourself so be it "
"I will take the shot for ya "
"I've watched Big Brother before and I've seen a lot of seasons the thing about this cast, it seems like everyone is afraid of taking shots by themselves and pulling the trigger. "
"These people seem really timid.. but I'm not timid at all .. so if you like I'll be HOH and take those shots. "
"I only have 2 friends in this game, Paul and Jason. "
"Jason is my ride and die, i'll try and keep him safe as far and long as I can. "
"I want to create a little bit of excitement and not be a total dude and float through "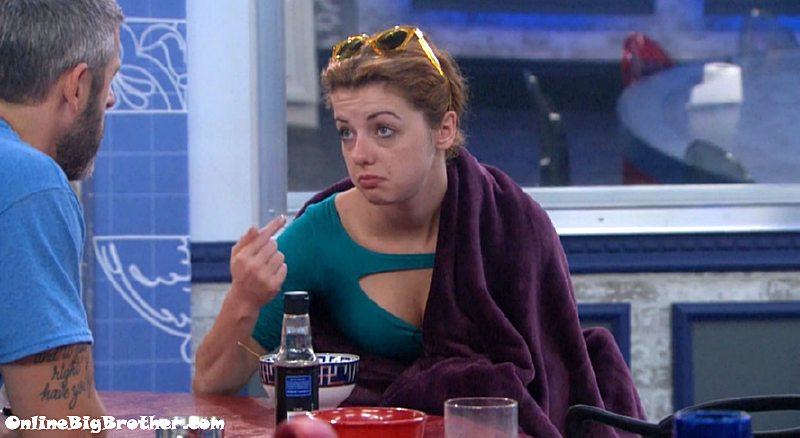 10:37am Matt and Raven Kitchen
Raven – who do yo think it's going to be
Matt says Dom or Mark.
They both prefer Dom goes up over Mark.
Matt – I trust Mark more than Dom.
Matt says Dom is being really strange since the show up to the HOH.
Matt – I think me and you can easily not win HOH for the next 2 or 3 weeks and still be fine
Matt – we have to make sure Paul and Elena are good too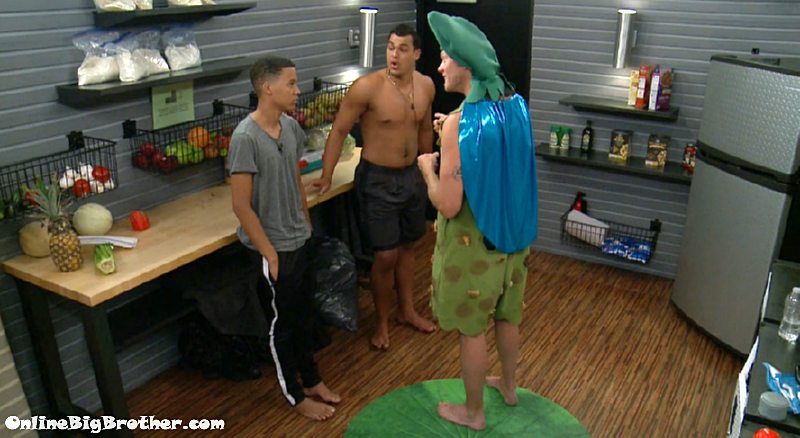 10:52am Jason, Josh and Ramses (Alex's mini army)
Jason – she's protecting us
Jason – she can't tell you exactly what she's going to do .. she doesn't want it out..
Jason – She really took the reigns, yo can tell how she was acting last night
Jason – She's f*ing in control
Josh – she's not letting people control her
Josh – she's a strong minded women.
Jason – when I saw the way she was handling it I was like She can handle it
Jason -She's going to do whatever she's going to do and it's going to be good.. She;s thought about it..
Jason – she's finding the rats. whatever she's doing she's doing..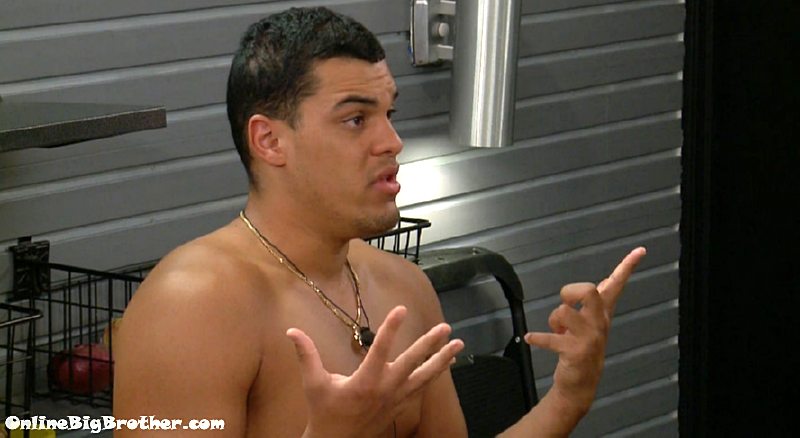 10:57am Josh and Jason
Josh – who do yo think she's putting up… Matt's gunning for you Matt's gunning for me
Jason – he's not gunning too hard he last too long on that wall
Josh – next week we have to win that f*ing HOH
Josh – I'm worried about Mark, Elena, Matt and Raven.. those 4
Josh – you me, Alex and Kevin vs Paul, Christmas and Dom..
Josh says getting rid of Jessica is a waste of an HOH because Jessica is by herself. they need to take out a number on the other side.
Jason agree.
Jason – I'm not worried at all whatever she (Alex) does will be perfect..
Jason – you flipped 30 minutes before the f*ing vote
Josh – I can do nothing about the past but if don't move forward.. I know they are not letting nobody in..
Josh – I'm not going to win at the wall but at a Mental comp…. (LOL ohh man Big BRother is good today)
Josh – they are gunning for me, you and her.. they don't want you to win..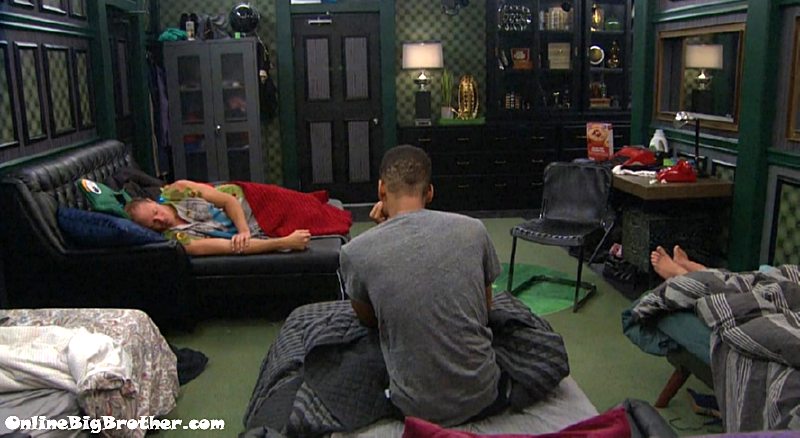 11:07am Ramses and Jason
Ramses saying the other side will not flip if Jessica is on the block she'll leave.
Ramses – Jessica leaving this week is giving them something they want.
Ramses says the otherside still has the majority they aren't going to flip and take out one of their own.
Jason says Paul is always up her a$$
Ramses – he's super good at this game
Jason – I'm going up there right now..
Jason leaves.
If you plan on buying anything from Amazon. Use this link Amazon home
Doesn't cost you anything and we get a small cut.
Links to the ranking system
Rank your house guests here
For those of you that like Statistics here are some expanded reports.