POV Holder:
Donny
Next POV
?
POV Used
YES
POV Ceremony
June 29th
HOH Winner Team 1:
Frankie
HOH Winner Team 2:
Caleb (current HOH)
Battle of the Block Winner
Brittany, Victoria
Next HOH/ Next BOB
?
Original Nominations:
Caleb noms (Donny, Paola) Frankie noms (Brittany, Victoria)
Current Nominations:
Joey, Paola
Have Nots
Cody, Hayden, Joey, Brittany
POV Players
Donny, Paola, Cody, Zach, Caleb, Victoria (HOST = Jocasta)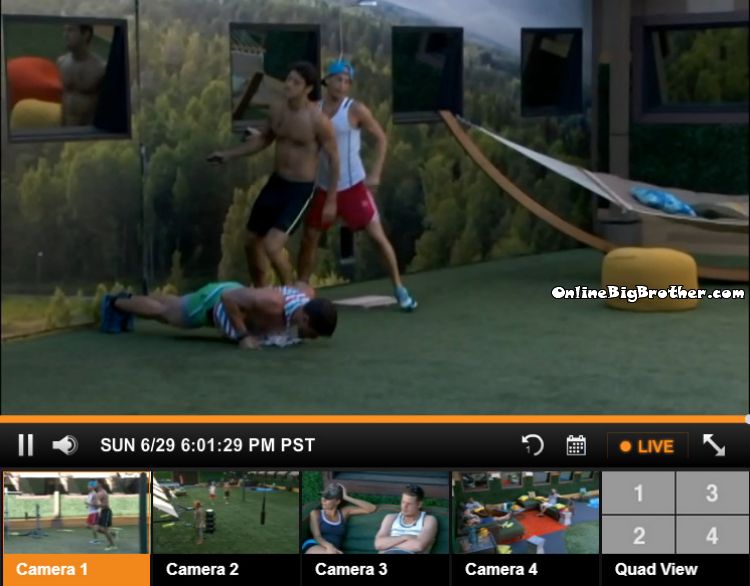 6:00pm Working out Caleb, Cody and Frankie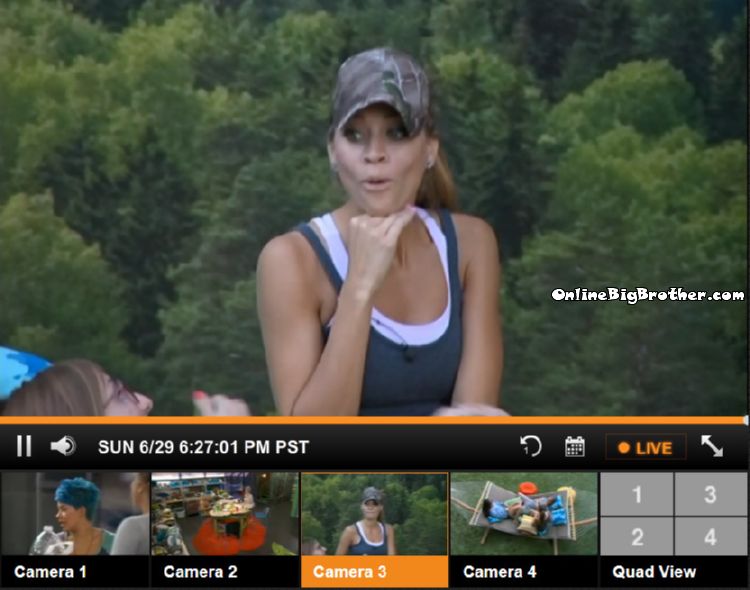 6:20pm Hammock Victoria Amber and Victoria practicing sign language
Christine teaches them "I love My family". Christine teaches them 'F*** u" (See Image) ( It's starting to be an ongoing thing Christine teaching them Sign lAnguage)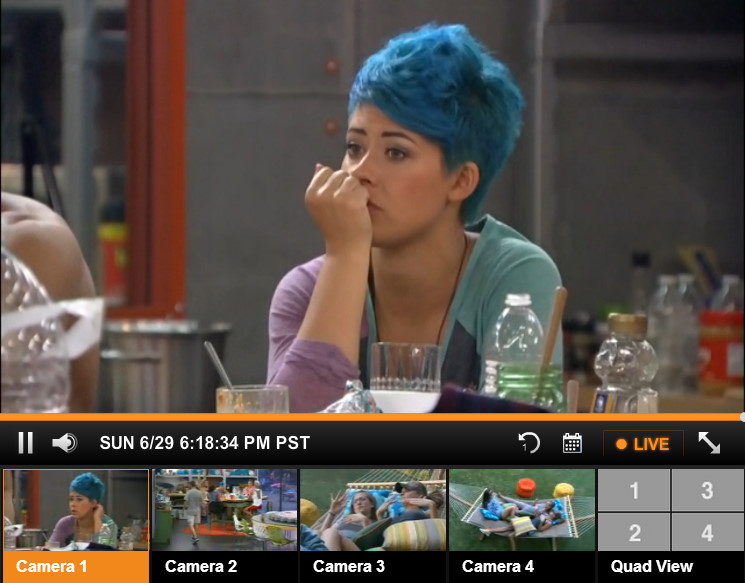 6:18pm kitchen Frankie and Joey Chit chat
Frankie is talking about broadway performances says a person in the chorus makes 900 a week after they pay all their dues.
"principals" aka leads can make up to 3500 to 10 thousand a week
6:49pm Caleb and Derrick playing pool against Nicole and Amber. The guys are winning. On Caleb's shot Amber blows on 8 ball so it doesn't go in resulting in Caleb losing the game. They decide on a rematch.

Big Brother 16 Live Feeds Subscriptions, Free 2 day trial. $26.99 for the season pass or $9.99 for the monthly pass 
Try It Free! Subscribe now to the official BB16 Live Feeds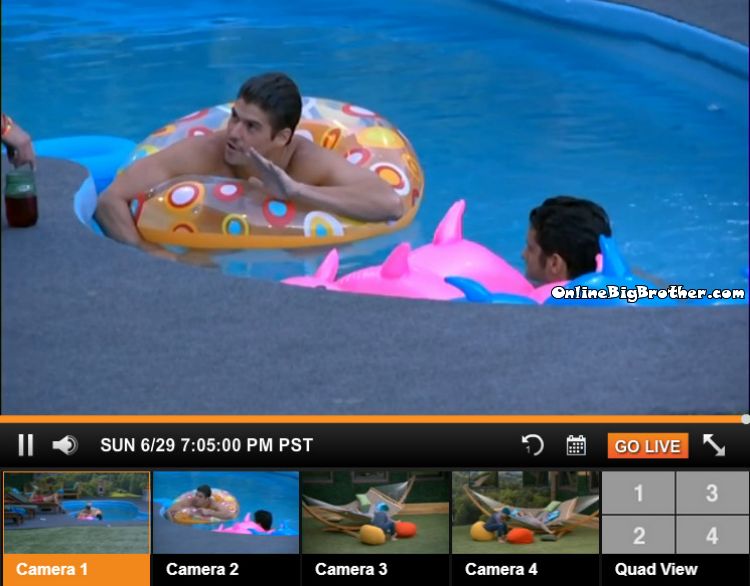 7:06pm Frankie, Cody and Zach  Pool
Frankie says they need the HOH room to hold meetings otherwise their group will start getting paranoid. Cody mentions the storage room but it's not as good. Frankie – "my mother said be careful about those door they are very thin people can hear you through those doors." They head over to the hot tub where talk goes to how hard they are planning on partying in the finale. Frankie says his mom is planning something at her place.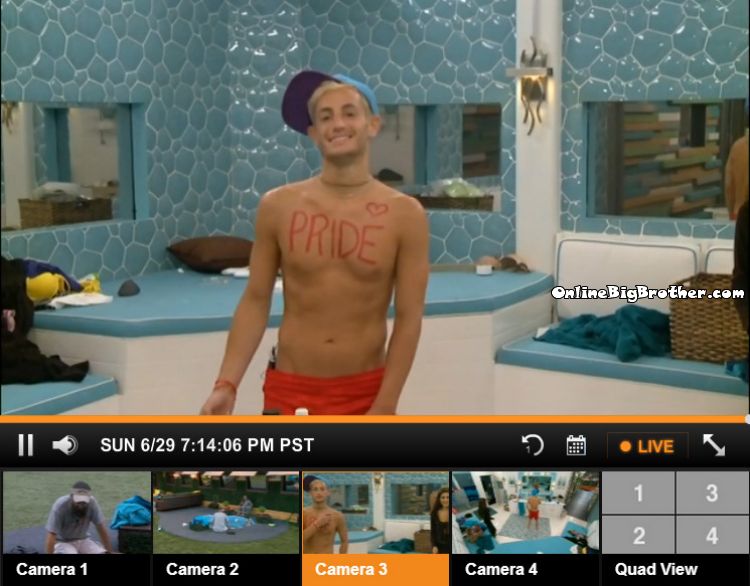 7:15pm Frankie gets Victoria to write Pride on his chest as it's Gay Pride Day New York. Frankie starts walking around the house asking people to share what they've done today that makes them proud he rolls into the hot tub. Christine says she's done nothing today.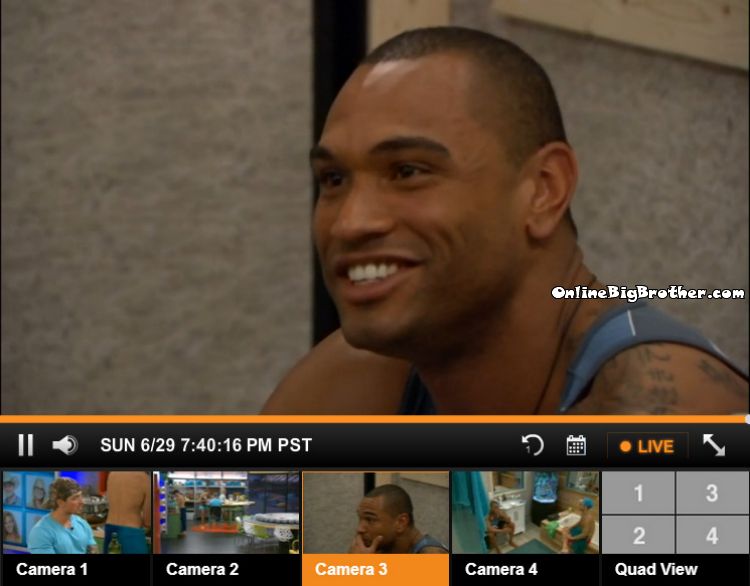 7:28pm HOH Devin and Frankie
Devine going over his conversations with Brittany. Devin is worried about how he's being portrayed and how he is going to explain that to his daughter.
Devin – "I'm laughing because I feel at peace right now 500 grand isn't worth the shit i'm doing right now"
Frankie – "and it's beating you up"
Devin – "ya"
Frankie builds up how special their alliance in within Big Brother lore. Adds they have to be loyal to their group but sometimes you have to be a little deceitful, "If you're perfectly honest you're a joey or a Brittany"
Frankie points out that sometimes you have to act differently based on who you are hanging out with. Cites when he's chilling with Cody and Caleb and he says chauvinistic things just to keep the flow going but that is not who he is.
Devin saying the way he use to be is the way they are seeing him, "I use to be a selfish person"
Devin starts going on about Brittany,  "I lost my sh1t up here with her.. it's my daughters birthday so piss off" Devin brings up what he said to Joey earlier today, saying he wanted to have a silent alliance with her as long as she goes around and cleans up the damage she caused. "Well ya it's a bald-faced lie but I want her to clear things up before she goes"
Devin start to cry "Being with her is more important than any kind of money.. I'm a good guy and I have a big heart I love my daughter.. I might not do the best things in life But I'll be the first person that comes give you a hug to say I'm sorry"
Devin – "When I walk out that door I want people to be proud of me"
Frankie can't believe what all the parents left behind.
Devin – "I feel shitty I feel like a d!ck.. thats how they are going to portray me"
Frankie doesn't thinks what happens in the house has any bearing in what happens outside, "Look at Aaryn She's is a star"
Devin – "no she's not"
Frankie – "Yeah of course she is she' s in Texas she's a star"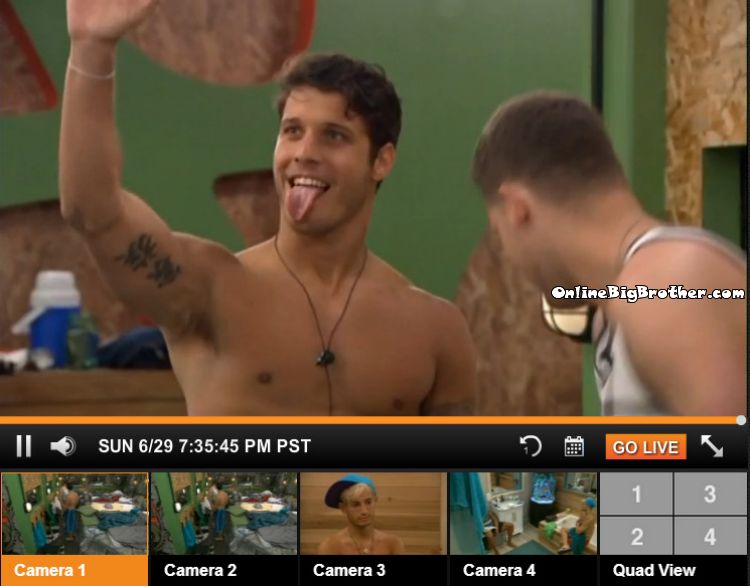 7:35pm Derrick and Cody
Cody doesn't know what side Frankie is on. Derrick says he's going to stay close to Caleb in case they want to Backdoor Zach. Cody says Caleb told him this morning he would put someone from the alliance up or Hayden, "That would be me". Derrick tells him if Cody goes up it's crossing the line. Derrick doesn't want Cody to go home because if he does he'll be right behind him.
Cody says how zach and frankie don't know how tight they are.
7:56pm Storage Room Caleb and Cody
(Before they go into the storage room Caleb is telling saying when he was growing up he lived of raman noodles cold they never had a microwave he ate his ravioli cold to. "All i have to say is.. LOOK AT ME NOW") Cody telling him he needs to seal the deal with Amber. Caleb – "thats funny because everyone has been saying it all day"
Caleb talking about the pool game with Amber and Derrick. Caleb brings up Derrick saying Caleb was playing horribly because he was staring at Amber. Amber jiggled at it. (Caleb has lost his mind about Amber it's offical…  poor guy)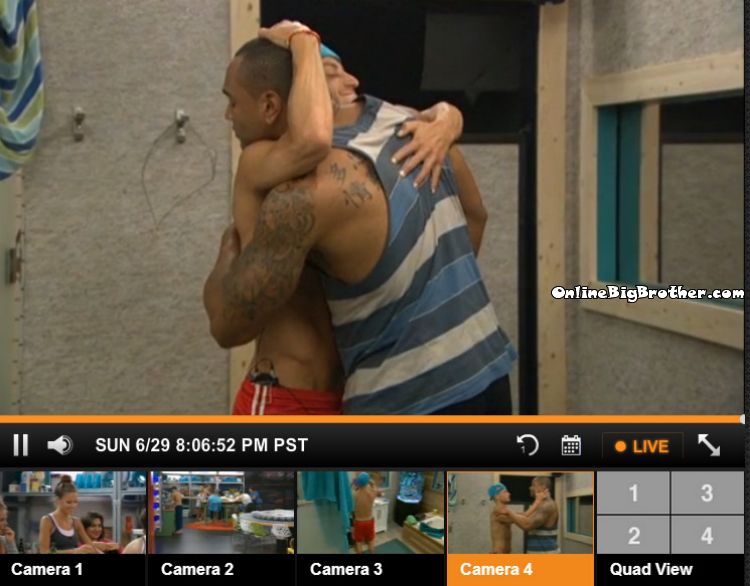 8:05pm Devin and Frankie agree they are scared of Amber, "She's well protected". Devin says even though she's dangerous Caleb has as good reign on her for now. Frankie says they have to keep what they have been doing their alliance is in good shape "Working together but separately.. look at what we've accomplished it's pretty awesome and I see it's been really hard on you you're roll has not been an easy one I appreciate it"  Frankie says the vote is going to be unanimous except for maybe one vote. Devin mentions Brittany telling him she's undecided. Frankie isn't worried tells him Brittany had no idea what her game was yesterday
Alliances 
No Name – Zach, Cody, Derrick
Fragment A of bomb squad no name  = Christine, Frankie, Cody, Derrick Zach
Double Ds = Devin, Donny
Bomb Squad = Frankie, Caleb, Devin, Cody, Derrick, Zach, Amber, Christine
Bed buddies = Nicole, Christine
Final 2 Deal = Frankie, Zach
Old
TheCrazy8s = Frankie, Donny, Joey, Paola, Devin, Amber, Nicole, Cody
El Cuatro = Paola, Amber, Joey, Nicole
Where the vote is 
As of now Joey is going home.. (Still early)
[polldaddy poll=8154372]
Share it YO!!
Tweet