POV Holder:
Elissa
Next POV
July 20th
POV Used
YES
POV Ceremony
July 22
HOH Winner:
JUDD
Next HOH:
July 25
MVP:
AMERICA
Original Nominations:
Aaryn, Kaitlin, ELISSA (MVP – America)
Current Nominations:
Aaryn, Kaitlin, GINAMARIE (MVP – America)
Last Evicted Houseguest
David, Nick, Jeremy
Have Nots
Jessie, Candice, Andy, Spencer
1am Up in the HOH room – Judd, Spencer and Howard are talking. Judd says that he felt really good about the other talking to Kaitlin and Ginamare. Jessie comes up to say good night. Judd convinces her to stay. He asks her who she thinks should go home. Jessie says that she doesn't know maybe vote out Kaitlin. She says because I am closer to Aaryn. Jessie says she will do what the house wants though. Jessie tells Judd that he is the captain of the ship and people will do what he wants. Jessie says that she knows Elissa doesn't like Aaryn but they shouldn't do just what she wants. Spencer says that Kaitlin just came off a POV win, she is a sitting duck. Jessie says that Kaitlin is a triple threat and if Elissa doesn't want to vote her out, you can just tell her that's what the house wants. Gina joins them and tells Howard that his clothes are down in the dryer. She says that she didn't know if the wife's clothes were in there too. Howard says nope, I wash my own clothes. Spencer jokingly says are those your panties I saw in there? Gina heads back downstairs.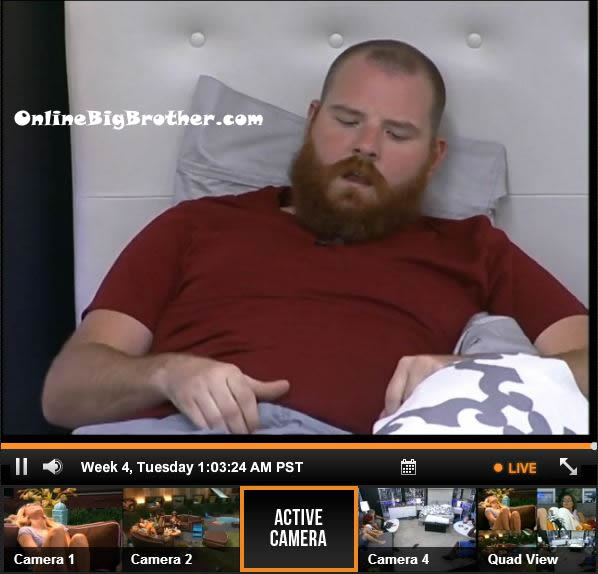 1:20am Jessie tells Spencer and Judd that Kaitlin is playing both sides. Spencer says I don't care Kaitlin goes this week, and Aaryn goes next week. Judd says whoever stays I want to be able to work with them. Jessie says well then keep Aaryn. She will work with you, Kaitlin will just continue to play both sides. Spencer says I don't do anything, anything that gives Amanda and McCrae any strength. Judd says they think we are all stupid and puppets. Jessie asks who do you want out next week. Judd says hopefully Aaryn or Gina. They talk about how loyal Gina is, she's carried around Nick's hat for a week. Jessie says Aaryn will never work with them. Spencer asks if Jessie can control Aaryn. Jessie says she can. Jessie leaves. Spencer and Judd continue to talk about keeping Aaryn over Kaitlin.

Meanwhile out in the backyard – Kaitlin, Aaryn, Gina, Amanda, Andy and Candice are all laughing and joking around about when Jeremy went home and Ginamarie was going off in the kitchen during the live show. They start stretching on the ground. Aaryn show a stretch on Kaitlin that her personal trainer did with her the first day that made her super uncomfortable.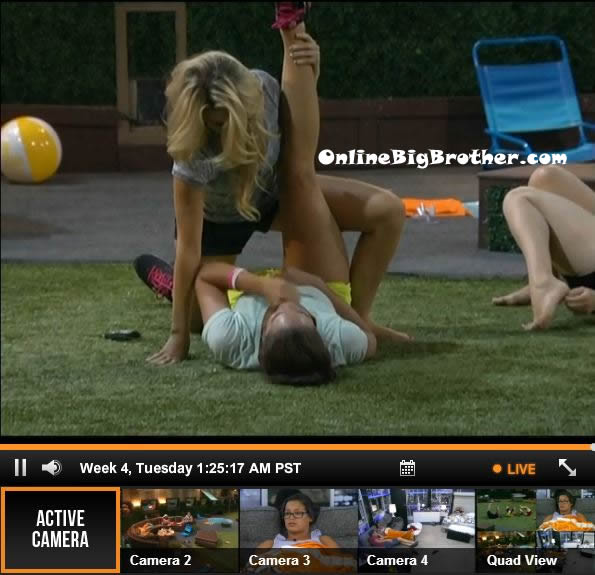 1:30pm – 2am Howard joins Judd and Spencer back in the HOH room. Spencer tells Howard and Judd when Andy comes up here lets name our alliance to make him feel a part of it. Spencer says I like the name "3 men and a lady". Spencer talks about how he saw Kaitlin's titt*es in the shower today! McCrae pops his head in the door for a second. Then leaves. Spencer says that he wants to bust that up in a second (Amanda and McCrae). Meanwhile in the havenot room Andy talks to Jessie about how he doesn't trust Spencer or Howard at all. He says if I get HOH I will put them up and get them out. Andy says that Spencer acts like he is my best friend but he isn't. He is making deals with everyone. Andy says that you, me and Judd are cool. Andy then leaves to go up to the HOH room. Up in the HOH room – Andy, Spencer, Howard, Judd and Candice talk about random things. Judd talks about how it's weird being up here in the HOH alone. Spencer says I would just beat off in the shower. The conversation turns to talking about Judd solitary confinement room. Judd heads downstairs. Andy, Spencer and Candice talk about Jessie. Candice says that Jessie is intelligent and knows worldly things. Spencer says she has some nice titt*es!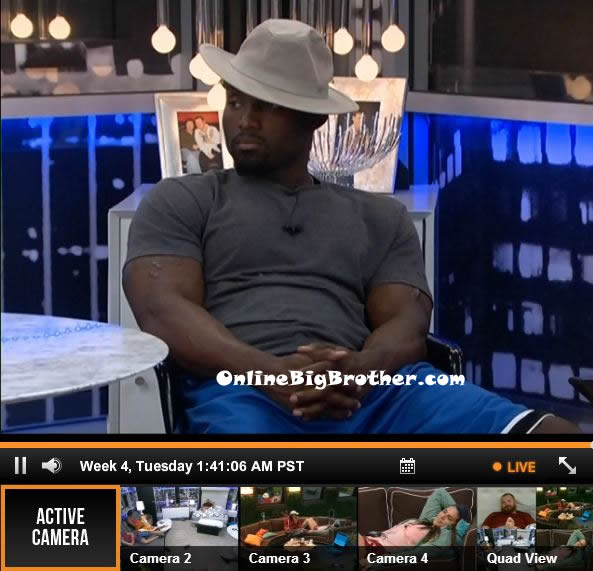 Out in the backyard – Gina and Aaryn are laying on the hammock together. They talk about how it sucks both being up together. Aaryn says I told you we would both be up together. Gina says she has no one to talk to other than you two. Gina wonders why Judd had to put you two up. Aaryn says because no matter what with the MVP the other was going up. Gina says I came here to compete and win sh*t, I am a competitor. Aaryn says if I stay by some miracle I have to win the HOH. Aaryn says I just hope there is some power for the HOH. I am nervous for what the twist will be.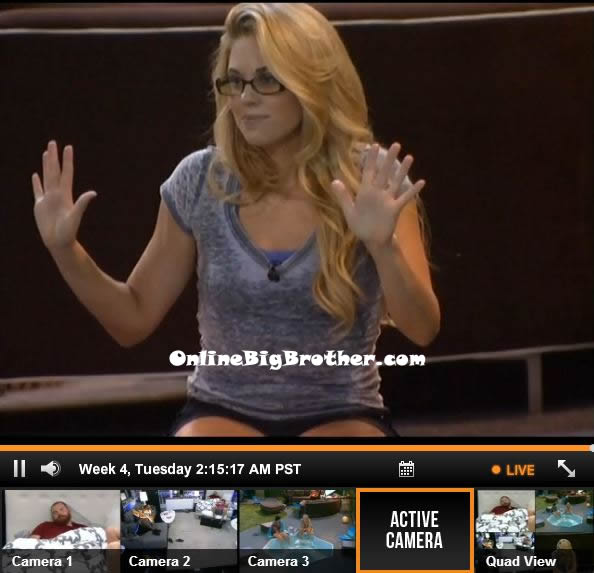 2:05am – 2:50am Up in the HOH room – Andy, Howard, Candice and Spencer are talking. Spencer asks Andy questions about what type of guys he likes to date. Spencer asks Andy if he has one night stands. Andy says no he doesn't go looking for it but that he wouldn't be opposed to it. The conversation turns to talking about dating online. Judd joins them. Meanwhile out in the backyard – Aaryn and Kaitlin are talking by the hot tub. Aaryn says I know I am going home. Aaryn tells Kaitlin that Jeremy is her brother. Kaitlin says that she is shocked right now. You're lying! This is weirding me out. I don't like this if this is true. Kaitlin says but we cuddled in front of you. Aaryn says I know I am going home so I figure I might as well tell you. Aaryn then tells her that she was just fu*king with her. Kaitlin says you fu*king bit*h I want to punch you right now! They both laugh.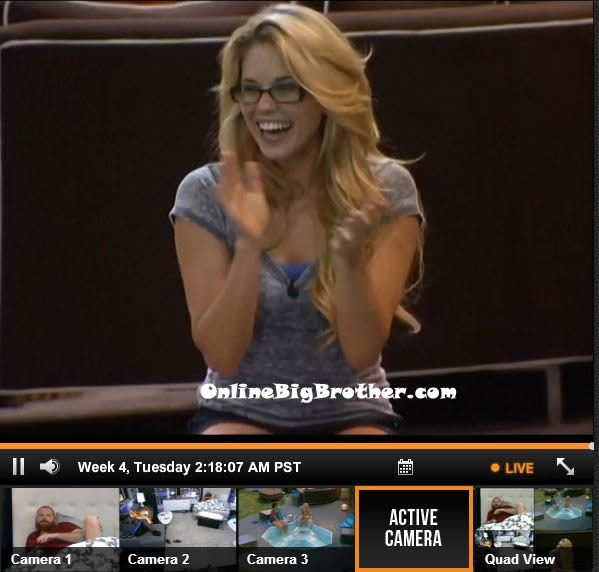 Kaitlin tells Aaryn that she has heard Aaryn is staying and that I'm staying, I am just so over it. Kaitlin says they are going to pick us off one by one. Meanwhile Gina and Judd are talking on the hammock. Gina tells Judd that Jessie is a floater and a half. Gina says Jessie is useless she hasn't won anything and has been a havenot a couple of times. Judd tells Gina I got you longer than I've got her. I've got you to the end. Gina says I know I got you too. Judd tells Gina that both sides are pretty much voting the same way. Voting Kaitlin out. Judd tells Gina not to tell anyone. Judd tells Gina we might have to work with McCrae and Amanda. Gina asks how they are with Elissa and Helen. Judd says that Elissa will be going before jury. Judd tells Gina she will make it to jury, just stick with me. Gina talks about how she thinks Howard is that MVP. Judd says that Howard said he was psychology major and he wouldn't even look at me in the eye. Judd says that Spencer is dangerous too. Judd tells Gina not to tell Kaitlin or Howard. Judd says we will need to get out Candice too. Gina says if I get HOH I will put up Candice and Elissa. Judd talks to Gina about going to the final four with her and Amanda and McCrae. Judd says we could win against them and they get the $500,000 and the $50,000, screw the $13,000. Judd tells Gina that Howard and Spencer are playing us.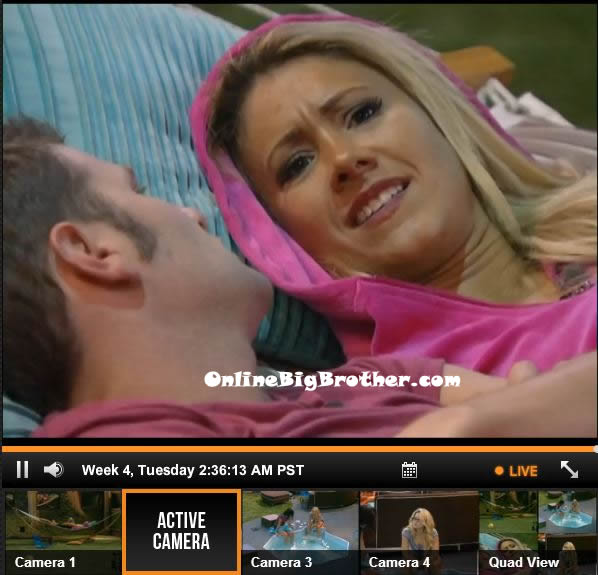 2:54am Out in the backyard – Aaryn comes over and asks if they want to do the cinnamon challenge. Judd says that he will do it. Jessie, Aaryn and Judd line up and try it. They all cough it up. Gina says that she could do it I can swallow anything. Gina then loads up a teaspoon of cinnamon and says let me show you how it's done! Gina dumps the teaspoon into her mouth and slowly works it down. Everyone can't believe that she did it. Kaitlin says I can't believe you did that, I've never seen that done before. Gina asks why is that so hard to do? Aaryn says I blacked out for a minute. Gina wants to the milk challenge. Andy comes out and says that Judd threw up in the HOH bathroom. Gina then does another one that is 3 times the size of their first one. She goes out into the middle of the yard and yells for all the cameras to be on her. Everyone starts chanting for GIMS, GIMS, GIMS! She then swallows the spoonful and works it down. Big Brother cuts the feeds. When the feeds come back Gina is finish and the others can't believe she just did that. Amanda says I bet you give mad head! If I had a penis I would shove it down your throat right now. How about you go get us a banana and show us how you deep throat. Gina asks is that a lot of calories? Kaitlin says I bet that isn't going to be pretty coming out.
Big Brother 15 Live Feeds: FREE 2 DAY TRIAL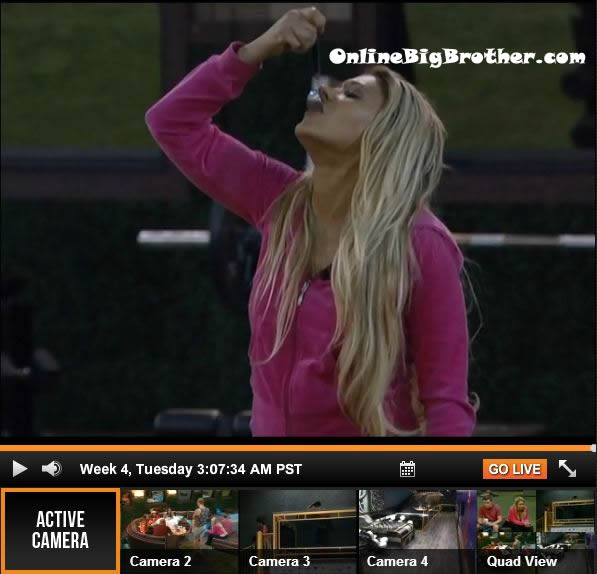 3:35am In the lounge McCrae and Amanda are talking. McCrae wonders how much a plane ticket to Florida would be. Amanda says I don't know I am sure you can afford it. McCrae says I don't know. Amanda asks what do you mean you don't know. McCrae says that he has some messes to clean up back home. Amanda asks like what? McCrae says like work messes. Amanda says better not be girlfriend messes. McCrae says um yeah I dunno. Amanda says or you could just not talk to her any more, you don't owe her anything. Amanda asks McCrae if she was the first girl he proposed to? McCrae says yes. Amanda says and the last!! McCrae asks her if he is the first guy that ever proposed to her? Amanda says I've never been engaged, till now! They start making out.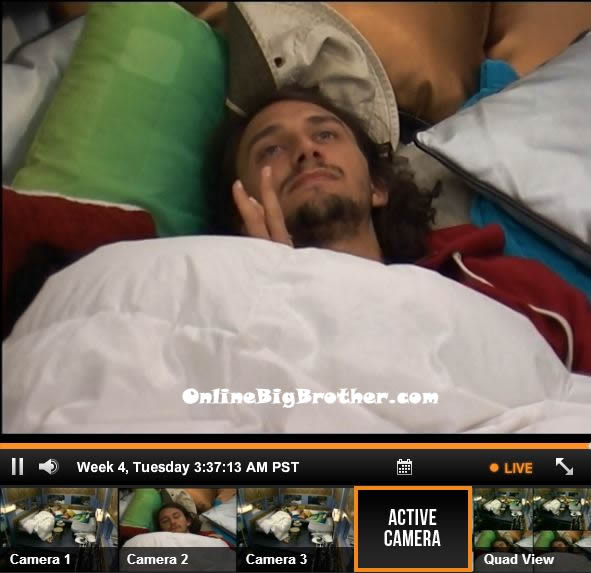 3:50am – 4:10am Out in the backyard – Howard, Spencer, Kaitlin, Gina and Aaryn. Spencer gets a message from Aaryn. Gina says that she can do it way harder. Gina then gets up and starts digging her elbows in his shoulders. Spencer says okay that's too hard. Gina says "that's what she said!" They start talking about $ex positions. Aaryn talks about how she doesn't understand some of the positions guys put her in with her legs up over her heads. She says she's thinks what the hell are you doing, that hurts!? Kaitlin says she gives the bitchiest looks some times. Spencer asks what their favourite positions are. Kaitlin says she likes doggie style. Gina shows them her favourite position. She gets down by the small fridge and the wall and show them. She says it's the best position because you're right up against the wall and you don't go no where. Gina talks about how she will be looking up Nick when she gets out. She says he likes instagram better than Facebook. Gina then asks what's Nicks last name? Kaitlin says Uhas. Gina asks how do you spell it? Kailin says U H A S. Kaitlin says she is going to bed because it takes awhile to fall asleep. She says I'm used to being cradled. Gina says Nick never touched me, I did give him a massage once though. Kaitlin and Aaryn head to bed. Spencer, Judd and Gina talk about needing to see who wins HOH to know how to move forward. Spencer asks Gina who should stay/go. Gina talks about the pro and cons of both Aaryn and Kaitlin. Gina says I think I am a 7 but my personality is a 10.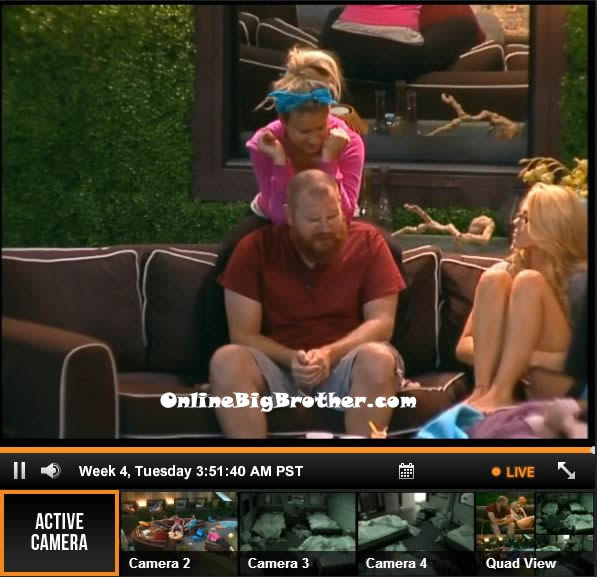 4:25am – 4:30am In the bedroom – Aaryn and Kaitlin are lying in bed talking about how ugly the house is this season and how it was better other seasons. Aaryn tells Kaitlin again, I think I am going. Kaitlin and Aaryn discuss who they think will be evicted in the coming weeks. The decide to go to sleep.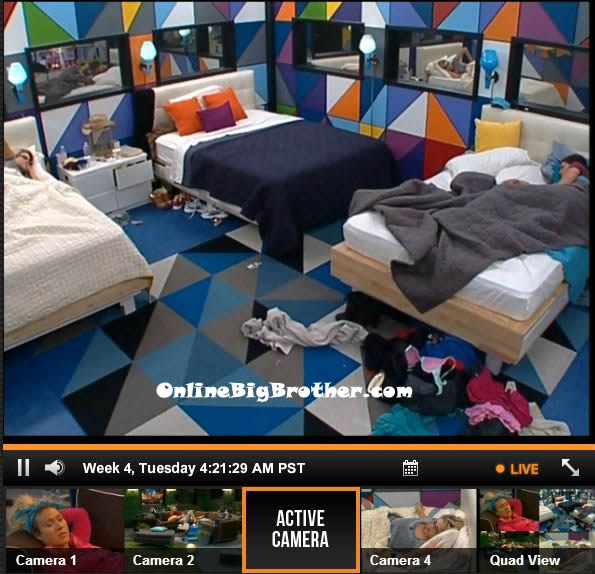 4:35am – 4:40am Howard, Spencer, Judd and Gina are still talking in the backyard. Gina asks Howard who he would put up if he won HOH. Howard says he would go with the house and probably put up McCrae and Amanda. Gina says I like Helen but she is sitting to pretty and needs to go up on the block. Spencer says a lot of people are sitting too pretty and need to go up. Howard brings up how they tried to frame him to look like the MVP.
4:50am Gina starts talking about Nick – She says I love him! I don't need him like the other girls need a guy in here! Gina says I ain't no rat either! If that starts going around I will never work in New York again. People get shot in the face for that sh*t. Spencer says well I don't want you to get shot in the face. Judd says lets just wait and see how the HOH plays out. Gina gets called to the diary room. Spencer says best case scenario is Aaryn goes home and then Kaitlin goes next week. Judd says that he has mixed feelings about Aaryn going this week. Spencer says I really don't care I just think kaitlin can win HOH and then we could use her. Spencer says whoever wins HOH the safe thing would be put up Kaitlin and Ginamarie. Gina comes back and tells they that they just wanted to know if I was okay after the cinnamon sh*t. They're so nice.
5:10am Judd talks about separating himself from Jessie more so that they aren't seen as a couple. Spencer tells Judd he shouldn't sleep in the same bed with Jessie when his HOH is over. Judd is worried about Jessie's feelings are towards him. Howard says that he thinks she just wants someone to talk to. Spencer agrees. Spencer tells Judd that he think he should talk to Amanda and McCrae to ask them who they want to stay. He says that will reveal who they have a deal with. Judd, Spencer and Howard head to bed..
8am All the house guests are still sleeping..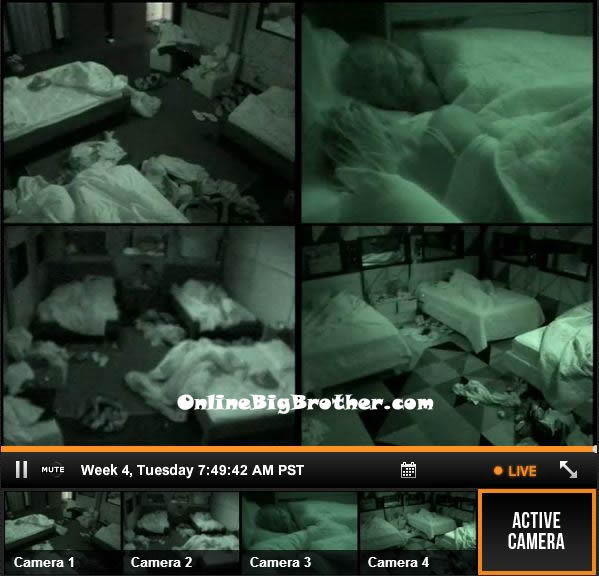 [polldaddy poll=7268963]