POV Holder:
Danielle
Next POV:
Aug 11 (Saturday)
POV Used
YES
POV Ceremony
Aug 6 (Monday)
HOH Winner:
Danielle
Next HOH:
Aug 9 (Thursday)
Original Nominations:
Wil and Frank
Current Nominations:
Janelle AND Frank
Have Nots
No Have-Nots for the Week
Last Evicted Houseguest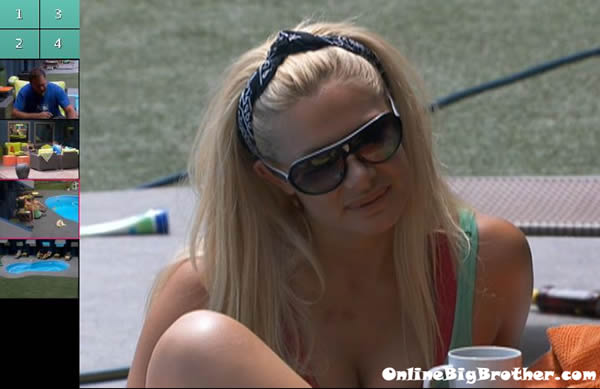 11:40pm Janelle and Ashley are talking by the pool. Ashley asks do you know who said all that stuff? Janelle says that Danielle said it wasn't a girl and that whoever it was stayed up until 4 in the morning. Do you think it was Wil? Ashley says no. Janelle asks if she asked him. Ashley says no but he is always with me until early in the morning. Janelle says that she hopes it wasn't Wil but that Frank thinks it was him. Ashley says it sucks that you are on the block. Janelle asks you don't think people would lie to me and say they weren't voting me out and then vote me out. Ashley asks no why would they do that? Janelle says well they almost did that to Frank last week. Janelle says that Danielle said I wasn't the target and that if I was she would have taken Frank off the block and put me up. Janelle says that she still doesn't get why Danielle doesn't like me. Janelle says that she has never said anything about Danielle and that it is sad that she would believe someone who made up a lie. Ashley asks if there is anything she can do. Janelle says no, no you have always been a good friend to me and I know you would not vote me out.
Watch it ALL on FlashBack: Big Brother 14 Live Feeds – FREE 3 Day Trial!
12pm Britney joins Ashley by the pool and she tells her about her conversation with Janelle and how Janelle told her how she knows she would never vote her out. Ashley says that she feels so bad for lying to her but she is the bad one. Ashley tells Britney that Janelle has never really talked bad about her. Ashley says that one thing Janelle does is she will go around involving you in conversations. Britney says yeah she will tell me something and then go tell someone else that I told her it. Ashley says that Janelle is a liability just like Joe. Britney says that she feels bad but that she is shaddy.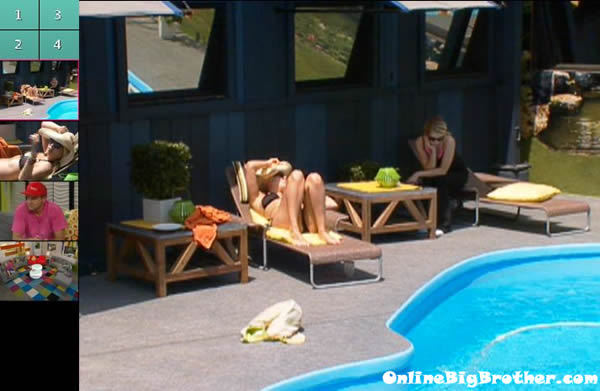 Janelle and Britney are talking by the laundry machines. Janelle asks Britney if she is the one that sold her out to Wil. Up in the HOH room Joe is talking to Danielle trying to make an alliance with her. Joe asks just so you know Janelle doesn't have any bad feelings for you. Joe then asks who the target is and says that he and Shane will vote however she wants. He says that he watched Dan's season and noticed how he won by having a tight alliance. Joe says you would not believe how tight I am with you guys. I will not sway. I was comfortable with you putting up Janelle. I think Wil has told too many lies. Joe says that on the day of nominations Wil came out to the hot tub and told everyone there that we need to get out Dan and Danielle out they are just too close.


12:25pm Britney comes up to the HOH room. Joe leaves. Britney says that she is so pissed off right now about Wil. Britney is pissed at Wil for going to Janelle and throwing her name in the mud. Britney says all I was trying to do was help Wil. Britney wants to grab Wil and confront him but realizes that Wil is in the kitchen with Janelle. Britney says that Wil is so freaking shaddy. Danielle says so is Joe. Danielle says stop sending your little puppy dog up here to do your dirty work. I will pull Wil up here later and ask him. But if I tell Wil is he going to run to Joe and tell him everything. Britney says probably.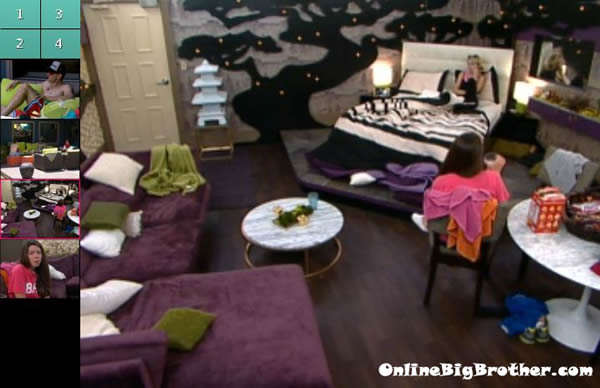 12:50pm – 1pm
Janelle and Shane are in the arcade room. Shane says that he will talk to Danielle and says that he never really talks to her about game but that he will talk to her. Janelle tells him that she wants to work with him because she knows he is honest and always tell her the truth. Janelle says that she is known for being pretty honest and I never want to be known as a manipulator like Booige. Shane says yeah someone told me that you have never back doored anyone and that she was always true to her alliance. Janelle asks if he voting her out. Shane says that he doesn't know how he is voting yet and that he wants to vote with the house. Shane says that obviously I want Frank out. Janelle talks about how she has an instinct that Wil is lying to her. Janelle says that she hopes he isn't but she just doesn't know. Janelle says again that she really wants to work with him and Britney. Janelle says that Joe is a lot of things but he is not a liar, he like to stir things up, but he is not a liar. Janelle says that the truth will come out and I will find out who lied about me. Shane says that he will vote the way Britney votes. Janelle says I know Britney won't vote against me. Janelle says that whoever got to Danielle really manipulated her. Shane says that he will let Janelle know either way, when he knows how he is voting. Janelle says thank you because I don't want to be surprised. Shane and Janelle leave the arcade room.
1pm – 1:40pm Danielle brings out the HOH camera to take photos. Frank and Boogie don't want to be a part of the photos, they head into the kicks room to nap. Ian is outside suntanning by the pool by himself while the other continue to take photos.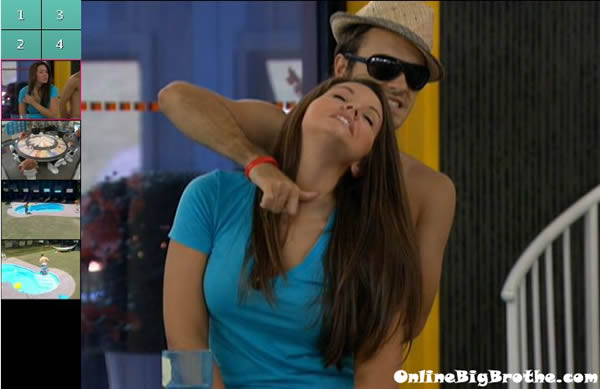 Share it YO!!
Tweet