POV Holder:
Shane
Next POV:
July 28 (Saturday)
POV Used
Yes
POV Ceremony
July 30 (Monday)
HOH Winner:
SHANE
Next HOH:
Aug 2nd
Original Nominations:
Ashley And Joe
Current Nominations:
Joe And Frank
Have Nots (Cereal & Salmon)
Joe, Ian
Coach Competition Winner
Janelle (Wil SAFE)
Next Coaches Competition
August 3(Friday)
Last Evicted Houseguest
JOJO
7:46pm Cam 1-2 Arcade Room Wil and Danielle Watch with FlashBack FREE TRIAL!
Danielle asks him if he's going to vote to evict Frank. Wil says that Frank is a nice guy and all but he has to leave the game soon, he's just too strong a player. Danielle asks him who he would target if Ian and Jenn are safe from a POV next week. Wil says he would put Joe and Ashley up, he points out that is the worst possible scenario and it means that Ian or Jenn win a power of Veto and only one of them are on the block. Wil says if any of Janelle's players win HOH they will put both Ian and Jenn up. Wil says he will not put Danielle or Shane up next week they shake on it. Danielle: "Right now I'm sending Frank out.. How does the rest of your team feel.. cause right now I feel like I would go up.
Wil says that before today wil thought Shane was an a$$hole in disguise but after the Power of Veto Wil realized that he had Shanes head was in the game and he felt like he could work with him. Wil: "If we get HOH we are going to work together next week.. We owe you big time"
Wil says he wants to Rattle Ian as much as possible before the Head of Household competition
to prevent him from winning. Wil is sure Ian would put Shane and Wil up if he wins.
Wil says he's not playing Janelle's game she has a better chance to win money than he does he needs to play his own game. Wil points out that yesterday he did everything Janelle told him not to when he talked to Shane in the HOH Room. (LOL and it almost didn't work because Wil made them think he had a deal with Frank)
Danielle tells him she only cares about where is stand next week and she wants a guarantee that she's safe. Wil gives her that guarantee. Wil recommends she goes and talks to Ashley and Joe.
(Wil wants Ian gone and Danielle successfully plays down her relationship with Shane)
Wil has a strange feeling that the coaches are coming back into the game. Danielle is very fast to shoot that idea down. She thinks that at the very least one of the evicted players will be brought back. Wil mentions how unfair it is because the coaches were safe from eviction for the first weeks and they know everyones game.
8:40pm Cam 1-2 Dan and Britney Arcade Room
They are having a joking conversation about Britney and her Stink eye. Dan is trying to figure out why Britney is so Negative. Britney start talking about her husband and how horrible he is at buying gifts. She recalls a story when he bought her a gross lamp for christmas when she was in college. She says she hated the Lamp but liked that he put time and effort into getting it for her. Britney adds that she will not accept anything but the best option. Dan asks her if Option A was a college and she wasn't able to ge4t in would she go for a option B. britney says no if she cannot get into to the Option A college than its not option A another option is OPtion A. Dan asks her if as a welcome back present her husband made her cupcakes with lemon in it would she eat them (Evidently Britney hates Lemon and Onions) britney says she wouldn't eat them but she would still appreciate the effort.
Dan: "I think it's a crapshoot every time he buys you a gift.. Am I going to get Stinkeye" Wil Joins them and Dan tells him about Britney and the lemon cupcakes. Wil totally understands he says that if his husband made him cupcakes with Bananas in it he would tell him to go F*** O**
9:15pm Cam 3-4 random conversations going on around the house nothing that impacts game. Joe shares with us that he's never been in the same room with his wife when she's doing a number 2. The conversation with Dan and Britney has grown to include Wil, Boogie and AShley.. they're still talking about the same thing.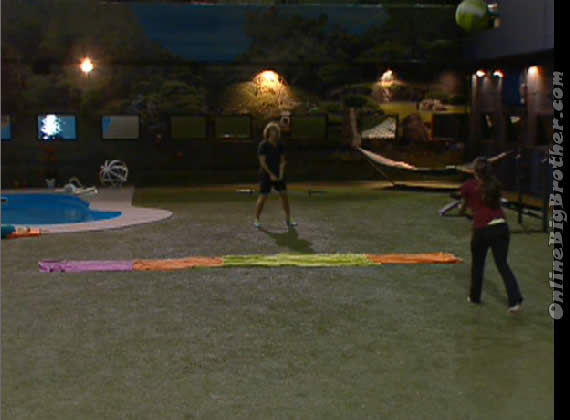 10:12pm Cam 1-4 Volley Ball
The teams are Frank, Joe and Wil Vs Britney, Danielle and Trixie (ohh shit i'm saying it now) Jenn joins them after a bit.
Wil keep yelling "Get it FRANK" (Very Funny)
Danielle constantly gives her team praise. ."Goof job jenn.. Good job Brit… Good Job.. "
everyone having a good time playing Volleyball. Girls are really getting into it.
10:47pm Cam 1-4 They change up the game and just start counting how many times they can knock the ball back and forth with the other team. They get up to 19.
11:12pm Cam 1-2 Ian and Ashley
ian asks her if she would nominate him. Ashley asks him the same question back. Ian says Of Course not. Ashley now answers him tells him she won't put him up.
They start talking about the next head of household. ian says he needs it badly he doesn't think Ashley does. Shane's working out off to the side.. Ashley is watching him says " that is straight up gangster right there" (Shane is having a pretty heavy duty workout"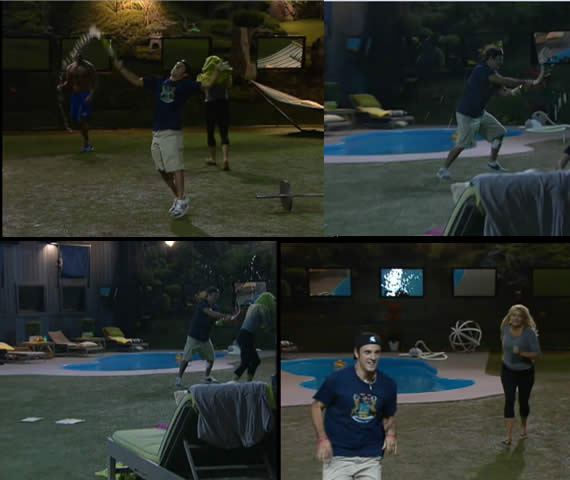 11:31pm Backyard Cam 1-4 Dan beats Janelle at a chess game. He chases her around drinking to spray a drink on her because she won't declare him teh greatest chess player.
11:36pm Cam 3-4 Storage Room Dan and Janelle Watch with FlashBack FREE TRIAL!
Dan wants to work with Janelle. Janelle claims that she's been wanting to work with him since week one. She tells him that Danielle is 100% safe next week he should not worry.
Dan: "Lets say Joe wins HOH and one of the 2 come down who do you put up" (Ian and Jenn come down does Shane or Danielle go up)
Janelle: "Danielle won't go up. "
Janelle asks him what who should they target after frank. Dan thinks they should take out a team first "Whichever team it is I don't mind I just want to keep Danielle safe next week"
Janelle brings up "Half Time" (code word for the coaches coming back in the game) she asks him what Boogie has been saying about it. Dan explains that Boogie thinks the coaches will have a choice to come in or not. Dan thinks there might be 2 that go in and 2 that stay as coaches. Janelle thinks it would be better for her to stay as a coach because she has 3 players still. Dan: 'it really comes down to do you think you can beat these new players?" Janelle thinks she can but she doesn't want it to be like Allstars where she's the target every week. Dan reminds her that she won't be the only coach.
Janelle says that production asked her if given the opportunity to play the game would she. (She doesn't say when they asked her this )Dan is down to one player so going into the game is probably best for him but for Janelle she's got 3 players might be a better chance to stay a coach. He thinks the game would be more exciting with her in it.
Janelle asks him if she should enter the game. dan thinks she should.
Janelle proposes that the coaches team up when they enter the game. Dan agrees says they should bring 2 newbies with them to help out.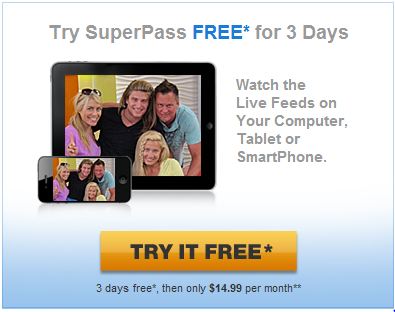 Share it YO!!
Tweet