POV Holder:
Shane
Next POV:
July 28 (Saturday)
POV Used
Yes
POV Ceremony
July 30 (Monday)
HOH Winner:
SHANE
Next HOH:
Aug 2nd
Original Nominations:
Ashley And Joe
Current Nominations:
Joe And Frank
Have Nots (Cereal & Salmon)
Joe, Ian
Coach Competition Winner
Janelle (Wil SAFE)
Next Coaches Competition
August 3(Friday)
Last Evicted Houseguest
JOJO
5:56pm Cam 1-2 Britney, Dan and Danielle
Dan asks Britney if Shane cut a deal with Janelle's team. Britney says supposedly they have and supposedly Wil wants Ian gone.
Britney says Janelle is worried about Danielle not voting Frank out. Britney tells them all she does is play along with it. Tells Janelle that Boogies players are all over Danielle. britney reminds them that they have to cut down Boogie to 2 votes and Janelle to 2 votes or they will hold too much power.
Dan leaves to the Diary Room. Britney asks her what is Dan telling her to do. Danielle says Dan wants her to vote out Frank. Britney points out that Frank will be gunning for Shane hard if he's left in the house. Britney suggest she cut a deal with Janelle's players just incase they pull a HOH out next week.
Danielle brings up that Frank was calling her "Sweet cheeks" and saying that he was going to be attached to her hips all week. Britney thinks Danielle should just hang out with Shane in the HOH it will keep Frank off her.
6:12pm Cam 1-2 HOH Britney, Danielle, and Shane

Britney jokes says they are keeping Frank and targeting Shane so that Danielle can be with her one true love Frank. Britney tells him that Frank is all over Danielle he called her "Sweet Cheeks". Danielle explains that Frank is flirting with her he walked up to her called her sweet cheeks and said 'You can take that any way you want"
Shane: "You want Frank out right"
Danielle: "Absolutely.. Frank is so Creepy"
Danielle says Frank doesn't know about her and Shane so he's playing the flirt card with her. (About her and Shane?)
Britney: "Frank will give you s$x for a vote.. He'll give you some pleasures.. are you desperate for pleasures.."
Danielle: "OH MY GoD no.. Frank is a sleazeball"
Britney: "If the next HOH requires you to lick Franks abs would you do it… how about kiss his nipple area"
Danielle: "He stinks.. he smells bad.. he doesn't wear deodorant"
Britney and Shane both Joke that Danielle needs to act like Frank is her best friend so he thinks he's safe and leaves her alone.
Shane mentions how they need to get Joe to be cornering Danielle more because right now he's doing nothing for votes. Danielle: "I would much rather talk to Eagle Eye Joe than Frank"
Danielle mentions how Boogie has been offering her everything under the sun for her vote. Boogie offered to bring danielle breakfast every day.
Danielle brings up how strange Frank is with all his Showmance talk about Wil. (They seem to start questioning Franks sexuality)
6:34pm HOH Cam 1-2 Shane, Danielle, Frank and Britney Watch with FlashBack FREE TRIAL!
Before Frank comes up the girls are watching the spyscreen seeing Frank come up. Britney freaks out doesn't want to talk to him.
Frank says he's nervous with her talking to Janelle in the arcade room for so long. Britney tells him janelle is talking about Frank, working hard to keep Joe. Frank asks her if she feels Joe or frank are the more trustworthy player. britney says that joe runs around the house and starts sh!t with everyone. Shane chimes in says that Frank needs to stick around Danielle because she's going to get hounded by Janelle.
Talk moves to Ian and how he wouldn't have lasted long if there wasn't coaches. Britney feels like the teams would of been very different with no coaches. Frank mentions that Janelle seems to be doing all the playing for her players whereas he's at least differentiating himself from Boogie.
Frank brings up that Joe went to him about a final 2 deal week 1 and then joe went around and told everyone that Frank was doing it.
Frank is going confront Joe on all the SH!T and Lies he's been spreading. They are looking at Janelle make dinner on the spy screen. Britney points out that family dinner ended as soon Joe became a Have Nots.
Shane, Britney and Frank head downstairs to make dinner Shane is the last one out the door before he leaves Danielle gives him shit for telling Frank to "Stick by her" Shane laughs tells her it has to go down that way.
7:00pm Backyard couch Boogie, Ian and Shane Ian saying he use to eat a lot of toasters strudels and try to draw a giant P##is on them with the frosting.
Shane: "Damn I miss looking at Kara"
Boogie agrees.. Shane jokes and tells Boogie that she wants to settle down.
All three of them talk about how much they liked Kara. Boogie points out that she was really down to earth and gorgeous. Ian tells them when Kara was trying to get votes she went up to Ian told them they could have fun all summer then she winked.. Boogie leaves.
Ian starts telling him that the old school endurance test were more "How bad do you want it" he explains that the new endurance competitions are more physical endurance whereas the old ones were more mental. Ian adds that the old endurance tests would last 10-12 hours now they last 4 hours tops.
Ian thought Have Nots was going to be harder than it is. (Have nots is a joke now) Ian: "The only thing that sucks about Have Nots is not having Alcohol"
Shane tells him that using the POV today wasn't a personal attack on Ian. Ian understands why he did it Shane has to control the votes.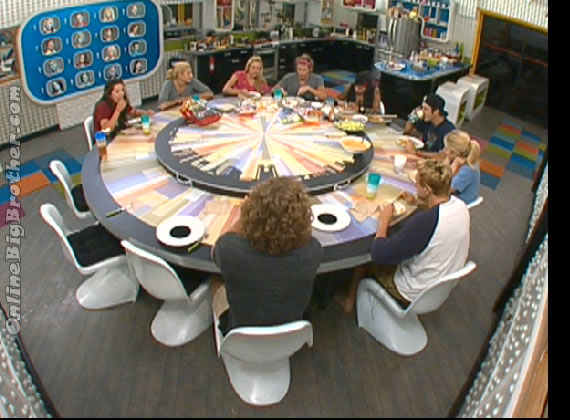 7:20pm Kitchen.. semi family dinner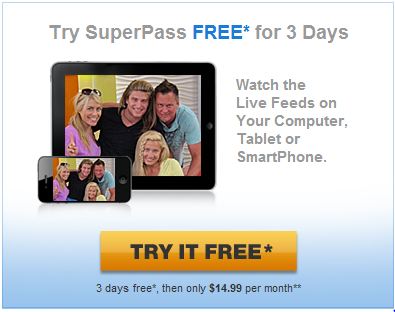 Share it YO!!
Tweet