POV Holder:
Shane
Next POV:
July 28 (Saturday)
POV Used
Yes
POV Ceremony
July 30 (Monday)
HOH Winner:
SHANE
Next HOH:
Aug 2nd
Original Nominations:
Ashley And Joe
Current Nominations:
Joe And Frank
Have Nots (Cereal & Salmon)
Joe, Ian
Coach Competition Winner
Janelle (Wil SAFE)
Next Coaches Competition
August 3(Friday)
Last Evicted Houseguest
JOJO
12:30am Ashley, Wil, Frank, Shane and Wil are sitting around the hot tub talking about past competitions. Meanwhile, Jenn, Dan and Joe are over on the backyard couches talking. Frank says that the diary room keeps telling them that house guests aren't teams. Wil tells Shane that he chose not to do what his coach told him this week, suck up to Shane, he says that just isn't him. Shane says that Britney is 2 years younger than he is and he knows that she has played before but it is tough to just follow Britney blindly because he doesn't want to get sent home because of a decision Britney makes for him.
Watch what happens, AS it happens: Big Brother 14 Live Feeds!
Subscribe today for your FREE 3 DAY TRIAL!
Up in the HOH room, Britney and Danielle are talking. Danielle says that Shane gives her mixed signals. She says he used to flirt with her but now he won't even give her a hug. Britney tells her she should confront Shane and ask him why he is being weird with her. Danielle hopes that bringing that up to him won't make things even weirder. Britney says that thinks she should just ask him. Danielle says that she did call Shane out on being mean the other day and she says Shane replied that's what women want, they want what they can't have. Danielle asks don't you notice Shane and I never talk now unless it's us alone up here. She says that she sees a huge difference in his behavior towards her. Danielle asks how do I talk to him without freaking him out more. Shane has been telling Danielle that he doesn't want to put targets on their backs because they seem like a couple to the others. Ashley and Shane join them.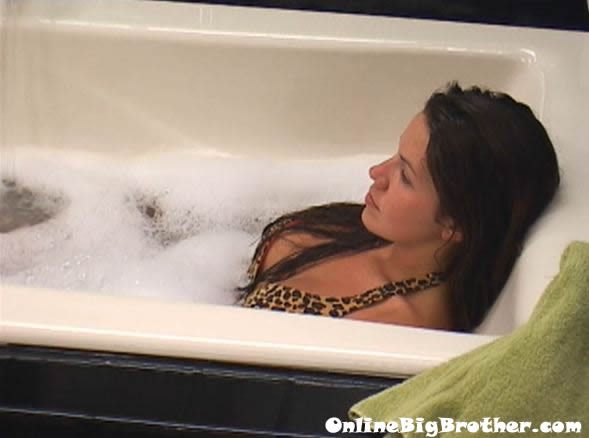 12:50am Joe and Janelle are talking on the backyard couch. Janie asks him if they are solid for Thursday. Joe says Dan said they are good. Janelle says that she also talked with Dan and Frank is going home. Joe says it killed him last night when Wil tried to take credit for getting Frank up on the block when it was all Janelle's doing! Janelle says I'm going to bring you 3 to the end. We're going to be a target but as long as we get the right people out each week, we might have to bad things later in the game. Joe says that he owes Shane. Janelle agrees. Joe says that he thinks they'll see a little friction between Shane and Danielle this week. He says that Frank is trying to flirt with her to cause issues between her and Shane. He also says that he doesn't think Shane really wants Danielle but if he sees Frank flirting with her it will bother him because that's how guys are. Janelle says that Frank is going to be walking out the door on Thursday if I have anything to do with it! Joe says you will have everything to do with it! Joe says everyone he has talked to today seemed solid, Danielle is the swing vote and she's on board to evict Frank. Janelle says that she thinks Danielle will be drug to the end by Shane, that's his ticket to the end. Joe believes if he were up against Shane in the final 2 he would have the votes to beat him. The conversation turns to talking about if it's an endurance competition this Thursday.
Watch the 24/7 Uncensored Live Feeds of the Big Brother house 3 Day Trial!
1:30am
In the backyard, Janelle, Wil and Joe are talking. Wil says that he thinks they should make Ian think Frank is staying this week and then when he does get voted out it may frazzle Ian and throw him off his game for the HOH competition. Janelle asks Wil if it gets down to him and Ian left will he offer him a deal. Big Brother cuts the feeds. Wil says that he wants to use Danielle to blindside Ian.
2am Danielle heads up to the HOH and lays down with Shane. Danielle tells Shane that Wil and Janelle just got into a fight because Janelle wants Wil to kiss a$$. She says that Wil said in the stereo room that everyone can see through Janelle's kissing a$$. She says that Wil was in the stereo room and Janelle came in and Wil didn't want anything to do with her. Danielle says that Janelle is on my heels. She's following me around. Her and Frank are suffocating me. Danielle says that Ashley tells Janie everything so does Joe. Shane says that he can't trust anyone in this house except for Danielle. Shane says that when Frank goes home and Boogie comes after them for an explanation he wants to throw Dan under the bus and blame it on him. Danielle doesn't want Dan to get blamed; she says he should just tell Boogie he doesn't know what happened with Frank. Danielle says she cannot get away from Frank. She tells Shane that Frank hit her in the head and she screamed at him that she is sick of his sh*t, that is not me flirting. Danielle tells Shane that she was Harley Davidson's Miss September 2012. Shane says that's awesome. She tells him not to tell anyone.


3am – 4:20am Ashley tells Joe and Janelle that Ian asked her if she wins HOH, if she would put him up. She says Ian told her that he wouldn't put her up. Ashley says that she doesn't think Ian really has a crush on her. She says she did the date thing to build his self-confidence. Ashley says that she thinks it was a good experience for him. Ashley tells them that Ian asked her if he could sleep in the HOH with her. Janelle starts talking about her past seasons. Joe says that he needs to start working on his speech for Thursday. Ashley says Frank is already working on his, she says he is opening with an unfunny joke. Janelle says that he has got to go! Joe says he needs to come up with something clever for Thursday. Ashley heads to bed.
Sign-up for the Big Brother Live Feeds and get the MOBILE Feeds for FREE!
Janelle tells Joe that he should say if you leave Frank in the game you have just signed his $500,000 check because he will win the game. Joe says Frank has 2 completely different faces and is very manipulative. He thinks the women of the house would totally have eaten up Frank's bull and he could have been taken to the end had the coaches not been a part of the game. Joe says Shane is a better guy than Frank, he's just not a talker like Frank. He commends Shane for being a loyal person even if it was to Willie. Janelle says I'm not an idiot you curly haired dweeb! Janelle says that Frank was her number one pick to go home after she met him. She says that within two hours of meeting him she knew he had to go. Janelle says that she wishes she would not have mentioned to Wil that she thought Frank may be bi-sexual because it gave Wil false hope. Janelle says if she were single, Frank is the type of guy she would date just to screw him over. She says he thinks he is god's gift. They decide to go to sleep.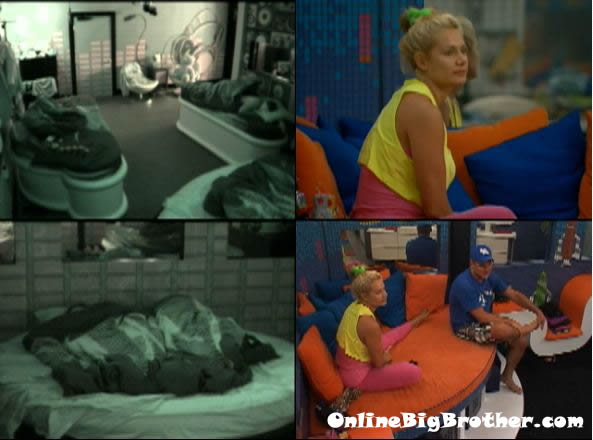 5:30am All the house guests are still sleeping..

Share it YO!
Tweet