POV Holder:
?
Next POV
?
POV Used
?
POV Ceremony
?
HOH Winner 1:
Amber
HOH Winner 2:
Devin
Battle of the Block Winner
Hayden & Nicole
Next HOH/ Next BOB
July 10/July 4
Original Nominations:
Devin's Noms (Pow Pow & Brittany) Amber's Noms (Hayden & Nicole)
Final Nominations:
?
Have Nots
Victoria Brittany, Zach and Derrick
POV Players
Host Donny, Players Devin, Brittany, POWPOW, Derrick, Zach, Amber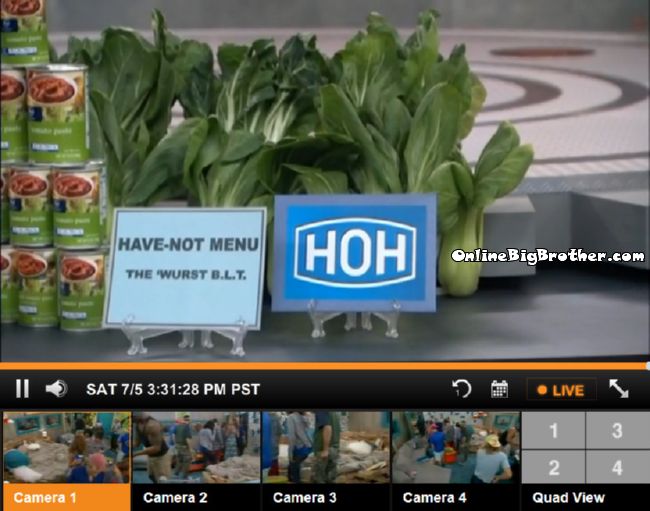 3:31pm Have nots "The Wurst BLT"
3 kinds of Liverwurst Brawn Swagger, Bacon, and ??
Derrick – "Thats America's vote rigth there"
Devin reads the card -"Devin is Head of Household it is your responsibility to choose 4 have nots for a week the have nots get to enjoy the worst BLT this combination of Bok Choy, Liverwurst and Tomato paste is theirs to enjoy all week long bon appetit"
Devin's Have nots are Victoria Brittany, Zach and Derrick
POWPOW hides behind Hayden when Devin picks the have nots. (See image below)
Try the feeds for free.. help out OBB and get them using one of the links on this site. You can go back and watch everything we showed on this site. A live feed subscription comes with access to the Big Brother Archive letting you rewatch from day one. It's a pretty sweet setup!
FREE 2 Day TRIAL! The ONLY $26.99 to watch the ENTIRE Season of Big Brother 16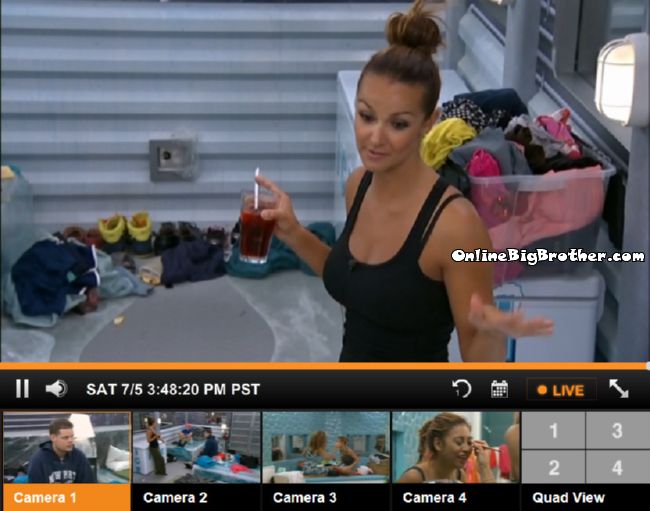 3:47 have nots Derrick, Brittany and Zach
She says if DEvin wins the veto he's putting up someone good. Zach thinks it will be him or Cody.
Brittany says Devin is working on something with POW. Derrick – we're going to do our best. Zach says she's work two soldiers
Zach says if he wins the POV he won't use it because they have the votes to keep her. Brittany- 'you are not going to save yourself" (LOL WTF)
They explain to her how it works.
Zach says it will be a 12-0 vote for Brittany to stay. Derrick – "POW's got to stay up there"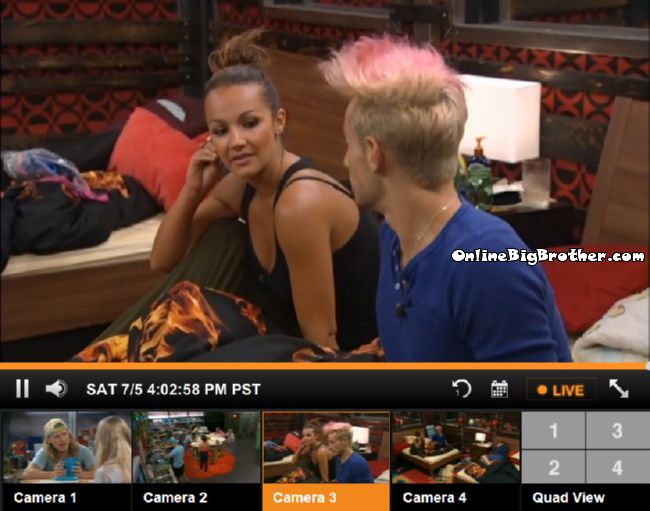 4:04pm Bedroom Derrick, Frankie and Brittany
They tell her Devin is going to go for the POV win. Derrick doesn't know what Devin is going to do if he wins the veto but he knows he's really gunning for it. Frankie suggests if Devin uses the POV they could go up to the HOH and get him to to put up someone that everyone else wants gone other than going for more blood.
Derrick says if Devin wins it they will talk to him but Derrick wants her to stay focussed and win the POV. Derrick points out if any of them win the POV Devin's going to put up one of the guys, Caleb or Cody. Derrick thinks if a guy goes up there is a chance they will go home. The way the house is right now someone might want to take a shot at get out a strong player. Derrick adds they want "Those Guys" in the game because they will take out Devin.
Derrick thinks POV is going to be a puzzle or memory he doesn't think it'll be a endurance
Brittany says she's horrible at memory things.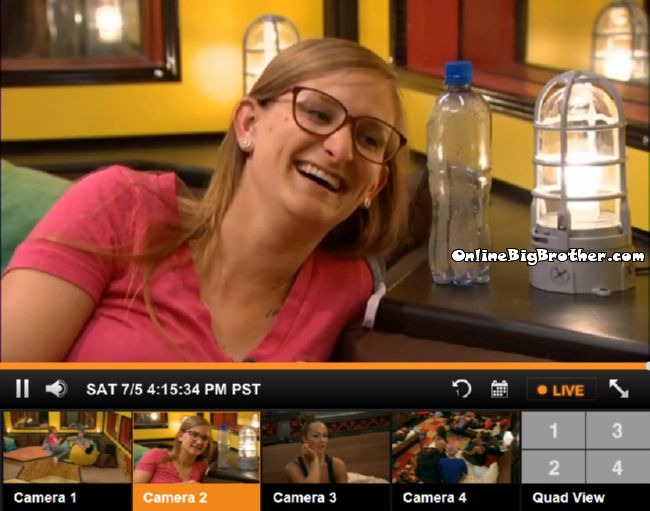 4:14pm BEEHIVE Christine and Cody
Cody – "Caleb is going to do whatever it takes to protect Amber.. and Amber is so sneaky.. so sneaky.." Cody says the way she was acting yesterday he knows they can't trust her. CHristine mentions Amber bashing Devin all the time in front of Caleb, adds she's kept her mouth shut incase it comes back. Cody says Devin "knows" about Amber now and that is the reason he's so pissed.
They agree Amber was probably talking about Caleb last week when she said something about after getting to know someone and finding out all they care about is themselves. She claimed it was about guys in general.
Cody says Amber is kissing Caleb's a$$ right now which is perfect because Caleb is so blinded by her. Cody thinks it's great for them becuase the love triangle is going to destroy itself and they won't have any blood on their hands
Christine mentions how Amber has been touching Cody, She says they should keep it up because it really pisses Devin off.
Christine – "He's so mad that Caleb is so blind by Amber"
Cody – "Everytime I go near Amber Devin gets pissed.. he's going to blow up"
Cody is going to dial it back with Devin because Devin might tell Caleb and Caleb might go off.
COdy says Frankie is bouncing around with everyone now.. he doesn't feel as close to him. Christine says she talk to him earlier told her she was safe.
Amber joins them.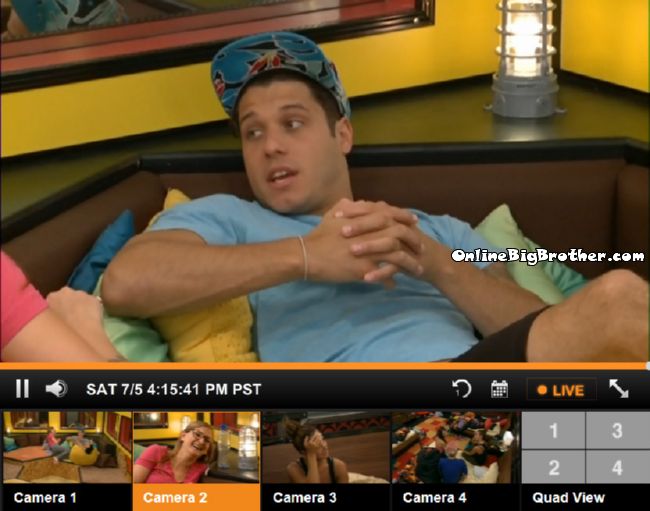 Amber, Christine and Amber They start explaining to Amber how POV is chosen. Amber thought the HOH got to pick. They all want Brittany to stay this week. Derrick rolls in. Christine tells AMber to try her hardest to win it because if Devin does he could do Anything. Dertrick says if he wins it he's not going to use it. Derrick already told Brittany that, "It's going to be me or Zach.. depends on what it is could be a tube THIS BIG and POWPOW could just run right through it"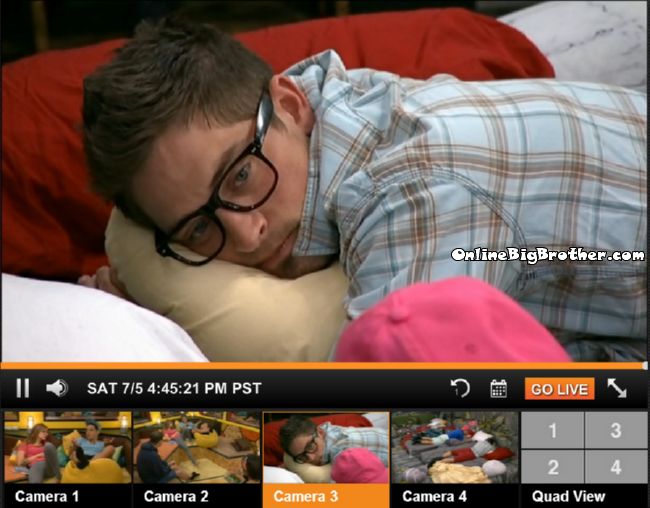 4:46pm Caleb and Zach
Sounds like Caleb is worried about getting Backd**red. Zach tells him even if he does go up he's got the votes to stay. Caleb says the vote has to be 10-2 because Devin and him made a deal with POWPOW to get her to throw the BOB competition.
Caleb tells him Amber wants Brittany to stay. Amber/Derrick join them. They tell her if any of them win the veto they will approach Brittany and tell her they can keep her safe this week but she has to promise next week she won't put up us three. Caleb Mentions how they have to give POWPOW 2 votes or she will spill the beans. Zach points out that POWPOW is out the door so it doesn't matter. Caleb – "What she says between that chair and that door can really matter"
AMber and Zach say they will not use the veto but they will try to win it. Amber tells them she's going to whatever it takes to keep their alliance straight but when it comes to Devin she's not talking game with him unless it's all of them together. "I feel like he's trying to control my game"
Zach says theres the chance Devin will put Amber up. Amber is worried, she thinks the best thing is if Brittany wins Veto and they send PWW home. Zach isn't sure Devin will put Victoria up like he told Amber.
Caleb – "If POW comes off and he put Amber up to ensure Brittany goes him He's gone next week"
Alliances  Bomb Squad = Frankie, Caleb, Devin, Cody, Derrick, Zach, Amber, Christine Sub alliance of the Bomb Squad = Christine, Frankie, Cody, Derrick Zach Sub alliance of the Bomb Squad = Derrick, Cody, Zach Double Ds = Devin, Donny Bed buddies/nicotine = Nicole, Christine Final 2 Deal Zankie= Frankie, Zach DC = Derrick and Cody Where the vote is  ?
[polldaddy poll=8164185]