POV Holder:
?
Next POV
?
POV Used
?
POV Ceremony
?
HOH Winner 1:
Amber
HOH Winner 2:
Devin
Battle of the Block Winner
Hayden & Nicole
Next HOH/ Next BOB
July 10/July 4
Original Nominations:
Devin's Noms (Pow Pow & Brittany) Amber's Noms (Hayden & Nicole)
Final Nominations:
?
Have Nots
?
POV Players
Host Donny, Players Devin, Brittany, POWPOW, Derrick, Zach, Amber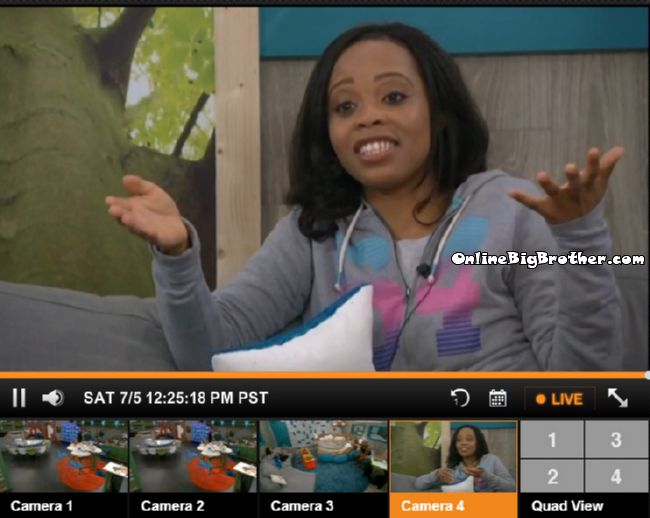 12:25pm Devin and Jocasta HOH
Devin tells her Caleb was his best friend in the house but they were never in an alliance. Devin doesn't know where they stand now after the fight last night.
Devin wants to know Jocasta's position in the game.
Jocasta says as far as POV she wants to play and win it if she gets chosen. Jocasta says she feel more comfortable keeping it and not using the POV, "I don't trust anybody"
Devin – "In the game right"
Jocasta "Yes in the game"
Devin says it's no secret he wants Brittany gone. He mentions her scheming and saying things against im on his daughters birthday, "Ok heartless, heartless, heartless"
Devin says he's able to separate the game from personal and Brittany doesn't
Jocasta – "You want me to use it"
Devin tells her she can use it to save POW she can keep it whatever she wants
Devin "You earn that right to use it I would never take that away from you might only win it once" Devin just wants to know so he can make plans.
Devin "Chances are I'm going home week four.. after what Happened last night and theres other things going on in the house" Devin is certain he needs to win the POV or BOB to not go home next week.
Devin -"Brittany is my target and If Brittany wins POV and she's still here i'm going to be like fudge"
Devin says it hurts what happened last night , "I called this dude my brother.. and no offense you flipped the script for a girl you've known for 3 weeks in here.. is it that important to you. when you leave here you can have the pick of the litter"
Devin thinks caleb should focus on the game it's not smart for him. "It's crazy man she told me she didn't want a showmance.. trips me out man"
Jocasta say the only person she thinks is "Cool" is donny. Devin says Donny is great "Donny is just Donny"
DEvin says he's a big teddy bear but because he's big people are scared to approach him. It would take me seeing a girl getting beaten to get me to snap and flip .
Devin says he was talking to christine in the HOH and everything was cool for 10-15 minutes. Part of the conversation was where is Jocasta's head is at. He's just trying to talk to everyone in case the POV is played so he can make the right decision. Caleb later came up to him and said "Christine was afraid of you man she was scared too death"
Devin – 'That hurts me I wouldn't hurt anybody"
Devin says he went to talk to Christine about it and she said she never felt scared at all. "Were you nervous about what I was going to ask you":
Christine explained to him she's always nervous when she goes to talk to people because she has no idea what they will ask and say. Devin says Caleb tried to make it look like he doesn't respect women. Devin respect women to  the utmost, "I was raised by a single mother I have a daughter (in case you didn't know) .. My daughters mother is a single mom.. I'm not perfect I have my flaws and I make mistake but I always respect women"  Devin says he wasn't always this way, "I was a professional athlete I was a dog .. I would go home with a different girl from baseball games all the time.. I would write on Baseballs and throw the balls up onto the stand saying show me your b88bs"  "I was a d1ck man I was an a$$hole period,… dude"
When he found out he was having a little girl he wanted to change his ways towards women, "That's part of the reason I stopped baseball"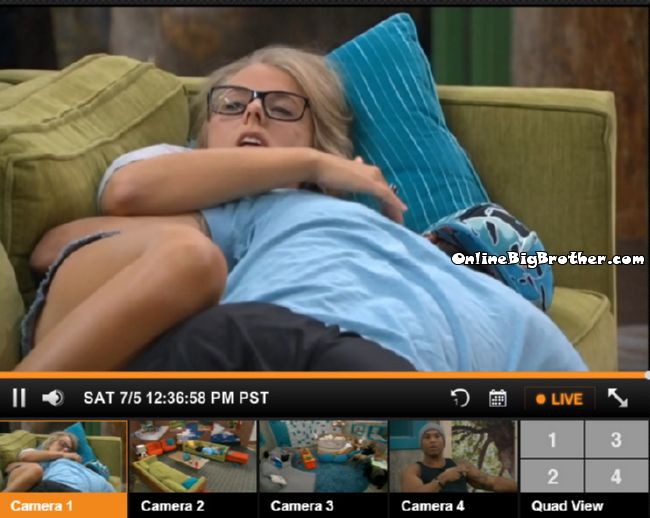 12:40pm Nicole enjoying some Cody Cuddles shortly after this Cody goes and gives Christine a cuddle.
Try the feeds for free.. help out OBB and get them using one of the links on this site. You can go back and watch everything we showed on this site. A live feed subscription comes with access to the Big Brother Archive letting you rewatch from day one. It's a pretty sweet setup!
FREE 2 Day TRIAL! The ONLY $26.99 to watch the ENTIRE Season of Big Brother 16

12:56pm Nicole and Christine Living room
Christine says Victoria is driving her nuts. Nicole calls her a She's a flip flopper.. "I can't tell her anyways.. she's nuts "
Nicole all i know is Amber's word is crap .. Crap. "She talks so much crap" Nicole says Caleb is wearing her sweater again.
1:24pm Fish on the feeds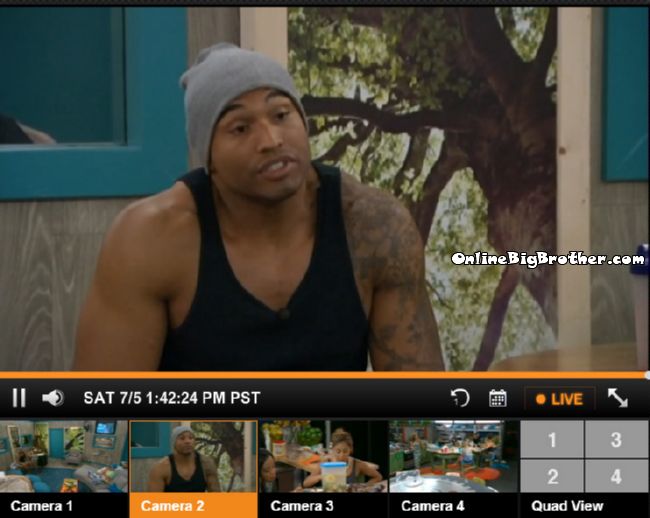 1:39pm HOH Devin and Frankie
Devin saying he's not going to blow up the bomb squad. The thing that's making him mad is Caleb going around saying He's scaring Christine because it couldn't be further from the truth. Devin says that Amber told Nicole and HAyden to not worry about the BOB because POWPOW is going to throw the competition.
Devin says he's been sweating like crazy in the HOH room "I soaked the comforter" Devin wants all of Amber stuff out of the HOH.
Devin starts collecting all of ambers things.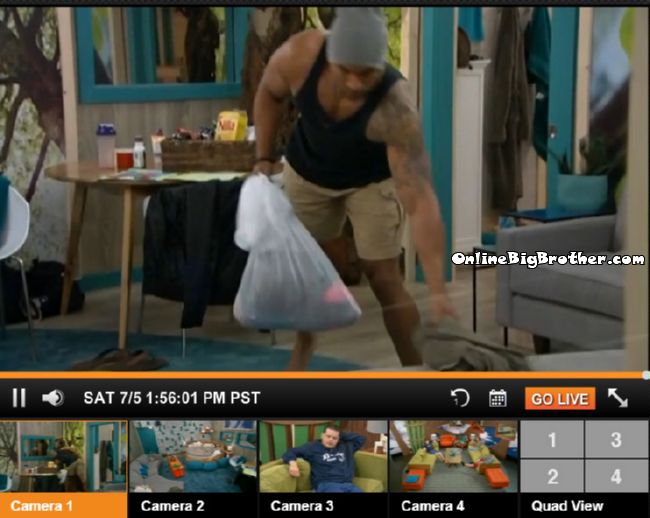 Devin says about Caleb & Amber "You don't EAT where you SHIT! Don't mix business with pleasure!" @bigbspoilers #bb16 pic.twitter.com/bdxlKX39Bm

— Dawg (@DawgsBigBrother) July 5, 2014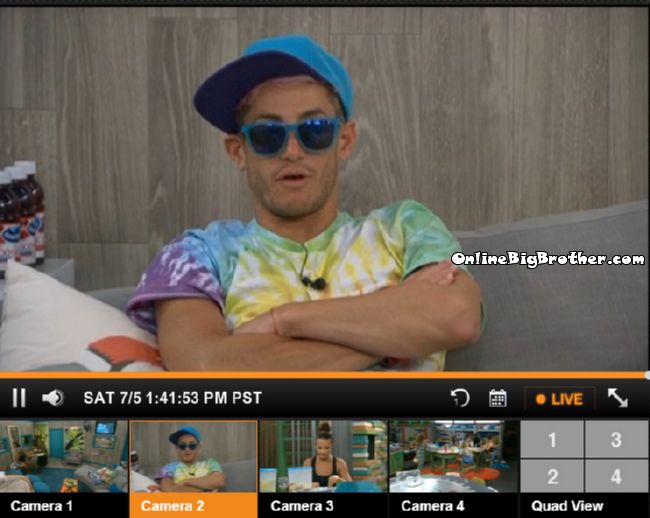 1:41pm Kitchen POWPOW – "They are still building things in the back"
POV Players – Devin, Brittany, POWPOW, Derrick, Zach , Amber
Host = Donny
2:17pm Devin Derrick and Frankie HOH
DEvin goes over what happened between him and Caleb. Devin says right now he's not in any alliance because things need to be mended with Caleb first.
Derrick – We have 4 alliance members in the POV"
Devin tells them if the POV is played Victoria is going up.
They think if it's physical they have it. Devin thinks it's going to be something fast.
Devin – "This is a team move as well as a personal move.. if she stays there is so much blood on my hands"
Frankie says victoria is probably thinking "I bet it's money and I can't win it"
Devin says he's only seen Season 10 but they usually have one competition where theres prizes. Mentions the cars in BB10. Devin wonders if Memphis still has the Camaro. Derrick think she's sold it (Derrick is right)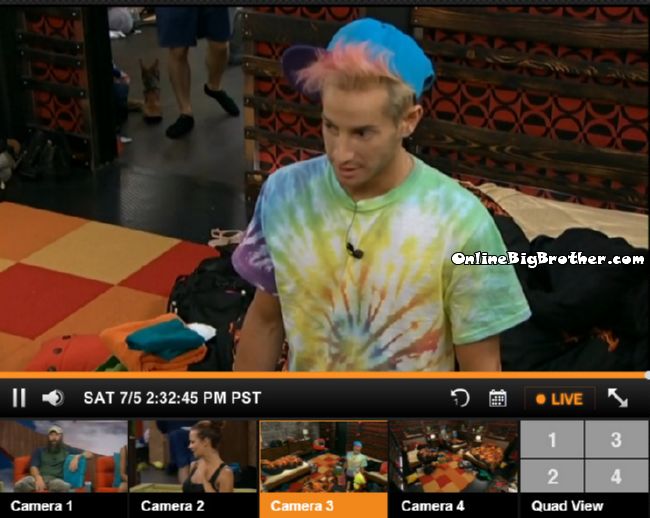 2:33pm Fireroom Frankie and Amber
Frankie says Devin told him the alliance is over.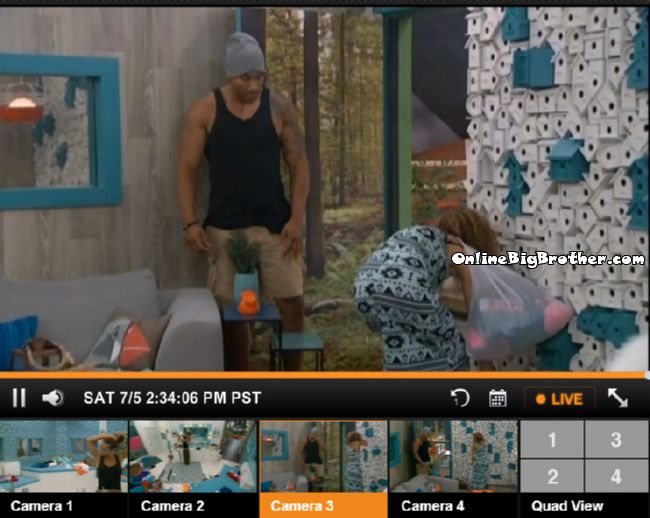 2:35pm HOH Devin and Amber
Jocasta using the toilet, Amber collecting her things.
Devin tells Jocasta production told him the HOH door needs to be locked so lock the door when she leaves.
(He does offer to help her in the end)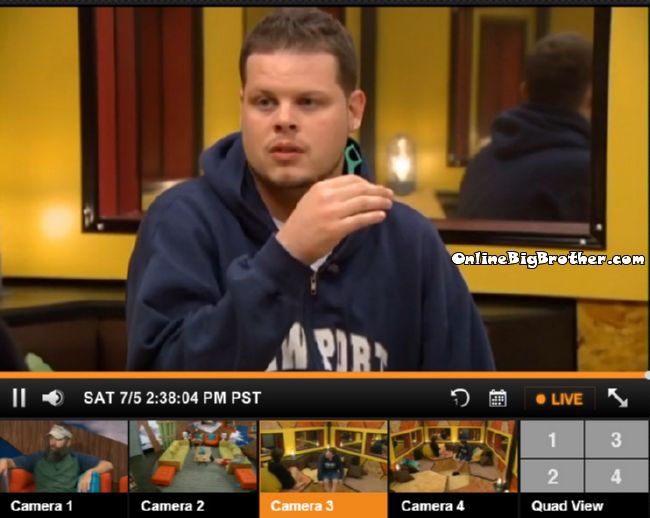 2:36pmn Beehive Victoria and Derrick
Victoria wants to know what happened last night.
Derrick gives her "What he knows" .. "It seems after talking to Frankie.. because you know Frankie knows everything in the house.. it seems like it had to do with Amber.." Derrick mentions Caleb telling Devein he's got to be careful when he talks to the girls Caleb said Christine was scared to talk to Devin.. Devin took a lot of offense to it and called Christine in. Christine was staring through the glass she was trying to be nosey. and "it's kinda her own fault" Of course Christine is not going to say anything to Devin when he calls her out. Derick says Paola is walking around the house pretending to be exercising but she's just trying to listen in on everyone. Derrick is pumped to play in the POV, he's still acting hung up on falling in the HOH.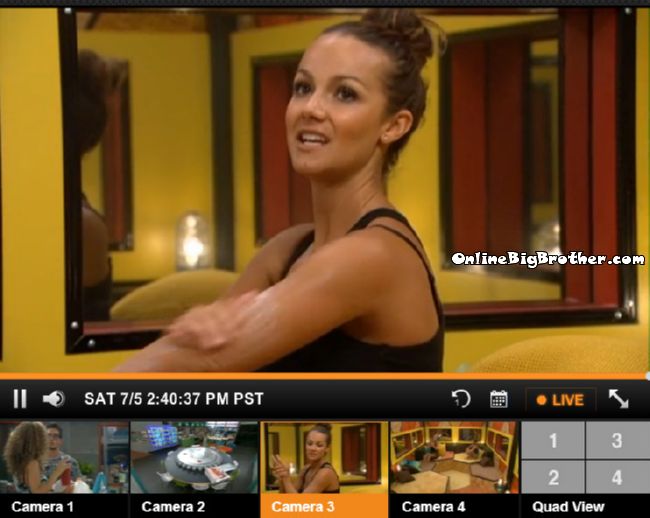 2:41pm Beehive Brittany and POWPOW
Brittany says she doesn't know how she's going to get out of this one.. She thinks all the POV players are tough competitors. POWPOW tells her the best scenario is if Victoria is up with Brittany that way they have the votes to get Victoria out.
Brittnay say if Devin wins POV he's putting up someone that he's certain people will not vote for. POWPOW is worried she's going home.
Brittany – "POWPOW I think you are good.. you are totally good" Paola tells her she doesn't know that for sure say things change all the time in the house.
POWPOW goes on to brittany about how she will vote to keep Brittnay if she's taken off the block. Brittany says her strategy is to be herself and fight.
Alliances 
Bomb Squad = Frankie, Caleb, Devin, Cody, Derrick, Zach, Amber, Christine
Sub alliance of the Bomb Squad = Christine, Frankie, Cody, Derrick Zach
Sub alliance of the Bomb Squad = Derrick, Cody, Zach
Double Ds = Devin, Donny
Bed buddies/nicotine = Nicole, Christine
Final 2 Deal Zankie= Frankie, Zach
DC = Derrick and Cody
Where the vote is 
?
[polldaddy poll=8164185]