| | | | |
| --- | --- | --- | --- |
| POV: | Tyler | Next POV: | July 14th |
| POV Used | yes | POV Ceremony | July 16th |
| HOH: | Kaitlyn | Next HOH: | July 12th |
| Noms: | Winston, Scottie Swagz | Have Nots | JC, Fessy, Haleigh, Rockstar |
Big Brother Spoilers – They're all campaigned out. These last 3 days have been pretty dense with the conversations.
Near the end of last night is was clear that Swaggy was not going to stay and the more he tried the worse it was going to get. as of last night Rockstar wasn't haveing much success integrating with the rest of the house. Scottie has relationships outside of the swaggy group but alot of his game got exposed in the last week. Both Rockstar and SCottie are being targeted by a lot of people. Haleigh has done a decent job of integrating with the other houseguests. Fez also has had mild success broing it with Brett and talking with JC/Tyler. Bayleigh is almost completely isolated. I want her to win HOH 🙂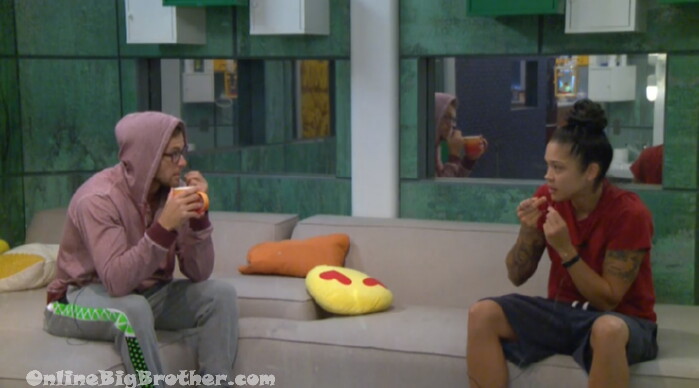 8:46am CAm 1-2 Winston and Kaycee (near impossible to hear them whisper)
Winston – how funny was last night
Winston – that smelled bad.. you get to smell it..What they did
Feeds cut. When they come back Winston and Kaycee are studying for a potential HOH.
They start talking about swaggy's side wearing the swaggy C shirts.
Winston says that makes it real easy for him to pick his next targets. (meh they all should wear a shirt.. I want a swaggyC shirt 😉 )
Winston says Bayleigh is going to be off the hook once Swagz is gone. She's being tight lipped right now.
Winston mentions his conversation to Bayleigh where he was deflecting the heat off him, "BAyleigh am I in power.. are you in power.. "
Hard to hear Winston but it sounds like he heard from Brett that BAyleigh was telling Kaitlyn that everyone hates in in the house and they are coming after her.
9:31pm
Winston – aren't you happy no vets came
Kaycee – yeah
Winston – so happy (lol you and everyone else that wastches this show)
Winston starts talking about his job..
(It's chit regular chit chat about life.. You can hear saws cutting in the backgroyund as workers prepare tonight's Head of Household Competition)
Winston – he's been sawing for an hour
Winston goes on to explain his job.. (Winston's got an interesting job actually Flashback if you want to know about orthopedic surgery and a robotics in the field.. whoowee )
10:06am Houseguests getting up
"I can't believe we got woken up so early"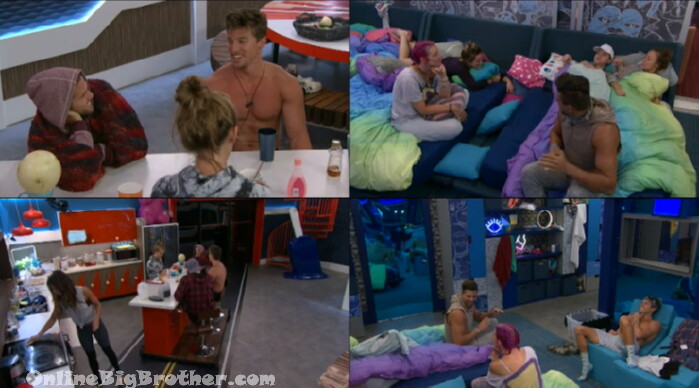 10:55am Chit chat..
Brett explains today's schedule from production – shutdown for an hour then we'll get locked in for 2 hours.
Angela – when do we get locked up there
"11:30"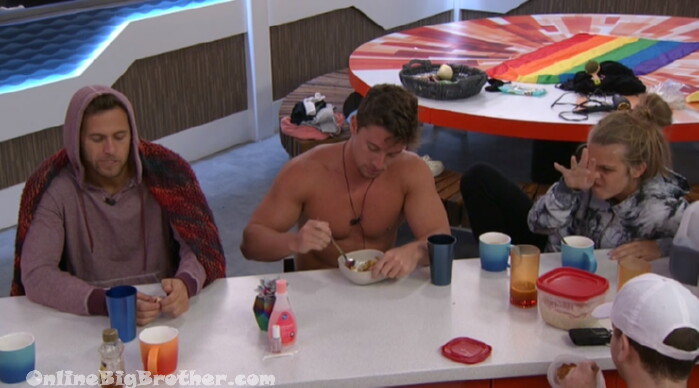 Breakfast..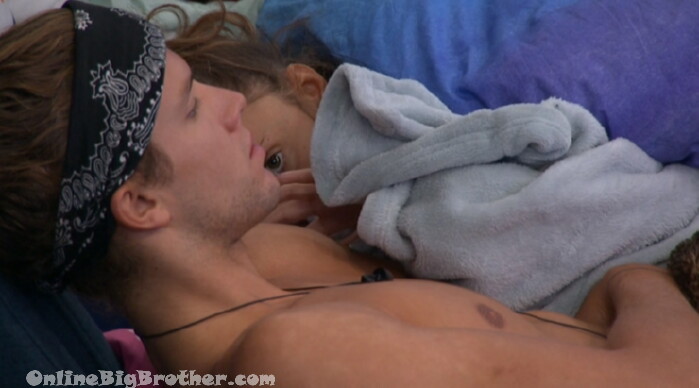 11:15am …
11:40am Feeds on BB10 they will not be coming back until 1:30pm ish
The next update you receive will most likely be the gifs and weeks Summary/ HOH results.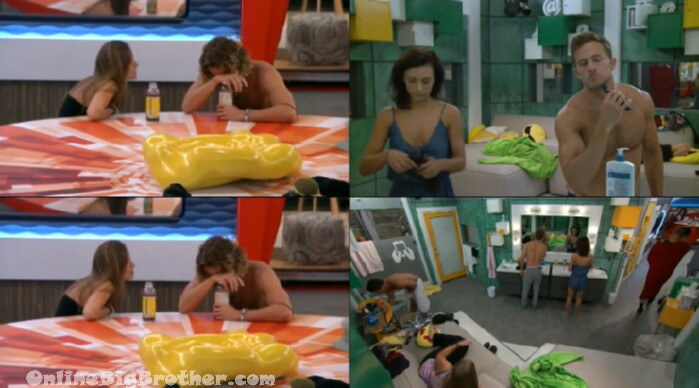 1:30pm Feeds back..
For all you folks that need a VPN I use this one
Rank the houseguests!
Easiest way to Rank the house guests use link below