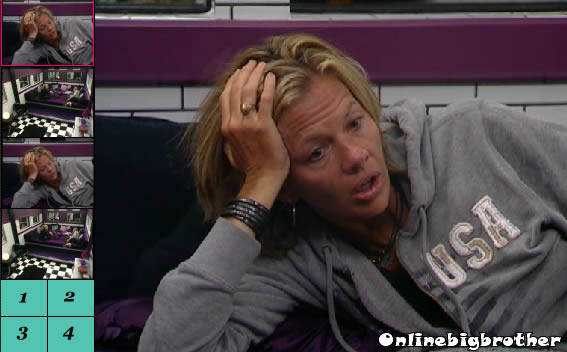 6:50pm Purple Room Jordan and Shelly Shelly tells Jordan that Porsche is on the fence and Kalia is 100% on the other side. Jordan says that her and Jeff are going to do something before the final 5 to take out Brendon and Rachel. Jordan: "Brendon and Rachel are going to pick us off they're better competitors" Jordan adds that she's been trying to talk to Kalia and get her to see that but she doesn't know if it's the right thing to do. Shelly is shocked Dom threw the veto, Jordan doesn't think Dom threw the veto. Shelly says that Dom told them all that the targets are jeff, brendon, Jordan and rachel..
Shelly says they are begging her now for a vote they want her to talk to Porsche and tell her to be like Janelle and make a big move. Shelly knows Porsche has had a rough life, that her father has been hard on her because of her weight and she's been manipulated her whole life Shelly isn't going to do that to her.
Shelly: "the fact that she (dani) would tell me all the lies then think I would trust her and do her dirty work.. I didn't fall of the turnip truck". Shelly brings up she doesn't like when Jeff Yells at Jordan, Jordan says it OK he just mad sometimes. Shelly: "This game is kinda sad when you think of it.. never thought this is how it went down" Shelly says they need a couple more week then they have to take BR out, "I'm ready when the time is right". Jordan says she now knows why Dani wanted Cassi out becuase of dom. Shelly: "Cassi was strong she would of fought with us" Jordan wishes cassi was still in the house her and Jeff really wanted it to be the 4 of them..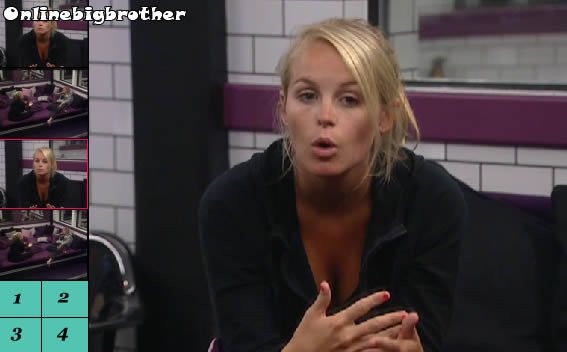 Jordan: "it's pretty much all of us versus Dani, kalia and Lawon so it's basically all of us Vs. Dani"
Shelly: "how did dani win so many vetos"
Jordan: "I dunno I never watched her season.. they say she won 5 or 7 and she really good at hanging"
Jordan tells her that once Dani drops in the HOH comp her and Jeff willl throw it to Shelly.
Shelly says her plan is to:"stash medicine in my pocket so I can take it for my back" Shelly then asks if she brings a jacket with her if she can wrap it around the rope. Jordan doesn't thinks you can do that.
Both shelly and Jordan think that Dani's working out will not benefit her in the HOH comp. they talk about how mean and cold Dani is and how she always has to be angry at people.
They talk about how Dani always brings up how Production messes with the game and how they have to keep that in mind when they make strategy. (Dani is 100% right) Shelly and Jordan do not think it's like that, they are both sure that dani isn't liked and if there is a power to vote she won't get it.
Shelly points out how big of a ego brendon has gotten because in his season he had no power but during this season he feels like he's in control of everything. Shelly knows Brendon and Rachel will be hard to take out but she ready to do it. (Shelly is a freaking pitbull I love and Hate her all at the same time). Jordan asks Shelly what made her apply to Big Brother. Shelly explains that she's always been a big fan and it was something she wanted to do. Shelly goes on about how adorable Jeff and Jordan were on Big Brother 11.
Jeff comes in and Jordan starts to talk about them turning on BR. Jeff says "we just went threw all that today and now you guys are talking about this" Jordan explains that she just wants Shelly to know that the 3 of them are good that we're not going to pick her off. Jeff tells Shelly they are 100% with Shelly she never has to think otherwise he just wants to get to Jury then they can start scheming.
7:37pm Shelly cleaning
7:55pm Have Nots Dom, dani and Lawon sleeping with a bit of chit chat.. (Only some back to back comp wins is going to save this group but good for them for trying so hard gave us some great feeds to watch)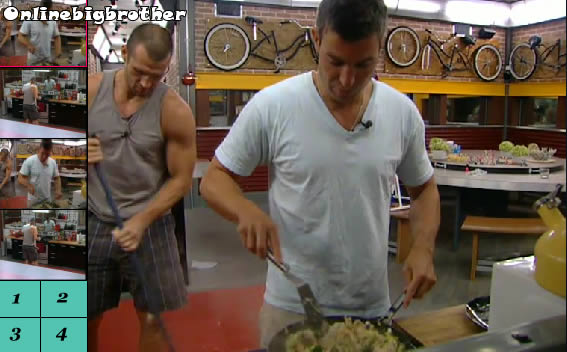 8:28pm Brendon Jeff nothing happening .. (Do you really think these 2 are going to turn on each other)
Share it YO!!
Tweet